Westbus' Volvo B10Ms were an iconic sight on Sydney's Western Suburbs roads in the 1980s and their spirit lives on in a beautifully restored Mark 1 today. Built to last, the 50th B10M that Westbus bought is at the Sydney Bus Museum - and it still runs like a charm.
The Sydney Bus Museum has more than 250 members that work together to preserve a rare collection of historic buses dating as long ago as 1920. Housed in the Old Tram Building in the Inner West suburb of Leichhardt, NSW, the building is the perfect industrial backdrop to showcase these great vehicles that are meticulously restored by the members, who have an incredible eye for authentically recreating the past. For die-hard busies, a visit here is always a real privilege and delight.
There are buses here with important historic significance to our industry; it's a timeline of change and growth preserved for future generations. For today's drive we have a bus painted in livery and signage that was part of many childhoods and younger years; a real trip back in time. To use the saying "kid in a candy store" certainly fits how walking the aisles of the Sydney Bus Museum makes a local bus enthusiast feel. If you're in the industry, there's sure to be a bus here to take you back to your first driving job, or to times as a teenager without wheels and fond memories of a past era.
The Volvo B10M Mark I was part of the huge Westbus fleet that began with the Bosnjak family in 1955, when they commenced operating as Bosnjak's Bus Service. They started off with a fleet of five buses operating routes between the Sydney suburbs of Canley Vale and Edensor Park. Over time they purchased many companies and expanded operations in Sydney's Western and Outer Western suburbs until they ceased trading in 2013.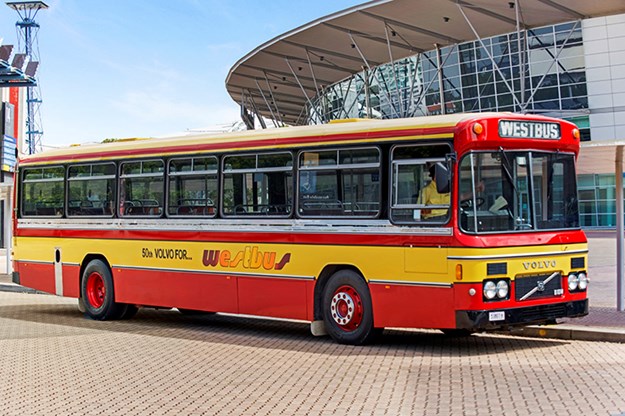 Built on September 24 in 1984, the old girl was registered m/o 7457 and commenced service for Westbus from its Northmead depot, operating around the Parramatta and Hills area. She continued here until mid-2008, when she was repainted in the CDC canary yellow livery and became part of the loan fleet for Westbus operating in Penrith, Bonnyrigg, Seven Hills and as far afield as Thornton in the Hunter Valley.
The Hunter Valley was to be the last stop for 7457 as she finished her final months as a school bus before being deregistered in 2013. Following 29 years of service, CDC donated 7457 to the Bus Museum for future preservation; a great example of an enduring fleet bus, built to serve and built to last.
The restoration was completed by the volunteers with help from both Volvo Australia and Custom Coaches, ready to make her public debut in 2015. What is really admirable about the restoration work done at the Museum is the attention taken to staying authentic; these aren't old buses restored to look like new buses, they are buses restored to original.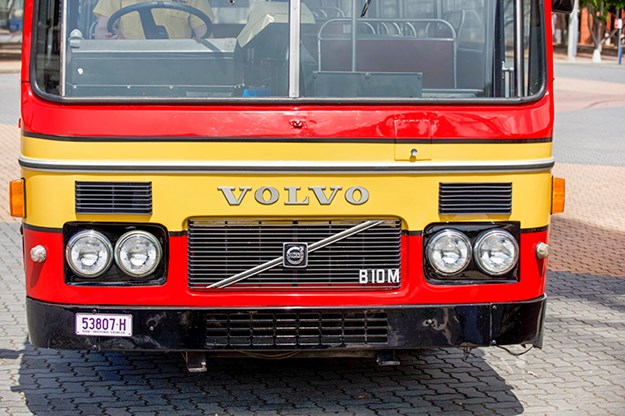 VOLVO NUMBER 50
What's outstanding about today's drive of the 1984 Volvo B10M is that this exact one was the 50th B10M delivered to Westbus. When a company purchases and operates more than 160 of the same vehicle it certainly must be one heck of a bus. Today's B10M, just as the original bus did, celebrates this milestone along its side.
The distinctive Westbus colours are easily recognisable as we walk the aisles of the museum; the red and yellow can't be mistaken. A feature we'd forgotten was the four-piece windscreen in lieu of a standard split or curved screen. This gives the extended vision of a curved screen, but would be easier to replace any of the four separate panels.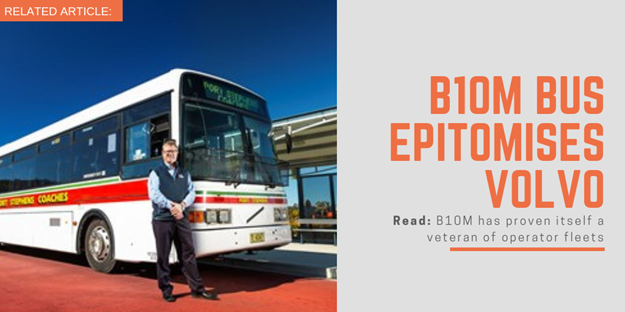 SIMPLICITY IS KEY
Externally, simplicity is key. The radiators are in the front, with unencumbered access for all daily checks and easy-to-change headlights. The mid-mount engine is accessed through a side hatch that despite being lower and tighter than most modern buses, is still easily accessible. It's the small changes made to our modern vehicles that are the main points of difference, but all in all the simplicity was key to the success of the B10M model.
The B10M has school bus desto typical for its era and lights with touches of chrome strips to highlight. The old-style destos were simple to use and when they worked well they worked well. Kids on the bus will recall the lovely noise the two air-operated door control levers make when you activate them. We had to play with them a few times just to reminisce.
Another feature you don't often see is the separate cargo compartment behind the driver, fitted with stainless steel rails. We remember this compartment was always filled with baby prams and shopping trolleys; makes you wonder where all those things go on today's buses.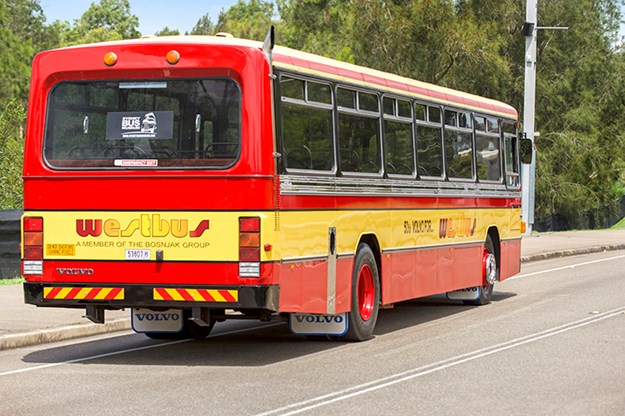 A good old fashioned feature is the dual door openings. Having the rear door makes disembarking a packed bus easier for passengers and certainly saved driver time. It's an option that isn't often adopted anymore, which many miss. The interior takes us back to buses of the past; strong and utilitarian, but with plenty of good space.
The fabric-covered passenger seats scream the 1980s, as does the black vinyl flooring. The curved white gloss roof lining was just as we remembered, all utilitarian features made more to last than for good looks. The restoration internally is perfect.
The dash and instruments are all pure B10M. Being easy to read and navigate makes this a simple bus to operate. The driver's cabin is roomy with a suspension seat, so there is some driver comfort for when you hit bumps. The mirrors are totally adequate with no complaints about driver vision; we'd like some blind spot mirrors but vision was acceptable for even today's standards.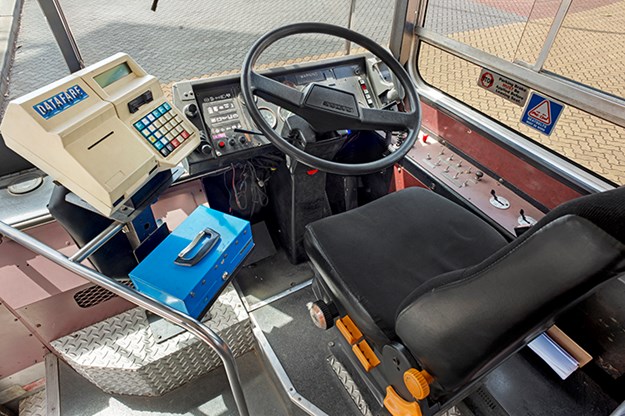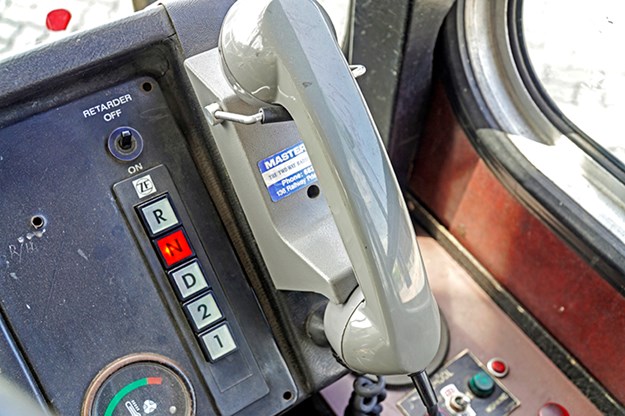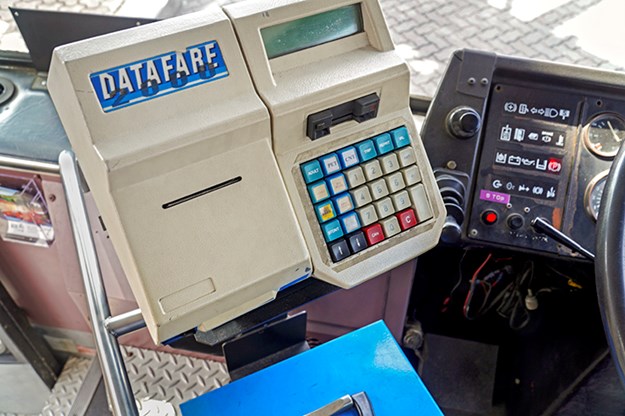 ON THE ROAD
As soon as you get behind the wheel you feel it's got a lot of oomph. At 245hp (183kW) at 2,200rpm the 9.6-litre six-cylinder Volvo THD100EC diesel engine certainly has the feel of power on tap for a vehicle that is well past its normal use-by date.
With the number of years B10Ms were kept in service, they often did over a million kilometres in their lifetime, so they had to be built tough and built to last. With Westbus purchasing the numbers of them that it did, this clearly shows they didn't disappoint. As a driver, when you're behind the wheel there is nothing certain to complain about, with the dual-circuit air brakes working really well for the old Volvo. 
The four-speed ZF 4HP500 automatic gearbox will also kick back a gear when needed and it moves through the gears nice and smoothly. It's always surprising that the main differences between driving a vehicle from this era in comparison to a modern bus are more the luxuries than the operating of the mechanical componentry.
A feature we hadn't seen for a while is the Datafare 2000 machine for ticket purchasing pre- the cashless systems of today – guess this is one feature we've been glad to see disappear from the workplace, but maybe our collective maths skills have suffered with no cash handling?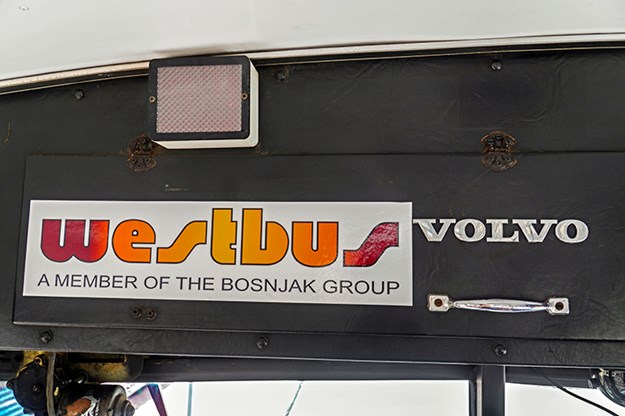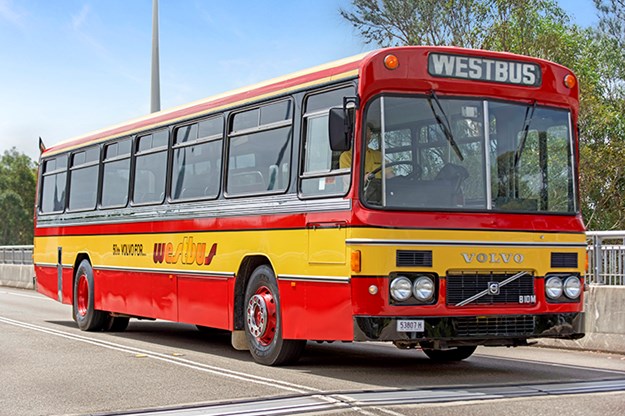 MEMORY LANE
Yes, a great trip down memory lane today; personally, I spent many days in my youth waiting on the side of a road in Penrith for a Westbus painted just like the 7457 to take me home. Built strong and built well, made to endure the tough rigors of daily route runs and the thousands of children that would have walked its aisle, the Volvo B10M was a standout workhorse of its era, preserved to perfection here at the Sydney Bus Museum. An impressive nostalgic drive today made possible by the tireless work of the volunteers and a must-see day out.
Even by today's standards, if this bus was at the depot and was doing a school run, few would complain. It just drives really, really well. It's often said nothing good was made in the '80s – they're wrong.
Congratulations to the Sydney Bus Museum! Job well done.
Specs
MAKE: Volvo
MODEL: 1984 B10M
CHASSIS: B10M Mark 1 – 7457
BODY: Custom Bus Euro II
ENGINE: 9.6-litre six-cylinder Volvo THD100EC diesel
TRANSMISSION: Four-speed ZF 4HP500 automatic gearbox
POWER: 245hp@2,200rpm
BRAKES: Dual-circuit air brakes, a spring-applied parking brake and a hydraulic gearbox retarder
SEATING: 47
Photography: Paul Aldridge | Video: Cam Jones