The new Marcopolo Audace 1050 provides affordable luxury that can be tailored to an operator's needs, as well as a predictable and dependable drive. With smart European looks and a high level of flexibility, this is a bus specifically designed for Australia's variety of conditions.
Making its debut on the Australian market at the 2013 Australian Bus and Coach Show, the Marcopolo Audace isn't a new name to our industry, but today we test drive the 1050 – the first redesign of the product since its local launch.
Powered by the Volvo B8R, this model has had key updates and changes implemented to broaden its appeal and create new opportunities in new markets.
Volgren's national sales manager Yuri Tessari says the changes range from major design and wholesale seating modifications to bodywork modifications.
"The Audace 1050 has been designed for Australia and it's been launched as exclusive to our market at this stage," said Tessari.
"The Marcopolo Audace is a proven performer, with more than 450 units sold globally each year. It's a high-quality, flexible bus on a top-class European chassis and it offers plenty of passenger comfort while being competitively priced.
"It's also an incredibly versatile bus that can be used in a range of applications from school runs to charter, mining and long-distance trips.
"The 1050 had been designed for Australia and will be launched exclusively for the local market.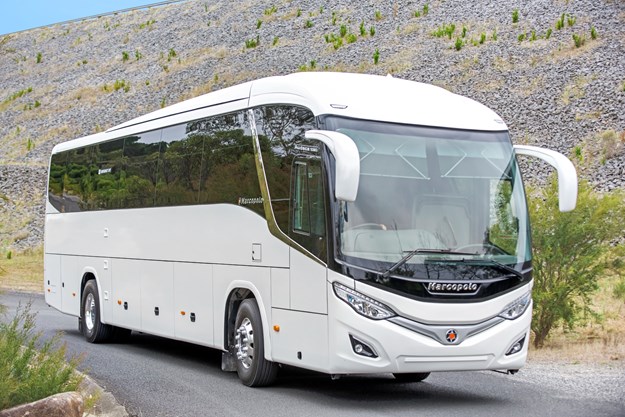 "We had to adapt the vehicle in different ways to suit the Australian market and, once we started this process, we decided to totally redesign it. With the exterior you'll see a lot of changes and I believe the changes make it really competitive with other vehicles available on the market."
Regarding changes to the seating options, there is a version of the Audace 1050 with reclining seats and retractable armrests, aimed at long-distance operators who want to offer passengers extra comfort, he added.
Often, when a vehicle is popular, companies are hesitant to alter a recognisable appearance.
Explaining why the time was right for this overhaul, Tessari said: "We'd been getting feedback and questions from the market as to when we were going revise it. I think it looks completely different from the previous model. The product concept remains the same, but the look is all new.
"It's also now flexible in customisation and this is a huge positive change. The factory can do whatever modifications that customers ask. I think that says the product is still at the top of its life cycle."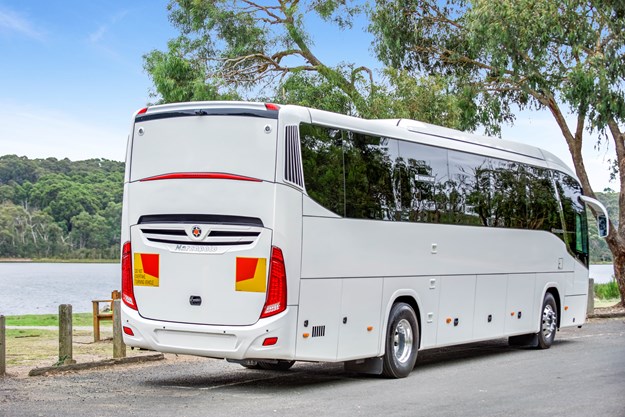 NEW FLEXIBILITY
Talking with bus builders and sales people, it's good to get their feedback about what features make them proud of the vehicle we are test driving. They usually have been part of the journey and process to get the vehicle as shown here in ABC magazine; for others there are key features that they know will be major selling points they really love. Tessari says it was the flexibility and customisation possibilities that he was most proud of.
"This has become the core of our business worldwide. It's important for our business to be able to deliver whatever the customer requires," he explained.
"I believe, from an operator perspective, the customisations available gives huge flexibility.
"We build with 57 fixed seats or 53 reclining seats, but we can basically do whatever is required. So, we can add another door, a toilet, a wheelchair lift or we can we can build with only 20 seats to allow for optimum comfort for a private, exclusive type of operation. "It's all about meeting the needs of the operators."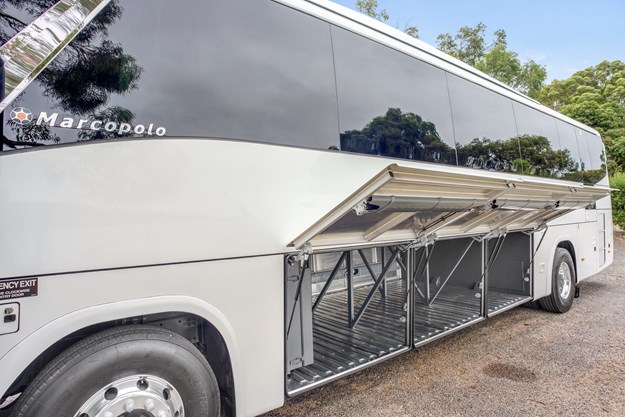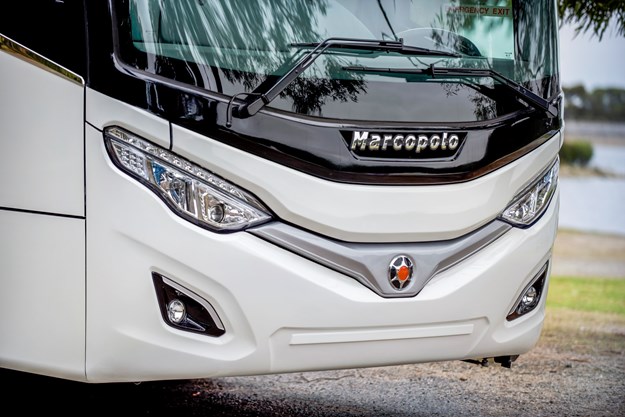 NEW MARKETS
Traditionally, the school bus market has been the mainstay of the Audace but, with the changes to the new model and the flexibility of customisation, new markets are in the Audace's sights.
"With the reclining-seat version, we are ready to go," Tessari added.
"We, of course, understand that the charter and long-distance sector has been unfortunately suffering, but we really believe when it picks up again the Audace will be here and ready."
He references Quicksilver Tours in North Queensland as a prime example of how capable the Audace is in this segment.
"They have four Audaces in operation for tourists between Townsville and Cairns; they do pick-ups and drop-offs for the tour boats. They chose the Audace so they could offer a service delivering tourists in style and comfort. The operator uses the term 'affordable luxury' and I think that description really sums up the Audace."
The customisations will also make the Audace applicable to the mining industry.
The Audace isn't new to the mining market outside our shores, but it is hoping to be a new player in the Australian industry.
"The company is particularly focused on Western Australia," said Tessari.
"I think there's huge potential for this product to start operating [in mine conditions]. It's a known product in Chile, which is a huge mining centre, where we have these buses operating as charter buses. And, of course, mining specification vehicles are again a little bit different. But the Audace can be adjusted to perfectly suit Australia's harsh conditions."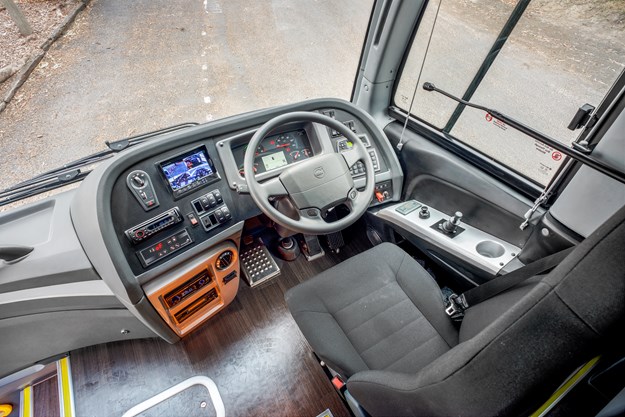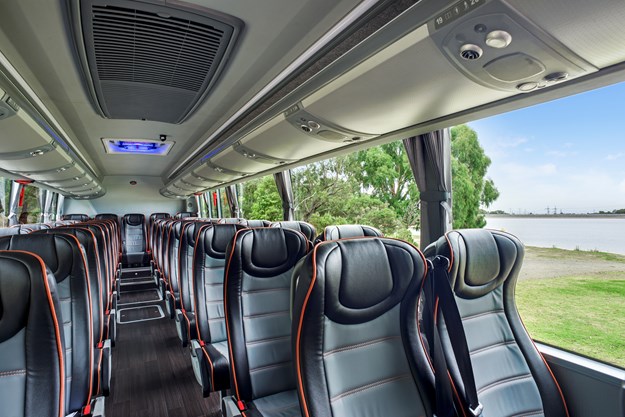 THE MARCOPOLO WAY
The Marcopolo Way is the company's global method of manufacturing, which ensures that, no matter where around the world a Marcopolo bus is being built, the same standards throughout all points of production are followed.
"It's a guideline on how a Marcopolo company should operate and a central part of the company's global strategy," explained Tessari.
"The Marcopolo Way for Volgren is to adjust ourselves to the most effective way to be able to build a bus, to sell a bus, to design a bus.
"We want that to be the standard for all factories around the world. So, when we say that Marcopolo is improving the way of production to the Marcopolo Way standards, we mean that Marcopolo China, which is manufacturing product, is running the same concept as Brazil. So we secure the same quality levels, for all the processes, quality gauges, designing and engineering.
"I believe that, to implement our way of working, you need [to] support everyone. So, the Marcopolo Way is not just a book that you give to people and say: 'Yeah, this is how you should work.' It's a methodology on daily activities to incorporate into your way of working. So, as an employee, I think you learn from example and that's exactly what we're trying to do.
Tessari says the company concentrates heavily on lean manufacturing as part of the Marcopolo Way.
"So, that's what we're trying to do to be cost effective as a factory, and then be competitive in the market. It's much more than just production," he explained.
"What we're doing is giving the customer a voice as well. That's part of the Marcopolo Way, to keep close communication and close partnership with the customers, get feedback and have that as food for product improvement."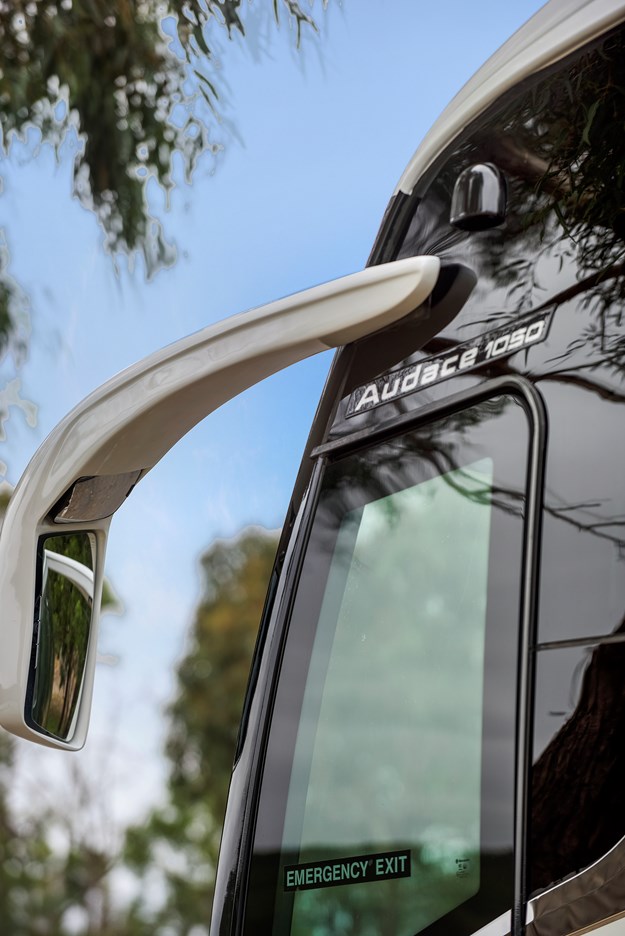 GOOD FEEDBACK
The customer feedback that has been implemented in the new Audace is the change from more of a stock type of bus. The recliner seats are a really good example of making changes based on market needs.
Tessari explains that Volgren received requests for this feature from the market, so it found a partner, Turkish company Sege, and developed the solution.
"This is what we're trying to collect from our customer seminars and learning from feedback just what is needed by operators. We ask what features will help in your operation and then we implement them," he said.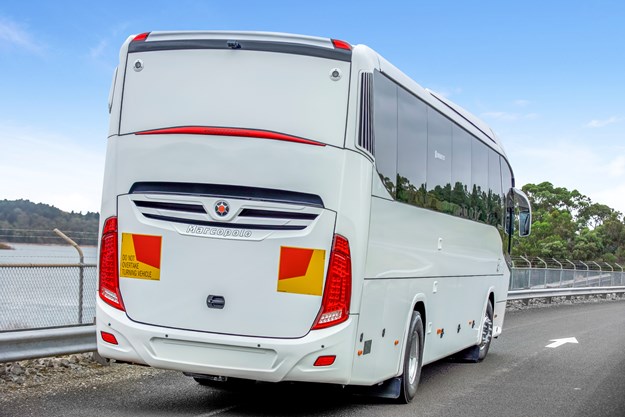 SURPRISING FLEXIBILITY
Wrapping up before the drive, Tessari reiterates that the flexibility of the bus is one of its great strengths.
"When talking to some customers, it's often a surprise reaction to what we can actually do for them. They'll say: 'We didn't know we could have a wheelchair, we didn't know we could change the seat style.'
"That, I believe, is something that the Australian market doesn't know about us at the moment. We can be really flexible and adjustable to suit many applications."
He adds that the bus will be reliable as well, no matter where in Australia the operator intends to use it.
"It really is a very dependable charter bus and highly adaptable because, you know, it's operating in Cairns, it's operating in Victoria, it's already servicing a wide market. And it could go into the Pilbara or similar regions as a mining vehicle, which Volgren already has experience in," said Tessari.
"We're bringing in a European chassis in partnership with Marcopolo. Although it's built at a factory in China, the design and concept is from Marcopolo in Brazil. So, I think that duo is unique in that sense.
"We have a product that is in the price range of a complete Chinese vehicle, but has a European chassis with a Marcopolo-designed body on it."
A combination that certainly makes sense to check out.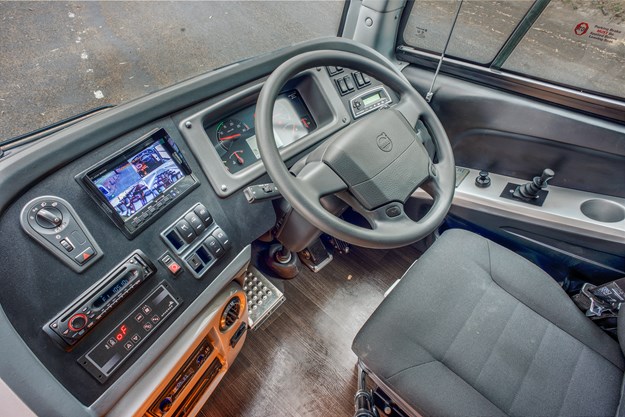 TEST DRIVE
The first thing you notice are the updates to the exterior. At the front, the badging and indentations have a modern, European appearance that gives a high-end look before we even get inside.
The Audace 1050 we drove had the one-piece windscreen that does give a slicker city look, whereas rural operators often go for the split.
The daytime running lights ooze luxury and both the headlights and taillights have been updated. The standout external upgrade is the side stainless steel strip, which pops between the black glass and white paint.
The rear also has had updates with a different-look bin door with more venting and huge new taillights, but the brake strip light remains the same; it was a feature we really liked on the previous model.
Behind that rear bin door is the Volvo six-cylinder in-line diesel engine with 330hp (246kW) and 1,200Nm at 1,200–1,600rpm, which is plenty of power to easily push this bus along.
Like all new buses the access for servicing is easy, with daily checks and oil access right at your fingertips. If you're out on an extended tour or long haul, daily checks couldn't be simpler.
Out of a pocket comes the remote control and with one click the door opens. The driver can leave the aircon running while they are outside the vehicle and have it cooled down or warming and ready for the passengers to get on board – love a remote control for a bus!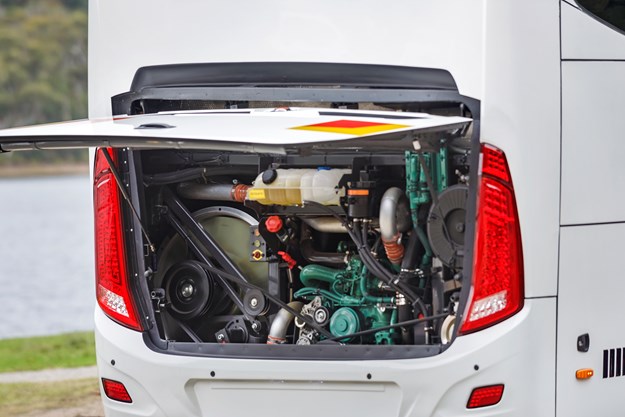 This model is the Audace 1050, with the number standing for the height of the luggage bin. It is extremely roomy with a polished alloy finish to the floor we hadn't seen used before.
Earlier we asked Tessari if the driver's cabin had been updated as well and he said that it was pretty much the same as before, as the feedback from this area, including driveability and driver visibility, had always been very positive.
All is easy to operate and what we like; a feature we are seeing done a bit lately is the darker dash colour in the instrument area. Even a few shades darker does really diminish driver glare that can cause eye fatigue.
On the driver's dash are the easy-to-operate controls for the Spheros CC 355 air conditioning system with great ventilation for the driver. The vision on the LCD screen is perfect, with no complaints. There are four cameras for all-round vehicle vision.
An inclusion always appreciated is a driver's footrest – something so simple that really makes a difference. Visibility in the mirrors is also great, with perfect all-round vision.
An addition to the new-look Audace is the 53 reclining Sege seats in this test drive vehicle, smartly piped in orange with a two-tone grey and black look that certainly elevates the Audace to a class of luxury vehicle its predecessor could never achieve.
USB ports on each seat will keep all passengers happy and connected while travelling.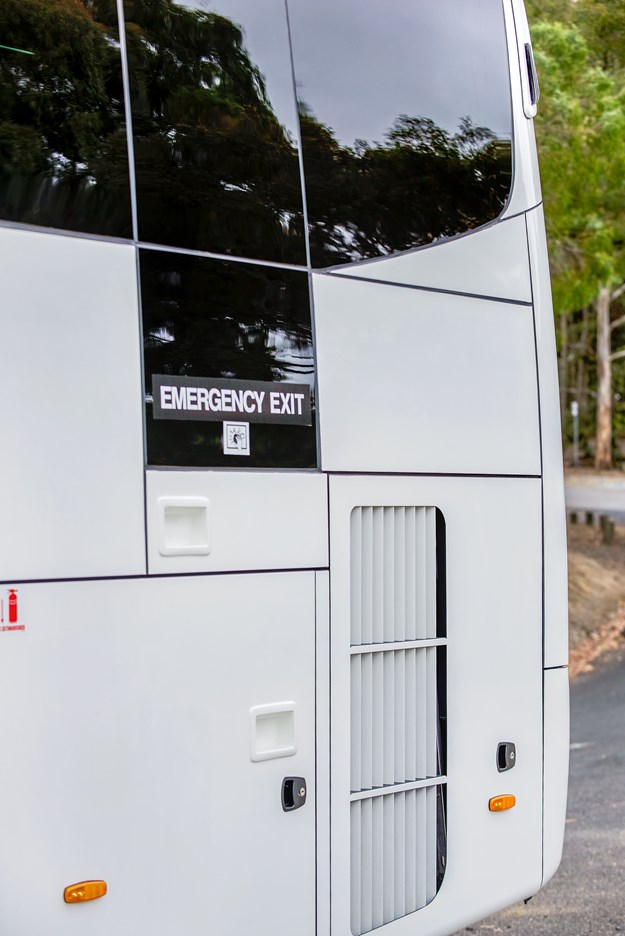 For today's drive we left the Volgren manufacturing plant at Dandenong, Victoria, and headed out on a combination of country roads, hilly terrain and some traffic driving, so we got to give things a try out in different conditions.
Everything drove as expected – no surprises, just easy Volvo driving. It turned on a dime, as we find all Volvos do, making it a pleasurable steer that isn't too heavy or light.
The Volvo drivetrain, although always impressive, is familiar and easy, with everything feeling dependable and predictable. A drivetrain like the Volvo B8R gives a driver confidence and a driver that is confident is a good driver.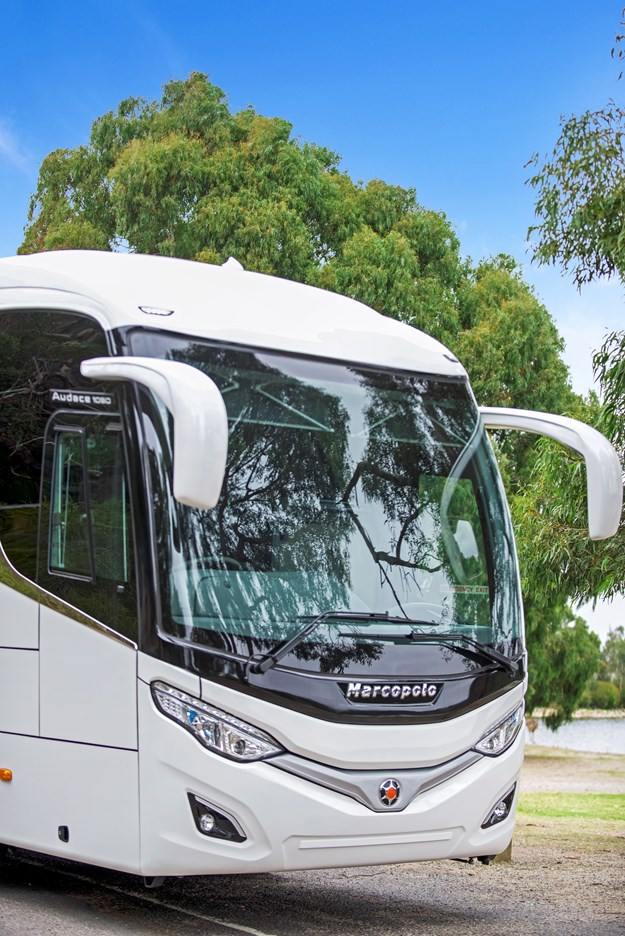 This is where the excellent vision in the mirrors comes in; set on a big arm straight in front, you don't need to look to the side and they let you concentrate on the road ahead.
With the Volvo B8R there are all the safety features you need as standard, including electronic braking system, anti-lock braking system, acceleration slip regulation and an electronic stability program.
In addition, there is hill start aid – a feature that is great for city traffic driving and driver peace of mind.
The 2021 version of the Audace is an outstanding drive and the new upgrades to both the external appearance and internal inclusions have really elevated the Audace 1050 to a new level.
Specs
MAKE: Marcopolo
BODY: Audace 1050
DRIVETRAIN: Volvo B8R 4×2 Euro 5
TRANSMISSION: ZF SIX-speed automatic
DIMENSIONS: 12.3m (L) x 2.5m (W) x 3.7m (H)
ENGINE: Volvo six-cylinder in-line diesel engine; Power – 330hp (246kW), Torque – 1,200Nm@1,200–1,600rpm
GVW: 19,000kg
EXHAUST: One-box muffler design with SCR
MISC.: Aircon – Spheros CC 355; Seats – 57 Marcopolo fixed or 53 Sege reclining
SAFETY: ABS, ASR, brake assist, brake blending, EBS, ESP and hill start aid
Photography: Paul Aldridge | Video: John Paul Beirouty