With the addition of the Shuttle 22 to its Daily minibus range, Iveco is providing a larger vehicle for standard operations that is far from basic when it comes to safety features and a quiet, comfortable ride.
The Iveco Daily minibus range has grown in Australia, with today's test drive vehicle – the Shuttle 22 – the latest offering to the range. With a modern European design, the Daily minibus is available in 11-, 16- and 22-seat sizes, plus driver, with two trim levels – Shuttle and Executive – to meet the demands of the local minibus market.
Speaking with regional sales manager George Stavrinou, we asked about the development of the range.
"The first model came out around three years ago," he explained.
"We launched a 16 plus one [16 plus driver] in a Shuttle, which is the base model, and an Executive with leather seats [that is] a bit more upmarket. Then we followed with an 11 plus one, and we've had very good success with that. Around a year ago we brought out the 22 plus one, which is this model that you see in front of us and this is the latest model to the range."
As to why a 22-seat Shuttle seemed like the right way to expand, Stavrinou explained: "We felt like the 16-seater served a niche market, but we had requests from customers that really wanted to carry more passengers. So, we had a look at what we had available as far as chassis, and 22 was a good fit for the particular size of body that that we had available.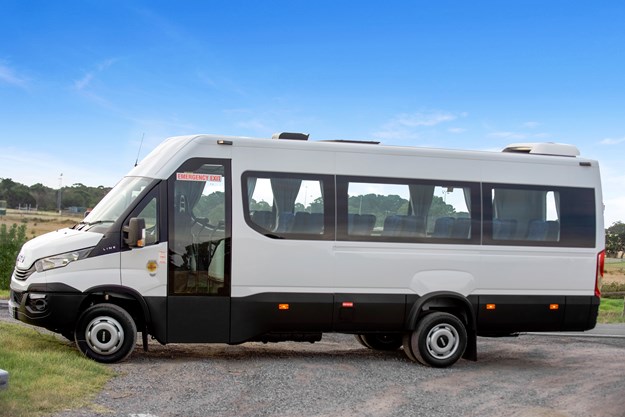 "It meets a gap in the range and the target market will be rental companies that have minibuses on board: local tour operators, airport shuttle, aged-care transport and government departments. We've built based on customer demand.
It really has a big range of appeal.
"We also have a bit of flexibility with this model to remove some seats from the rear and provide wheelchair access. We can make changes on a case-by-case basis, it all depends on what our customers need."
Being the times we are in, we asked Stavrinou about the order times and he confirms that Iveco has stock available right now for customers that are interested.
"When we run out of the current stock we're probably looking at around a six-month lead time if we've got to build a new one from scratch," he added.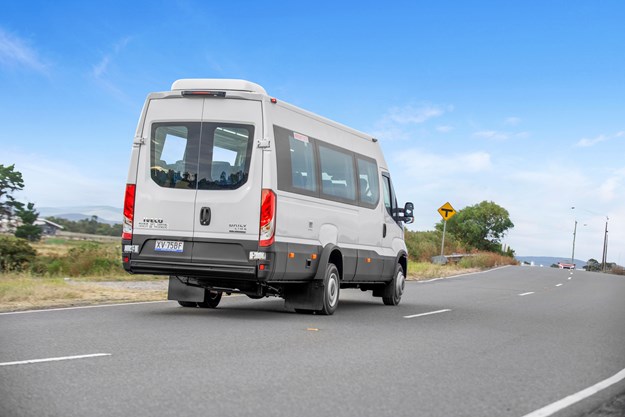 PLENTY OF POWER
Behind the Daily minibus range is a powerful Euro 6 engine with 180hp (134kW) and features a flat torque curve with maximum 430Nm from a low 1,500–3,000rpm.
"The engine is a really sweet engine," Stavrinou said.
"We've been running the 180hp Iveco FIC for about three years now. The same engine is also running in some of our seven-tonne vehicles, as well; our seven-tonne daily truck cab chassis and also our vans run that same engine, all with the ZF behind it.
"So, the variable geometry turbo really gives you … a lot of torque down low and it's a pretty flat torque curve. So, if you look at the specs, you get 430Nm@1,500 to 3,000rpm. It's not like some competitors' engines [that] will go up like a ramp, hit the peak torque and then fall off a cliff. These engines will actually make peak torque almost at idle.
"The engine meets the strict Euro 6 emissions measure using a combination system of exhaust gas recirculation (EGR) and selective catalytic reduction. Sometimes manufacturers will go one way or another, not often both but the advantage of going for a small EGR valve and then urea injection is you're not using a lot of AdBlue. Our Euro 6 Daily use very little urea versus fuel, but I think for every 90-litre tank you only use around about three and a half to four litres of AdBlue."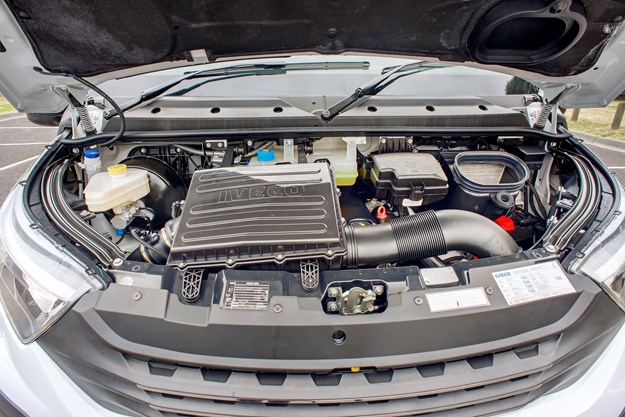 ESP 9 – SAFETY PLUS
Having the two model types, Shuttle and Executive, we asked what we should expect from the base Shuttle model and what options can be added, if required, to meet operators' needs.
"The difference between the two models is basically on a 'finish only' basis," Stavrinou said.
"All safety gear comes as standard in both models. What we've basically done is put all the options in the vehicle as standard."
So, today, we can expect a drive from a base model in the, but with no shortcuts or omission of features related to vehicle safety. We really appreciate when features, especially of a safety nature, are included as standard with the base model of a range. Often this will be the model chosen to transport school children and the elderly where a luxury finish isn't required but safety is vital.
"Iveco have added their top-of-the-line safety package called ESP 9 to all their Daily minibus range," Stavrinou added.
"It's basically a safety package that we buy from Bosch with a long list of safety features, so, no matter what vehicle you buy, safety is the main priority."
The ESP 9 safety package includes, as standard: front and rear disc brakes with an anti-lock braking system (ABS); lane departure warning (LDW); driver's supplemental restraint system (SRS) airbag; electronic brake force distribution; anti-slip regulator; drag torque control; hill hold control; adaptive load control; trailer sway mitigation; hydraulic rear wheel boost; hydraulic fading compensation; roll-movement intervention; roll-over mitigation; and daytime running lights.
FEATURE FOCUS
It's always interesting to find out what Australian components, if any, are used on a build.
"We bring them in with just the air conditioning and a bare floor," Stavrinou said.
"Then we install the curtains, seating and rails, the floor coverings and the emergency switches on both sides. All this is fitted in our Dandenong plant with local componentry."
This is great to hear as even small locally sourced or made additions to a build allows local suppliers to be kept alive.
For a personal opinion, we ask Stavrinou what aspects or features of the Shuttle 22 he is really proud of.
"Honestly, the way the vehicle drives and handles both for the driver, but also for the passengers," he answered.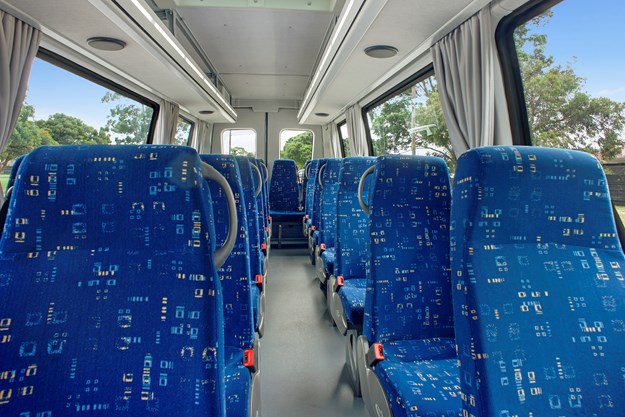 "So, that's really where we believe the Shuttle 22 stands out from the crowd. The NVH [noise vibration and harshness] levels are very, very low compared to our competitors.
"You'll see, today, the ease of access to your daily checks. The ergonomics [are also a standout] – it doesn't feel like you're driving a bus, it feels like you're driving a car. If a driver's doing long hours, they're not going to come back fatigued.
"I can speak from experience because I've done trips where I had to drive vans of a similar size to this one for four hours, and, with the Shuttle 22, you jump out like you've been in a car.
"Ground clearance as well is better than a lot of our competitors, which is important sometimes, especially when you're in touring and maybe going in off-road regions."
Aside from his personal favourite features, Stavrinou said that there are too many to mention smaller features and adaptations that make the Shuttle 22 a great choice for operators. He told us about one that makes good sense for ease of repair.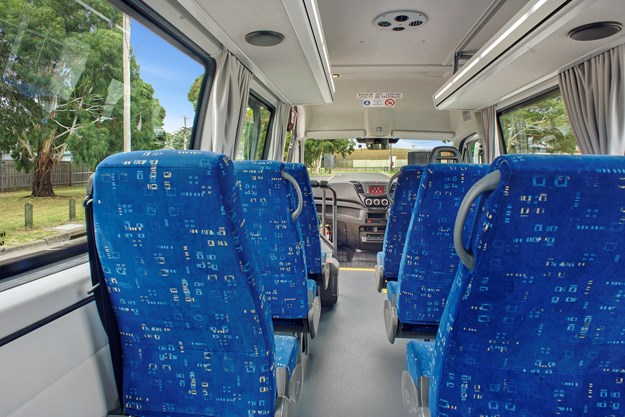 "See how we've got the black plastic trim all the way around? That's the first place where you'll scrape or damage a vehicle. Those trims are not very expensive to buy at a dealer to replace, so, rather than having to get a panel beater and get some panel beating done, all you have to do is change a plastic part.
"It's the small design features like that that equate to the lower cost of ownership. We find it's those features that fleet operators really appreciate from an Iveco."
Another feature that plays a part in efficiency and cost saving is the inclusion of a smart alternator across the Daily range.
"What that means is that its smart technology detects when you need full power to the rear wheels and it'll stop charging the alternator. Then, it'll know that, when you're on the brakes and you're coasting, you're slowing down, [so] it'll put maximum charge, up to about 180 amps, through the battery.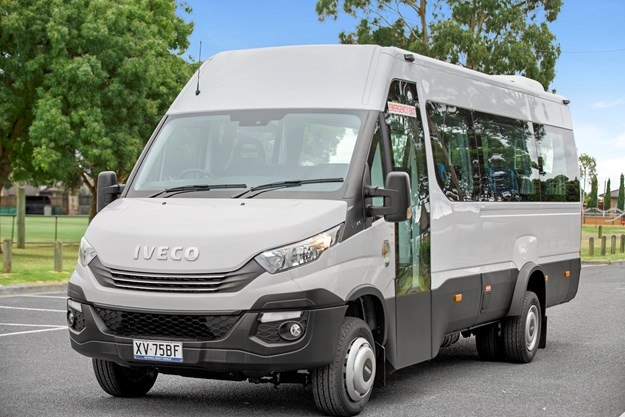 "So, the alternator technology is smart enough to give you very high current charging when you're slowing down or when you don't need power. So, for the majority of the time, the alternator is just freewheeling, adding to the to the fuel economy of the vehicle. It means that it requires a battery that is capable of taking those high currents. You can't just put a standard battery in it. The way we've designed it, removing the battery out of the engine bay and putting it in the cabin, really extends its life because it's always cool."
As to why the Daily Shuttle 22 is a smart choice for operators. Stavrinou says that the advantage to this vehicle is that there are already a lot in operation.
"In the driveline the platform's the same as the rest of our range," he added.
"So, for spare parts and servicing there's a real advantage. If you want to replace the instrument cluster or the turbo or something like that, it's not a unique product. The front bumper, the bonnet, the doors are all the same – simplicity of range makes for real advantages for operators and reduction in downtime."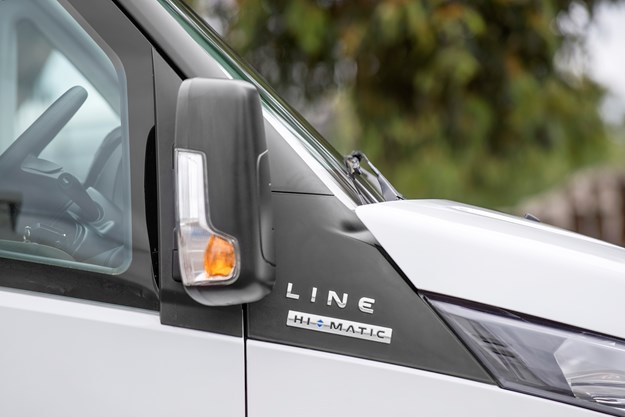 THE DRIVE
The Shuttle 22 is the latest entry to the Iveco minibus family and, although called a minibus in size, it looks pretty impressive and larger than what you'd expect up close. 
Yes, this is the base model of the range and there is an Executive option available but, although not a top-of-the-range vehicle, it comes with a long list of features as standard across the range. This would have to be one of the key selling points to certainly take note of.
Under the bonnet things couldn't get any simpler, with clear and easy access to brake fluid, washer water bottle, water coolant, oil levels and top-up. The battery is by the passenger steps, but there's a jump-start port here, too.
To make it even easier, on the driver display there are indicators when you turn the ignition on that show all oil and water levels without going under the bonnet. No excuse for not doing your daily checks.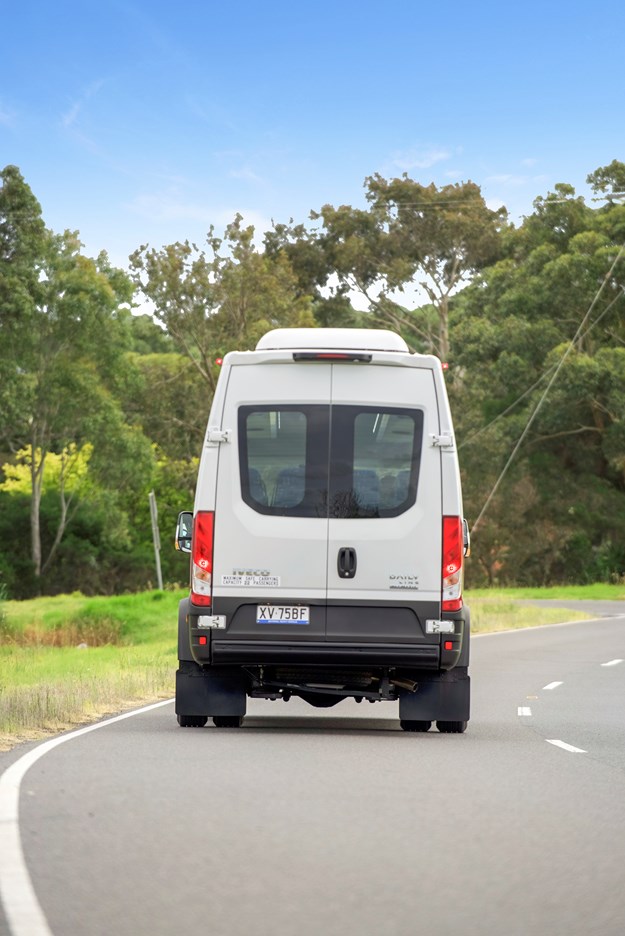 The overall length is 7.5 metres, the external height is just over 2.9 metres and internal cabin height is 1.8m, so standing height for many. External safety features include daytime running lights and the mirrors have been carried over from the previous model – if they work well, why change? Truly great vision from these mirrors – some of the best we have tried – and electric and heated with good blind spot visibility at the base.
From a driver's perspective the driver's area works really well, with an easy-to-read dash with touchscreen multimedia system, in-built reverse camera and really simple-to-use functions that show you everything you could need to know about the vehicle. The seat was a particularly notable feature, which feels like you're sitting in an armchair.
Stavrinou mentioned before the drive that the electronically controlled airbag suspension would probably be a little bit jerkier unladen than if you had a couple of passengers on board. Iveco's thinking is that it would rather have it drive well with 10, 20 passengers in there than the driver on their own. Saying that, we found the drive very comfortable if a little bouncy with only three on board, but certainly comfortable. It was also super quiet, both as a driver and passenger down the back, as we tried out both positions.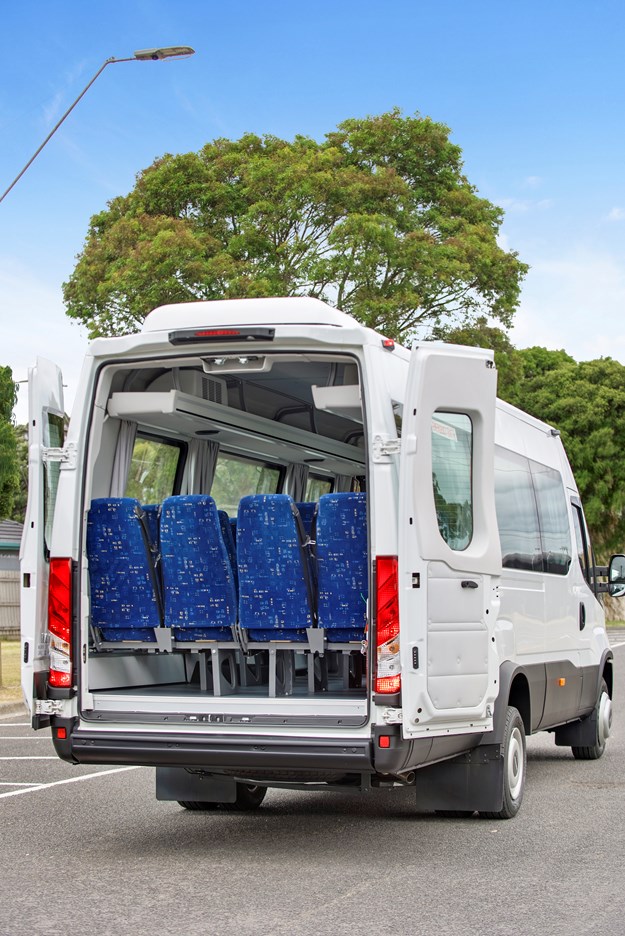 Internal overhead luggage storage is ample – an overnight bag would easily fit – though the rear storage area in this model isn't huge as the 22 seats take up maximum floor space. However, the Shuttle 22 is probably not aimed specifically at the long-haul market, plus there is always the option of adding a trailer with a towing capacity of 3,500kg.
The two rear-door access opening at 270 degrees means that entry to this area is really generous.
At the point of purchase, customers are given an SD card so they can download the latest maps for free, with speed limits and new roads, and insert this into the bus' navigation system. After this, customers can annually download the latest maps and update their system for a minimal fee, so the vehicle always has the latest data for the driver.
In addition to the aircon there's an extraction fan for ventilation, which is good for days when the weather really doesn't need the aircon operating, or to remove built-up heat in a parked vehicle.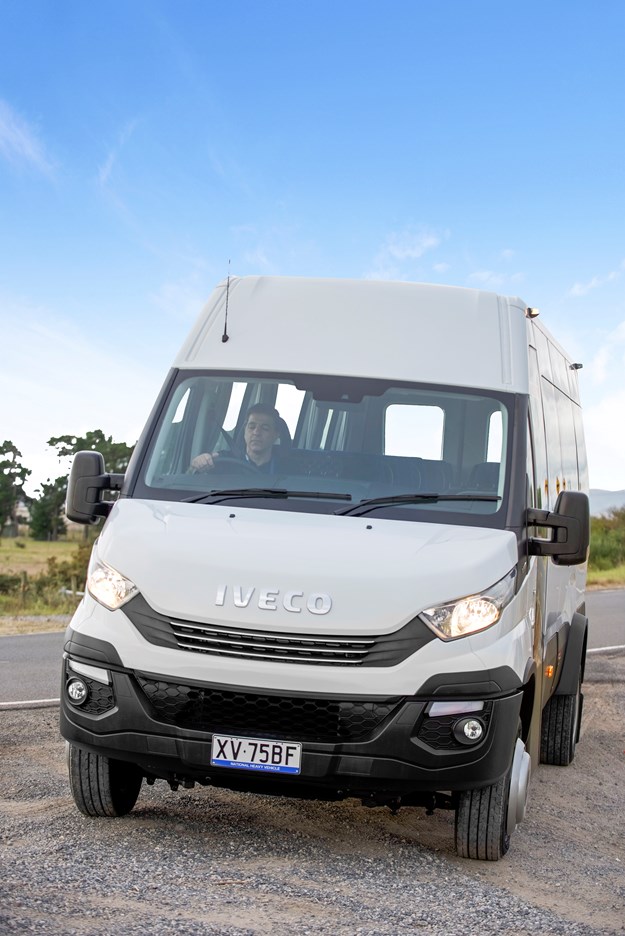 The transmission is an eight-speed ZF Hi-matic with Eco mode – synonymous with quality and longevity. The gearstick is very easy to operate, with a Power button and an Eco mode. When doing flat, not fully loaded driving, Eco mode means the transmission changes gears at a lower rpm to help optimise fuel economy. The Power mode will help give a bit more oomph when fully loaded and, when going downhill, will hold the gears for longer. Both modes give what you need when you need it, with the best economy.
The drive from Iveco's headquarters in Dandenong, Victoria, put us on both suburban and country roads and the coupling of the ZF transmission with Iveco's Euro 6 180hp engine was the perfect combination. This Minibus feels like it has plenty of power in all terrains. The turning circle is outstanding, as well.
From city to winding country roads, the Shuttle 22 performed great on all. We could see this working well for everything from wine tours to busy suburban runs; the Shuttle 22 can handle it all.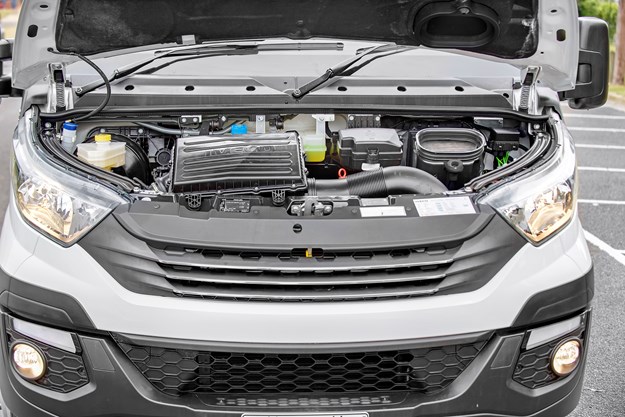 ESP9 OVERVIEW
ABS – Anti-lock Braking System avoids wheel locking during heavy braking moments
ASR – Anti-Slip Regulator, which acts on the engine and the brakes, preventing the drive wheels from skidding
EBD – Electronic Brake Force Distribution shares the brake force between front and rear axles
ESP – Electronic Stability Program brakes each wheel and controls the engine by reducing the number of revolutions if the vehicle becomes unstable
HBA – Hydraulic Brake Assist ensures emergency braking is as effective as possible
HFC – Hydraulic Fading Compensation detects brakes' fading conditions, increasing the brake circuit pressure up to ABS intervention level
HHC – Hill Hold Control acts on the braking pressure to hold the vehicle during uphill departure
HRB – Hydraulic Rear-wheel Boost, which, in case of emergency braking, boosts the rear brake force to help reduce vehicle stopping distance
LAC –  Load Adaptive-braking Control identifies changes in the vehicle mass and centre of gravity along the longitudinal axis of the vehicle and adapts the interventions of ABS, traction control and ESP
MSR – Motor Slip Regulation is engine speed management to control engine overrun braking
RMI –  Roll Movement Intervention mitigates dangerous roll-over situations during dynamic driving, such as evasive manoeuvres, U- turns, etc.
ROM – Roll-Over Mitigation acts as an extension of RMI by mitigating rollover during quasi-stationary manoeuvres, such as motorway exits
TSM –  Trailer Sway Mitigation detects the presence of a trailer and adapts the ESC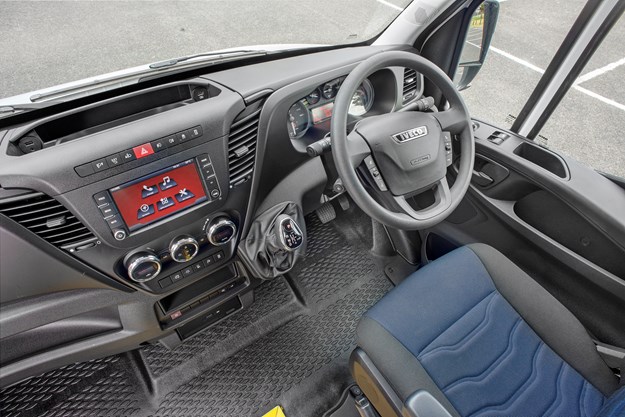 Specs
MAKE/MODEL: Iveco Shuttle 22
ENGINE: 180hp Iveco FIC (Euro 6) four-stroke diesel with direct-injection, variable geometry turbocharger and intercooler; Power – (Max.) 180hp@2,800–3,500rpm; Torque – (max.) 430Nm@1,500–3,000 rpm
TRANSMISSION: Eight-speed ZF torque converter automatic (Hi-matic with Eco mode)
EMISSIONS TECH: Exhaust gas recirculation system + selective catalytic reduction
DIMENSIONS: (LxWxH) – 7,515mm x 2,174mm x 2,905mm
GVM: 6,100kg
TOWING: 3,500kg with braked trailer
STEERING: Power steering; 390mm diameter steering wheel with telescopic adjustment
AXLES: Independent wheels (front); rigid, twin-wheel (rear)
SUSPENSION: Independent with torsion bar (front); pneumatic air suspension with ECAS (rear)
BRAKES: Disc brakes front and rear; ABS and ESP; manual parking brake on rear axle; service brakes dual circuit with vacuum servo; brake wear warning lights for front and rear
FUEL TANK: 90L
ADBLUE TANK: 25L
CHASSIS: C-Section steel longitudinal side members and tubular cross members
ELECTRICAL SYSTEM: 12V – 110 Ah battery; 12V – 180 A smart alternator; trailer wiring to rear of chassis
WHEELS: 6J x R16
TYRES: 225/65 Rl6
SAFETY: ESP9 program; Day-time running lights
MISC.: Iveconect multimedia system with steering wheel audio/phone controls; Bluetooth connectivity; anti-corrosion protection by full 'cataphoretic' dipping; two rear doors 270° opening with heated windows; heated and electrically adjustable mirrors; electric bus plug door; 'athermic' windscreen and single athermic glued windows; thermo-acoustic insulation; four =-speed electrical fans with air distribution functions and air recirculation; A/C for driver with automatic control; passenger air conditioning through air channels on luggage rack; reverse camera; premium timber-imitation PVC floor covering standard; LED lighting; adjustable and air-suspended driver seat; electric driver window; cruise control intuitively influence the dynamics of the vehicle-trailer system
Photography: Paul Aldridge