When launched a few years ago here in Australia, the Hino Poncho was a 'cute little bus' giving potential buyers something to think about. Years later with 'on demand' now in vogue, those thoughts are even more pertinent still.
It's one that's been a long time coming, this test drive of the Hino Poncho. For the past few years our paths have crossed, but nothing's aligned at the right time.
This drive is literally hot off the floor from the 2019 BusVic Expo and Maintenance Conference at the Melbourne Convention Centre – straight out the door of the venue to the busy city streets. 
Speaking with Hino national sales manager Kevin Fielding, we asked about the Poncho's first foray into Australia.
"In Japan the Poncho has been around since 2002. We pushed for a demonstration model to gauge the reactions to it and, from the start, it has always been really good, so the next push was to bring them [here] in 2013," Fielding said.
"We brought the Poncho in thinking community transport, but then 'on demand' came into action and it's the perfect on-demand bus.
"I was talking to someone about on-demand the other day and they said every time they see the Poncho it's full; it's having great success for service," he said.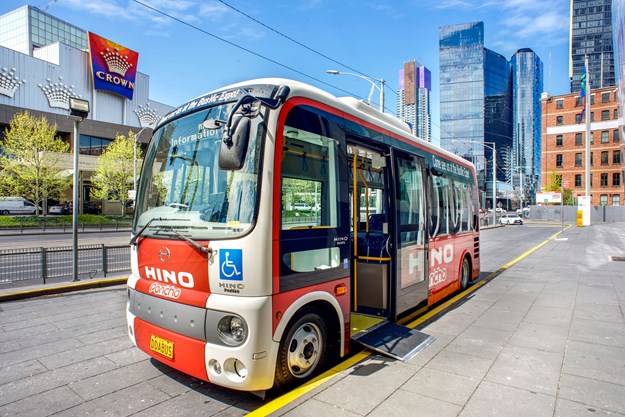 TURNS ON A SIXPENCE
"It's great in tight areas, turns on a sixpence," he said.
"What I like about it is that it's a really comfortable vehicle to drive. It's a vehicle you can feel at ease driving.
"The Poncho has an impressive turning circle of less than 8 metres!
"I've driven in some places that you'd normally get nervous driving in, but not in the Poncho," Fielding explained.
"I took one from Goondiwindi, Queensland, to Inverell, NSW, and when I arrived all the bus operators asked where I'd driven from; they couldn't believe the Poncho did the roads I did.
"It's just easy to drive and coped incredibly well with the tricky roads," he continued.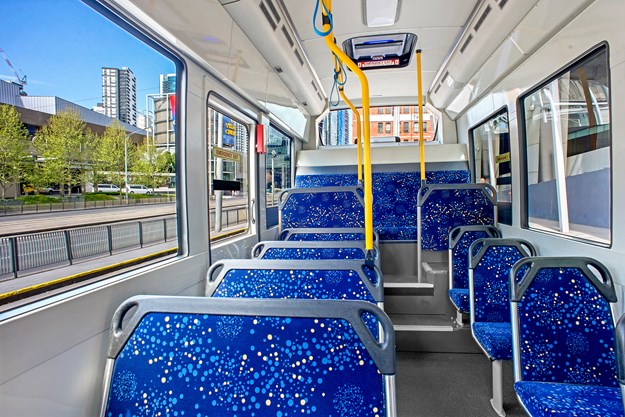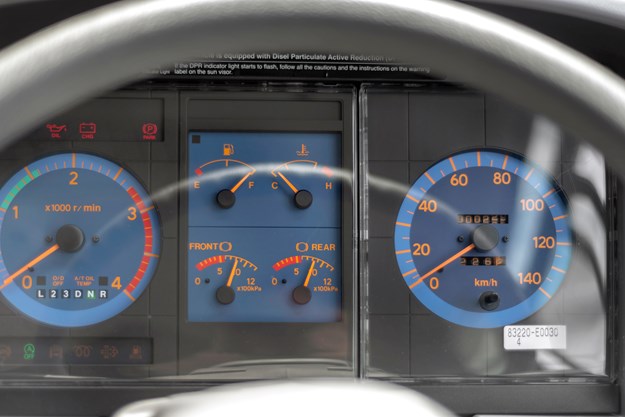 Fielding says all Ponchos are already Australian DDA compliant (Disability Discrimination Act), so when the mandatory changes come in effect in 2022 no vehicle alterations will be required.
"The designated wheelchair area also comes with fold-down passenger seats and can also be used for prams, so there is no decrease in passenger capacity when this feature is not in use," Fielding said.
"It has an 18-passenger capacity plus driver, wheelchair provision, plus standing passengers.
"We are looking at a community transport bus over in WA at the moment, where we may go to three to four wheelchair spaces [as an option] – it's just about customer requirements."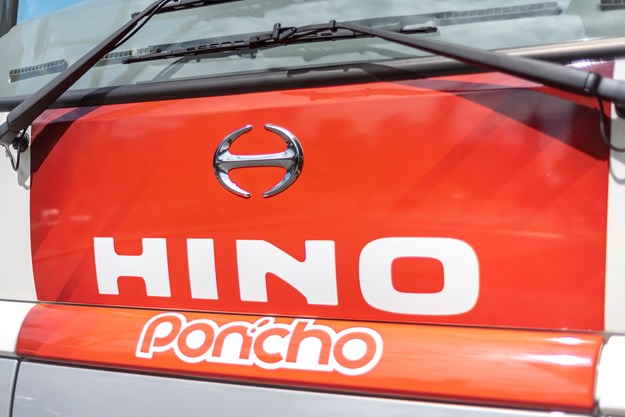 HOW LOW CAN YOU GO?
One of the first things you really notice when hopping on board is how low the Poncho is; we couldn't envisage many passengers having an issue with accessibility.
The Poncho comes with a flip-down ramp for disability and mobility access – a ramp that's actually an Australian innovation.
In Japan the Poncho has a manual ramp that the driver has to leave the vehicle to set up and manually push passengers on board. The Japanese drivers, to be professional, believe this is a better system, apparently.
Fielding explained further: "With our ramp on a curb we can achieve a four-degree rise and on a non-curb it's 14 degrees; I believe 17 is about the industry standard, so we are well under.
"Four degrees allows passengers the ability to 'wheel on' by themselves, with 14 they need assistance. Our doorway is also wider than the Japanese models."
Our doorway is 850 to be DDA compliant, so why the difference? Fielding said: "So our passengers have the ability to get on board themselves. In Japan it's all manually done by the driver."
Interesting – this was the first time we'd come across features and changes to a vehicle to meet a country's drivers service standard. Hmm…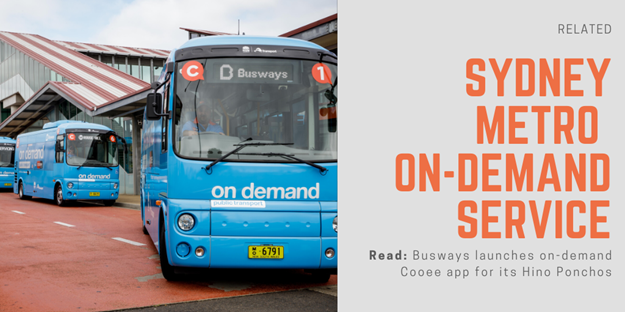 BIG HEART
Speaking with Fielding one soon realises, yes, he's passionate about the Poncho, but he really has an interest and cares for the passenger market this vehicle is aimed at.
He says they are focused on the community transport market and that they are working hard to ensure it's comfortable for the people that use it.
"We aren't community transport, we aren't drivers, it's not our passengers and their carers, but I find myself really needing to listen to their needs and feedback," Fielding stated.
"Rather than ask 'why do they need that?', I like to listen and come up with changes that will ensure the Poncho suits its market and the people that actually use the service."
ABC magazine asked Fielding about what modifications, if any, are made when it gets to Australia. He says the seats used are Australian because this gives the ability to be flexible with customers' different requirements.
Another fun fact? The roof hatches are also from Australia; previously they hadn't used them in Japan and when Hino Japan saw them on our local models they now use them over there too.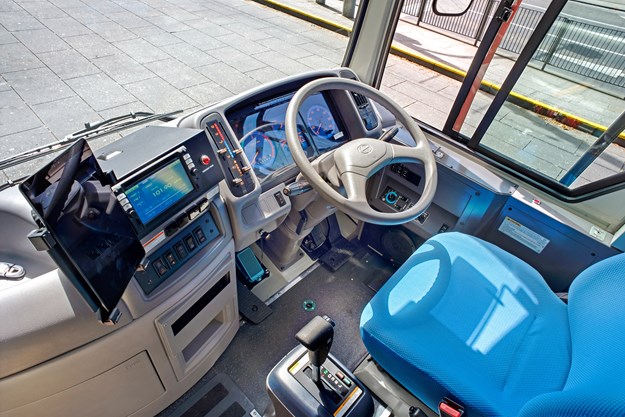 THE TEST DRIVE
As stated, this bus was hot off the Expo floor and straight to the busy Melbourne streets with only 227km on the clock.
Driving around the city you get the feel straight away this is one zippy little bus and a really easy drive.
With a 5.1-litre turbodiesel engine making 530Nm torque and 13kW, one thing you notice in the traffic is the Poncho just keeps up, no lagging behind. Plenty of starts and stops and it just keeps up with the cars.
The driver's seat access is around the gear selector, which could be a very slight negative. If you are tall there's certainly heaps of room for long legs, no complaints.
Another thing you notice pretty quickly is that the brakes are well up to the task, though pretty touchy. For added safety there's ABS and electronic brake-force distribution (EBD). This helps to control the brake bias between the front and rear, left and right wheels.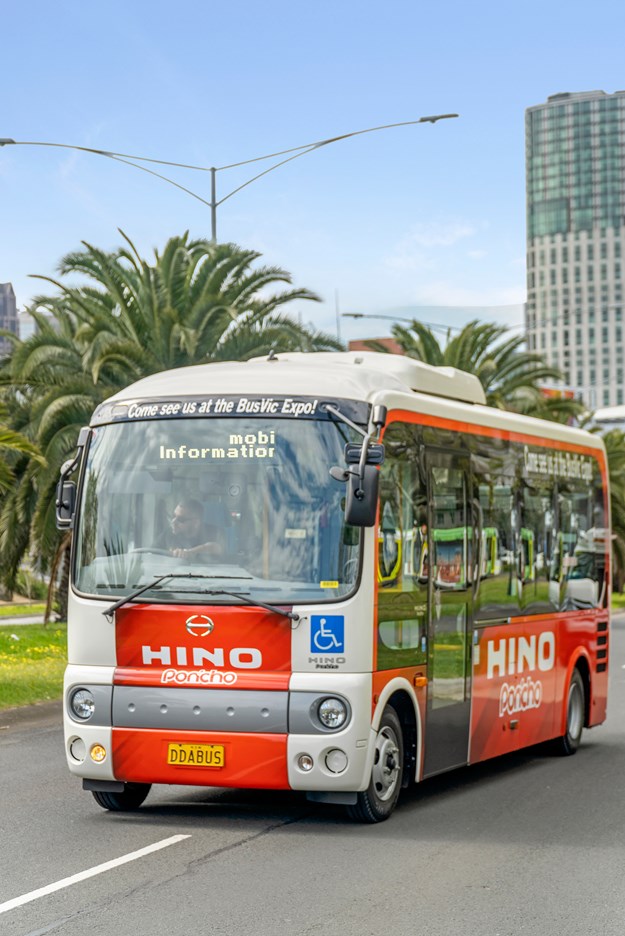 Visuals are great; the mirrors on the model we tested that day are standard. We really liked the blind spot mirror up the front. Being such a low vehicle and because of the passengers' needs it's great to see 'top to bottom' outside the bus, especially to look out for children.
At one point, stopped in traffic, I had to look around the side pillar, but it was a sharp angled turn.
In normal cornering, the visuals are totally unobstructed.
There are four cameras inside the bus and one outside (CCTV optional). The reversing camera has been lowered, so it can also be used as a multimedia station. On a standard-size bus you have the height over the road to increase your visuals, but being a low bus the mirror and camera vision are extra important for safety – both are really effective, though.
Still on visibility, as Melbourne has huge turning lanes that seem to curve forever, when merging through lanes the mirrors work a treat. We are loving the blind spot mirror; it's a great size and really effective.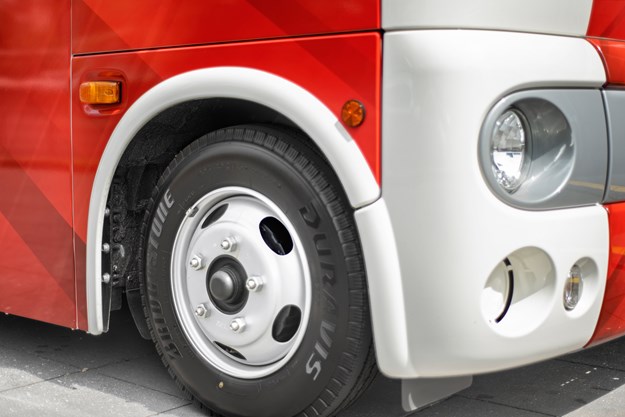 NICE AND TIGHT
At one point we had to do a U-turn and, just as Fielding stated earlier, it does "turn on a sixpence".
We checked on the stats and the Poncho has an impressive turning circle of less than 8m. This ability would be useful with on-demand services with the changing nature of passenger requirements and pick-up locations.
Also a feature we really liked is the 'sensitive edge' door. It has added technology that ensures under no circumstances will the door shut if there's an obstruction. The driver has a warning signal and lights that let you know immediately if there's an issue. The throttle won't operate and the bus can't be put back into gear until the door is fully closed. Nice one!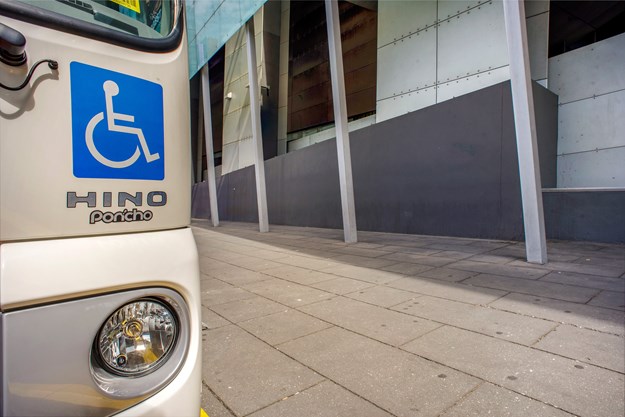 Considering the safety of the market this bus is aimed at, this feature means not only passenger safety, but also driver peace of mind.
Fielding says the closing power of the door had been reduced, so that even a slight closure on a passenger would mean they would be more likely to laugh than cry.
Seriously, though, when you are doing community work and your passengers have disabilities it is extra important to have the capacity – as a driver – to be aware of your passengers and their safety – the Poncho would certainly give a driver that.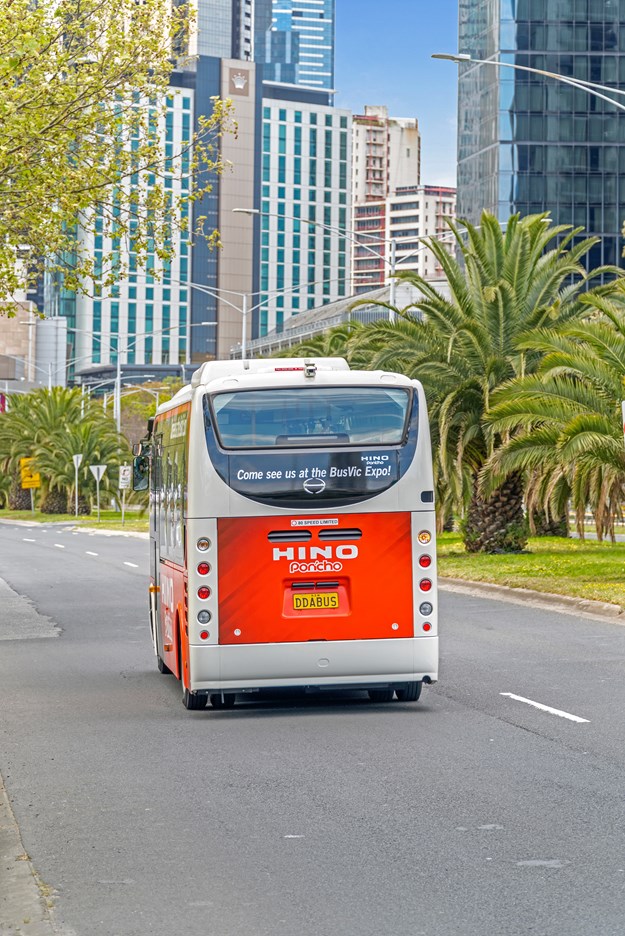 HOLDS ITS OWN
Melbourne is one confusing city to drive around. There's heaps of traffic and unfamiliar lane changes, but the easy-driving Poncho made the job simple.
Externally, it's a really 'cute' bus, and this particular vehicle's bright orange-red paint work and advertising meant we had people honking at us and waving hello – we even had our photo taken.
Ultimately, Hino has put a great deal of thought into who its market is, but has taken it further than that by asking the question: 'What do they need for their comfort and safety?'
With excellent visuals, plenty of zip and features that ensure we can take care of our passengers with added needs, the Poncho is one friendly little bus.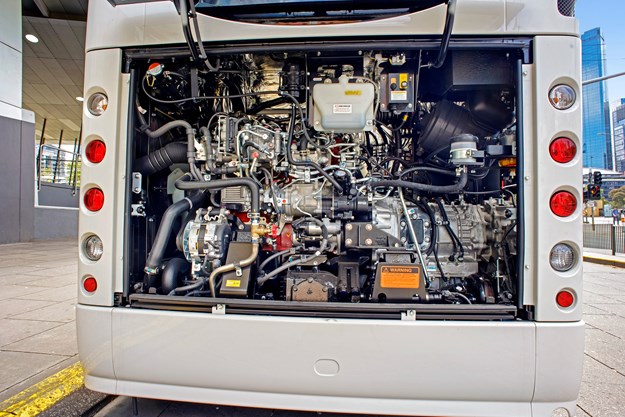 Specs
MAKE: Hino
MODEL: Poncho
ENGINE: J05E-TS four-cylinder, common-rail, 5.1-litre, direct-injection, turbocharged and intercooled; emission control system EGR and DPR meeting ADR 80/03 using Euro 5 standard; Hino stop-start System (HSSS); Power – (max output) 180hp/132kW@2,500rpm, Torque – (max torque) 530Nm/54.0kgf/m@1,500rpm, Engine speed (max) 2,900rpm. Fuel tank – Construction: All steel and rectangular; Capacity 100L
TRANSMISSION: Five-speed full automatic transmission
SUSPENSION: Combination air and leaf (front and rear), Wabco ECAS – including easy-access kneeling
BRAKES: Anti-lock braking system (ABS)
WHEELS/TYRES: 6 x 205/80R x 17.5 (120/118 LT)
BODY: Australian DDA compliant, ultra-low floor, wheelchair access, emergency exits RHS, hatch and break glass window; Weight – GVM 7,710kg
INTERIOR: 18 seats plus driver with provision for a wheelchair and standees
Photography: Paul Aldridge | Video: Matthew Bourke