It's what you can't see that's exciting in the new Rosa.
The Fuso Rosa might be a familiar face when you see it on the road; it's been an enduring and popular model in the Australian light-duty bus market for more than 15 years. This new-model Rosa might look really familiar, but it has some pretty advanced features and changes behind the scenes that are pretty impressive.
Some test drives and vehicles are all about the looks and luxuries and we certainly love to drive these vehicles. The Rosa, though, isn't a vehicle built just to impress. The thought process behind the updates have been made with a huge focus on the importance of safety features and it would be hard not to agree when these buses are a very popular choice for schools and nursing homes.
The new Rosa comes in three models: the Rosa Deluxe (22-seater), Rosa Deluxe (25-seater) and the Rosa Standard (25-seater). Today's drive is in the Rosa Deluxe 25-seater and, yes, it is the top-of-the-range vehicle, but what is important is that the key changes made to the model are across the board and come as standard in each model.
Fuso says that having the two options for seating capacity gives the Rosa a distinct class advantage, with the additional three passengers adding significant value for operators. As always, this class has a broad appeal from tourism operations, rental vehicles and regional area school buses to shuttle bus operators.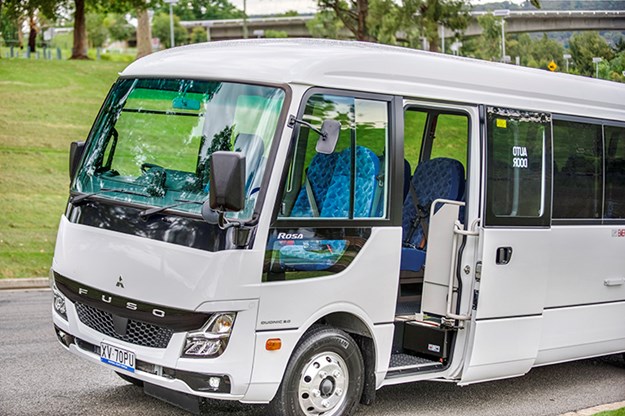 SAFETY, SAFETY, SAFETY
Fitted as standard, each Rosa comes with height-adjustable LED headlamps, an electronic stability program, anti-skid disc brakes, driver air-bag, passenger airbag, reversing cameras, lane-departure warning system (LDWS) and what is arguably the most impressive standard feature across the range: the advanced emergency braking system (AEBS).
AEBS is a radar sensor system that detects and helps avoid possible collisions with both moving and stationary vehicles or objects, but it also reacts to pedestrian movement.
If the system detects movement, the driver is given both audible and visual warnings from the dashboard in tandem with physical braking.
Obviously a potentially life-saving feature, it is perfect that it comes as standard across the board and not the usual optional extra.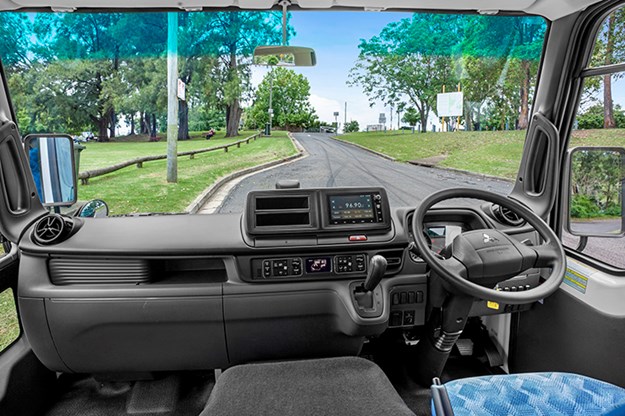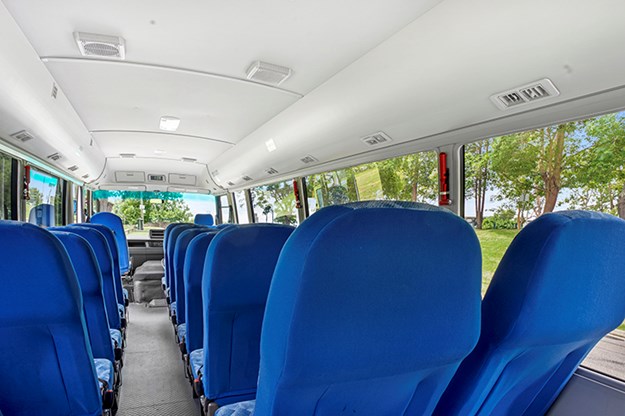 Fuso explains that it added the technology as soon as it was available as it considers safety to be critical in its vehicle design.
Another standard feature is the LDWS, which usually is an optional feature in high-end vehicles. It alerts the driver if you make any unintentional lane departures and this certainly is another feature that will help minimise crashes or the impact in case of any unavoidable accidents.
When the camera detects you are driving out of your lane the driver receives an audible and visual alert on the dash so they can correct their driving. Nice.
Yes, we may all be familiar with this technology, but the inclusion on even a standard build is a great selling point.
"There is only one light-duty bus in Australia with advanced emergency braking, only one with lane-departure warning and only one with electronic stability – and that is the new Fuso Rosa," Daniel Whitehead, CEO Daimler Truck and Bus Australia, said.
"There are many other benefits introduced by the upgraded model, but nothing as important as the features that will help protect the ones we love."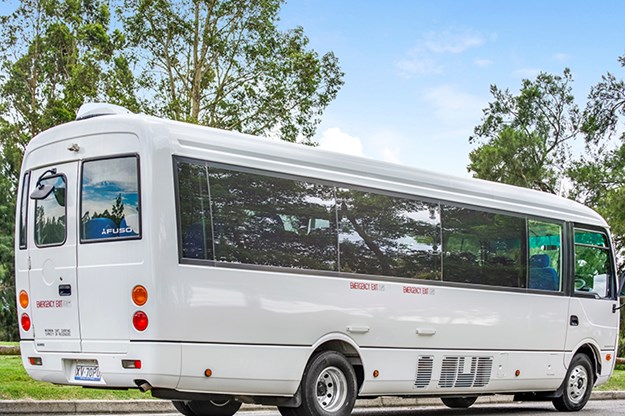 Across all models as standard, the 3.0-litre 4P10 engine meets the Euro 6 emissions standards,
Fuso says this engine has the most power in its class at 129kW at 3,500rpm and with 430Nm of torque. Euro 6 standards are achieved by using selective catalytic reduction (SCR) in combination with a diesel particulate filter (DPF).
The engine also features exhaust gas recirculation (EGR), and a variable geometry turbocharger (VGR) with common-rail fuel injection. This engine is, in fact, smaller and lighter than in the previous model, but is also more powerful with more torque.
Low cabin noise from the engine is one of the standout features of the bus. Driving along the M4 freeway at 100km/h, it was amazing how little noise comes from the engine.
Considering the driver is actually seated on top of the motor, Fuso has done a great job with internal sound reduction.
Fuso has also introduced a new advanced Duonic automated manual transmission that features six gears. The dual-clutch transmission is said to help with the improved fuel efficiency and give quicker and smoother gear changes. You can just put it into drive and let it do the rest, as it just knows what gear to be in and it works perfectly. We did put it into manual mode for a test, but much preferred the auto mode.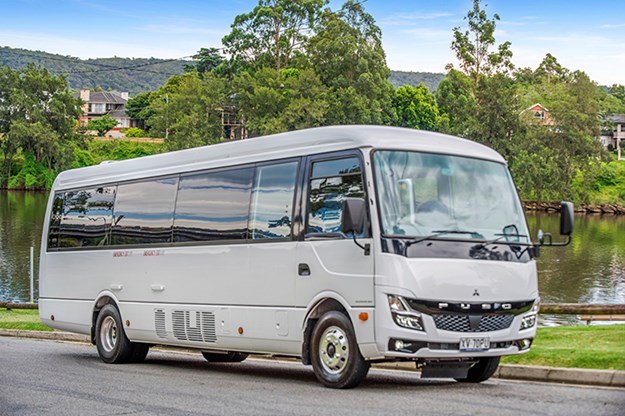 IT JUST WORKS WELL
Visibility for the driver is good; there is a small pillar to the right, but because it's dark grey it disappears and certainly doesn't interfere with line of vision.
The mirrors have always worked well on the Rosa for driver vision and this system hasn't changed from the previous model – why change a system that works?
On the left-hand side of the bus there is a three-mirror system, with a small front-mounted blind spot mirror to assist the driver with parking or for vision of pedestrians and smaller passengers disembarking.
There's a larger mirror for side vision of the bus and there's another higher-set blind spot mirror; the three-system mirrors give overall great driver vision, another good safety feature.
The Rosa has a new headlight system that has a five-stage adjusting function that allows the driver to change the headlight position to better suit altering conditions.
This might be a feature that you wouldn't often use, but in difficult weather or bad road conditions, or with an unusually heavy load, the ability to adapt your headlights to suit the driver's needs could come in handy.
Another part of the Rosa that has really changed from the previous model is the dashboard area; it now has a very sleek, modern look and a European feel.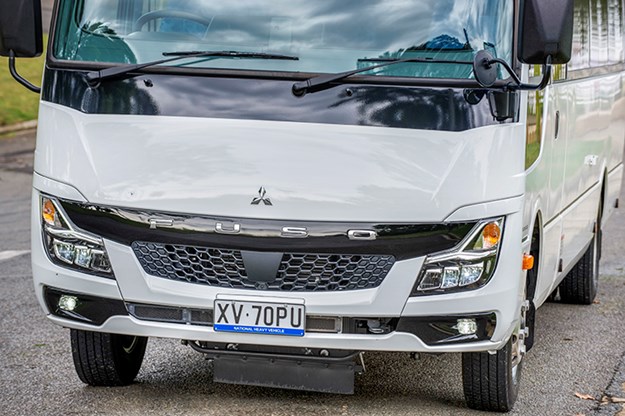 Two standout features of the new dashboard are the touchscreen display and the dash-mounted gear shifter.
The LED touchscreen sits in a great viewing position for the driver, with the added advantage of being an extra pair of eyes at the rear of the bus with its rear-mounted camera when in reverse, or when driver activated.
The aircon function controls are really easy to use and read, there's a climate control display and the system is simple to navigate and read, even when driving.
The round dash air vents are also very well placed for the driver. Overall, the aircon did a great job on the humid day we did our drive.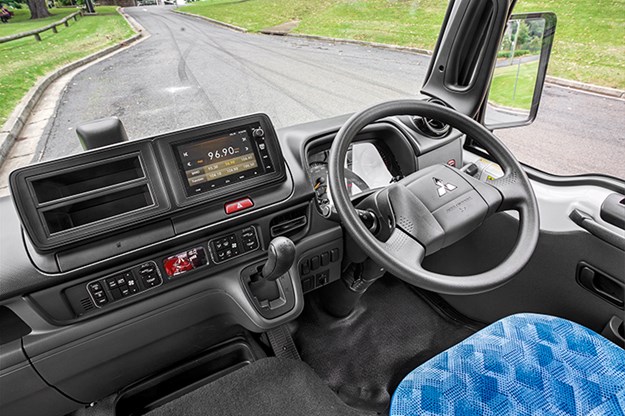 WELCOME CABIN UPDATES
A driver cabin change we thought was a smart one was the re-positioning of some of the operational levers. The transmission shift lever was moved from the floor to being dash mounted.
This has two advantages for the driver. One is that less movement is required to reach the lever and, two, being dash mounted means there's more driver floor space, which is good for driver leg room and comfort.
The other lever-mount change was the re-positioning of the hand brake. It has been moved from the footwell to the left of the driver seat, again improving driver accessibility. So, from a driver's comfort perspective, these are great improvements.
For passenger accessibility there is a new flat floor design that will help with elderly or disabled passenger ease of movement. This also also allows for simpler aftermarket wheelchair lift installation.
Another thing we personally noticed was that the grab handles are very easy to use when entering or exiting the bus; again good for elderly or disabled passengers.
The new Rosa also has new improved LED passenger lamps in all models and new high-backed seats in the deluxe models. All models have three-point lap sash seatbelts and there have been improvements to some of the windows for greater passenger visibility.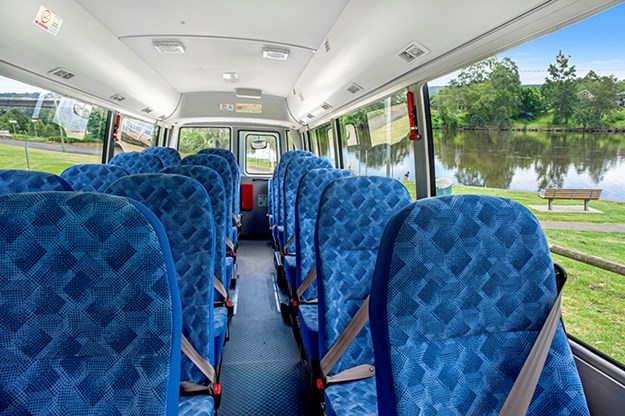 GENEROUS WARRANTY
A feature that has remained the same with the Rosa is the generous five-year/200,000km warranty, but there has been an increase to the servicing intervals to 15,000km. Fuso claims this increase will help reduce running costs for operators and increase vehicle uptime, so there shouldn't be any complaints about that.
The takeaway key point of this bus was the focus Fuso has placed on vehicle safety features. There's been a lot of changes and updates made to the new Rosa, but most of them are features you won't realise immediately.
This is impressive because for operators and drivers alike, passenger safety and any features that give us peace of mind is money well spent.
When a base model comes with the same added safety features as the deluxe model you know a company is serious about safety and that certainly has to be applauded.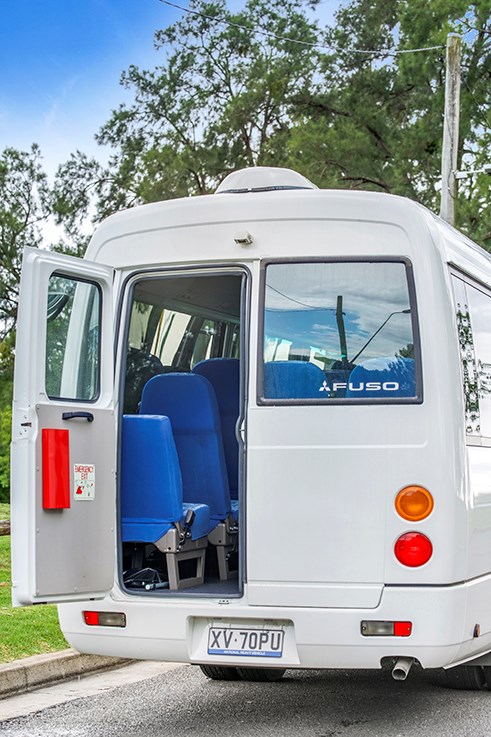 Specs
MAKE/MODEL: Fuso Rosa
SEATS: 22 or 25
ENGINE: 3.0-litre four-cylinder 4P10 Euro 6
POWER: 129kW@3,500rpm
TORQUE: 430Nm@1,600–2,860rpm
TRANSMISSION: Six-speed Duonic dual clutch automated manual transmission, with manual or automatic modes, or five-speed manual
WARRANTY: Five-year/200,000km
SUSPENSION: Front independent double wishbone with coils, shock absorber and stabiliser and rear leaf with shock absorbers and stabilser
STEERING: Rack and pinion; Wheel – Tilt and scope adjustable
BRAKING: Disc brakes front and rear, exhaust brake
DIMENSIONS: 22 seats – 6,990mm long, 2,070mm wide, 2,755mm tall and a 3,995mm wheelbase; 25 seats – 7,730mm long, 2,070mm wide, 2,755mm tall, with a 4,550mm wheelbase
FUEL TANK: 100 litres
TYRES: 205/85R16
SERVICE INTERVALS: 15,000km
MISC.: SAFETY (all models) – As standard, the Rosa features advanced emergency braking, lane departure warning system, electronic stability program, anti-skid disc brakes, a driver and front passenger airbag, height adjustable LED headlights, hill start assist and a reversing camera
AEBS – A system designed to avoid or mitigate collision damage uses a radar sensor at the front of the bus and can detect potential collisions with moving and stationary vehicles, as well as moving pedestrians. When a collision is imminent, the driver receives an audible and visual warning from the dashboard shortly followed by automatic braking. The system is dynamic and its algorithm allows it to vary activation times to best mitigate collision damage in a number of situations.
Photography: Paul Aldridge | Video: Cam Jones