Built in Australia, able to cover 500km in high temperatures and with a smooth, whisper-quiet performance, Custom Denning's foray into electric buses has made a very strong start with the attractive European-styled Element. ABC got behind the wheel and enjoyed all of the power with none of the noise.
This new Element is the very first electric bus for Custom Denning and, surprisingly, it has only been in development since January 2020. The process from conception to what ABC magazine is testing see today has been a process that has moved quickly from sourcing battery and electrical componentry from Europe last March, with the very first chassis arriving in August, 2020.
Speaking with Custom Bus Group's national contracts manager Grant Mascord about the development of the electric Element, he explained: "In the initial stages of development process, the first five chassis were built at the Denning Acacia Ridge plant (Queensland) using the Denning low-floor chassis as a starting point. From April onwards, we will commence building the chassis here at St Marys (Sydney). The Element is suitable for all city bus applications nationwide – it has really broad appeal.
"For the electrical side of the bus we are working in collaboration with Actia," he continued.
"They are the electric bus management suppliers for motors, invertors, DC controllers and that type of componentry. We also have made an agreement with Siemens for chargers; it will allow us to use the same chargers on the trial buses to ensure all data is comparable to each other. After that, operators can buy what they want as long as it meets the required specifications.
"The trial hasn't yet commenced, but there are two operators lined up for Sydney and one is off to Queensland; the others are still being decided. The trials will run for only three months as we are confident that within that timeline it will be on the portal, at least in NSW, so we can sell them. In the other states there's no lock-out, so someone could buy one today. For the trials there's a charger supplied per bus and things are really close to everything commencing."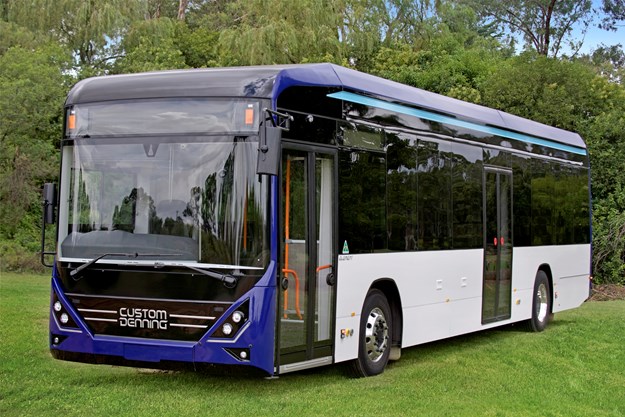 THE STANDOUTS
On any new build – especially one that is a first for a company – we like to ask what features a company is most proud of. In Mascord's case, he simply said: "In one word, the range."
"The fact that the battery performance has been really awesome," he continued.
"If you drove the bus to zero, we estimate 500km daily. For normal use [the range is] probably 350 to 360km [a day]."
Mascord pointed out that the batteries used don't operate like a standard lithium battery – "you don't drive it to dead and then recharge it".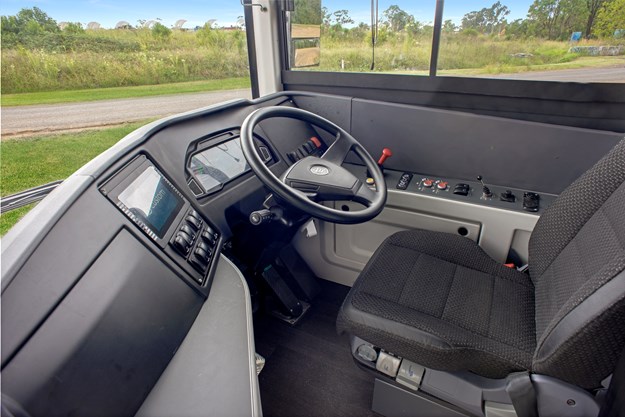 "Where our lithium metal polymer (LMP) batteries are 100 down to 80 [per cent], and 100 to 70 are optimal, if you leave 30 per cent all the time, they're perfect. Running them to an average depth of discharge up to 70 per cent gives optimum life. The biggest advantage over lithium is that there is no degradation on a hot day; lithium operate up to 45 degrees before peak performance drops and if you consider what temperatures the metal roof of a bus would reach in summer, it certainly wouldn't take much to get to 45 plus."   
Mascord added that the new Element being all Australian-made from start to finish – built in Sydney – is another standout achievement.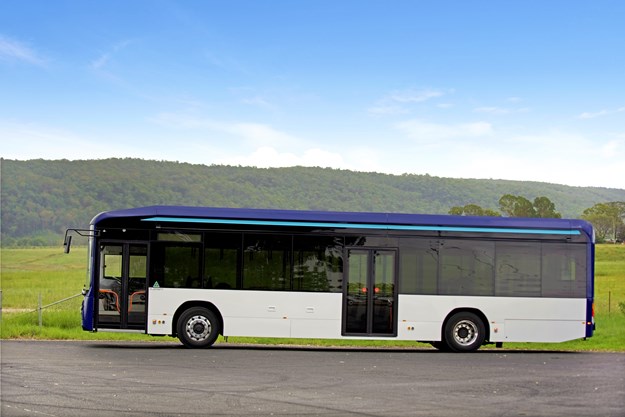 "Yesterday, we had a drive with 30 passengers and you just don't experience the standard bus noises that can be annoying. The only sound you could hear was the people talking. There's no engine noise. The quiet is pretty amazing.
"Being built locally, the build time is an impressive 20 working days for the bus. Add a little more for the chassis [and], say, in total 30 working days. The biggest lead time is for the batteries and the electrical componentry that can take up to six months, but we have planned ahead and forecast sales, so we can meet the quick timeframe for purchasers."
This is a really impressive timeframe and being locally built with such a quick turnaround time has to be an added attractive feature for operators.
Regarding the warranty, Custom Denning is offering a three-year warranty for everything back-to-back, with the batteries having a 10-year expected lifespan, depending on the operating environment. The batteries actually have a minimum of 10 years with possibly up to 15 years, explained Mascord.
"We've done some modelling on data from operators, based on their current runs, and the figures are really good.
"I think brake servicing and pad wear is going to be a massive change to what we all do now. There are barely any fluid changes for servicing, so you're going to save there. You basically are going to be checking coolant; there's a system that cools all the electrical components and the motor, the invertors and some of the controllers. The battery system we use doesn't require cooling and that's a weight saving," he explained.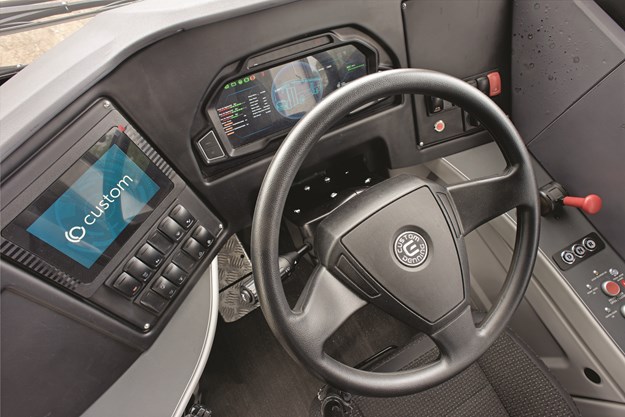 CUSTOMISATION
The Element has flexible seating and door options, with the possibility to go from a two- to one-door configuration and gain two extra rows of seats. There's the option to go total standees for, say, an airport-type operation, he says.
"Because we do it all we can be flexible," Mascord said. "This bus is just one in a huge range of possibilities to suit all applications.
"We are also looking at options for school buses. In some options like that we could start needing fewer batteries, [resulting in] huge savings for operators … as batteries make up 30 per cent of the cost of the bus."
We love talking to and meeting our local bus builders and the people close to the development and marketing of a new vehicle, especially when we are looking at a home-grown vehicle. We need overseas competition, it's healthy and our industry wouldn't advance at the pace we are without that, but to see the building of technologically advanced vehicles carrying the 'Australian Made' logo is something that's hard not to applaud.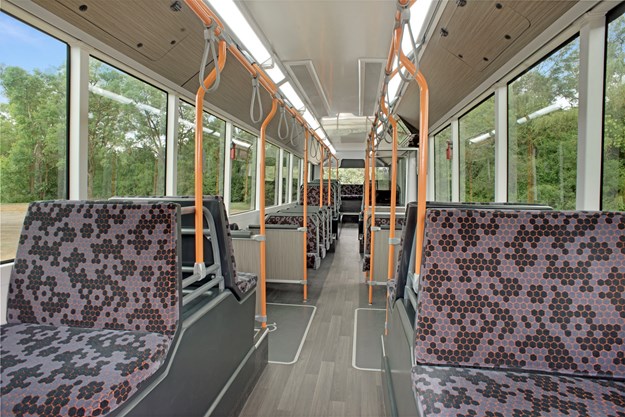 THE DRIVE
Before we start the test drive, on approach the Custom Denning Element looks different. It really stands out. We were expecting to be dazzled by the technology and features, but we were impressed by the bus' external appeal. The angled fiberglass blue headlight skirt is a totally new design for Custom Denning and really has a smart European look that is something quite different.
The Element has six batteries in total, mounted in the rear and in the roof cavity. These have 63kWh each for a total of 378kWh of power. Custom Bus says the LMP battery can get full charge in as little as five hours, which was a lot quicker than we expected and easily covered with a bus' downtime between runs or overnight. What's also different about the Element's battery system is that it is specifically built for Australia's harsh conditions and temperatures; it can operate without problem up to a huge 70 degrees Celsius.
Another impressive feature of the batteries is that they contain no solvents and are cobalt and nickel-free, which means they can be 99.7 per cent recycled and there are no end-of-life disposal issues. It's one thing to have new technology that improves environmental impact, but not unless the whole life cycle is considered. Custom Denning can even assist with disposal, which is good environmental forward thinking, no doubt.
The Element's interior seats produced by Custom Denning have an unusual but appealing hexagonal patterned fabric combined with contrasting orange bright-coloured hand rails for a great look.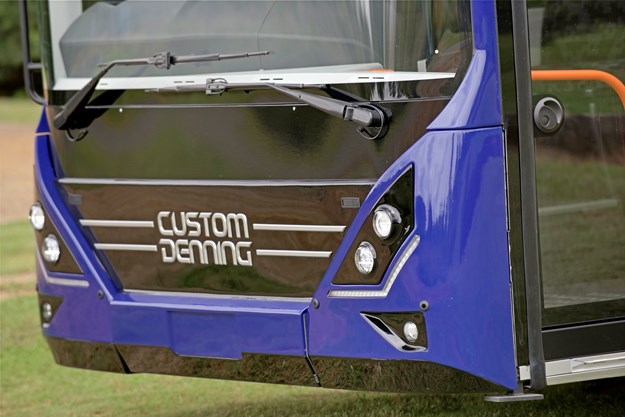 The woodgrain flooring is attractive and works well with the rest of the interior colour scheme. An added bonus is that the flat floor continues all the way to the rear of the bus without having a step up, which is outstanding. A special mention is the head height inside the bus, which sits at over 2.4m.
Sitting behind the wheel as we set off, you automatically wait for the usual sounds that are part of the diesel bus drive, but there are none to be heard. The only sound is from the passing traffic and windscreen wipers. There's a slight wind noise from the doors but, overall, the bus is so quiet that at first it's a bit unnerving. However, it wouldn't take long to get used to, and to love, the peaceful driving.
The driver's cabin is very comfortable with an attractive dark-grey matt finish dash. It's a good dark colour to stop any driver glare and reflection, which can be an issue with lighter dashes. The mirrors on the Element work perfectly. In particular, the side blind-spot mirror has one of the best fields of view we've experienced; you can see right low down the whole side of the bus.
There are two digital screens. One shows all of the camera displays and the second is an LCD display for the driver, showing information on battery charge, regen, tyre pressure, door open and close displays and lights operation, etc.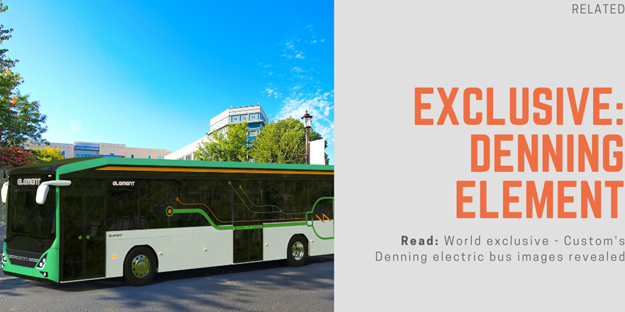 Although very easy to operate, there's lots of information on the screens so Custom Denning is providing driver training and development courses to operators so that drivers can get the most efficiency out of the bus. It's one thing to drive a bus well, but to really get the most out of the technology good driver training is essential.
Actia Telematics will be available with a few options depending on what the operator wants, Mascord confirms – if a company wants to record and analyse driver data.
The drivetrain is made by Actia, which has been manufacturing electrical componentry for trucks, trains, cars and even airplanes for decades and is considered to be an authority in the field.  
There are familiar names as well – ZF for axles and steering componentry and Wabco suspension and braking – ensuring maintenance is easy for operators.
The Element comes standard with an electronic braking system (EBS), electronic stability control (ESP) and electronically controlled air suspension (ECAS) for driver and passenger safety.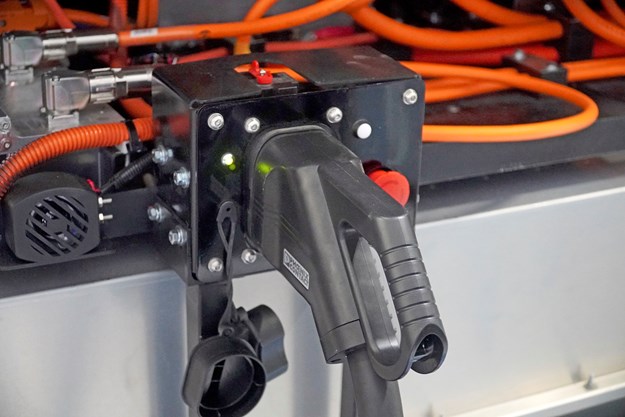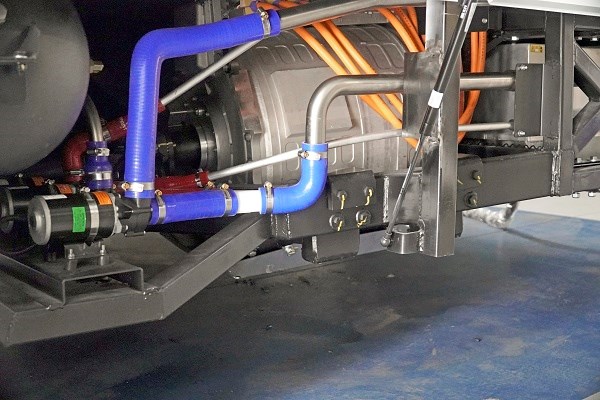 It also has advanced driver assistance systems (ADAS), which is a driver-assist system that protects against lane departure (LDWS) as well as including collision and pedestrian alerts.
The pedestrian warning system would be invaluable on a school or route bus, especially in busy and built-up areas. The LDWS would be more useful for a driver who has been on the road for any extended period of time, but added safety features are always welcome inclusions.
The electric steering is outstanding in its ease of operation; straight away it feels like we have complete control of where the bus is at any given time. Overall, it is a well-balanced steering system that is not too heavy or light – just easy driving, really.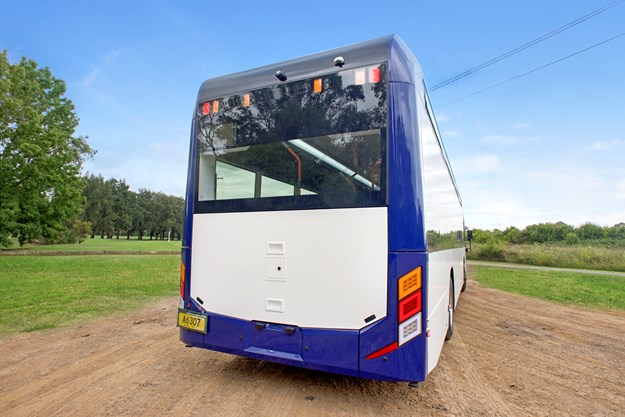 Straight away we entered into busy traffic and the dual motor, with 250kW and 3,000Nm, was smooth. It accelerated up to speed with ease and the torque of the electric motor felt endless. The feeling of power without the normal associated noise and lag of a diesel is an unusual feeling, but it's one that you could easily get used to – the bells and whistles with no bad side effects.
The quiet drive of the bus is the one thing that really sets electric buses apart, but with the Element it's also the smoothness of acceleration up to speed. There wasn't one part of the drive that wasn't super comfortable and effortless.
An electric bus with the Australian Made sticker on the window – well done, Custom Denning!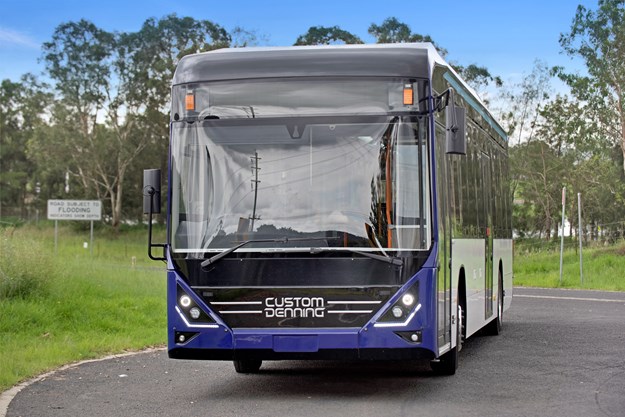 CUSTOM-DENNING EYES UK EXPORT
AUSSIE BUS MANUFACTURER Custom-Denning is planning to export a version of its recently released Element electric bus into the UK market circa mid-to-late 2022, according to reports out of Britain.
As reported by British bus publication routeone recently, the first zero-emissions Element ZE bus platform for single-deck UK use as a demonstrator will likely be followed by a hydrogen fuel-cell electric bus soon after.
Custom Denning is well advanced in making the Element e-bus, with six 12.5m battery-electric ADR-spec Element prototypes made, one of which ABC magazine has test driven as a world exclusive for this very issue, Issue 403, due out circa late March 2021.
As reported by routeone, production "…will start shortly and a prototype hydrogen fuel cell-electric model will be complete by August."
Custom-Denning is also developing the 10.2m and 11.8m platforms that managing director Scott Dunn says will form the UK offering, it explains. A maximum passenger capacity of around 80 is expected, it adds.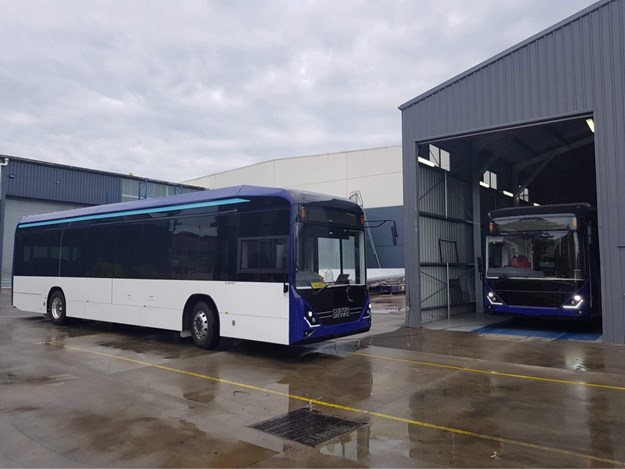 MINOR CHANGES
Custom Denning is currently developing the Element at 10.2m and 11.8m lengths to suit the UK market, routeone reports.
It adds: "Battery chemistries for the UK are not yet finalised. In hot weather testing, with a simulated full load and with air-conditioning in use, the Element has delivered a range of over 500km with 378kW/h solid state batteries," Dunn confirmed with the publication.
Minor design changes will be made to suit UK regulations; the Element will be available in one- and two-door format and it will be competitively priced, explained Dunn.
Routeone continues: "While early examples for the UK will be built in Australia, he anticipates establishing a plant in Europe 'quickly'. "Locally based support will be provided from the start."
It adds that much of the Element's componentry – including batteries, control equipment, steel framing and its ZF axles and steering – is already sourced from Europe.
Energy storage in the battery-electric model is on the roof and at the rear, but different chemistries should later permit batteries to be within the floor, the report explains. Charging is via a standard CCS2 connector, it adds.
UK-born Dunn purchased bodybuilder Custom Bus Australia (nee Custom Coaches) in 2018 and chassis manufacturer Queensland-based Denning in 2019 to effectively merge them as 'Custom Denning'.
The lightweight Denning chassis is key to the overall Custom Element e-bus concept, which uses an all-new body design.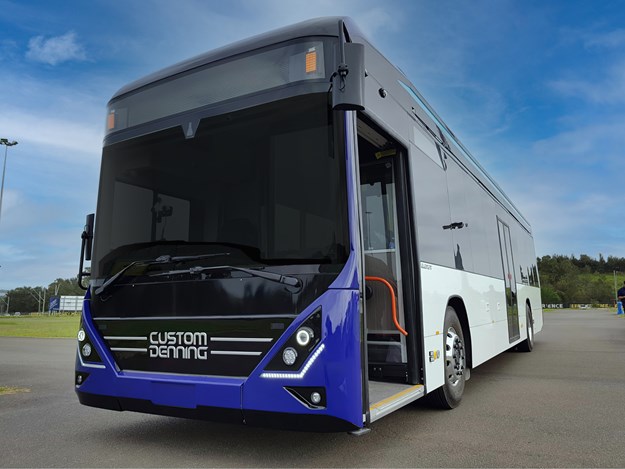 Specs
MAKE: Custom Denning Element
CHASSIS: Denning low floor
BODY: Custom Denning, stainless steel frame
DIMENSIONS: 12.5m long x 3.3m high (2.45m inside)
WEIGHT: Slightly more than 12 tonnes
BATTERIES: Six 63kWh LMP from Blue Solutions Bollore (France), giving 378kWh
VOLTAGE: 450–648 volts
RANGE: 500km / 16+ hours
ELECTRICAL SYSTEMS, DRIVE: Actia drive motor. Power – 250kW, Torque – 3,000Nm
STEERING: ZF electric power steering
AXLES: ZF front and rear, with offset diff and drop axle for low-floor layout
CHARGING INPUT: DC-CCS Type 2
BRAKES AND SUSPENSION: Wabco with electronically controlled air suspension
SEATING: 43 seats and 24 standing; Custom Denning Metro seats
DOORS: Ventura (Holland) leaf-style front door and plug-type rear door for better sealing to improve the efficiency of the air conditioning and reduce battery strain
AIR CONDITIONING: Valeo HV
SAFETY SYSTEMS: EBS, ESP, LDWS, collision warning system, pedestrian warning system
MISC.: LED lights, electric air compressor, on-board telematics offering live CAN data and operational information, ADR approved
Photography: Paul Aldridge | Video: Cam Jones