Challenger Bus and Coach has built a bus for the Aussie industry from having been an operator within the Aussie industry. The result? The Challenger V12 - with a focus on simplicity and safety.
"An opportunity arose to build something I thought would make my life easier long-term and other bus operators' lives easier long-term," said Challenger Bus and Coach managing director Greg Sloan.
"Rather than build a bus from the point of view of somebody that just wants to sell one, the Challenger is built from a point of view of somebody who uses one and works on one, and wants to make your life a lot less complicated with repairs. The whole process has been built around the point of view of a bus driver, a bus owner and a bus mechanic."
Today's test drive of the V12 is encapsulated in these words from Sloan – a passionate bus man who will tell you "all he knows is buses".
This is a build that's come from a bus man, and in his own words 'built for bus people'. It's a huge leap from being a fleet operator to a bus builder and one that Sloan explains came about in part by a life of experience in the industry and part by a chance meeting that set the wheels in motion, resulting in the Challenger V12.
"We've had bus fleets all our lives," explained Sloan, as to how it all got started.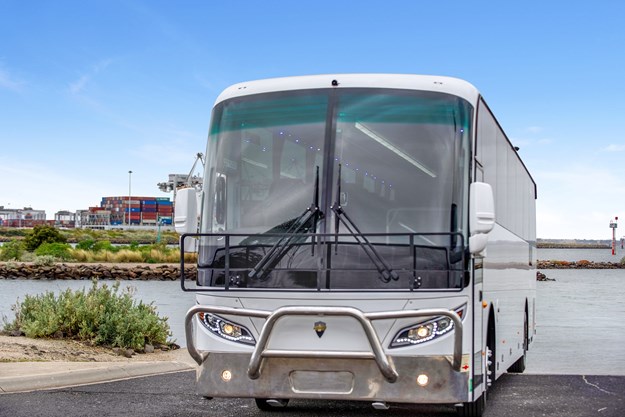 "I've been operating up in Far North Queensland and the structure up there for buses was basically for replacement and was based on the Chinese-style build bus. We didn't find them unreliable, but there were definite quality issues that were prominent.
"I met an engineer from China that had worked in the Australian building and design of buses. He had a project going and I took the project over from him, putting our stamp [on it] of what we thought would work with the buses and that's how we ended up with the Challenger.
"Initially, we got three buses that were in the build process when we took over, so they were at a factory at Ay, China. The Ay factory was government-owned and had issues with operation, so then we sought to change and make the new models. We sourced a builder in Guangdong Provence, GT Bus Company. They build buses for ADL, companies in Israel, Hong Kong and the New Zealand market for ADL, which includes electric buses and contract builds. They're basically a contract builder rather than build their own products and they only build for the export market."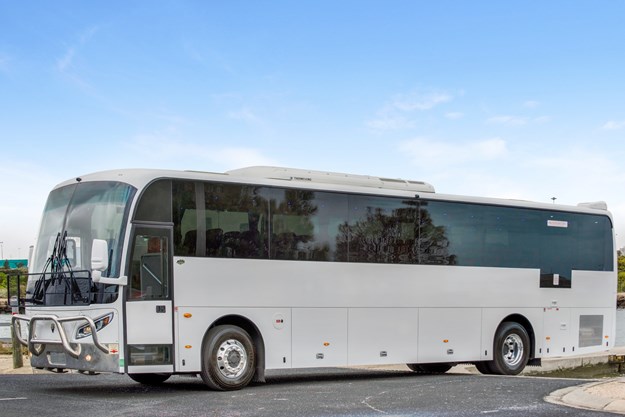 FROM CONCEPTION TO BUILD
The road from conception to having a vehicle viable for the market is a complicated process.
"We went with the basic design of what we wanted and then worked with our engineers and their engineers to come up with exactly what we needed with all the equipment that we wanted," said Sloan.
"Number one: figuring out what the vehicle is going to be used for and what its place is in the market.
"The 12-metre [bus] was basically built from the needs of my company, that's the type bus we use – a 12.5m, 57-seat school bus – and we made it simple. I tried to make it well built, simple to work on, reliable and built for long life."
It took about 12 months from start of concept to starting to build, he says.
"We have our engineer there overseeing the process as it goes along. When I was able to travel, I was there usually about a week every month, just to go and make sure that any issues I could help resolve and see first-hand what needed to be done."
The Challenger ideology is simplicity achieved by standardising componentry between the different vehicles, Sloan explains.
"The concept of the 10-metre Challenger was to develop a bus that's basically the same as the 12-metre, just smaller. We've used a different front end and a different rear end as a price point because it's slightly lighter and basically the windscreens and a lot of the parts between the two buses are identical, so if you have both of them in your fleet you don't really need to change too much. They're both Allison, both Cummins, different size motors, but again pretty much most components go between the two buses," making an operator's life easier, said Sloan.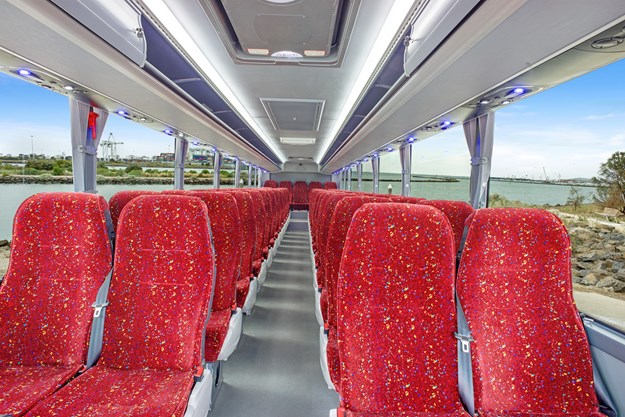 OPPORTUNITY CALLS
Sloan's years in fleet operations has given him the ideal knowledge to understand what operators need and, if he sees a gap in the market, the Challenger family will continue to expand, he says.
"At the moment, we're developing an 8-metre bus with about 25 to 30 seats that could be used as a school bus [or] a day coach and, basically, I want the same features and the same reliable running gear with great parts accessibility with OEM back-up. I certainly have a need for that size bus in my fleet and I know other people do.
"I know that the market's a bit slim on choice in this category and I believe there's an opportunity there to build something into that, that's how we do it.
"I believe, just through our experience of operating, that we can come up with a vehicle that would fit the gap. I listen to other people in the industry, speak to other people, read industry magazines and whatever, just to get the feel for what they're looking for. It's going to take a while to develop and there will be of course trial and error before we strike on something."
On the Challenger website, there is a huge focus on what the company can promise operators after they've purchased a Challenger Bus.
Asked what Challenger does that sets them apart, Sloan says, first of all, when a customer calls the business, "they actually speak to me".
"Anything we need to do, we do instantly and our biggest concern is having an operator's vehicle on the road again because I understand the importance of this," he continued.
"I offer them reasonably priced parts basically to ensure they're not left feeling forgotten once they have actually purchased a bus from us. If they need you and they ring, you deal with them straight away and that's why I believe our focus to support the people who buy buses from us is a real point of difference."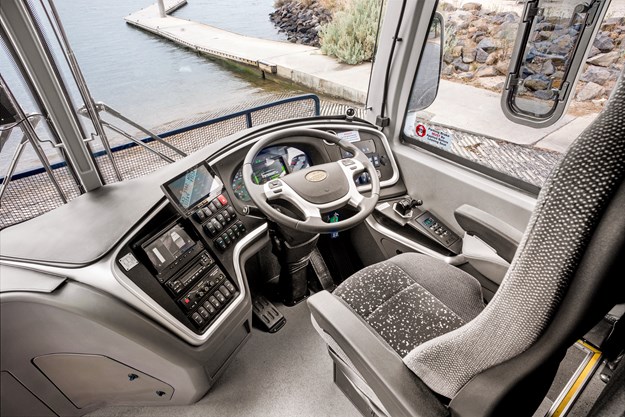 DRIVE TRAIN
With most aspects of the Challenger, Sloan's own experience played a huge role in componentry choice.
The drive train, for example, was based on what he knows and trusts, explaining he has run this style of drive trains on his own vehicles for many years.
"My own fleet's mainly Cummins," he added. "The independent suspension chosen is ZF because it's worldwide, it's well known and well supported. Thermo King air conditioner is a proven product and well supported in Australia. All the running gear we've put in it is selected on the basis that it's proven to be reliable and well accepted in the industry. The Wabco braking system was chosen by the engineers; it's pretty complicated how the compliance and technical side works in that part of the vehicle, so that was left to the experts."
Mobileye is one of the safety systems that comes as standard with the Challenger, which Sloan explained is claimed to reduce accidents by up to 40 per cent.
"I actually got to go for a drive on a vehicle in a government-run factory in China and if you've ever been to China it's so busy and the roads are crazy. I was impressed by how the system worked. It's well supported and there's an Australian company doing it; it's a worldwide accepted safety system," added Sloan.
"It shows your speed, your proximity to vehicles, lane departure, it has warnings that beep and then puts the warning up in a screen on the dash, and it just basically keeps the driver alert of what's going on around them. With time using the system it's been shown to make drivers become more attentive because you are prompted so much that you gain recognition in your actions, and you don't want the beeps and the warnings to go off. So, you learn how to work within the system. It's another way of driver training."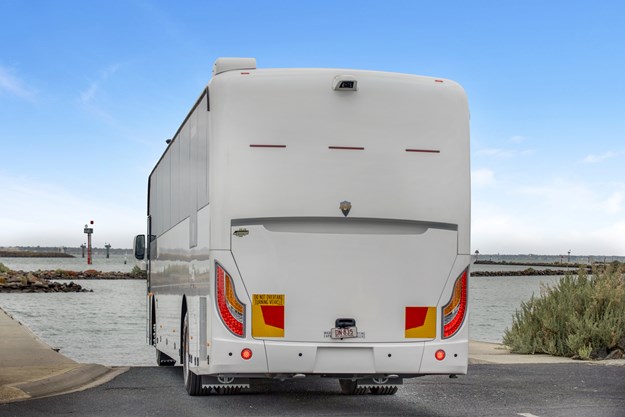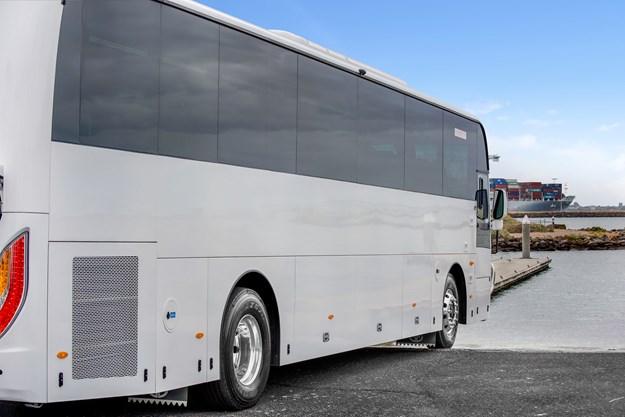 The Challenger also has a CANBUS wiring telematics system, which Sloan explains works on signals rather than currents, which results in less wiring and greater ease of operation.
"If something goes wrong, I can go back to our engineers and they can pretty much do it over the phone. If a customer's got an issue we can usually deal with it in a phone call, or just with photos and we can chat, show them what to do and how to fix things. Every wire is marked by number and it's also tagged in English to ensure ease of repair. It just makes life for electricians, auto-electricians and bus mechanics easier for them to find out where everything is," he said.
"It also reduces all your circuits and fusing, and it just makes life simple. They have redundancies in the system, so if you leave a circuit you can grab another circuit. As long as the engineer tells you what to do you're all good to go. I just believe, the way the industry is going, compliance is everything. And if you have all these features now then you don't have to retrofit them later on."
We like to ask builders what they are most proud of with their end product as, for most, the process has usually had a huge personal input – often based on industry knowledge, customer feedback and sometimes a history of industry experience.
Sloan's reply summed up his approach: "What am I proud of? I think it's [the] simplistic concept of the vehicle, to reduce maintenance costs. We've tried to keep it as simple as we can, but include features that make it desirable."
That might sound far from a big sales pitch, but in an industry where it's often the bells and whistles that make us sit up and take notice, yes, this is a vehicle with a long list of attractive inclusions, but it is refreshing to hear it is the basics and what will be offered that really has made this bus builder proud of his Challenger V12.
"I don't want to be the biggest bus builder in the world, that's not what this is about," added Sloan.
"It's a good, reliable, serviceable unit that can be a workhorse."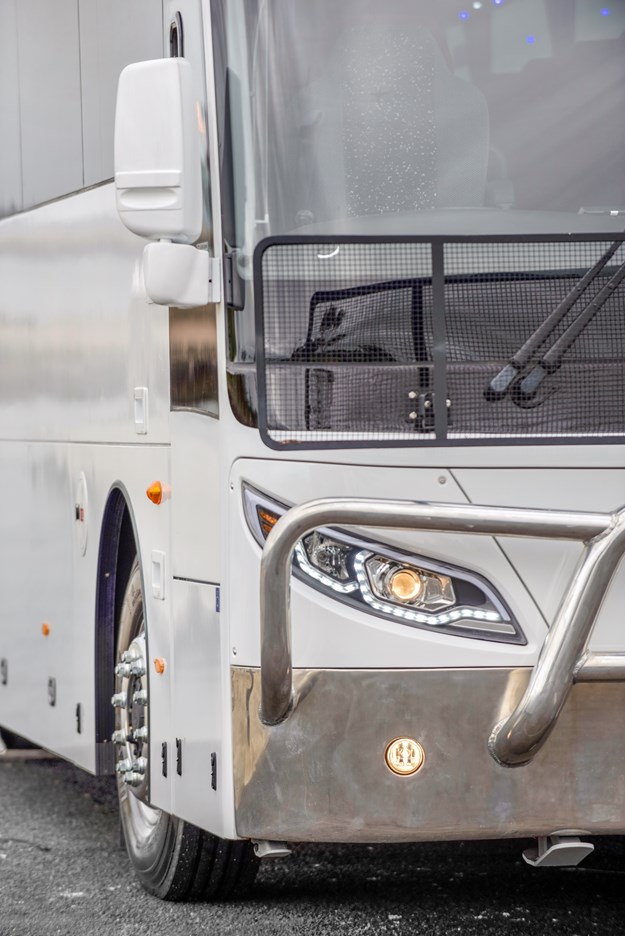 TEST DRIVE
The Challenger V12 externally is a good-looking coach, but behind the façade there are a lot of value-added features that impressively come as standard.
Upon approach the alloy bullbar and stone guard are the first of standard inclusions that traditionally are added extras. The remote door opener too is standard.
The engine is a Cummins ISL 8.9-litre with 360hp (268kW) and 1,550Nm (Euro 5). In our opinion, a bus or coach that has way more power than needed is always a huge positive for driver fatigue as the power does the work and it also has the added benefit of better fuel efficiency, as you don't need to be pushing to get the bus to do what's needed. As soon as you take off, the power is there and it's the sort of eat-hills power that is great to drive out on the open roads.
The engine is coupled with an Allison six-speed transmission and ZF suspension. Sloan made the drive train choices based on his experience as both driver and operator – and it would be hard for anyone to fault this combination. Instantly, it's a pleasure underfoot. We didn't have an opportunity to take it onto any country roads, but it loved the highway.
The seating choice is from a Spanish company called Fansia, though they are made, assembled and fitted in China. Fansia was chosen because it operates in China and can be fitted there so a complete vehicle can arrive in Australia ready to go. Operators can also choose the seating brand they want so, although the Challenger can come ready to roll, operators can still customise. In this test vehicle it has 57 fixed velour-covered seats, which are certainly comfortable.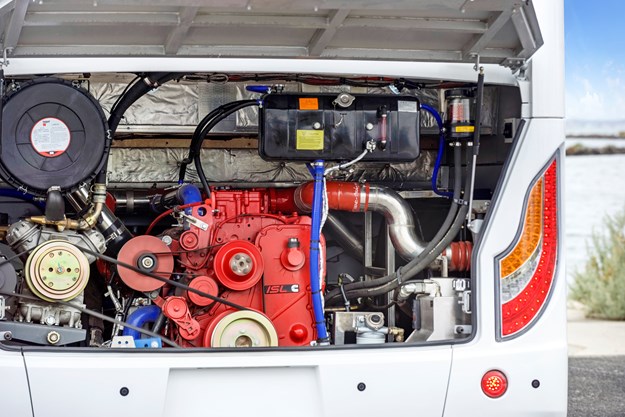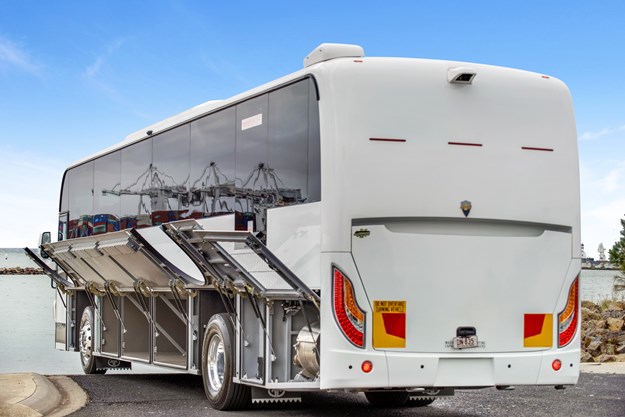 The driver's seat is a Grammer air-ride seat and also certainly comfortable. As soon as you hit that seat you know you're in a luxury coach. It comes with dual armrests – another good driver comfort.
There are also windscreen blinds made wider to ensure a big reduction in glare and drivers have their own ducted air conditioning.
Safety features galore are included with the Challenger V12, future proofing the vehicle for changing standards and taking the responsibility of "carrying precious cargo" very seriously.
The Mobileye collision warning system has 360-degree cameras with proximity sensors, blind spot monitoring and data recording. The warning system ensures the driver is aware at all times. Until you drive a fully loaded vehicle it is hard to appreciate the responsibility drivers have, so tools that make us better and safer drivers are a win-win for everyone – drivers, operators and passengers.
The system shows your speed, your proximity to vehicles, tailgating, your lane departure; it has warnings that beep and then puts the warning up in a screen on the dash, and it just basically keeps the driver alert of what's going on around them.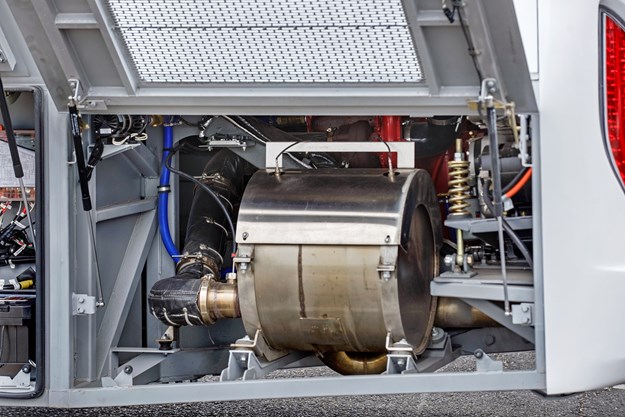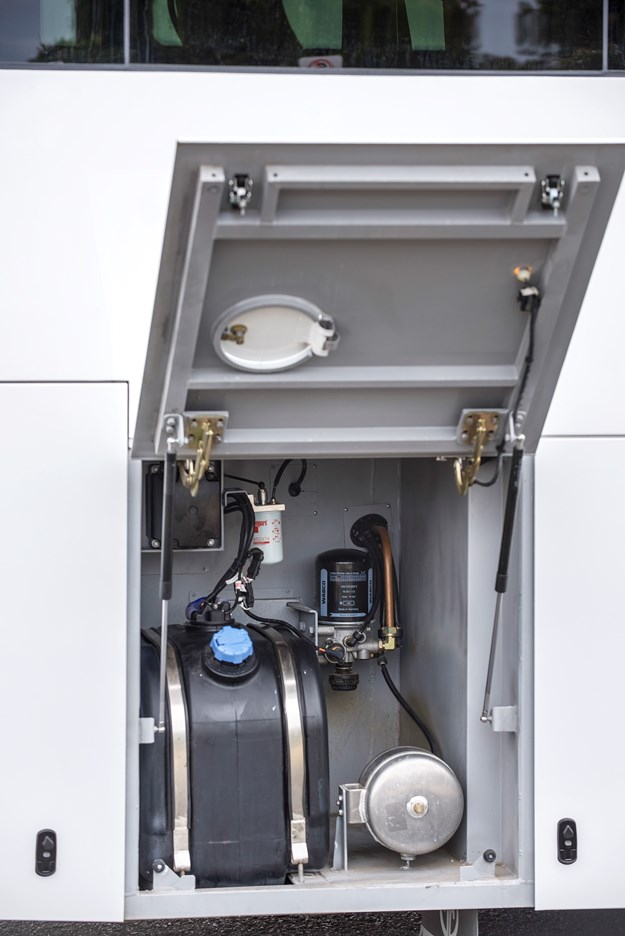 All vision from inside the bus is great and the mirrors are remote controlled and heated. Large, flat expanses of glass really make it feel spacious inside for passengers; the window tint is built into the glass at the factory and, although it was an overcast day, there was lots of glare, but inside was really comfortable.
Another notable feature are the dual filling tanks, with one on each side of the bus, so there's no 'pulling into the incorrect side of a service station'; just fill at the first available bowser. It also has a big 400-litre capacity tank.
One handy feature rarely seen as standard is that each Challenger bus comes supplied with an airline, an air jack, three quarter impact wrench, basic tool kit and a socket kit. So, if you need it, there are air fittings in the side luggage bins where the air tanks are. You just put the fitting straight into the air tanks, plug your line in, put the jack underneath and then bang with the gun.
Sloan explains that he added these components because it's something, as an operator, that he has in all his own buses.
This is a perfect addition for small operators with limited manpower, remote and regional drivers, and any bus that's a long way from home, in order to perform simple tasks to keep the bus on the road.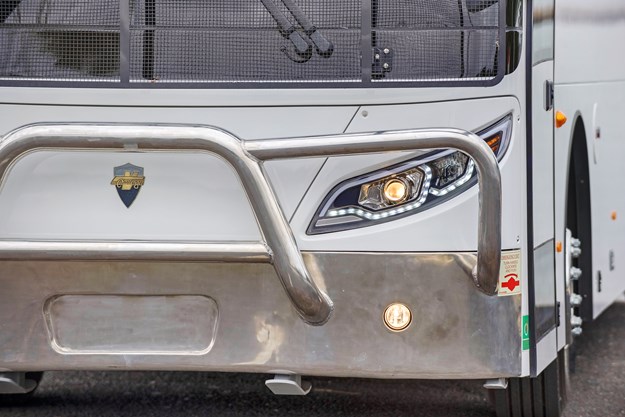 Yes, all drivers won't be able to complete simple bus maintenance but, when drivers are going on long hauls in remote areas, having the tools to complete maintenance as a driver would give good peace of mind.
Overall, you can't help be impressed by the standard safety features and inclusions on this bus, but standouts in terms of driving it would have to be the power and the turning circle letting you move this bus around like you wouldn't expect to.
Clearly, this vehicle handles impeccably. The excellent manoeuvrability would make this a great city bus as well as a regional driver, for sure.
As soon as you get behind the wheel you can feel this is a 'drivers bus' – so well done, Challenger!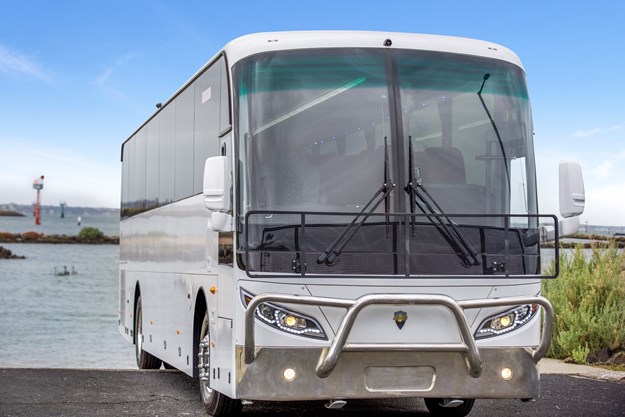 Specs
MAKE: Challenger Bus
MODEL: Challenger V12
ENGINE: Cummins ISL 360 (Euro 5); Power – 360hp, Torque – 1,550Nm/1,100-1,500 rpm
FUEL CAPACITY: 400L
TRANSMISSION: Allison T390R six-speed
BRAKES: Disc
BODY DIMENSIONS: Length – 12.36m, Width – 2.5m
SEATING: Up to 83
AIR CONDITIONING: Thermo King
SUSPENSION: Front – 2x independent air suspension; Rear – 4x air spring controlled electronic
Photography: Paul Aldridge | Video: John Paul Beirouty