Despite being more than 30-years-old, this Denning double-decker is one of two that are the drawcards of Fantastic Aussie Tour's fleet. And don't let age fool you! This bus was built to last no matter where it went.
There's always an undeniable love of a double-decker; people gravitate to them and, for children, the race to get a seat upstairs means that these buses always are a popular drawcard for passengers.
It's easy to understand why operators love to have these crowd-pleasers in their fleet, as they are popular and versatile, with enduring appeal.
Today's drive is of a 1990 Denning Landseer double-decker – one of two that are part of that Fantastic Aussie Tours fleet in Katoomba in the beautiful NSW Blue Mountains. A popular and, in normal times, very busy tourist destination, the two double-deckers in the Fantastic Aussie Tours livery are instantly recognisable driving along the Great Western Highway.
Purchasing a vehicle that many would consider to be at the end of its working life isn't an issue for Darrell Booth, the operations and fleet manager at Fantastic Aussie Tours. In fact, the very opposite. Booth's love of the build and strength of this Denning classic is evident in all aspects of what he feels the double-decker brings to the fleet and his confidence in them.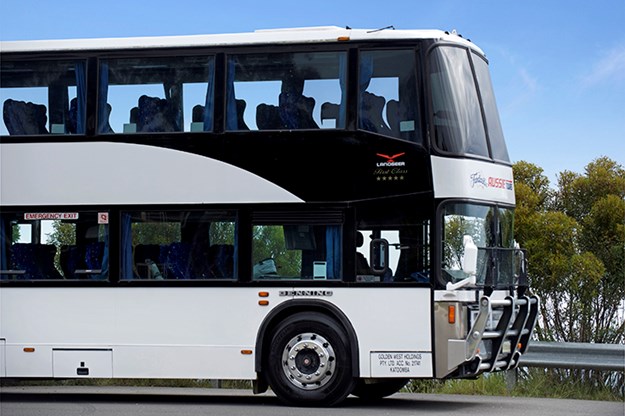 "We've got two double-deckers, both are around the 30-year-old mark, but they are still used as our frontline vehicles," explained Booth.
"I have so much confidence in them that, if we got a call to go to Darwin tonight in one of these, they can handle it, no problems. It's just off you go.
"Today's drive we call Kapunda – all of our coaches have Aboriginal names – and Kapunda is named after the town in SA and is the story of Sidney Kidman, the 'Cattle King'. 
"Sidney Kidman left home in Kapunda at 13-years old along with his one-eyed horse he called Cyclops to work as a sheep drover. Being a man of vision, he formed a small business with his brother in droving and trading cattle and horses, as well as being invited into part of the growing Cobb & Co coach business. Sir Sidney went on to become the greatest pastoral landholder in modern history, earning the nickname of 'The Cattle King'. It's a story many of us can relate to in business.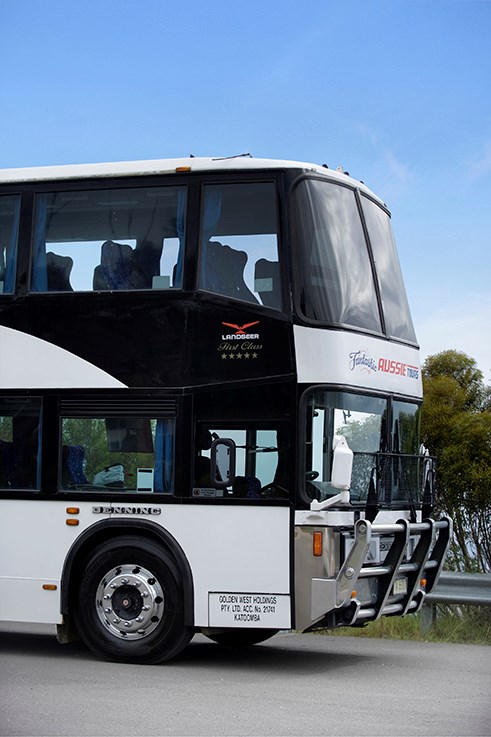 "The other Denning double-decker we've got is named Kurrana, which is an Aboriginal word for Thunder. I think that was very appropriately named."
When asked how long Fantastic Aussie Tours had owned the Denning, Booth explained that it was bought a few years ago from Peter Jillet, Premier Motor Services' operations manager, on the Gold Coast.
"He put a lot of love into this bus; this is the third Denning double-decker we've had," said Booth.
"The main attraction with them is that you can [seat] 68 people in ADR [Australian Design Rules] seats in a vehicle that's only 12.5 metres long and 4.2 metres high.
"You can go anywhere with this bus, so we're not restricted with access to anywhere in the Blue Mountains – anywhere we go in Australia actually – sitting at 100mm below maximum legal height. We can go to Jenolan Caves, where this actually fits through the Grand Arch. So that's the beauty of this Denning."
Having driven through the Grand Arch many times, we can attest to it being the trickiest entry a driver can navigate in a standard bus, so to be able to get a double-decker through with room to spare is one mean feat!
ALWAYS THE FAVOURITE
From a marketing point of view, we asked Booth what the Denning is mostly used for.
"So, everything from corporate transfers to school excursions, day trips and school sports," he said.
"Some of the private schools that we carry go long distances for sports to Bathurst, the Central Coast and Southern Highlands, and extended day tours to Canberra.
"We've also done a lot of distance touring with schools for extended periods, up to a week or two away, with school concert bands and wild ed programs where, towing a trailer, we can carry a full orchestra or a complement of mountain bikes, as well as everyone's luggage.
"Basically, it's perfect for all groups. Adults love the views and quietness of travel from the top deck, but primarily school kids, both the kids and the teachers, love them. Because, you know, kids are upstairs and, for the teachers, it's the 'executive lounge' downstairs – a 'would you like another cup of coffee' kind of trip. So, from their point of view, it's great. If you are on a job with another vehicle, and it doesn't matter what it is – you could turn up in a brand-spanking-new coach – when I turn up in this I can guarantee you where the line-up will be.
"The Dennings are perfect for day tours for bigger groups. We have a great relationship with Indian Pacific [passenger train that operates between Sydney and Perth], where we put two of the Dennings on instead of 3x 48-seaters and the economics makes a lot of sense. We pick the passengers up from Mount Victoria Station on the eastbound Indian, take the passengers on a tour of the Mountains and drop them back to Katoomba for a charter train back to Sydney."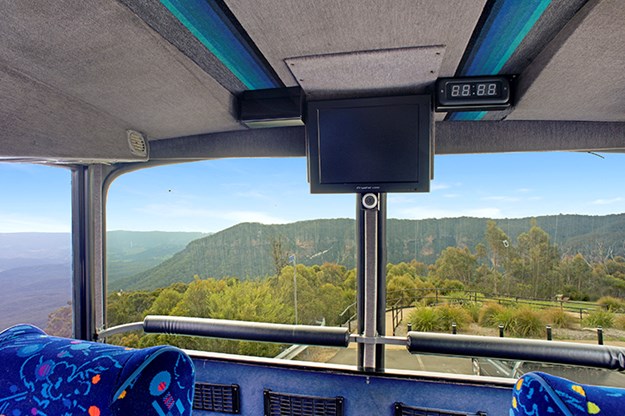 BRASH, NOISY AND SOLID
We always like to know what makes an operator chose the vehicles in their fleet. Sometimes, it is obviously price or often a relationship with builders or an affinity for a make or brand. Booth's love for double-deckers didn't start with the Denning, but he was converted after his very first experience with one.
"We've had a history with double-deckers, both as hop-on hop-off buses, but also with coaches," he explained.
"Over the years, we've owned six Setras – [they] were really good. They were refined, quiet; they were smooth and relatively powerful. They had a few little technical things that you needed to keep an eye on but, if you basically kept them maintained as per the book, then you had very little trouble with them.
"So, we first looked at one of these when we needed another coach. We'd sold all the Setras and we were looking at another Denning double-decker, again because of seating capacity. We purchased one that had a Series 60 with an Eaton 10-speed in it and that just opened my eyes to how good the Denning product was.
"The Setras were nice, European comfortable, and all that sort of stuff but these are Australian made for Australia. You know, compared to the Setras, [the Dennings] were brash, they were noisy, but they were just so solid and 100 per cent predictable on the highway."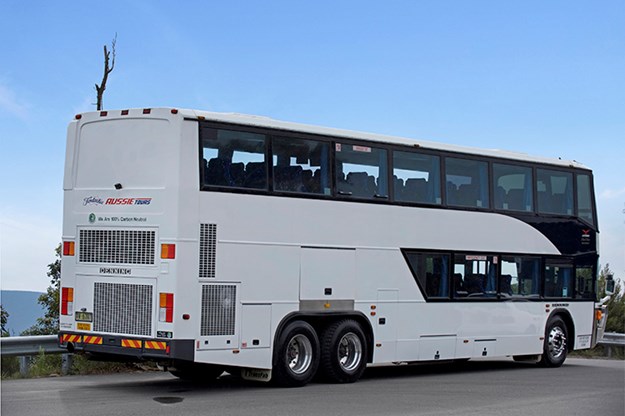 WORKING HISTORY
The Denning started its life with APT, before a move to Firefly, as 'Born to Express'. It then went to the Northern Territory as a tour coach and was sold through Rodd Hood to Peter Jillet, who had it as part of the Premier Fleet. From there, it was purchased by Fantastic Aussie Tours.
With a working history like that, we asked Booth if he knew about the kilometres it had done, as it would have would have seen some kays in its life.
"I'm not sure how many kilometres it's done but, if you think about for Firefly, it was probably doing 300,000km a year," he estimated.
"So, I don't know how many kilometres are on it, but it's a lot and it's certainly a testament to the product. They're still going strong. The other one we've just re-panelled because it had rust coming out in places. When we pulled the panels off, the rust was only from the inside of the panels out and the frame was still like brand new.
"When you look at the frame on these you think 'wow, they are just so well built'. My theory on these things is that you run them for 30 years, rip the panels off and check the frame. Put the panels back on and rebuild the motor, the transmission and the diff, check all the suspension bushes and then send it out for another 30 years."
When Booth says this, we don't think he's joking either; he really does believe in the strength of this build.
"When they built these, they were built to last," he asserted.
"The Denning Landseer would have to be the toughest bus ever built. The second toughest, if not the same, is the Denning Mono – the mid-'80s DenAirs are as tough as nails. The thing about these is that they don't have a chassis – they're totally monocoque – and if you look at one of these with the panels off you'll think 'my god, that's built like a tank'."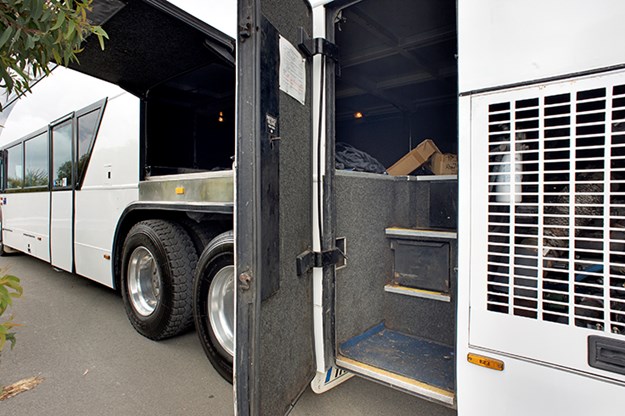 WORTH KEEPING
With any vehicle that gets past a certain age it can often be the availability of parts that can cause operators headaches. There are, however, a growing number of bus enthusiasts that are ensuring that steps are taken so that some of the classic buses will endure long past their normal working life so that we have them for future generations to enjoy.
For Booth, though, parts don't seem to be an issue.
"Generally speaking, no problems. We buy all our parts for these through Dave Tanner at Austral Denning parts. There are a number of parts starting to get a little bit harder to get but Dave's got all the original drawings and specifications and all that sort of stuff so anything we need we could always get a part for," he explained.
"We've just replaced some front suspension bushes and they're now becoming very rare in Australia, but between a few mates we have enough parts at the moment. I've already spoken with Dave and we can get those parts remade if needed, albeit you've got to order a certain minimum amount and that can become expensive but it's also very worthwhile keeping these buses on the road."
In having this chat with Booth about the Dennings, it's clear to see how he feels about the build of the vehicle and how their strength and quality impress him. When asked what he really likes about them, he said: "I love a number of things. I like their presence in their stance; they stand tall and proud."
"To me, they are a flagship vehicle. It's like, you think about the A380 or the 747 as being flagships for airlines, the double-deckers or deck and a half's always look the part. So, from that presence perspective, I really love them.
"When we've had them in our own colours with signwriting and the swirls, they really stand proud. I like them because they are just so versatile; we can fit 30 people, we can fit 45 people, we can fit 50 people or 60 people – you know what I mean? So, from that point of view, they're very versatile.
"What it really means is that because we've had these for a while, and we've run them as part of our fleet, even though they're more expensive to run than some of the others we can still afford to run these as a 48-seater."
Booth makes it clear that these classics are pride of place in the Fantastic Aussie Tours fleet and age certainly isn't a deterrent here when it comes to lasting quality.
"In their time they were truly state of the art," he said, proudly.
"The main difference between these old buses and new ones is the technology with emissions and stuff like that. We've got new buses that are two and three-years-old and, truthfully, they are the ones that I worry about the most with all the added-on electronics, not these 30-year-old Dennings!"
It's now up to the avid owners and operators, like Darrell Booth, that are going to keep our bus history alive.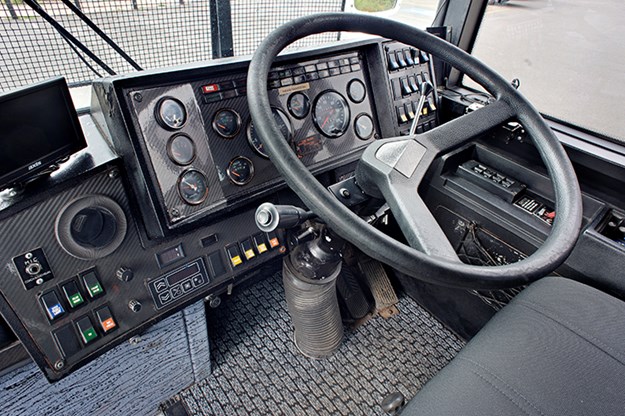 THE DRIVE
The Denning Landseer was built in 1990. Yes, not that long ago, but it's at the age where most bus and coaches today are automatically retired. It has 68 seats in total, with 14 downstairs, and Booth says that, other than re-upholstering the driver's seat, internally the coach is pretty much as it came from the previous owners that had done a refurb on it.
In the lower level the quality of the seat upholstery and finish is of a really high standard. There's a bathroom on this level and there's a water station, which is perfect for longer trips.
Upstairs there are 54 seats, again very well appointed with pockets in the rear of each seat, external armrests, overhead lights, aircon ducts and each and every seat up here has a perfect view. There are two televisions upstairs, as well.
The only mechanical repairs that have been done since Aussie purchased it are the injectors and it's had a tune up. It has changed the suspension bushes and also done a kingpin.
So, at 31 years of age, it's certainly holding its own mechanically and Booth says that it drives like new, so we were looking forward to taking it out for a drive.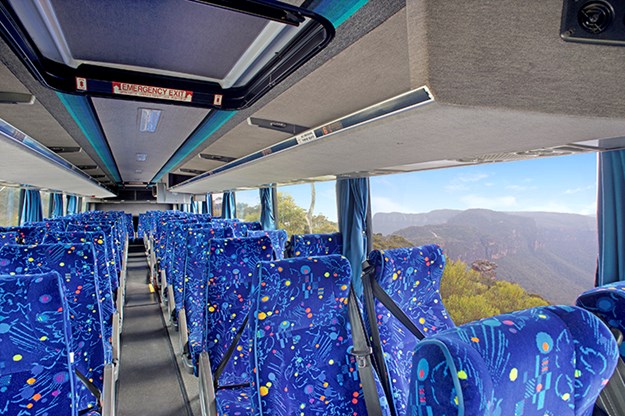 The Landseer has an 8V92TA Detroit with 500 horsepower (373kW). The 92 Series was a popular choice for highway driving vehicles. It's also got an Allison HT748 automatic transmission with retarder and Kirkstall front end with hydraulics on the front and drums on the back.
Taking off from the Aussie Tours depot in Katoomba you immediately can feel that the Allison transmission knows exactly what gear it should be in. Starting out on suburban streets, we can't wait to get it onto the highway and see how it goes.
We did a few tight bends round Cliff Drive just to see how it handles in not-so-easy conditions. The retarder system is engaged via a variable hand control and it cruises through the sharp bends. All that's needed is a foot rested on the brake and the retarder just does its job.
It's got anti-lock brakes but it's just the driveability, the predictability and the braking that are very good. Booth says that they do a lot of braking on the back end and it's got hydraulic retarders, just the same as any new bus, as well as a Jacobs engine brake.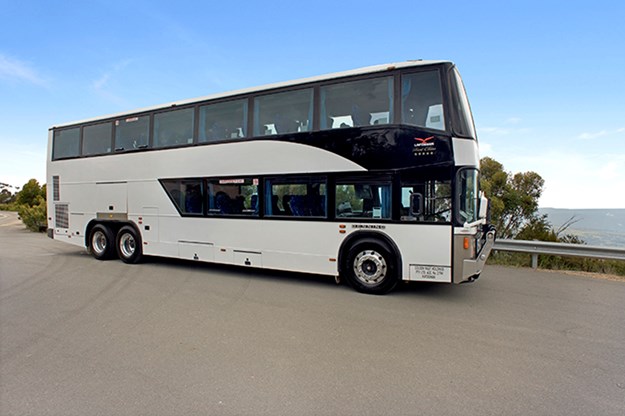 Out on the highways there's plenty of oomph; the Denning just wants to change through the gears and go. These Dennings came out with around 475hp (354kW), but this one has a bigger turbo and you can feel the 500hp pretty directly with no lag.
This Denning loves the highway! Going up an incline, you just kick it down and it goes. Sitting around 70km/h with ease, it wants to go quicker.
The driver's area is really comfortable. There are armrests, which are great for any long haul drives. Controls are all easily accessible and driver friendly. Everything you need is at your fingertips and easy to see through the steering wheel.
Driver visibility was really good. Not perfect, but you do have to remember you have another level on top. The mirrors were certainly adequate and did their job but, in comparison, there was less broadness of vision to some of the modern mirrors. However, this was to be expected with changes to mirror types used during the past 30 years.
Reversing was not as visually easy but, for driving, no visibility issues Ð particularly with the addition of blind spot mirrors. There's a bug screen for long-drive visibility and the best thing is that Denning has it on a quick-release button, so that cleaning the windscreen isn't an issue – love this feature.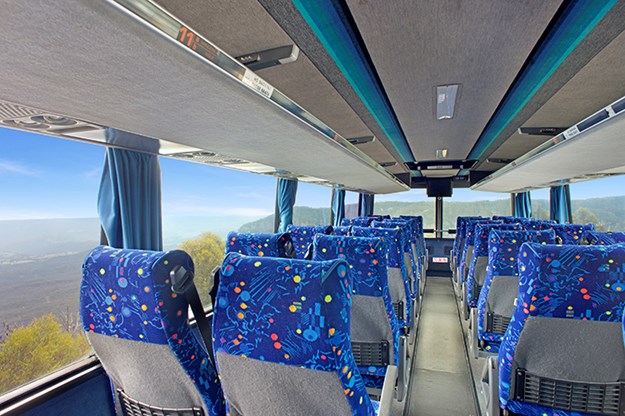 At the front of the bus there is a polished bullbar, probably a standard added extra in the day as Denning made these buses and the extras perfect to suit Australian conditions. The external lights have been changed to LED for better vision, but within the same position. Probably more than anything this is one area that there have been modern advances that are good for safety on night drives or when the Mountains get misty, and they often do.
Under-bus storage and luggage is accessed via a side hatch on both sides. On the passenger entry side there are internal stairs to help with loading and unloading of luggage. The area has ample room, but would need it to accommodate the larger number of passengers if required. Upstairs there is generous overhead storage that would accommodate smaller carry-on items.
We always love to take a look in the engine compartment and Denning, without fail, makes serviceability a priority. Most modern buses have good service access, but this is pretty impressive for a bus that's aged over 30. In this area, Denning was certainly ahead of the game for ease of servicing.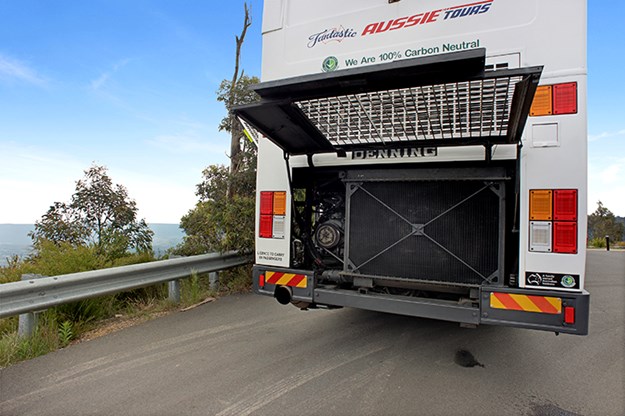 All daily checks are easily accessible and the radiator is really large in comparison to some modern-day ones, but it will certainly never overheat. The battery accessibility is perfect, so jump starts would be no problem as the terminals are right at the front of the compartment.
It can be surprising, especially when you drive a classic like this Denning, just how good the driving is. The differences you notice and feel are often minimal when comparing older models to modern bus and coaches.
Booth mentioned earlier that this era of Dennings are the toughest buses ever built Ð bulletproof for Australian conditions. When an operator has full confidence to take a bus of this age fully loaded on a trip to the Northern Territory and experience possibly the worst of our country's climate and condition, you know they are still very special vehicles.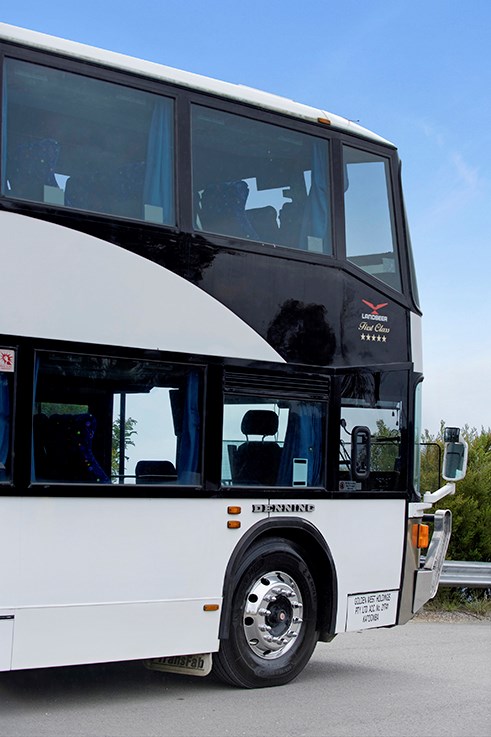 Specs
MAKE: 1990 Denning Landseer
LENGTH: 12.5m
HEIGHT: 4.2m
INTERNAL HEIGHT: 1.8m
BRAKE: Front discs, rear S-Cam ABS
GVM: 23,000 tonnes
ENGINE: Detroit Diesel 8v92TA
TRANSMISSION: Allison HT748
PASSENGER CAPACITY: 68 seats + driver
Photography: Paul Aldridge | Video: Cam Jones