EXCLUSIVE: With its delicious retro look underwritten by modern bus performance and appeal, this very first Hino RN8J chassis on a Custom Adventurer-body 'school bus' is something the kids will love and hate to have to leave after each journey.
Time 'waits for no man', as the saying goes – and nor should it. Yet its passing brings equal amounts of pleasure or pain when we reminisce the emotional sights and sounds of our youthful yesteryears as we spearhead into each new day.
Or perhaps some of us sleep-deprived writers should just merely start reading more Hemingway…
That aside, there will be some things of the past that seem to transcend time and consistently find a beautifully congruous place in the modern day.
And when it comes to buses, the strikingly retro-cool colour scheme of Victoria's Turnbull's Bus Service – in use since the company's origins some 70 years ago – still looks stunning and 'factory fresh' now.
Well … technically it really is factory fresh because the delectable tan, cream and ruddy-brownish maroon PPG paint hues actually are new, gracing this recently released Hino-Custom Adventurer school/charter head-turner.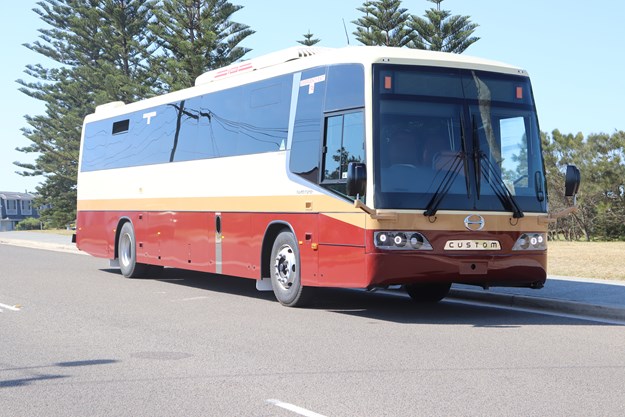 "We have always used that colour scheme; it actually came from an early Toyota Deluxe Coaster colour option," explained David Turnbull, dealer-principal of Turnbull Toyota in Yarrum and Sale.
"My 86-year-old father, Ian Turnbull (the mastermind behind the styling who started out as an apprentice mechanic), originally decided [on] that.
"We have always had Hino bus chassis and we currently run five school buses and all [with] Custom coach bodies.
"We use Denso air conditioning. We like Denso as it's the same that's in Toyota and we have had a Toyota dealership for 56 years in Yarram and Sale," he said.
BORDER CROSSING
Right about now you can appreciate where this is going.
Once recent pictures of the new bus – while it was being refuelled out in public by stalwart Hino sales manager Kevin Fielding – surfaced on a bus-related website and went 'viral' in local bus circles, being built in NSW it was going to prove tricky to get it over the border down south into Victoria, it would seem.
"The new bus we had to pick up from Bombala, NSW, as Hino couldn't deliver across the border without having to quarantine for two weeks when they returned," explained Turnbull exclusively to ABC magazine.
"I drove it back from Bombala with Dad and it actually seems to run better than the last few [SB50s] we purchased."
So what will the bus be used for and where does it fit into the Turnbull's Bus Service mix? And where and how did that story begin?
"We have six bus runs in total," Turnbull explained.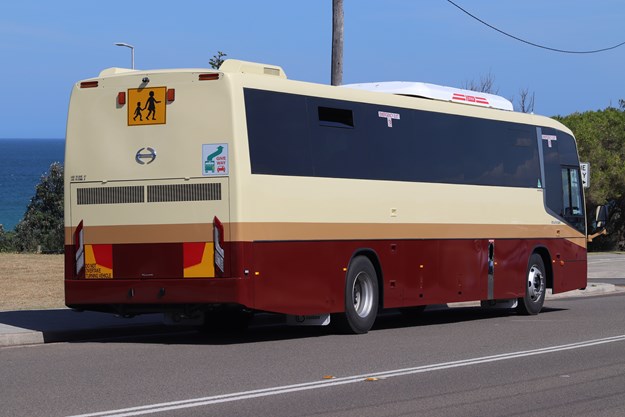 "My grandfather started the business up around 70 years ago, repairing cars and buses. He was repairing a bus in the early days and the customer didn't have any money to pay him so he gave him the old bus.
"Back then the bus used more oil than fuel and they used waste sump oil to keep it going until they tried some cored rings and that stopped the oil usage."
We can only assume things have dramatically improved since then with a current pandemic being the new challenge for us all…
"We have been fortunate through Covid [in] country Victoria. We were able to battle through; just needed to tighten up spending, etc.
"I'm the third generation in the business and we already have the fourth working in the company," Turnbull said.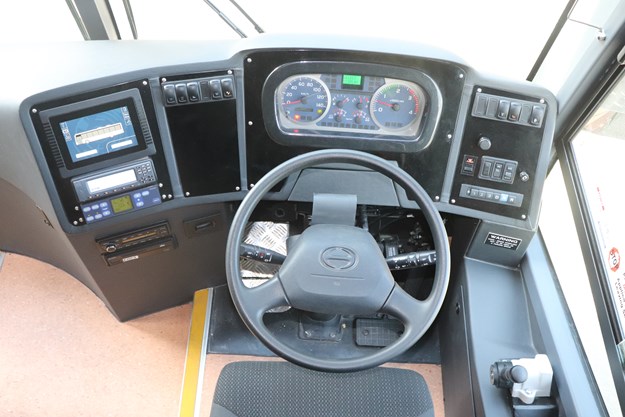 MASTERMIND
So just what is it about this bus that makes it so special? Its new-age retro style with cream, tan and maroon colour scheme definitely makes what is old new again. Yet more so, its minimalist styling means it has a classic look and feel with all of the modern comforts.
For the parties involved, this is the first production Custom-Denning Adventurer body on a twin-axle Hino RN8J automatic bus chassis.
It pumps out 285hp/213kW from its six-cylinder overhead-cam 'Euro 5' diesel engine, driven via a ZF Ecolite six-speed automatic transmission.
Ride comfort comes via air suspension.
Hino Bus manager Sara Clark said: "The RN8J is proven Hino product that is comfortable and quiet to drive. The ZF six-speed automatic transmission combines with the six-cylinder engine for smooth acceleration and excellent fuel efficiency.
"For Hino bus customers, it is the service and business benefits they receive once they leave the dealership that is equally as important as the sales experience," she said of the Hino Advantage concept behind it all.
It should be noted that as a Toyota Motor Group company, Hino has a comprehensive suite of business solutions for its customers, designed to reduce costs over the life of the vehicle, she explains.
Like all Hino products, Hino buses are built with the core brand attributes of quality, durability and reliability (QDR) she says – and Hino here has been delivering buses to the Australian market for 55 years, she confirms.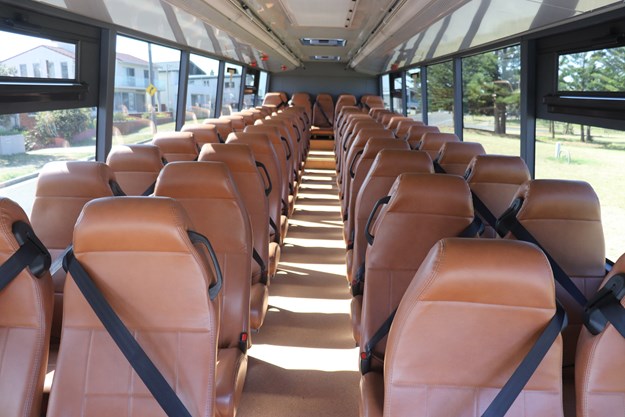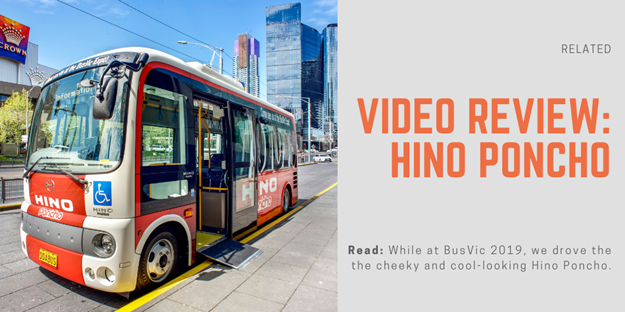 BODY BEAUTIFUL
Though not the first new Adventurer to come out of the latest Custom-Denning stable, of the Turnbull's project – the first on a Hino platform – national sales manager Mick Neskes confirms the customer had bought Custom products in the past, the last of which was an SB50, purchased around three years ago.
"The Adventurer is the replacement of the SB50, as the SB50 has now been phased out," he explained.
"Some states have excluded low-mount mirrors on school buses, and this one was built with Canon arm-style mirrors which are low-mounted mirrors.
"This was a totally new bus for the client and, being a new Hino option, it was exciting [for Custom] to work with Hino Australia.
"The bus is so versatile it can be a basic school bus, mine spec, or dressed up as a charter/coach-style bus!" he stated.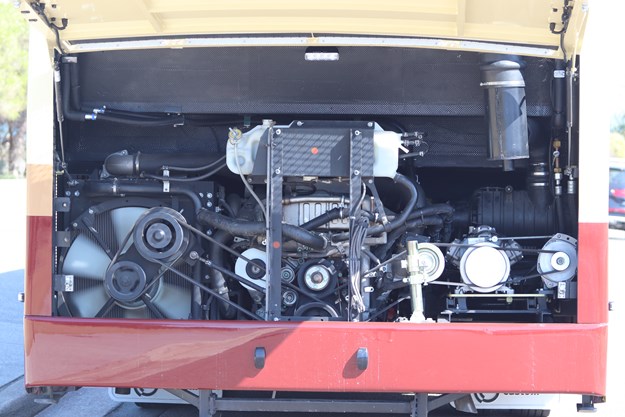 HINO ADVANTAGE
The comprehensive Hino Advantage program provides Hino bus customers with fleet training, a dedicated in-house customer care centre and access to Hino genuine parts and service, Clark explains.
"Every day a bus is off the road, it is costing operators money and the pressure to return it to service as quickly as possible can encourage some companies to take shortcuts, but, in fact, the best option is to simply purchase Hino genuine parts."
Most Hino genuine parts are readily available from the Hino dealer network, with 24/7 support available from the parts distribution centre in Sydney, which also provides delivery to any Australian capital city as soon as the next business day, Clark explains.
Hino genuine parts are guaranteed to 'fit first time, every time', minimising downtime and increasing profitability, Clark adds.
All Hino genuine parts fitted on a Hino bus by an authorised Hino dealer come with a three-year unlimited kilometre parts warranty. 
As part of the Hino Advantage suite of business benefits, every Hino bus chassis comes with a one-year/unlimited-kilometre warranty (whichever occurs first), and a two-year/unlimited-kilometre standard powertrain warranty, she states.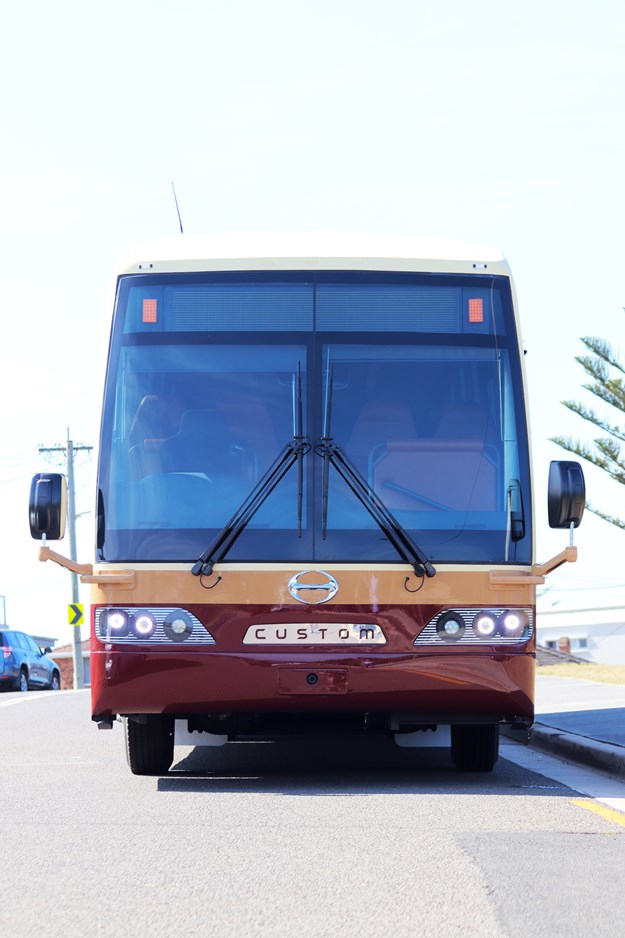 Specs
MAKE: Hino
MODEL: RN8J twin-axle chassis
ENGINE: Six-cylinder overhead-cam EGR & DPR (meeting ADR 80/03 Euro 5) diesel; Power – 285hp/213kW
TRANSMISSION: ZF Ecolite six-speed automatic
SUSPENSION: Air suspension
BODY: Custom-Denning 12m Adventurer; Paint – PPG cream, tan and maroon; Australian Made certified, locally designed and produced; Frame – stainless-steel frame using 3CR12 malleable steel, stipple stainless side walls included, CAM-lock luggage bins, roof-mounted air intakes, lift-up wheel arches
INSIDE: Seats – Styleride Orion 57 x non-reclining seat-belted seats with Transporter vinyl tan trim; flooring – Tarkett Granit Safe 'Terracotta'; side wall interior trim – ABS sand finish in dark grey, Centre wall interior trim – powder-coated aluminium light grey; driver's seat – Isri 6860; Actia multiplexing with driver interface
MISC.: Denso LD8 air-con with full AC dashboard mounted controller; destination system – Mobitec LED 16×140 with ICU602 controller; body – field service support with onsite repairs by appointment; large stock volumes for quick parts supply; options – electric front blind, 2x half blinds NS and OS, driver's AC boost fan, Canon heated mirrors, full through bins, four hopper windows
Photography: Sara Clark