ICE AND SPACE – LETENDA ELECTRIP
---
COVERSTORY: With a fully low floor and copious space for up to six wheelchairs - or maybe cumbersome ski gear - the Letenda Electrip 9-metre bus is perhaps a multi-region, all-weather wizard in disguise.
Weather conditions and extremes have a lot to account for when it comes to helping or hindering our daily lives. And, in Australia, it would seem we have those extremes pretty much covered these days.
Extreme heat? Sweltering transport, urban and rural droughts, or burning bushfires come to mind. Extreme rain? Muddy footy, cancelled cricket and ruined picnics are to be expected - and the horrible recent east-coast floods and the poor victims of it remind us just how tough things can get here.
Yet, what we don't really - well, not yet anyway - get is extreme cold and snow. But, if some of the latest (conspiracy) theories become a reality then we'll be 'walkin' in a winter wonderland' someday soon while heading to the local shops in thongs (flipflops). Who knows?
The point is, weather greatly influences not just how we eat, drink and live but how we move - and the vehicle designs needed to accommodate such fluctuations in comfort zones. There are also the safety features that go with that.
So, what could a bus designed in Quebec, Canada, have to do with a land some 14,000km away? At first it might seem like not much, but further investigation into the 9-metre, rear-steer axle Letenda Electrip - with its largely lightweight aluminium design - reveals innovation and intent more connected to Australasia than one might think at first. Mind blown...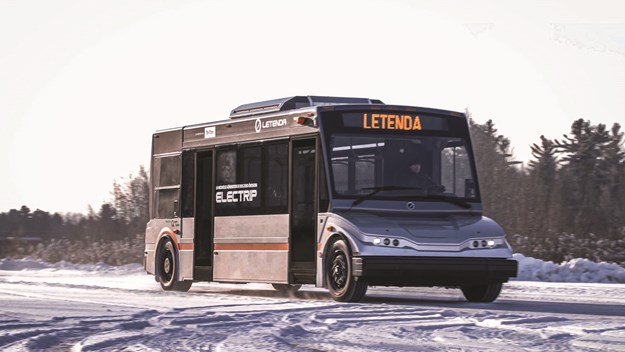 HOT V. COLD
The Quebec-designed small bus no doubt drew upon its local weather conditions as to what was needed to make the bus successful in its public transport remit while availing itself to intra-global uses and transit systems.
As the largest province in Canada, Quebec gets more than its fair share of precipitation yearly of more than 1,000mm, including in excess of 300cm of snow in many areas. In summer, it's no walk in the squirrel-park, either; think severe weather like thunderstorms and tornadoes occasionally, as well. Who knew?
And while Australia can't match its average winter temperatures of -10 C to -25 C, its extremes can get to 35 C in summer (not bad) and -40 C (ouch!) during a stinging Quebec winter. So whatever bus gets used and designed there it has got to have all bases covered - and for the Electrip that's thanks to its smart insulation system, the company explains.
So, could it ever get here? Australian Design Rules permitting, this region is totally in Letenda's sights!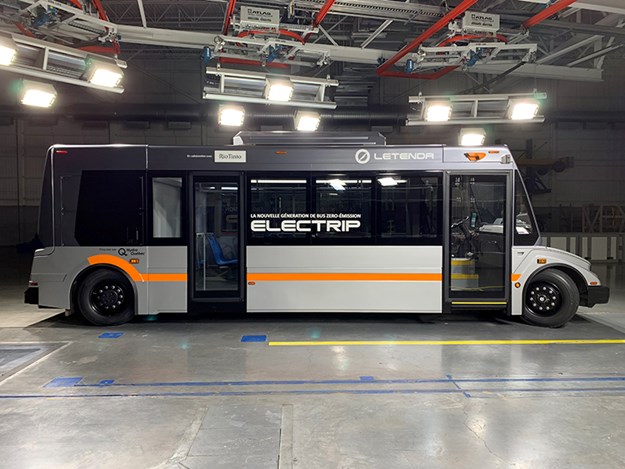 SNOW BUS
Innovative Canadian bus maker Letenda - which recently premiered its 'snow and disability-access friendly' Cummins-powered Electrip e-bus - confirms the Australian and New Zealand bus markets are "in our plan", it revealed.
According to Quebec-based zero-emission bus company Letenda's president and CEO Nicolas Letendre, the Electrip - a 9m (30-foot), zero-emissions transit bus backed by Anglo-Australian mining-resources behemoth Rio Tinto - is not solely for Canadian or North American market use.
It cited exclusively to ABC magazine (www.busnews.com.au) that snow-season bus operators in this region may find a localised version of it useful given it was designed with harsh Canadian winters in mind, while its advanced insulation system means it is suitable in warmer climes, too.
 "Our intention is to be a global player of [the] zero-emission passenger vehicle industry. Yes, [the] Australian market is in our plan and a collaboration with an Australian partner would be the most efficient way to enter into the market," Letendre stated.
"It could be good for alpine regions of Australia and New Zealand and also good for [the] warmer climate due to the advanced insulation system we have," he said.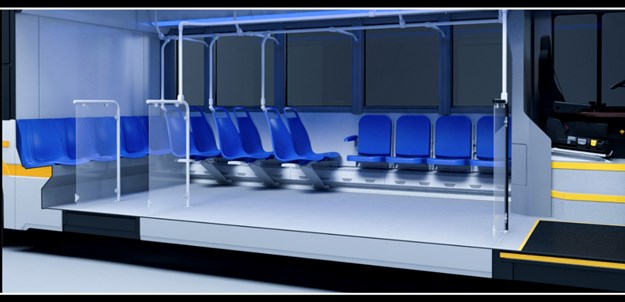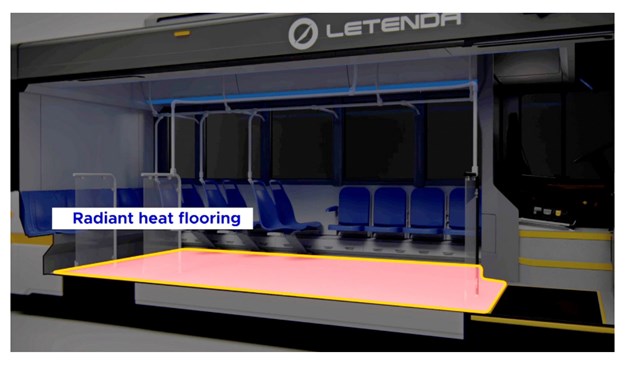 In terms of wheelchair access and local disability-regulation compliance, given the flexibility of layout and common-sense approach to planning the Electrip bus interior, Letendre explained: "From my research that I made in the past, Perth Transit [PTA] used a bus model which was sharing a similar accessibility feature [front door behind the front axle], but without [the] rear steering system and other key features of the Electrip bus.
"Our bus could be adapted for right-hand drive application," he confirmed.
"Knowing that customer demand is a key driver for our intention to expand globally.
"Yes, if there were demand from [the] Australia region we would be interested to evaluate a business opportunity," Letendre clarified.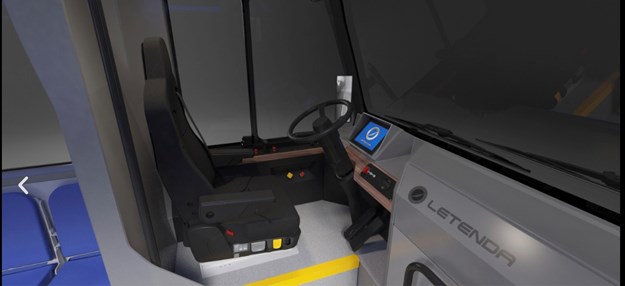 CUMMINS POWER
Key to the Letenda Electrip demonstration bus performance claims is its selection of global commercial-vehicle heavyweight Cummins as supplier for its battery-electric technology and know-how.
Specifically designed for the North American region at this stage, Letenda's new electric bus utilises Cummins' proven battery electric system (BES), featuring remote diagnostics and over-the-air connectivity, Cummins explains.
"The Electrip utilises three battery packs providing 222kWh capacity and is compatible with DC fast charge and plug-in charging," a Cummins statement confirmed.
"Cummins provided the complete electrified powertrain including the powertrain controls, batteries, propulsion motor, power electronics, charging controls and connectivity systems," it added.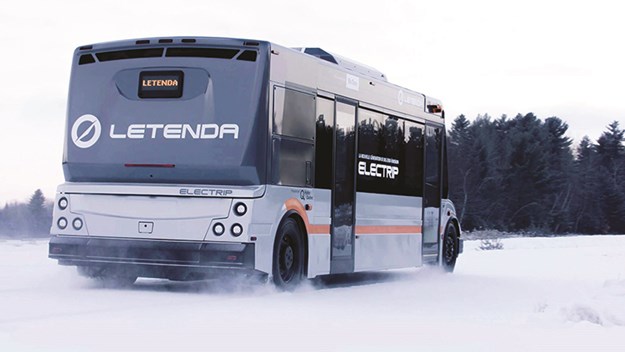 Letendre commented: "We are proud to collaborate with Cummins with whom we share the same values of innovation and sustainability.
"Cummins has a proven track record of delivering leading power solutions for the bus industry and as a global powertrain leader.
"We're pleased to offer our customers a safe, efficient and reliable solution to transition from diesel-powered buses," he explained.
Cummins New Power vice president and president Amy Davis, stated: "Cummins is delighted to work with Letenda to power their zero-emissions transit bus."
"Letenda has completely designed their bus from the wheels up for electrification, which is exciting for us and for our customers.
"This demonstration expands Cummins battery-electric solutions to smaller transit bus applications, which can help communities meet sustainability targets," she said.
Cummins and 2016-founded Letenda will look to expand this collaboration in the future as Letenda plans to commercialise its zero-emissions transit bus across Canada and the United States, the companies say.
The Electrip will be on trial with a Canadian transit authority in the Province of Quebec, they confirm.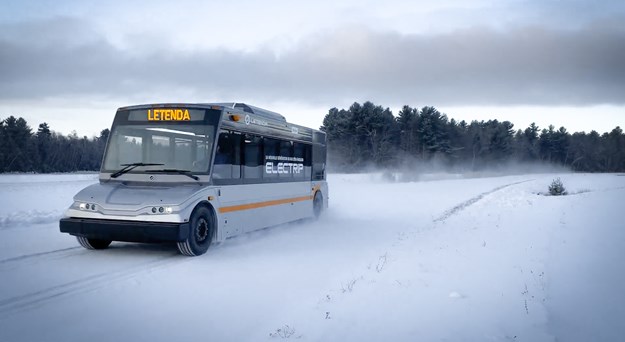 FIRST MODEL
The Electrip is the first of a range of 'new generation' e-buses from the Quebec manufacturer. It is entirely engineered in Quebec and, "…brings together the best of the latest sustainable technologies by leveraging the full potential of electric propulsion," the company states.
At its recent launch, Letendre stated: "We are proud to present today the result of six years of research and effort: the Electrip, an electrically powered city bus designed to withstand winter temperatures."
"This achievement was made possible with the help of an experienced team including world leaders in electric vehicle technologies and Quebec manufacturers to develop and market an innovative bus.
"The Electrip is perfectly suited for transportation companies wishing to reduce their environmental impact and optimise their operations while moving towards sustainable mobility.
"Our product is complementary to the existing electric vehicle offer for public transit due to its size and innovative design," he concluded.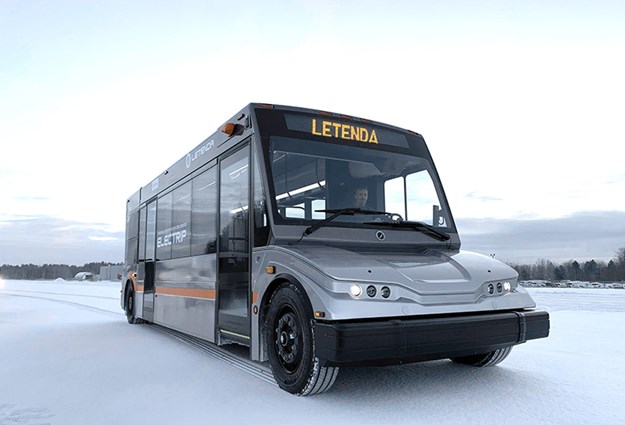 THE DESIGN
With a redesigned geometry to ensure "unrivalled comfort and manoeuvrability," the Electrip is an ultra-lightweight, long-range, 9-metre intermediate bus, the company says.
Its "superior energy efficiency" ensures "excellent performance in winter conditions," the company highlights. The vehicle's manufacturing concept is innovative with its modular structure made mainly of aluminium and inspired by the aeronautics industry, it adds.
Depending on the configuration chosen, its full low-floor throughout the passenger area can accommodate up to 45 people, including 24 seated passengers and up to six wheelchairs, it states.
The Electrip is also designed to facilitate the integration of the latest intelligent and autonomous vehicle technologies, the company confirms.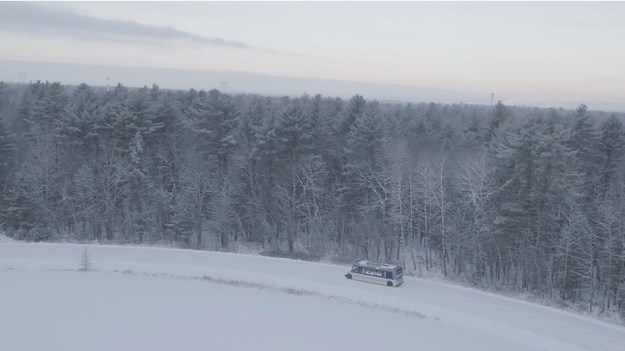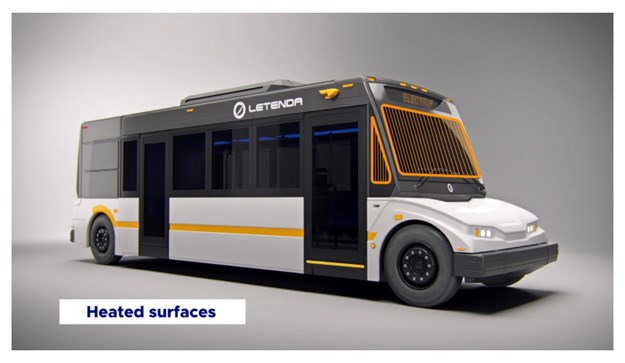 THE BACKING
Letenda's financial and support base 'ecosystem' comprises major partner Rio Tinto, as well as several Quebec partners, such as: Constructions Proco, Simplex Tool Rental, Promotion Saguenay, Societe de la Vallee de l'aluminium, Developpement economique Longueuil, ACET Banque Nationale, Hydro-Quebec and Cummins, a leader in battery technology, it confirms.
"This business project is made possible with the financial support of private investors and the Ministere de l'Economie et de l'Innovation du Quebec, the Ministere de l'Energie et de Ressources naturelles du Quebec and the National Research Council of Canada," Letenda acknowledged.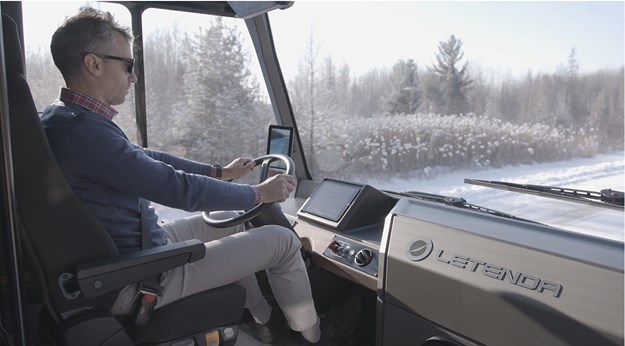 "Rio Tinto is proud to have supported Letenda from the very beginning in the development of a new generation of zero-emission aluminium city buses that will help reduce the environmental footprint of public transit in Quebec," said Rio Tinto Aluminium executive director of Atlantic Operations, Sebastien Ross.
"We are pleased to contribute CAD$650,000 [AUD$704,000] to support the company and to encourage networking with regional partners, in order to contribute to its success and maximise the economic benefits in the Saguenay-Lac-Saint-Jean region," he said.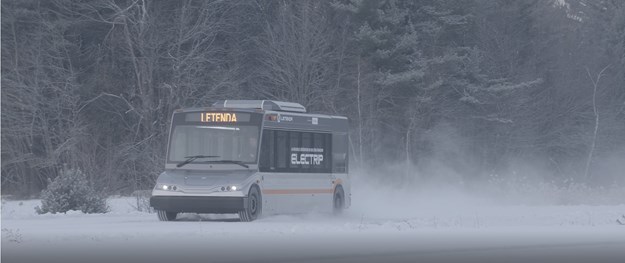 Specs
MAKE: Letenda
MODEL: Electrip electric 9m
BODY: Modular concept; heated surfaces, narrow windscreen pillars
CHASSIS: Mostly aluminium; steerable rear axle
INTERIOR: Flexible seating layout; full low-floor and no wheelhouse obstruction; radiant heat flooring (winter); driver's area electric controls and mirrors
BATTERY: 222-296kWh energy on board; Cummins Li-Ion NMC modules; integrated battery management system; liquid-cooled battery temperature management system; charging time - 2 hours@150kW DC
MISC.: Intelligent data management through continuously connected systems
Subscribe to our newsletter
Sign up to receive the ABC e-newsletter, digital magazine and other offers we choose to share with you straight to your inbox
You can also follow our updates by liking us on Facebook.