E-MOTIONAL BEHAVIOUR - TRANZIT NZ E-CHARGING
---
COVERSTORY: When the expression 'going all in' was coined by some person who probably had absolutely nothing to do with buses, they may as well have been referring to NZ private operator Tranzit Group. Embracing e-mobility and re-engineering things while always thinking outside the box is all just part of the 98-year-old Tranzit DNA.
It may well be - and one would hope not – 'bad jazz' to some New Zealanders these days, but when Dave Dobbyn and his trusty Herbs sang, "Hey, I got a lot of faith in you. I'll stick with you kid, that's the bottom line," they arguably weren't just talking about personal or pet relationships, but business ones, too. And while that adage goes some way to encapsulating the fundamental core of any solid working relationship, or 'contract', between customers and a business, suppliers and receivers, buyers and sellers, it holds greater truth when it's underwritten by the ubiquitous common denominator of … time. Lots of it.
Having started in 1924 - and delivering quality service, bus operation and technical innovation to Kiwis now for more than four generations - it would be hard to argue a company such as Tranzit Group doesn't know what it's doing nor isn't doing things right, given the longevity of its success. And, indeed, all that dedication and expertise arguably comes into play even more so as it, like many bus and coach operators throughout Australasia now - particularly private and family owned ones - enters the crossroads of e-mobility transition (a transition either 'needed' or 'forced upon them', different sides may argue).
Electric bus product, various charging infrastructure options and what really 'works' for a particular operation, plus the whirlpool of information needed to swim in just to get a true accord of real-life costs involved, can be pretty daunting to the uninitiated. Add in reskilling of a workforce and new safety and maintenance issues and procedures to address - and at times the whole shebang looks far removed from some illusory 'slice of heaven' we once sang about - Footrot dog howling, too.
Yet, it is in this dynamic that the best operators throughout the history of the humble bus, both in this region and further afield globally, have found the foresight, drive, determination and sheer 'chutzpah' to just make all the magic happen for customers for many, many years.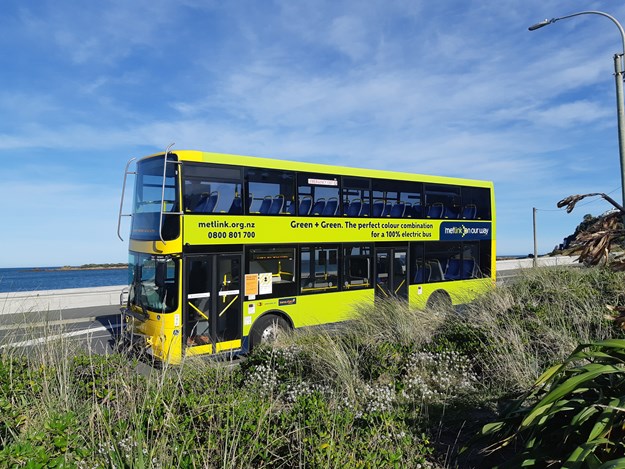 PERSERVEERING PIONEERS
The New Zealand family bus and transport entity Tranzit Group now has the largest privately owned electric-bus charger network in NZ - to power its growing fleet of e-buses - the company reports.
Having long held a reputation of being Kiwi national bus industry pioneers, Tranzit's director of operations and transport, Keven Snelgrove, says the recent installation of a 1,080kW new charger at its Grenada Depot, north of Wellington city, brings the company's total charging network to 2,820kW - enough to power 3,400 homes, or approximately the town of Foxton (population 3,330 as of June, 2021).
"Since we began exploring electric bus technology in 2014, and then made a commitment to electrifying public transport - to help New Zealand meet its decarbonisation goals and provide a really smooth and quiet ride for our passengers – we've worked hard to ensure we have the necessary infrastructure to charge our growing fleet of electric buses," said Snelgrove.
"From January, 2022, we will have capacity up to 2,820kW, which means we can charge the 20 electric buses we currently have running in Auckland, Palmerston North and Wellington, as well as futureproof our business for the next tranche of double-deck electric buses we are incrementally adding into Wellington, to run as part of the Metlink network."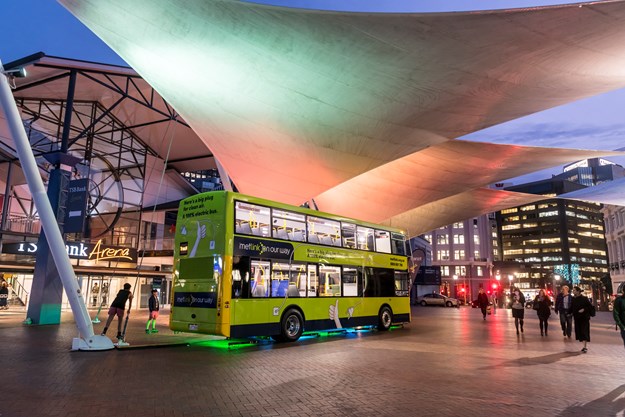 BROAD NETWORK SPREAD
To enable electrification in Wellington, Tranzit has built a network of chargers around the wider region, it states.
This includes the country's two fastest chargers - a 450kW charger located in Reef Street in Island Bay and the soon-to-be completed 450kW charger at the Wellington Interchange in Thorndon, it confirms.
At these locations, Tranzit's electric double-deck buses can be charged from 20 per cent to fully charged in 12 minutes, it says.
In addition, a total of 1,080kW is currently being installed at Tranzit's Grenada Depot, north of Wellington. Tranzit also has a 1-MegaWatt substation installed at its south-east located Rongotai depot, with a 300kW upgrade planned for early 2022.
Also, there is a 120kW charger operational at its Palmerston North depot and a portable 25kW charger at its new Taupo depot, Tranzit states.
In Auckland, a unique charging system is used, offering greater e-bus scope and flexibility.
"In Auckland we can charge our single-deck electric bus, which was the first one we introduced into New Zealand thanks to EECA's Low Emission Vehicles Contestable Fund and our partnership with AUT, on a special charger. This can charge buses with two different plug types removing the need for two chargers as most chargers can only accommodate one plug type," Snelgrove explained.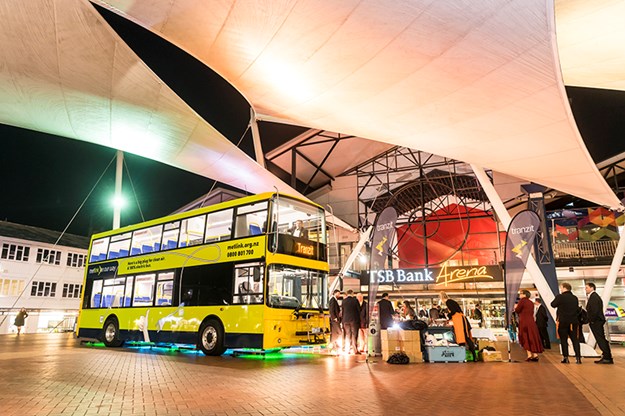 CHARGING CHOICE
In order for Tranzit to accommodate its growing fleet of electric buses, it has worked closely with regional councils and regional electricity providers to secure power for its charging network.
Concurrently, the company has invested in upskilling many of its workshop team, who have gone from working on diesel buses to electric buses, Tranzit says.
To date, four of Tranzit's diesel mechanics have completed their MITO New Zealand Certificate in Electric Vehicle Automotive Engineering (Level 5) and there are plans to upskill more of the team in 2022, the company confirms.
Tranzit utilises charging infrastructure by Heliox, based in the Netherlands, which offers a slow or fast charger. Slow chargers take between 3-4 hours to charge a double-deck electric bus to capacity.
These can be done overnight with the advantage being it uses a cheaper night cost and lower impact to the power network, the company says.
Conversely, Tranzit's fast chargers take between eight- to 12 minutes to charge a double-deck electric bus to capacity. Once charged, Tranzit's double-deck electric buses can run between 4-6 hours, or clock up to 130km per charge, costing as little as NZD$35 (AU$33) per charge (excluding charger cost), Tranzit claims.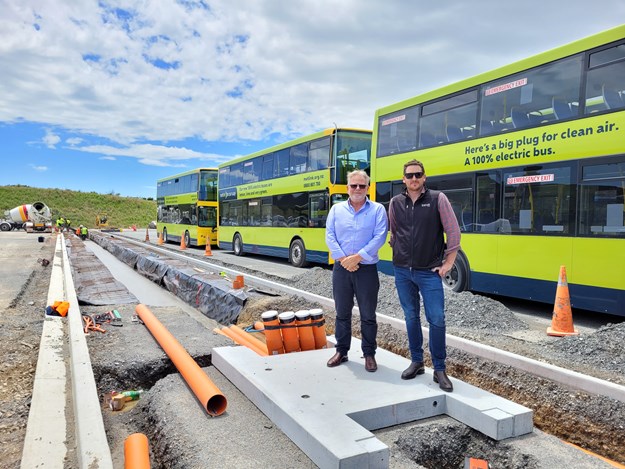 FORWARD THINKING
Snelgrove says the family company is proud of its pioneering history and has no intention of stopping.
"My brother Paul and I are third generation guardians of our family business and decided that, in order for the fourth and fifth generation to take the lead, we needed to look at sustainable technology and renewable energy options," he said.
"But looking back, we've always been pioneers," he added.
"In 1970, we started to re-power our older flat-V8 petrol fleet with more efficient diesels then, in 1980, Tranzit continued this program using the more modern and fuel-efficient Isuzu 6BD1 diesel engine.
"In 1990, we then started to re-power our older pre-Euro standard engines with Euro 3 and 4 engines before placing an order for 20 Euro 4 Touring Coaches in 2010 - the 'top of the line' at the time - which were used for Rugby World Cup 2011 and brought a lot of pride to our company and our team.
"After beginning to explore electric-bus technology in 2014, things have continued to ramp up and we've gone from introducing the first electric bus into New Zealand in 2015 to, this year, having 20 electric buses on the road.
"Also, in a Southern Hemisphere first, we successfully converted a diesel double-deck bus to 100 per cent electric," he explained.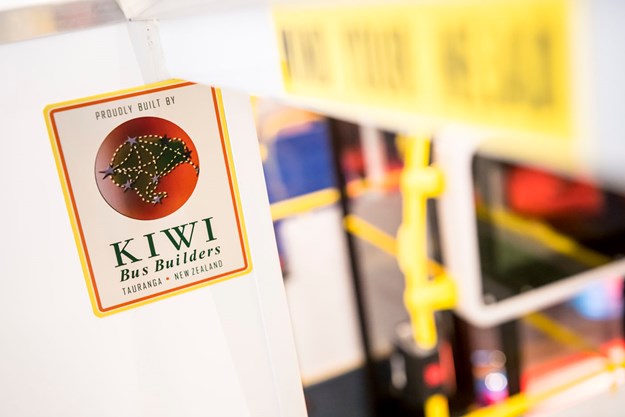 LOCAL MANUFACTURING
Tranzit also sets itself apart, it states, by helping to build New Zealand's electric bus capability, working with Tauranga's Kiwi Bus Builders to assemble the buses using NZ-made parts, as well as global parts imported from China and Europe.
"The quality of the product is outstanding and we are committed to supporting the upskilling and retention of New Zealand's manufacturing workforce by using local builders." Snelgrove confirmed.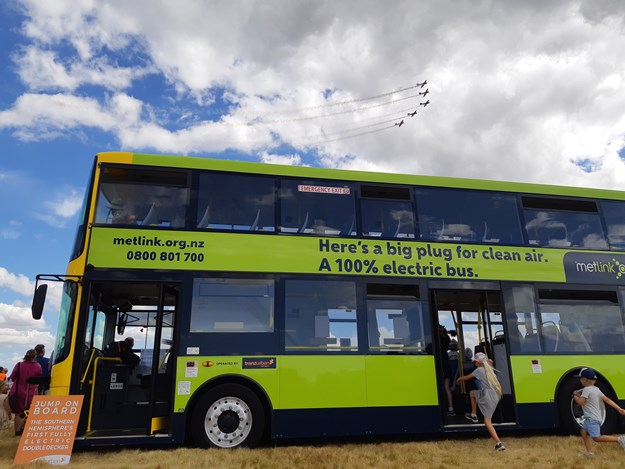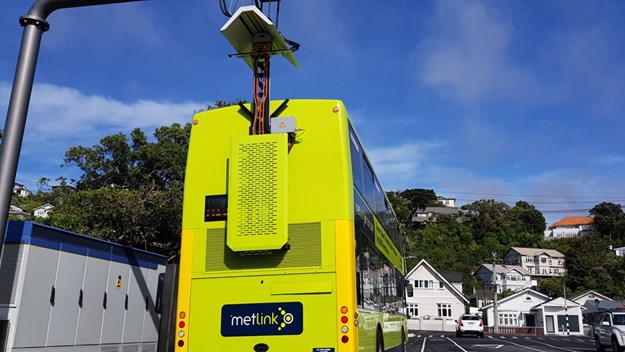 REINVENTING THE WHEEL
Being pioneers of this type of e-bus technology in New Zealand has come with major learnings, Tranzit confides.
Originally, the pantograph - the apparatus mounted on an e-bus to collect power via contact with a charger - was located on the roof of Tranzit's double-deck e-buses.
Tranzit's team of skilled engineers and mechanics, in consultation with experts in technology, pioneered a change so the e-bus fleet now operates with a rear-mounted pantograph, allowing fast charging at the Reef St terminus while buses are in operation, meaning there is no impact to the schedule, it explains.
The change was bought about by Wellington city's uniquely hilly topography and tight street infrastructure, which often has over-hanging trees and low power lines overhead. Moving the pantograph to the rear meant that Tranzit's flexibility to operate these high vehicles would not be limited, with the result testimony to Tranzit's ingenuity and determination to overcome whatever obstacles that come its way, it must be said.
As an aside, and to blend into the natural surrounding at Reef St, a special 'wrap' featuring native plants and trees was put around the charging station, making it more visually appealing from the street, the operator explains.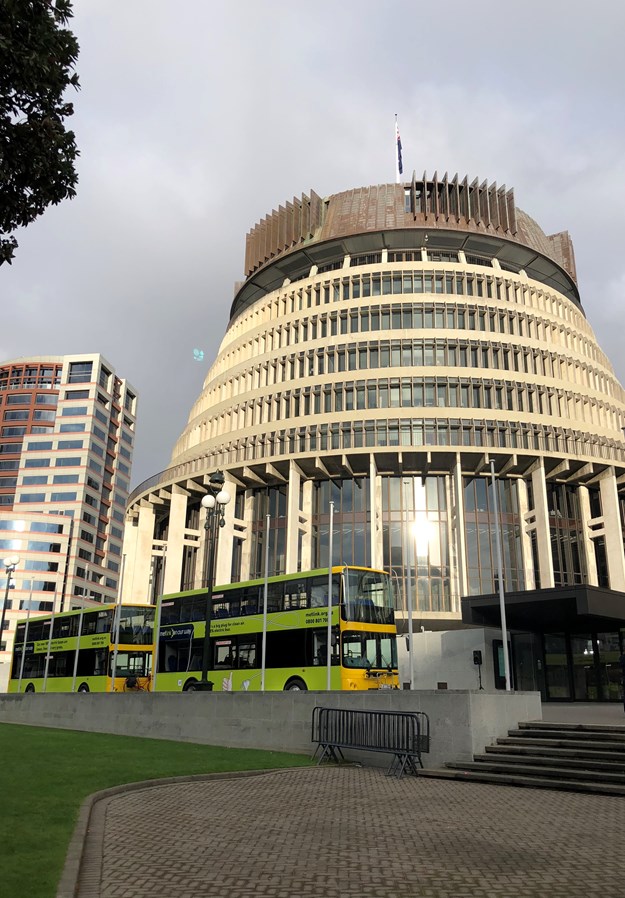 THE REPOWER PROJECT
In a Southern Hemisphere first, Tranzit Group's workshop team of Gareth Price, Daryn Murphy and Andrew Gray successfully converted a diesel double-deck bus to 100 per cent electric, the company states.
In true Kiwi style, the trio has been humble about their achievements, but acknowledge the conversion was extremely complex - involving months of planning and overcoming a multitude of electrical challenges.
"One of our biggest challenges was battery placement," reflected Murphy. "After taking out the diesel engine, we had to work out how the batteries were going to fit in and did a lot of work getting their weights and the axle weights right.
"On top of that, it was a massive challenge getting the new high-voltage electric driveline to 'talk' to the bus body in a way that would let the air conditioning, lights and reverse buzzers work and ensure that the functions that previously received information from the diesel engine could continue to work as normal.
"It was like trying to have an intelligent conversation between a Spanish, German and French speaker when you don't understand any of the languages," he explained.
Dubbed internally as the Repower Project, this bus is an extension of Tranzit's commitment to building a reliable electric bus fleet locally. It also has enormous potential, Tranzit says.
"I'm really proud our team had great foresight to come up with this solution to a global issue, which is how can we help New Zealand achieve its goal of reducing carbon emissions while simultaneously removing diesel buses off our roads," said Murphy.
"One night we drew concepts on the back of a napkin, and they've come to life - with this bus now transporting passengers in Wellington."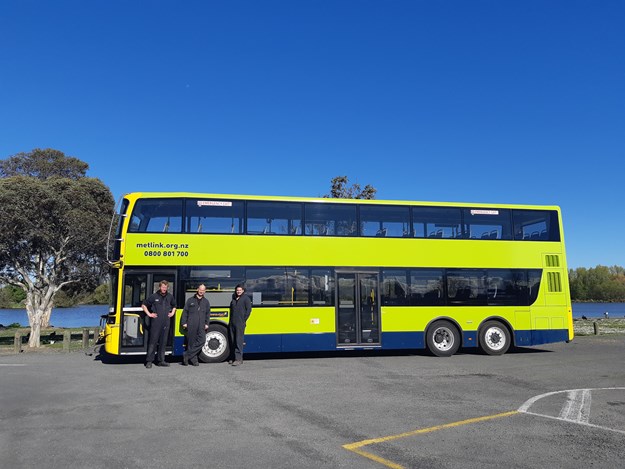 ENGINEERING RECOGNITION
The trio's achievement saw them named as a finalist in the Wairarapa Business Awards Innovation Category and now, with proof of concept, the team is planning a second conversion this summer and is talking with regional and central government to gather support for more conversions.
"We're developing this technology and creating a blueprint as we go and it's really cool," Murphy explained.
"We're also supporting New Zealand manufacturing with our buses built in Tauranga and some parts sourced locally, as well as from leading global suppliers.
"To my knowledge, there is no other company doing this, so to be leading the way and leading from our workshop in Masterton, is something pretty special," he concluded.
This project was made possible thanks to funding by Energy Efficiency and Conservation Authority's Low Emission Vehicles Contestable Fund and to Tranzit itself, it should be noted.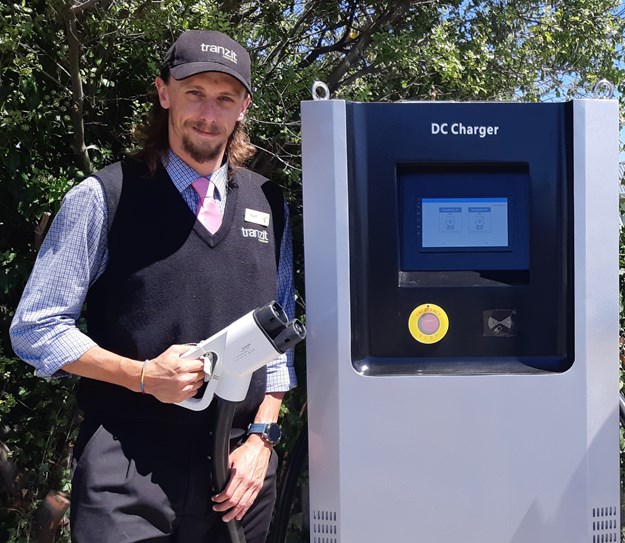 REGIONAL NZ E-BUS
When Tranzit's Palmerston North electric bus clocked up almost 30,000km at the end of November, 2021 - saving 10,200 litres of diesel and 27.74 tonnes of CO2, Tranzit Group says - no-one was happier than Karl Gates.
As one of six dedicated electric bus drivers that deliver services for Horizons Regional Council in Palmerston North, Gates says the EV bus has been a super addition to Palmerston North's public transport network.
"Since we introduced this bus into the network here in February, 2021, I've really loved driving it and transporting people around Palmy," he said.
"It's just so lovely to drive - quiet and smooth - and our passengers often comment to me on how pleasurable it is to ride in. They also like the little extras the bus has such as being able to charge their phones as they travel."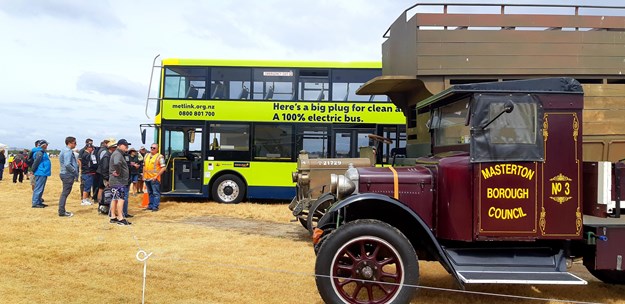 ABOUT TRANZIT
Tranzit Group is an award-winning, family owned transport and tourism company operating throughout Aotearoa, New Zealand. With its head office still in Wairarapa, in the south-east of the North island, Tranzit will celebrate its centenary in 2024.
Employing around 2,000 team members and operating 2,000 vehicles nationwide, Tranzit is a significant contributor to the economy, it states.
In many parts of New Zealand, Tranzit delivers Ministry of Education school bus contracted services, as well as contracted school runs for individual schools, it confirms.
Subscribe to our newsletter
Sign up to receive the ABC e-newsletter, digital magazine and other offers we choose to share with you straight to your inbox
You can also follow our updates by liking us on Facebook.