THE BREAKFAST CLUB – KINETIC FOODBANK BUS
---
EXCLUSIVE: If you 'are what you eat' and 'you are' because you eat then the dignity and humanity of actually eating healthily cannot be underestimated. They say breakfast is the most important meal of the day, but for many people in Australia it can be a struggle to even manage one meal. Help is on hand, though, with Kinetic's new articulated Volgren Foodbank bus delivering it fresh, fast and free.
What was that song in the musical Oliver again? "Food, glorious food. Hot custard with mustard"? Or something like that...
Whilst those ingredients together don't sound quite right - nor legal in at least three states of Australia, probably - when you are living on the street or just struggling to get back up off it, being hungry enough from lack of food, or more specifically not being able to afford it, might just present that horrible gustation proposition above as mandatorily gourmet indeed. Yuk!
Yet such is the survival instinct we are born with and the sliding scale of what goes down the gullet to fill the belly and stay alive is commensurate with the environs in which we - and usually, unfortunately, for many - find ourselves in via the curveballs in life that got us there in the first place. Hey ... it happens.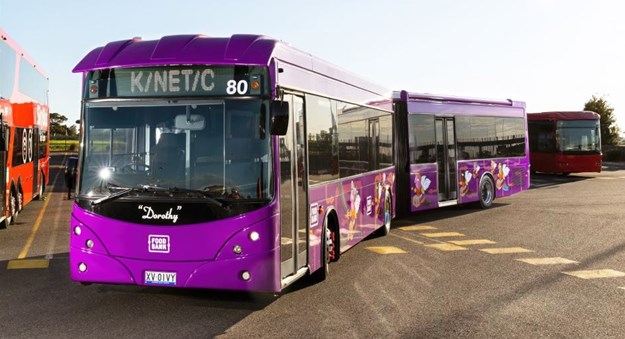 In its simplest terms, that inescapably awful and painful (for many this will be ego-driven) feeling of not being able to buy food to satiate hunger - like back in your pre-school days when you forgot your lunch money, or the lovingly packed food from mum or dad (or maybe not even having the luxury of those at all) - affects millions of people worldwide each day.
According to the latest World Health Organisation jointly-issued information about global hunger overall, referencing the State of Food Security and Nutrition in the World report, it stated: "There was a dramatic worsening of world hunger in 2020, the United Nations said today - much of it likely related to the fallout of Covid-19. While the pandemic's impact has yet to be fully mapped, a multi-agency report estimates that around a tenth of the global population - up to 811 million people - were undernourished last year. The number suggests it will take a tremendous effort for the world to honour its pledge to end hunger by 2030."
Closer to home, the Foodbank Hunger Report 2021 revealed that one in six Australian adults haven't had enough to eat in the past year. Additionally, 1.2 million children have gone hungry during the same period, it states.
Foodbank Australia provides essential food and grocery relief to more than one million Australians experiencing food insecurity every month. It works with the entire Australian food and grocery sector including farmers, wholesalers, manufacturers and retailers, who donate and redirect surplus product to Foodbank. This enables the organisation to provide more than 241,000 meals per day to people in need, it explains.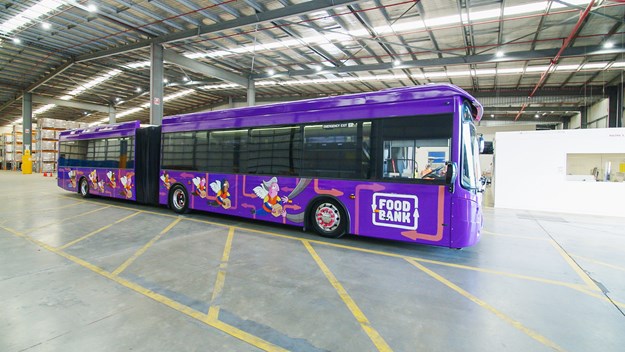 So what does hunger and the cost of living in hard, present times have to do with buses? Nothing - aside from the awesome custom Volgren articulated ('bendy') buses that Victoria's Kinetic operates on behalf of charity Foodbank.
A veritable 'supermarket on wheels', this first of two 'bendy' Foodbank buses ably delivers fresh quality produce to key places where those who desperately need it can get to it.
And in this way, the program does its best to - little by little, bus trip after bus trip - chip away at those dire national hungry, and often homeless, numbers each day.
If allowing people to still access food, or to 'break bread' with others - a sacred bonding ritual, it must be said, that is often under-appreciated in the modern day (social distancing and forced segregation doesn't help) - then the true value of the Foodbank bus cannot be captured with mere words.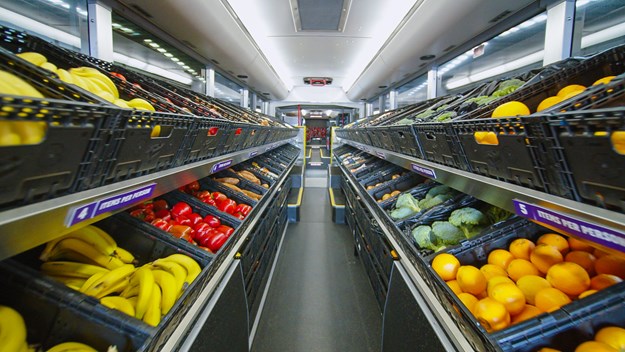 ALL ABOARD!
Foodbank provides 70 per cent of the total food rescued for food relief organisations across Australia, which plays a significant role in feeding vulnerable Australians.
Foodbank Victoria will now expand its reach to Victorians struggling to make ends meet with the launch of two buses (Scania L94UA 6x2 low-floor chassis) that Kinetic donated and are transformed at Volgren into 'mobile supermarkets'.
The new initiative is the result of a long-running partnership with Skybus operator Kinetic, which has partnered with Foodbank Victoria for a number of years, the operator confirms. Kinetic has fielded a team in Foodbank's inaugural Hunger Ride, participated in the Pick and Pack program through a workplace volunteering program, and helped with relief packages and donations during the 2020 bushfires.
Kinetic's latest donation of two articulated Skybus vehicles to the mobile-supermarket program will mean Foodbank Victoria gets to reach communities experiencing food insecurity throughout metro Melbourne and supply them with healthy and nutritious food.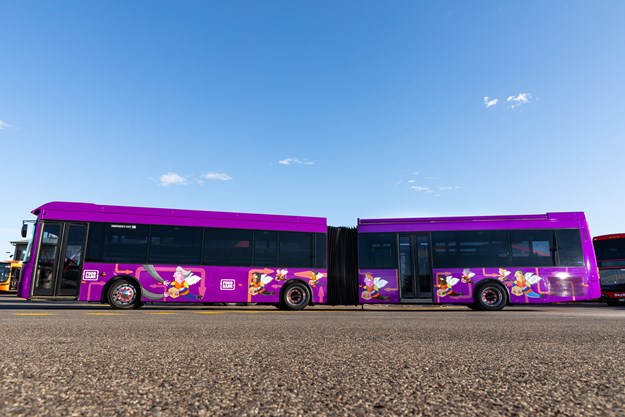 Kinetic co-CEO Adam Begg says the donation was an example of how Kinetic was continuing to transform and innovate its relationship with Foodbank Victoria.
"We have long been committed to Foodbank Victoria's food relief efforts through corporate donations, fundraising and volunteering days, and this initiative is an evolution and expansion of our volunteering program," Begg said.
"Kinetic's role extends far beyond simply taking people to the airport or running bus services. We are proud ambassadors for Victoria and that includes understanding how we can influence the community through our network and partners."
"This latest donation is the result of a collaborative effort. We have had nothing but support since first taking this opportunity to our partners, and the transformation these vehicles have undergone is incredible," he explained.
The two 18-metre articulated buses have an entry at the back and exit at the front, offering a miniature supermarket experience with shelving and refrigeration. The mobile supermarkets will be stocked with a range of fresh product, pantry and staple items, taking healthy food to those in need, the partners explain.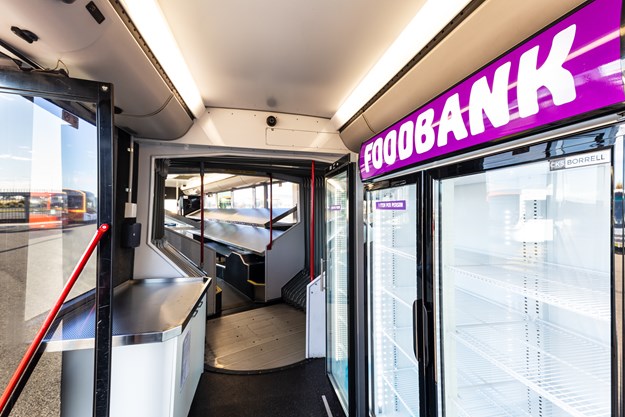 Volgren chief commercial officer Yuri Tessari says Foodbank Victoria and Kinetic invited Volgren to participate in the development of the vehicles.
"The design process took place during meetings and visits where we discussed concepts as we literally walked through the original vehicles. After several discussions, Volgren's engineering team presented our final drawings, which then later became the final buses," Tessari said.
"It was certainly an unusual project; there are obviously no shelves on a standard bus - but our service centre, as well as our suppliers, showed great flexibility and skill to turn the designs into a reality.
"In fact, Kinetic has been great since day one. They've been very transparent and clear on what the project was and supportive throughout the whole process. It's great that we are able to strengthen our partnership through this project."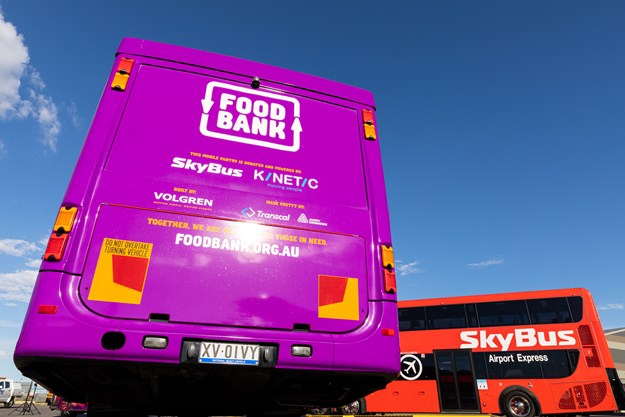 FAMILY FUEL
Each bus has the capacity to stock approximately 400 kilograms of fresh produce, with a menu consisting of fruit and vegetables, 500 kilograms of chilled items, 200 kilograms of frozen goods, and 1,000 kilograms of pantry staples like rice, pasta and legumes.
The mobile-supermarket program is expected to visit up to six locations every week, bolstering Foodbank Victoria's existing efforts, which were invaluable throughout the pandemic.
Each bus will support around 100 families at every location with around 15 kilograms of food. By working with its charity partners throughout the state, Foodbank Victoria provides around 1.2 million meals a month to Victorians in need, including its School Breakfast Club program, which it provides in conjunction with the Victorian government.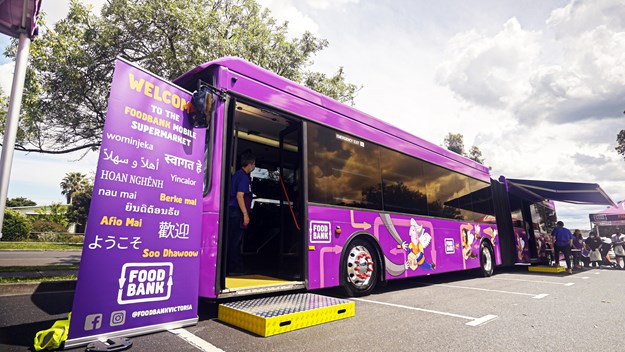 Foodbank Victoria CEO Dave McNamara says the mobile pantry program would allow many struggling Victorians to access healthy and nutritious food.
"This is all about supporting people who are doing it tough and simply don't know how they are going to find the next meal for their families or themselves," McNamara said.
"This is a concept we first discussed with Kinetic last year, allowing us to visit people who often don't have the capacity to travel, or who aren't receiving food relief in the traditional ways.
"It also allows us to provide a truly bespoke food-relief service to the emerging culturally and linguistically diverse communities around metro Melbourne.
"Both Kinetic and Volgren have come to the table by working with their partners to donate and transform these incredible buses, and we're absolutely delighted to get to this point today."
Kinetic will keep the wheels turning on the initiative with bus drivers jumping in the front seat as part of a dedicated volunteering program. The purpose-designed buses, which were branded by Transcal and Avery Dennison, will be maintained through Skybus' service facilities, the operator explains.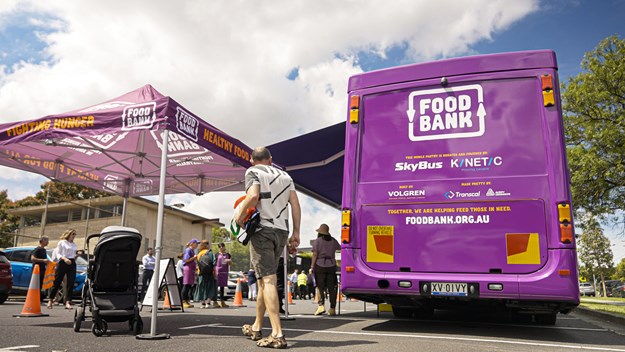 Subscribe to our newsletter
Sign up to receive the ABC e-newsletter, digital magazine and other offers we choose to share with you straight to your inbox
You can also follow our updates by liking us on Facebook.