TRANSVISION VAMP – GBV 3-AXLE HYDROGEN CITY BUS
---
In an exciting first for New Zealand, a two-year trial of a hydrogen fuel-cell city bus has begun in Auckland, using a vehicle designed and manufactured in the country. With plans to transition the whole bus fleet to low-emission technology by 2040, this is an important part of the 'transition vision' journey towards achieving this goal.
One could imagine the stress and disappointment of the little kid – presumably – on some 'far, far away' farm who dropped that first basket of eggs one morning when racing from the chicken pen out in the cold back into the warmth of home, one winter's morning, aeons ago.
If it were any consolation to them, mankind got one of its 'iconically' famous adages out of it that has probably steered the decision-making process of billions of people the world over in myriad situations and circumstances: "Don't put all your eggs in one basket!"
When it comes to electro-mobility transition and the public transport sector in particular, operators across the globe are assessing, testing and pondering a range of technologies in the quest for low-to-zero emissions. Such is the path we've all been set on.
Hydrogen fuel-cell buses – depending on the route, location, charging infrastructure and or other topographical considerations – are getting serious consideration from those bus types discerning enough looking to maximise cost efficiency in meeting such goals … and not throwing everything into the 'fully electric bus basket'.
Where a bit of distance and passenger capacity – in turn weight – is concerned, hydrogen fuel-cell 'city bus' trials are certainly things many are keen to watch.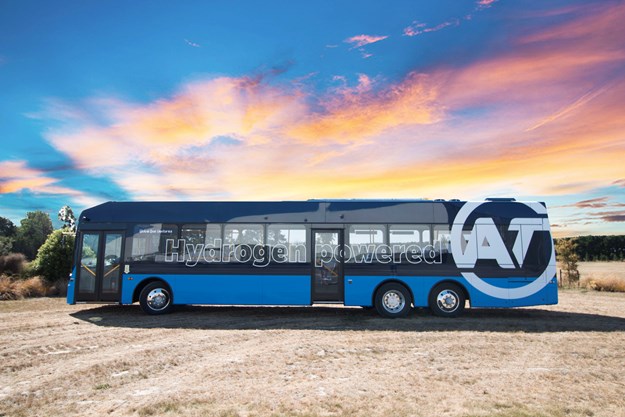 This brings us to the first extra-large, three-axle hydrogen fuel-cell city bus for New Zealand, which has started a two-year, NZ$1.175 million (A$1.09 million) trial around Auckland to ultimately, "…assess how operating costs compare to diesel and electric buses of similar configurations," Auckland Transport (AT) announced, recently.
Also the first ever fuel-cell bus designed and manufactured in New Zealand – with the vehicle built by Global Bus Ventures in Christchurch – Howick and Eastern Buses by Transdev is operating the new bus on the Botany to Britomart via Panmure Route 70.
Through the development of the Low Emission Bus Roadmap, AT identified hydrogen as a potential fuel for Auckland's future low-emission public transport fleet, the organisation states.
According to AT, its commitment to not procuring diesel buses from 2025 is complemented by its Roadmap. This plan commits to transitioning the entire public transport bus fleet from diesel to low emission (electric and hydrogen) by 2040, it explains.
Additionally, the estimated cost of the full transition to zero-emission (including EV and hydrogen) is expected to cost between NZ$150 million (A$139.6 million) to NZ$200 million (A$186 million), it states.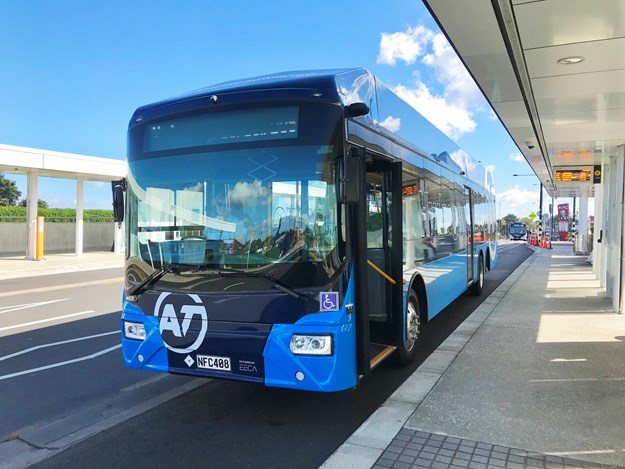 THE BUILD
In terms of any challenges throughout the build and how they were overcome, when ABC magazine spoke exclusively with bus builder Global Bus Ventures (NZ) Limited CEO Tim Duncan, he stated: "The largest challenge was the inability of the suppliers of the large components to have their engineers travel for commissioning. Everything had to be commissioned remotely including the Ballard fuel cell, ZF drive system, Wabco brakes and suspension and other main components.
"The project started by GBV seeing a market's need to introduce alternative zero-emission public transport. Following this, an opportunity arose from an announcement that AT and Ports of Auckland were working together [for such a goal] and GBV successfully won the tender to build.
"The Route 70 from Botany Town Centre to the CBD means the hydrogen bus is well suited to the long run with high passenger loading.
"This vehicle was required to meet the large passenger loading of 76 with two dedicated wheelchair positions and a three-axle city bus is required to meet this. 
"The vehicle is 13.5 metres long with a super-low [floor] to the very back seat," Duncan clarified.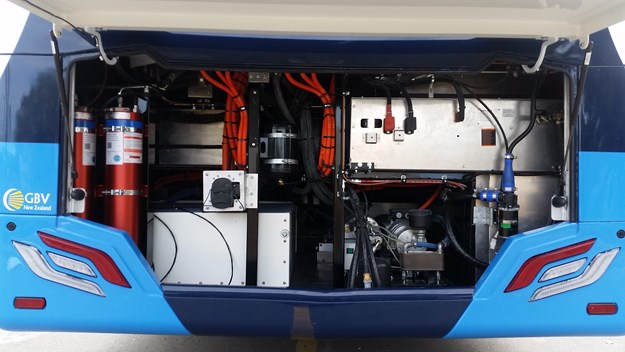 According to GBV, the bus runs at a lower pressure than cars at 350bar and, with the correct filling infrastructure, takes 10 minutes to fill the tanks. It has a range in excess of 400km.
In terms of Kiwi interest in hydrogen and hydrogen buses, Duncan says there's been a, "…large amount of interest as the hydrogen bus doesn't face the same limitations as full electric. It can be refuelled in 10 minutes, can be parked anywhere in the bus depot, and the battery life is substantially greater."
By all accounts, the vehicle drives and is operated like a standard extra-large city bus, which is still easy to manoeuvre and drive through the tights city streets.
"GBV had designed and developed a hydrogen ICE-powered hybrid years before, but the technology wasn't fully developed at that time. This is the first fuel-cell design for GBV," Duncan confirmed.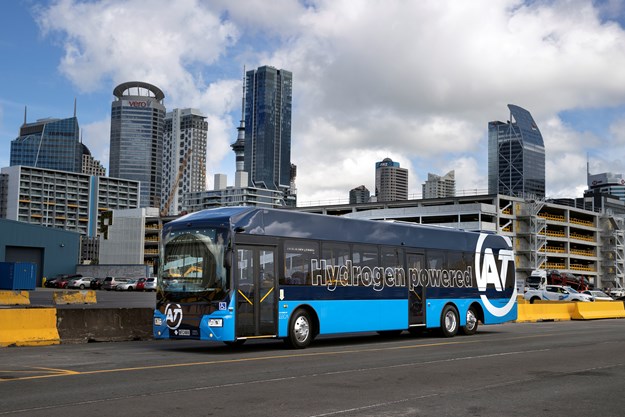 THE CEREMONY
The bus was unveiled by the minister of Transport Michael Wood and mayor of Auckland Phil Goff at Ports of Auckland, where the bus will be refuelled with 'green hydrogen', AT explains.
In response to Ports of Auckland's invitation to participate in the Hydrogen Demonstration Project, AT commissioned the production of the hydrogen fuel cell bus at the cost of NZ$1.175 million, with Global Bus Ventures in Christchurch winning the tender.
The three-axle bus, which is AT's biggest single deck bus, fits 43 seated adults and 31 standing adults.
Minister Wood says the government is proud to work alongside AT to help tackle climate change.
"This is a significant milestone in the journey to decarbonise Auckland's public transport fleet and it will be on the road in the coming days."
Mayor Goff welcomes the trial of the hydrogen-powered bus.
"Decarbonisation of our public transport fleet is an important demonstration of Auckland Council taking the lead in reducing the city's carbon emissions," he said.
"In Auckland, transport makes up 40 per cent of the city's overall carbon emissions. While our focus has been on electrification of vehicles and buses, it is important that we also explore the option of replacing diesel buses with hydrogen-powered vehicles. These produce zero-emissions and could complement our electric bus fleet.
"Auckland Council has committed to no further purchase of diesel buses from this year," Mayor Goff confirmed.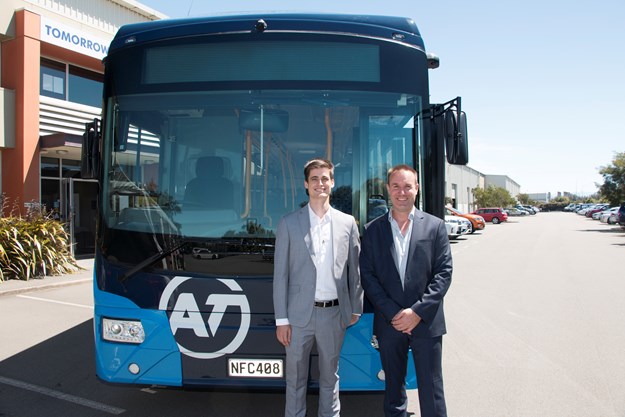 HYDROGEN AS A FUEL
Auckland Transport's chief executive Shane Ellison says Auckland Transport is committed to doing its part by accelerating the Low Emission Bus Roadmap targeting 2030 – for all buses to be zero-emissions at tail pipe.
AT's Metro decarbonisation manager Darek Koper says AT's involvement in purchasing the hydrogen bus was to prove to the market that hydrogen buses can be developed to meet New Zealand's unique operational and design requirements, and to help in the development of hydrogen as a fuel.
"Through the development of the Low Emission Bus Roadmap, Auckland Transport identified hydrogen as a potential fuel for Auckland's future low-emission public transport fleet. The outcome of this two-year trial will help operators make informed decisions about which technology should be selected," Koper said.
"This exciting unveiling of the hydrogen fuel cell bus follows our January launch of our fully electric bus fleet, the Airportlink. We also launched Waiheke's electric bus fleet at the end of 2020."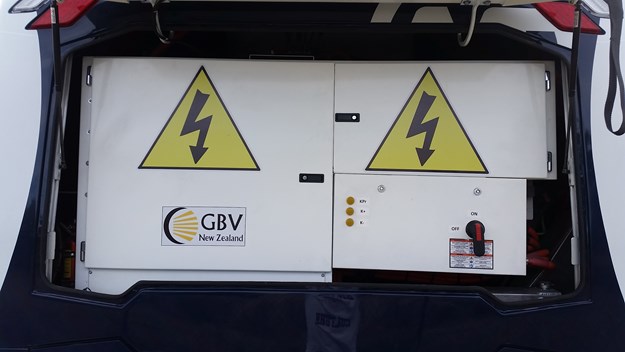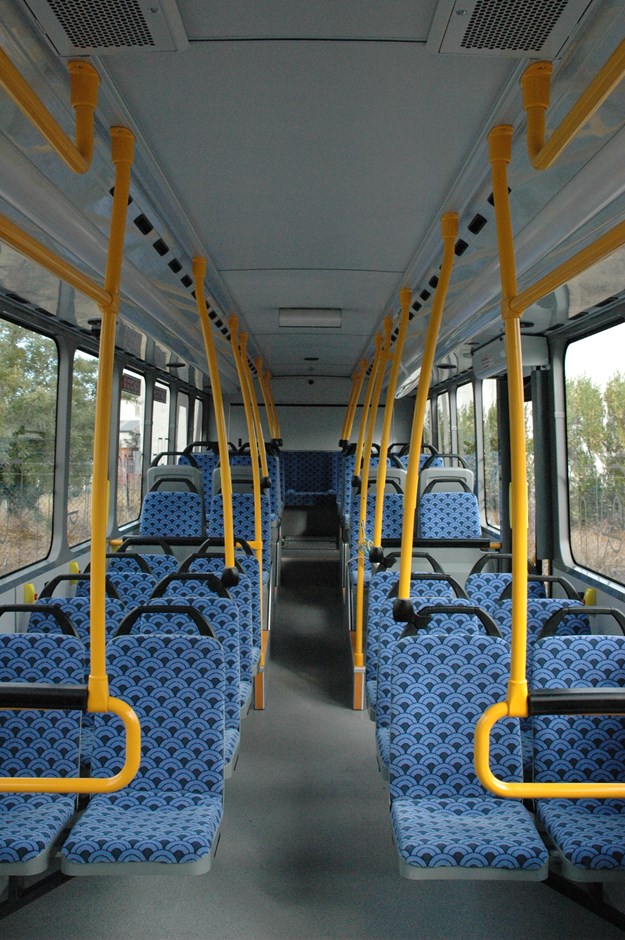 Ports of Auckland's chief executive Tony Gibson says it was great to have the event on site at Ports of Auckland – where the bus will be refuelled with green hydrogen delivered to Ports of Auckland's temporary refuelling station.
"Refuelling in the future will be done next to a new electrolyser plant, producing green hydrogen here on site."
Howick and Eastern Buses by Transdev general manager Sheryll
Otway says the bus company is excited to partner with Auckland Transport again, following the launch of Auckland's first electric three-axle 'extra-large' bus in October, 2020.
"In the early 1900s we launched the first motorised bus to complement our horse-drawn carriages and now, many years later, in partnership with Auckland Transport, we are again changing the way our passengers travel today and in the future," she said.
"This is history in the making," Otway stated.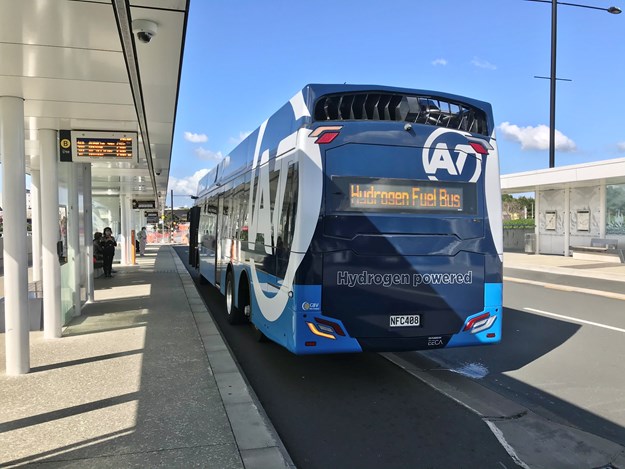 HOW IT WORKS
As GBV explains, hydrogen fuel-cell buses use a fuel cell to convert hydrogen gas to electricity and the only emissions are pure water. This technology is ideally suited to New Zealand's clean green culture and provides operators with a long-range, fast-refuelling, zero-emission option, GBV adds.
"We see this technology as a vital component to securing New Zealand's zero-carbon targets and here at GBV our focus is on helping New Zealand buses to become zero emission," Mike Parker, executive vice president of GBV stated.
"We are proud to be leading this charge.
"A big thanks to all the GBV team and the fantastic support of Ballard, ZF, Hiringa, Wabco, BoC and other key suppliers to achieve the amazing goal of getting the systems up and running.
"This is a huge milestone and a massive step towards building the knowledge and infrastructure needed to support these world-leading technologies," he said.
The bus initially ran trials and had tuning at GBV headquarters in Rolleston, Christchurch, before being delivered to Auckland Transport in February, 2021, the company confirms.
Subscribe to our newsletter
Sign up to receive the ABC e-newsletter, digital magazine and other offers we choose to share with you straight to your inbox
You can also follow our updates by liking us on Facebook.