ALL THE ELEMENTS – DENNING ELEMENT ELECTRIC BUS
---
EXCLUSIVE: Now under the ownership of the Custom Bus Group, a 'sleeping giant' of the Australian bus game has 'reawoken' with a next-gen, market-leading electric bus claim. Here, behold, world-exclusive concept images of the new Denning Element e-bus! An export-potential game-changer? On paper, indeed. And given its international components and Aussie manufacturing cred – it soon will be with us 'in the flesh'.
Solid-state batteries. Let's be very clear about this; while there's enough geeky experts worldwide saying it's a safer electromotive technology, it is still somewhat in its infancy, in terms of mass global electric vehicle use. That said, its seemingly remarkable performance in a range of automotive applications has certainly caught the eye of many discerning observers in the emerging electric vehicle (EV) world.
Where 'traditional' lithium-ion batteries essentially use liquid electrolytes to move energy around, solid-state batteries use 'dry' material for conduction. That means less weight, cooler running temperatures and less chance of catching fire, experts say. Future mass fleet use one day, perhaps.
In certain countries, like China, where the use and production of electric buses is virtually quadruple-fold compared with other international markets, such advanced battery technology has greater scope for rapid use and spread in bigger bus fleets sooner arguably, but here in Australasia things are just starting really, and charging infrastructure for all batteries itself is becoming the bigger hurdle that many in the industry believe we'll need to tackle first.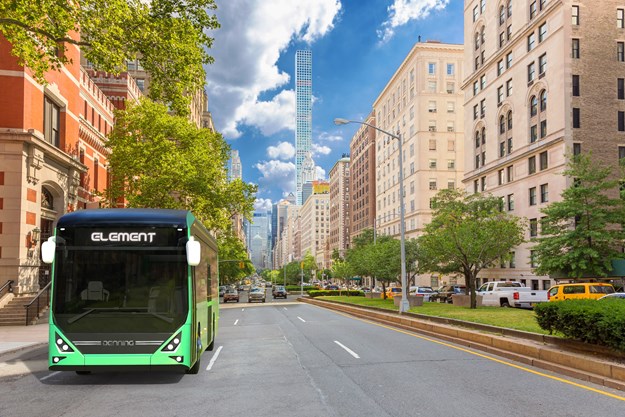 With companies like Daimler in Europe only just starting to land more solid-state battery-using bus orders from some operators for its award-winning eCitaro, such EV storage capability is surely aeons away for mass domestic use here in Australia, right?
Until recently that was probably the case, but Australia's Custom Bus Group is seriously looking into it - as well as all battery options - for feasibility for this market.
So why is Custom looking into electric batteries? Glad you asked. For its new electric bus body called the Element, no doubt - one of the main reasons the iconic Denning bus brand specifically was purchased. That is, Denning's under-rated and under-used lightweight low-floor fully monocoque frame was key for Custom's emerging mass local electric bus aspirations, the company says.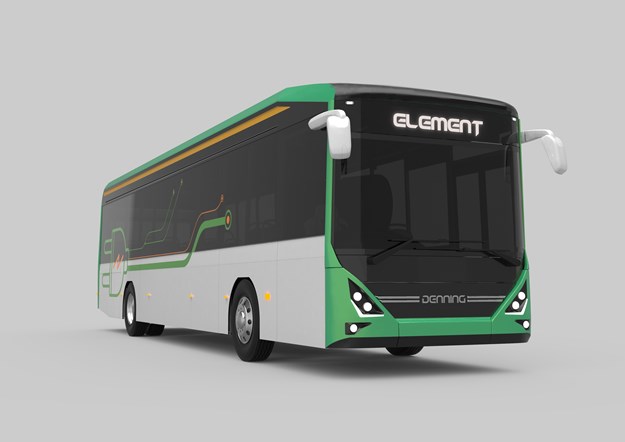 "That Denning frame – built usually as a low-floor city bus for people like Kangaroo Coachlines, in Queensland – as a complete vehicle it weighs about 9.5 tonne, which is light," explained Custom Bus Group's managing director, Scott Dunn.
"Compare that to similar European buses, which are just over about 12 tonne, so it's almost already three-tonne lighter than those OEMs," he said.
"This is one of the reasons I purchased Denning.
"Put simply, we are taking that light frame, changed it into stainless steel and then giving the bus a facelift with the new Element electric body and put batteries in it.
"We know the frame is good and have built to TfNSW specification.
"This will give us a very light battery bus which is a huge advantage in this market and will be a full Denning product essentially," he said.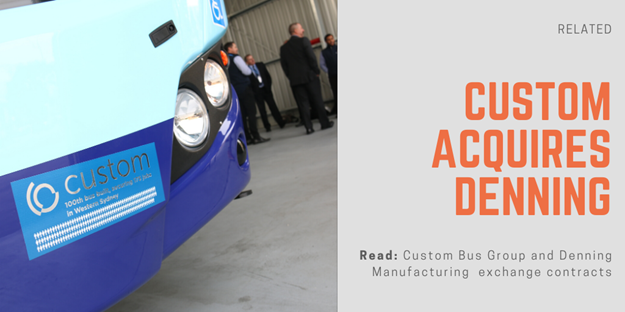 "Denning is a sleeping giant, it has good IP that is only being used on a small scale. It's just a great business and I want to see the iconic Denning brand back. 
"In the 1980s it was a leader in Australian public transport and I wanted to really bring that back – and it's got its chance now. And this is what it is all about. A new bus leading the electric bus market for the Australian market built by Australians. The Denning Element will be an advanced electric bus ideal for this market," said Dunn passionately and excitedly – as he usually is as his mind ticks over about all things bus.
"Denning has done all the chassis design on the Element. I had amazing trust in the Denning engineers who have done their work and the Custom engineers who have designed the new-look body. Denning's been involved with this thoroughly and they are very excited. It really is exciting times," he said.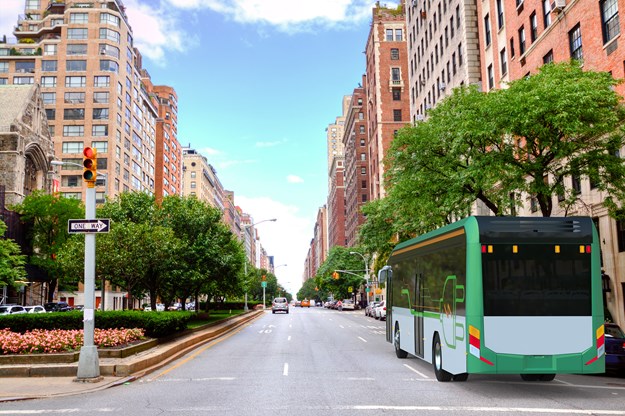 NEW POWER GENERATION
As stylish as the new Denning Element is – from its sleek and sloping forward roof melding into an expansive front windscreen, to the attitude-imbued bumper bar and headlight treatment down below, and all along the seemingly pillarless flanks to the distinctive back end – it's what makes this electric bus move where most scrutiny will lie. And with no talk of the fabled Euro-bound Mercedes-Benz eCitaro – all 2.55m wide of it – ever gracing Australian shores with its solid-state battery tech soon, Custom is seriously thinking about bringing that type of technology here soon, or choosing something as close to it as possible while it is still evolving.
"We needed an electric chassis partner first of all and so we are talking with Actia, from France," explained Dunn.
"Actia is a very large group. I've known of them from my time in the UK and I already knew the guys from there, as well. They have a business in the UK, so I had an existing relationship with them, but I've also been monitoring them as I knew they work with a lot of the OEMs.
"Actia has been around since the 198O's on both commercial and light vehicle automotive work as well.
"They are a very established business with a proven product and the Custom Endeavour has used their electrical systems since its introduction at the 2019 BusVic show last year. Actia uses the same solid-state batteries as in the Mercedes-Benz eCitaro," confirmed Dunn.
"For sure, these batteries could be a game-changer, but we will see. They are completely different than the current bus batteries being used currently in Australia, but there's some good stuff out there to consider.
"Solid state batteries are the latest technology and some regular Lithium-ion bus batteries imported here are already 10-year old technology and so there's a massive difference right there," stated Dunn.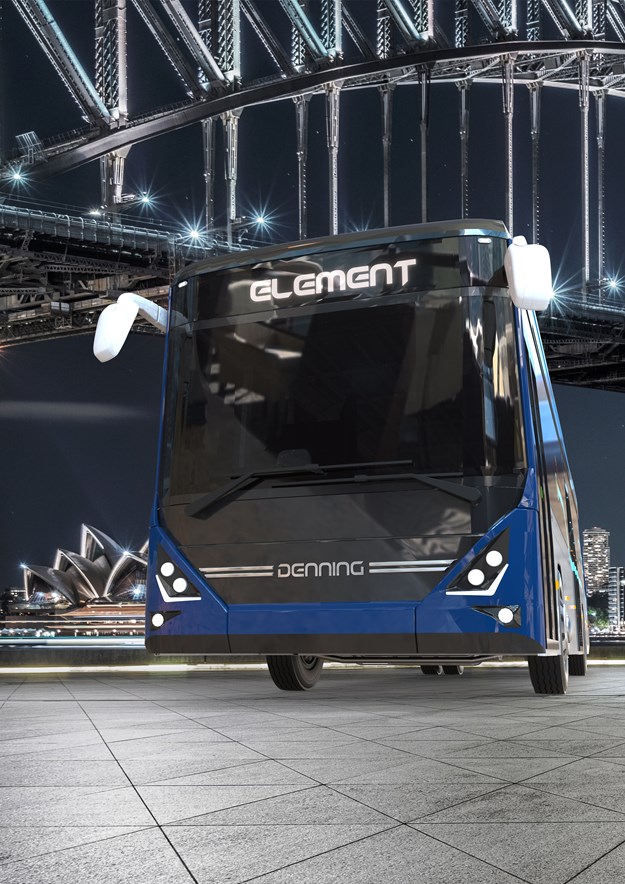 KEY POINTS
When ABC magazine recently teleconferenced with Dunn and national sales manager Mick Neskes based at the Custom Bus Group's St Mary's, Sydney base, there were certain key points raised about the impending debut of the first Denning Element e-bus and why it seemed such big news for the local market, all under-written by a healthy slather of technical information about how well it could work and why things had evolved the way that they had, too.
"Firstly, the operating method would conform to TfNSW spec, for an e-bus. Everyone talks about batteries and how long they last in years etc, but it's actually about the capacity of the battery itself in megawatt hours," said Dunn.
"Secondly, we'll have a big environmental tick. We'll use batteries that have the least amount or no issues in terms of end of life," exclaimed Dunn.
"Often bus suppliers have issues with the batteries in terms of disposal and the contaminants in them. In addition, potential fire issues. Our batteries will aim to have neither of these crucial safety and environmental problems, if possible," Dunn stated adamantly.
"Thirdly, one major option that we are considering is this: operators are concerned about longevity of batteries, right? We are hoping to offer this vehicle at the same price as a diesel and instead of putting diesel in you are going to be putting in electricity. So you'd have the option to pay for your batteries for the life of the vehicle," he said.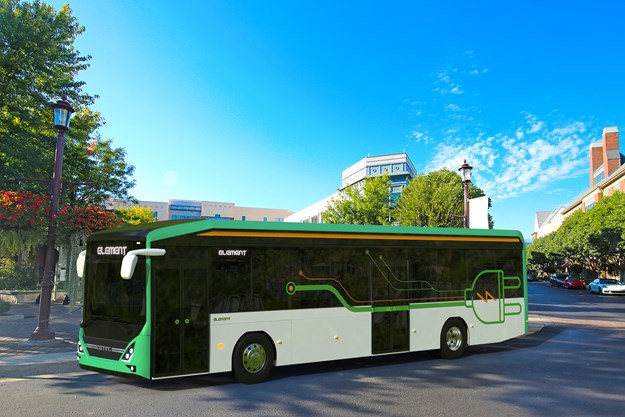 In explaining things further, Dunn added: "So operators would ideally have two options. They can buy it with the batteriers or, or you could buy it without the batteries for the same price as a diesel vehicle and basically pay per kilowatt. This is no different to purchasing fuel per litre, we think. Current diesel buses consume fuel at litres per 100km, electric vehicles consume electricity at 'kW per 100km'. So our aim is basically you don't have to buy the batteries ever and you can purchase in the same process as fuel today," he said proudly.
"In that way we'd remove any perceived battery risk from the operator in this type of model. If they fail, they are our issue. We will change batteries if necessary and instead of putting litres of diesel in, you're putting kilowatts of energy in. This model of operating will suite some people whilst outright purchase will suit others, we are very open-minded on which approach operators want to take. That's the plan.
"I believe this would take away everybody's fears about any battery issues and would put it in terms operators deal with today," Dunn explained.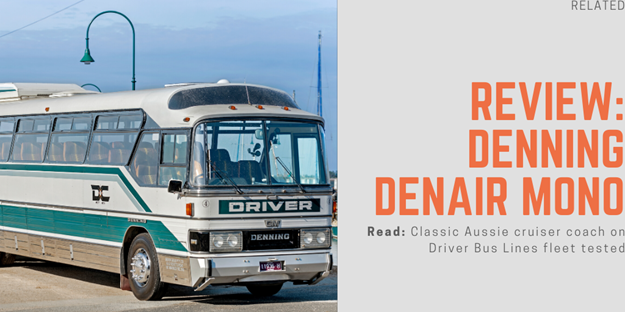 WORST CASE
From chatting with the guys in depth for much of the afternoon, the beauty of the Custom-Denning e-bus plan seems to be making calculations based on various worst-case scenarios, so that operators potentially looking to buy one or a few buses are in for no unexpected surprises when running them.
"We looked at the operating environment; what we'd have to service, any environmental issues we'd face; and we wanted to do it here in Australia," said Neskes.
"So, we had to look at the Australian market and how we needed it to perform locally. We profiled routes with worst-case in mind for everything. And doubt the other electric bus manufactures are doing this and are trying to use the same bus they use everywhere else in the world," said Dunn.
Collectively flicking through a comprehensive computer presentation – the duo pretty well versed with it all having already addressed a few potential buyers even before the first unit is completed – the mind boggles at the simplified complexity and eventual permeating logic behind the extreme case-derived performance objectives.
"So looking at this short route as an example, where we wanted to assume worst case," Dunn said – referring concertedly to one of many comprehensive graphs that day, rapidly finger pointing at lines, slopes, numbers and keys to emphasise the fact they really had looked at all scenarios thoroughly – "...this is 980 seconds here, so 15 minutes; 18 seconds here and this is the vehicle … stop, start, stop, start, stop, start. Idle time using air-conditioning... Bit of a longer journey here... Stop. So basically it's quite a short route all around.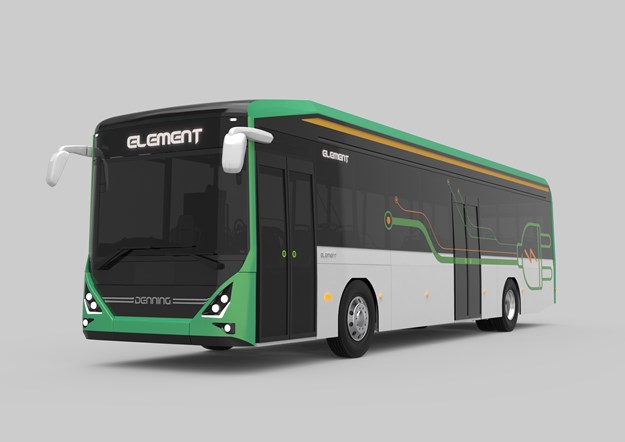 "This lasted 15 minutes, and only completed a 6km journey with an average speed of 15km/h, which is nothing! Much slower than the average street in Sydney.
"On top of that we added four minutes at the end of it for air-con time. So really for 19 minutes for 6km, which is very little. This is a really hard route situation for a bus," he described.
The point illustrated was Custom factoring in the different weights of the theoretical vehicle, from 18-tonne to 14-tonne, what it actually consumes with the aircon running at all times and/or maxed out, and always showing what the powertrain was actually doing. In fact, being able to tell an operator what the bus was doing at any point of the route was a focal point from the team.
"So once we knew what we needed to meet in such extreme cases, we set about designing a system where we can know what kind of power it is drawing at any time," he explained.
"We then said we are going to assume it's going to run at an average of 16-tonne all the time (which it's not going to), thus we've assumed the worst route possible over the kilometres in every way, and at that point we knew what it was going to basically use per kilometre.
"We then assumed an AC system at full load draws 10kWm, thus using these calculations over the hard-route series, parking up every four minutes, running for every other minutes, full running everything else.
"With our calculations of key components, we know that's what's going to happen," said Dunn, excitedly.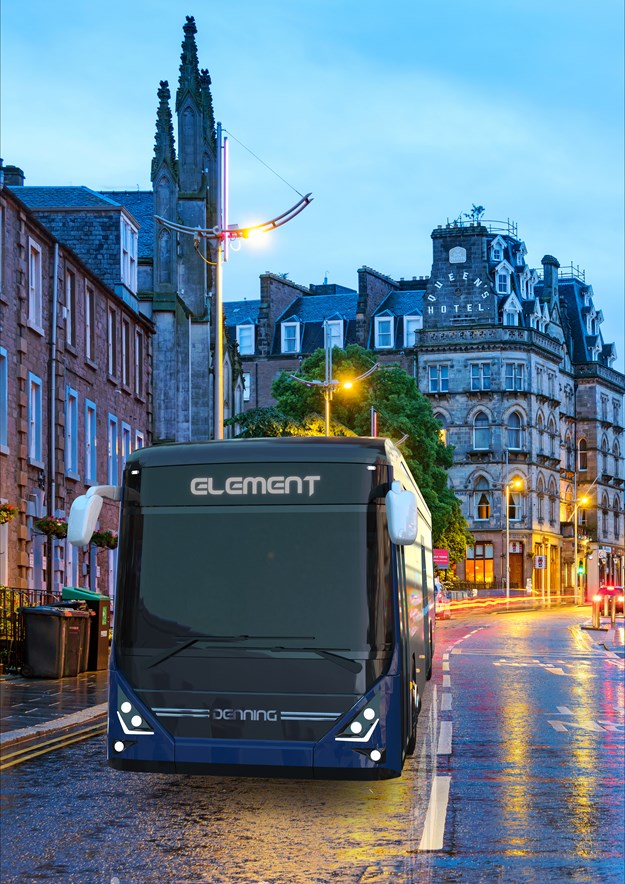 "I'm a mechanic and I've looked at this from a mechanical point of view and these are the facts," he continued.
"The thing is we will build one and people will ask, 'Well, how do you know it's going to work?' And we know it's going to work because these components have been put together before, on vehicles running around elsewhere today.
It's not a difficult thing, it's just a matter of the right components linked to right vehicle," he said.
The conclusion thus drawn for the real-world Denning Element that's about to roll out of production is it's going to weigh in at about 12 tonne with six batteries – a number chosen as the ultimate mix of weight versus performance, at this stage.
"We estimate we can carry 80 people then easily. Six batteries are the optimum balance of output against the weight for the Australian market, we estimate."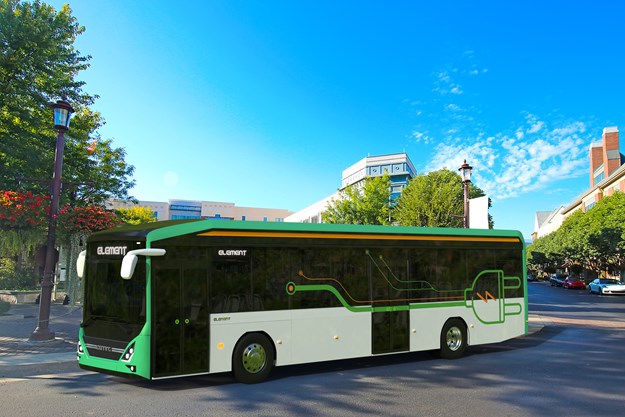 FRAME BY FRAME
Asked if it can use more than the six batteries, Dunn quickly replied: "It could, but it's just to show the rough range envisaged. People are obsessed with range, but there's always a trade-off.
"So, we have a very large frame with the Denning because it's a full monocoque; we are one of the only ones with that as traditionally the electric bus is a separate chassis, which just adds weight to the overall bus. We have a full Australian product built here with collaboration between our Sydney and Brisbane outlets," he said.
"The eCitaro in Europe [not available here] is like that, to be fair, which reduces a lot of weight like us. Competing with some Chinese manufacturers, that's just a chassis with a bus body on. We could do just that quite easy, but this is an Australian monocoque – top to bottom built in Australia," which was a theme strongly emphasises during the conversation.
"But here's an important point," he continued.
"We intend to guarantee that for the life of that battery – six packs. If it's more packs it's going to be more megawatts per hour. So, every time you draw upon that it's like a big fuel tank; when it's empty any battery will start failing and it's out of warranty. Now everybody is just talking about years. Years is relevant to how much you use it," Dunn was eager to explain.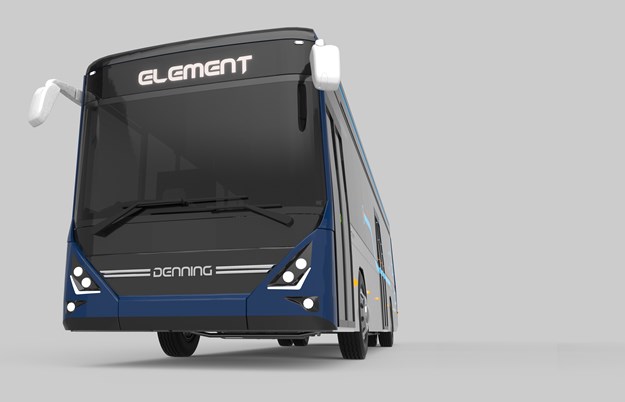 The point is the more you use batteries, the faster they deteriorate, but under normal route service conditions we are looking at offering a long warranty, which would work out as a life cost of the bus - lower cost than running on traditional diesel.
"And in the next 10 years, battery technology is only going to get better and reduce in price anyway," he added.
"We are only looking at batteries where they can function efficiently at more than 40 degrees C, which is ideally suited to Australia," he outlined as it would be a major point of difference.
When it comes to the issue of recycling the materials at the end of life, Custom Bus says it will take back the batteries if the customers don't want them or operators can recycle the materials themselves within the batteries.
"So, yes, at end of life the customer can do what they want with the batteries, or we as the supplier can take them back to dispose of them. That would be part of the deal," he envisaged.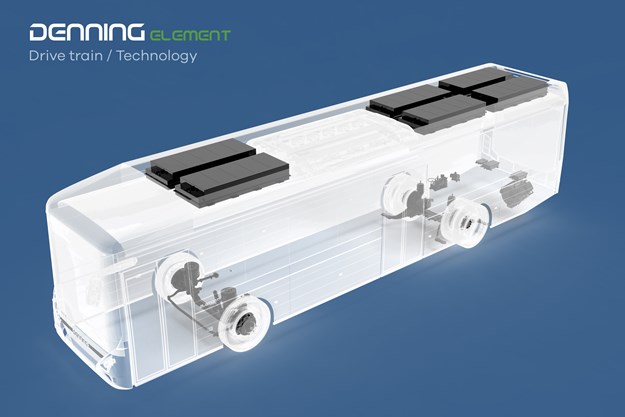 THE DRIVETRAIN
"Drive systems, batteries, two inverters for the dual-stage motor, which gives a greater and more efficient torque range is the kind of set-up we are after," stated Dunn.
"It drives the rear wheels through a conventional ZF differential and portal rear axle. We decided against a full electric drive axle at this stage so we could keep the axles and running system standard for ease of maintenance and every component from the rear axle forward can be repaired by a standard mechanic.
The Denning Element electric bus will use a high-voltage power system that powers the drive system, air-conditioning, power steering and air compressor. The system then converts to standard 24-volt low voltage for the suspension, braking system, and all the normal items in a modern city bus, including the LED lighting. Charging would be via a standard European DC-CCS Type 2 plug.
Overall, it is intended as a fully Australian-designed unit that's touted as a turnkey 'off the shelf' proposition to prospective electric bus buyers. Charging facilities can be set up as per a customer's choice.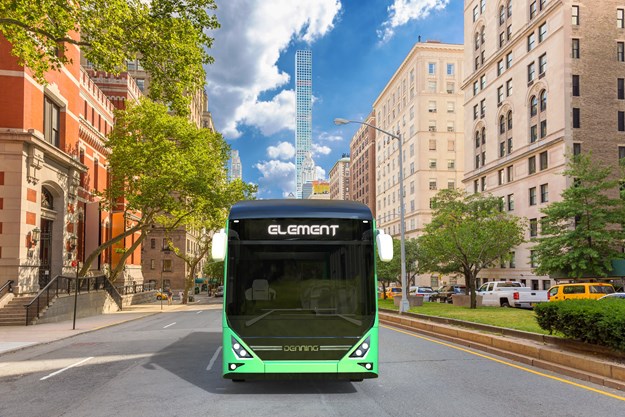 FINAL STAGES
With the first unit due to start production in July 2020, Dunn affirms it is being built with collaboration between the Sydney and Brisbane factories.
Official driver training will also be provided and while Custom's electricians are already qualified in high voltage, the company is also looking at getting courses with local TAFEs to train up and skill mechanics in operators' businesses as part of the suite of packages they would offer in the bus sale. 
Whose seats will be used? With the interior to finish soon, Custom was quick to point out it may well be its own Australian-designed lightweight seats because it can't find a suitable seat and Australians like a bench seat. Its seat will comply with ADRs including the head strike area, as many seats don't, says Dunn.
"I think it's worth pointing out that Custom has been making bus seats since the 1940s," Neskes reminded.
Dunn added: "And when you see the inside, which is only three weeks away, it's going to be even more exciting. The driver's cockpit we've made really like a modern car; it's going to be totally different and have considered the ergonomics for the driver. I have personally spent many hours repairing and driving buses and coaches over the last 30 years and it's my chance to use that experience and make a difference with our new Denning Element."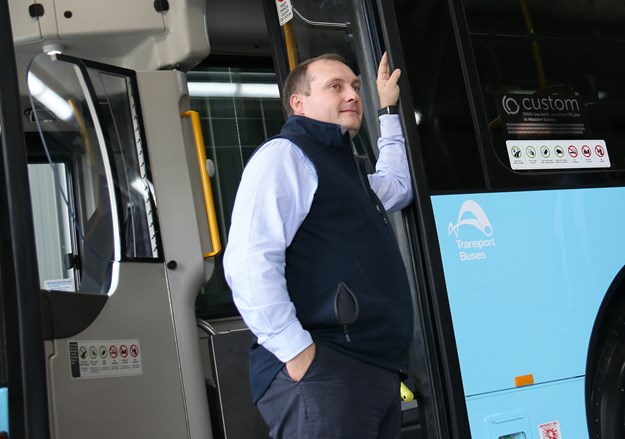 Air-con? Doors?
"When choosing components, weight and electricity usage were high on the priority list, Coachair's electric a/c system is the best performing for us." said Dunn.
"It's the same with the doors. We chose Ventura, the best door system that uses the least amount of electricity that opens and closes at an effective speed to keep the cold air in the vehicle."
And finally, in a world of product seemingly always coming into Australia, Dunn and his Custom-Denning team haven't ruled out exporting the Element back out into other world markets.
"I believe we'll have a product here that could be a massive thing for export, honestly, because a lot of people haven't got this right yet.
"A lot of people have a go at it, but they haven't got a complete solution that's got it right. I really think there'll be an opportunity for us to do something in that export space, so the plan is to get the product perfect here in Australia and then we should export.," he said.
"We can create more Australian jobs and manufacture for export instead of just importing more products," he added confidently.
"And why not?"
ABOUT DENNING
Denning Manufacturing was established in 2003 using the now defunct AB Denning premises.
Since its establishment, the company had been organically financed and grown with a vast investment into R&D, staffing, quality control, technology and tools.
The company invested heavily into the successful implementation of a new and powerful software package to manage production and assist with purchasing and warehouse management, it says.
As a result of this, productivity increased and it has been able to reduce its overheads, with cost savings passed on to its customers, it says.
Custom Bus Group purchased Denning late 2019.
Specs
MAKE: Denning
MODEL: Element electric city bus
DIMENSIONS: Length – 12.5m, Height – 3.3m (interior - 2.4m), Width – 2.5m.
BODY: Fibreglass front and rear, aluminium side panels, 3CR12 Stainless steel frame
MOTOR: AP-MOT-250kW & 3000Nm torque, dual Motor, permanent magnet, with operating temperature range of -20°C to +70°C; power – 850mWh (850,000kW)
BATTERY: 6x battery packs, roof mounted
BRAKES: Knorr-Bremse
TYRES: 295/80R 22.5
BODY: 47 seated (33 standing)
AXLES: ZF RL82A front; ZF AV133 rear
MISC.: Coachair EX32 Electric heat/cool brushless unit air conditioning; 32kW cooling capacity; 30kW reverse cycle heat pump for heating
Subscribe to our newsletter
Sign up to receive the ABC e-newsletter, digital magazine and other offers we choose to share with you straight to your inbox
You can also follow our updates by liking us on Facebook.