HERE COMES THE SUN – SCANIA SKI BUS
---
Bus roofs are either dead real estate or untapped space to advance design innovation. This custom Scania coach, for the Swedish national cross-country skiing team, does the latter to harness the power of the sun.
Perched high above the bustling streets of any modern big city, on high-rise balconies or through glass skyscraper window panes, you'll see ant-like movement of people far, far down below.
In that momentary near-silent appreciation of humanity's insignificance on this planet, there'll be other signs of motion by tiny cyclists and small cars and then larger vehicles still, with none more so striking than the many rectangular roofs of buses and coaches busily shuttling local commuters and international tourists to and from their varied destinations.
At ground level, buses zing past and roofs rarely get another thought; out of sight is out of mind, no doubt.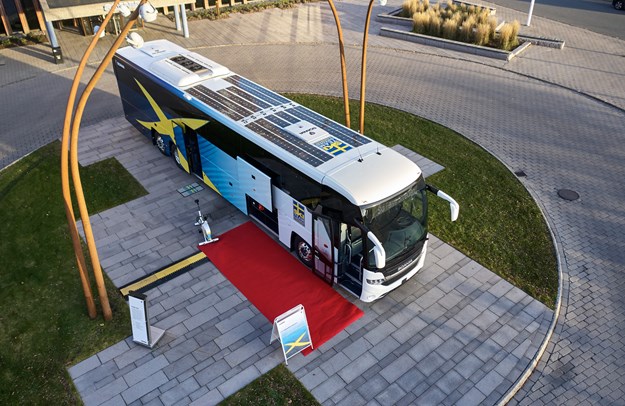 Yet what if it's only really now that area as a space is being looked at for more than just housing the air-conditioning systems and keeping rain and sun off passengers' heads? What if it's about capturing the latter?
For both diesel and emerging electric bus applications, solar panels in or on bus and coach roofs are a logical way to help maximise the vehicle's energy efficiency and optimise its use. The ingenious bespoke Scania coach for the Swedish national cross-country ski team, debuting late 2019, is a fascinating look into how such panel integration can be executed and a reminder of just how buses and coaches can be used for more than a daily commute.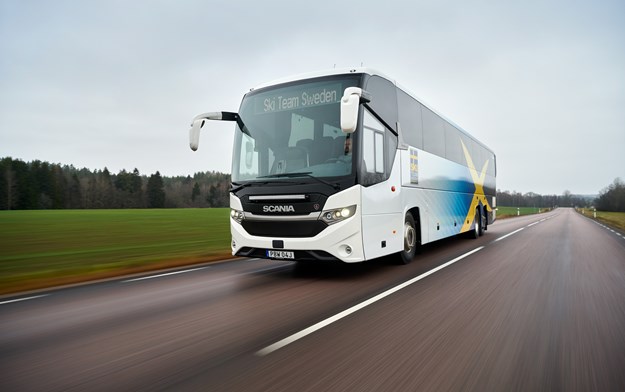 SUSTAINABLE TRAVEL
Scania expanded its long-established partnership with Sweden's cross-country ski team by providing it with a specially adapted new bus in time for the European ski season, it says. The company's engineers worked together with the ski team to finalise a bus that meets the demands of safe, sustainable travel, as well as fulfilling the need for recuperation between training and events, it states.
In developing the bus, Scania had safety and climate impact in mind, but it also had to have ergonomic and technological solutions that could help the skiers get more rest between the World Cup Series competitions, it explains. The bigger layout of the bus encourages "team spirit", as the athletes and the rest of the team can now travel together, it says.
"This bus is the latest in the range of transport solutions that have been developed in close cooperation with the Swedish cross-country ski team to improve the work environment for both the athletes and the rest of the team," said Erik Ljungberg, senior vice-president and head of communications, brand and marketing at Scania.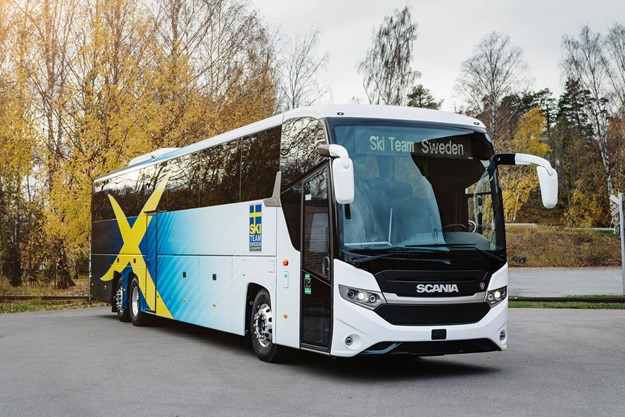 Julian Gurney, director of sales for buses and engines at Scania Australia, added: "Scania is not just talking about driving the shift to a sustainable transport solution. We are innovating and leveraging the ingenuity of our research and development teams in many different ways.
"The solar roof panels and infra-red heating are just two examples of how we are working to reduce energy consumption and cut our carbon footprint in everything we do.
"We are continuing to develop a menu of alternative and renewable fuel opportunities for bus and coach operators to adopt here and now, and we're actively working on new ideas that will deliver cleaner, safer transport for everyone.
"From an Australian perspective, we have no current plans to implement this solar-power-generating concept on our buses immediately, though our hybrid, biodiesel, and ethanol power solutions can deliver significant CO2 reductions, today," he explained.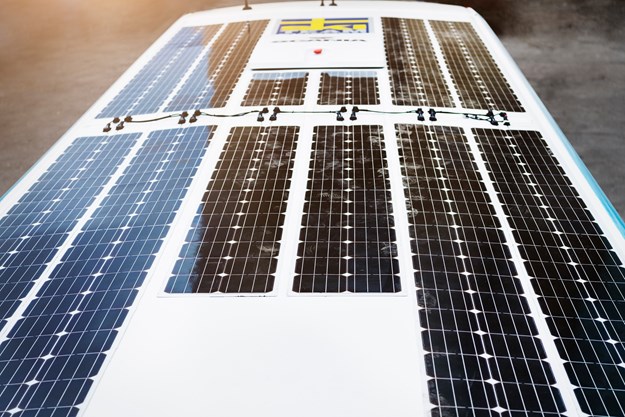 ATHLETE INPUT
According to the company, it was during the ski competitions in 2018/19 that the first discussions about a new bus for the team took place. The skiers and their coaches discussed with Scania their needs in terms of equipment they have, and what is most important before and between competitions.  
"I had great discussions with the ski team where I presented solutions to their demands. Together, we fine-tuned the design using their experience from different competitions. They were a major part of the process since I continuously sent sketches that they would comment upon and evaluate," said Jan Richter, the lead designer for the project and someone who has 30 years' experience in creating custom-made products.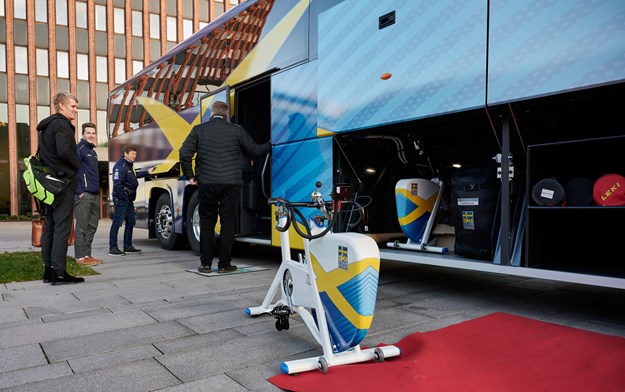 In a video documentary produced by Scania at the time of production, Richter stated: "You can call it a one-off project. No-one has built anything like this before.
"Always the process begins with meeting the project group, both the people from Scania and, of course, those involved from the client side – in this case the Swedish Ski Association.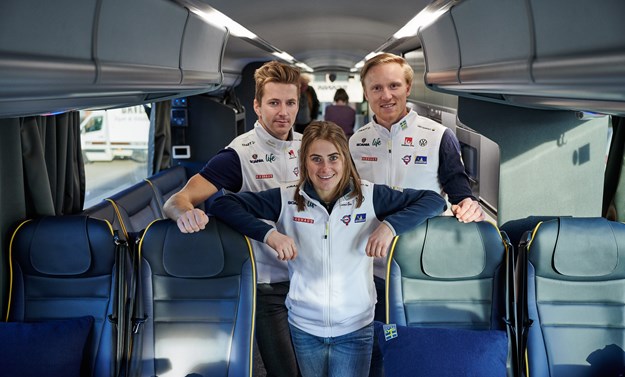 "We seek their feelings and input about what they want to accomplish with this bus.
"This is where we are headed: we are increasing the length of the bus to almost 15 metres, and here comes the interesting part – the layout.
"We divide the bus into three sections: dressing room, the treatment area – which is an area to relax in, with food, drinks, run-throughs and information screen – and then we have the travel area, which is the front of the bus, where we can accommodate between 12 and 14 people on each trip.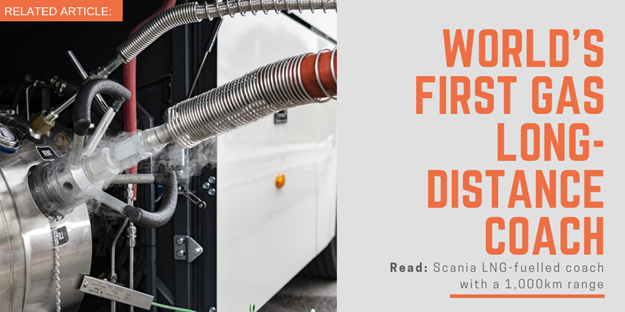 "There is actually enough room for a space where they can concentrate on what they are good at and then go out and compete, properly rested and still be full of energy.
"The biggest challenge for us has been the locker room. We must be able to get rid of the moisture that builds up. We must improve the bus ventilation system quite a lot. We are concentrating on these areas because of moisture and heat during relatively short lead times."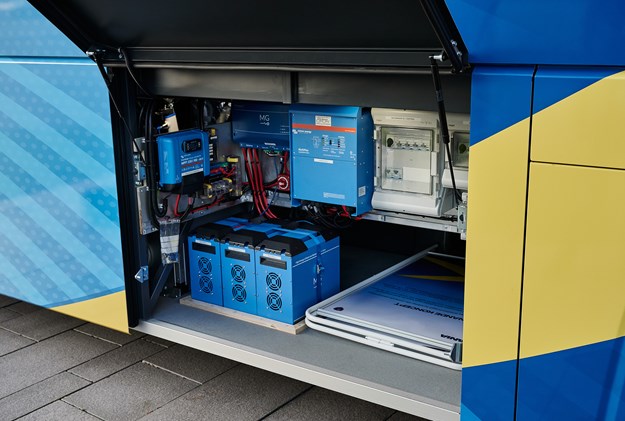 THE RESULT
The bus, which seats 12 to 14 people, is equipped with solar panels that generate 1,000kWh per year. These are used to power the LED lighting and other devices, says Scania. To save on power-consuming heating, the bus is equipped with an infrared heating system. Compared with traditional convection heaters, this reduces energy requirements by 60 per cent, it claims.
Additionally, rather than heating indoor air the infrared heaters keep passengers warm while also warming fabrics for added comfort in areas for medical treatments and massages. There are also fans to dry wet clothing; a constant feature of competing in the snow, it explains.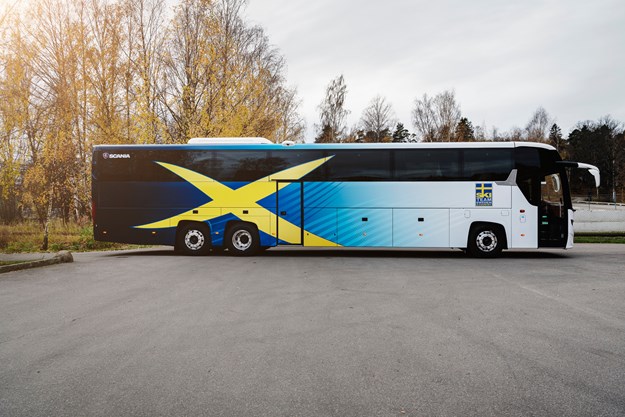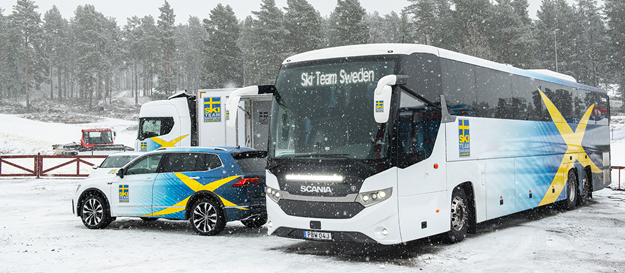 "Sustainability is integrated in everything Scania does. That is why we have used sustainable solutions and technology that match the demands from the ski team when completing the bus," explained Richter.
"This new bus is adapted for the challenges of being on the road, making it easy to rest, prepare meals or work. Thanks to the great dedication of everyone involved, the bus itself became amazing. We all look forward to seeing it on the roads."
Cross-country team manager Lars Selin thinks the bus will be a place to gather at ski events. "The occasional hard weather conditions can drain energy from the athletes. From that perspective, the bus is invaluable, and it gives us a noticeable advantage over our competitors."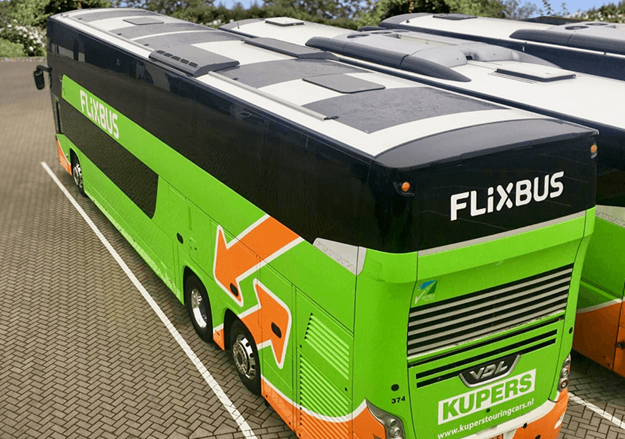 FLIXBUS TRIES SOLAR
In terms of roof use, Flixbus in Germany has started its latest pilot project: reducing CO2 emissions with solar panels on a bus.
The company has installed solar panels on its green bus that runs from Dortmund, via Eindhoven, Antwerp, Bruges and Calais to London. The solar panels generate energy for the bus's electrical consumption, which effectively reduces fuel consumption and CO2 emissions, it says.
The solar mats installed on the roof are ultra-thin and lightweight to prevent air resistance, it explains. The solar mats can communicate with the alternator in the bus through a charge controller placed in the FlixBus. The new technology charges the bus battery mainly by solar energy, relieving the alternator of the need to charge it using fuel, it says. During the trial period,
An average of 1.7 litres of diesel was saved per 100km, Flixbus claims. With an average distance of 600km per day, this is a daily fuel saving of around 10 litres. The solar panels are expected to produce more energy during the summer, it adds.
The battery, in turn, supplies the power consumption of all the electronics on board. As usual with Flixbuses, the bus with solar panels is also equipped with USB ports, sockets, air conditioning, Wi-Fi and a media entertainment system. With the new technology, all on board equipment is now powered by solar energy. In this way, FlixBus travellers can charge their mobile devices with renewable energy, it states.
For this project, FlixBus is working with Trailar, a British company offering innovative transport solutions to reduce the environmental impact of commercial vehicles, it says. The flexible solar mats have been specially developed for use in the transport sector and are already being used for trucks and delivery services. FlixBus is the first to apply this technology to an international long-distance bus, it claims.
Subscribe to our newsletter
Sign up to receive the ABC e-newsletter, digital magazine and other offers we choose to share with you straight to your inbox
You can also follow our updates by liking us on Facebook.