COMING CLEAN – GO-AHEAD UK AIR-FILTERING BUS
---
It might take acrid bushfire smoke or visible city pollution to get people to even think about the air we breathe, but one UK bus operator is tackling the 'clear' stuff already, one rooftop at a time.
Seeing is believing, they say – but should that inherently subjective ideology be held more accountable for arguably stymieing progression and judgement more often that it seemingly cites evidence for making informed decisions and personal advancement?
That is, if one waited around for things to happen or be experienced and seen, and if these were bad accidents or negative occurrences, does it not behove us to anticipate such things and avoid them?
Like, if there's enough expert opinion or scientific evidence of something – underwritten by a dollop of good ol' common-sense – why wait for 'seeing' things in action if you knew there was an inevitable need to circumvent or sidestep them?
And this is where we are at in this climate change (or not) debate…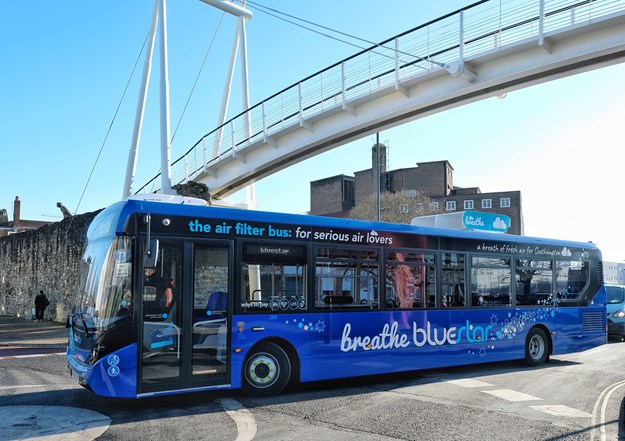 The above hypothesis quite easily fits either side of the argument depending on how you want to look at it. Why wait versus why change. The expert stats you 'see' and 'believe' don't stack up to the 'common-sense' weather patterns we've seen for hundreds of years etc.
Stalemate, or checkmate – this stuff is going to go on for many, many years.
So why is air important? Aside from the obvious that without it we'd be cactus, its quality and clarity is crucially something immediately beneficial to human health with every breath we take – and that universal appeal is one of the more under-estimated drivers for societal change yet to be properly harnessed.
That is, if they could sell you clean air for a king's ransom, they would! And if you needed to buy it then you deserved to be 'pilfered' like that for your lifetime because you let it even get to that stage.
One leading UK bus operator 'sees' the value in air and has started to clean it using its buses, one journey at a time.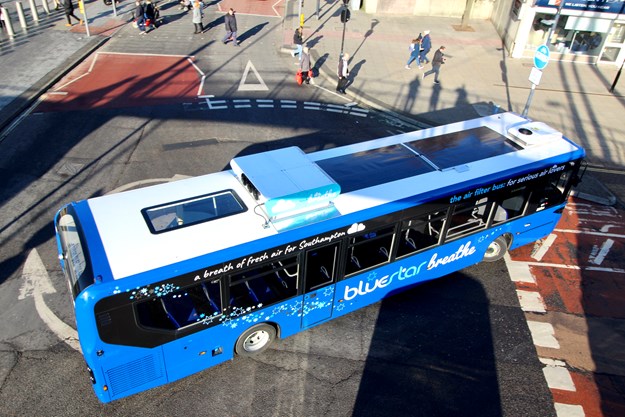 AIR FORCE ONE
Late January, 2020, transport operator the Go-Ahead Group started rolling out its unique 'air filtering bus' nationwide to help tackle pollution in its biggest towns and cities, it confirms.
Go-Ahead is one of the UK's largest bus operators. With a fleet of nearly 6,000 buses, it carries more than two million passengers every day, it states.
The air-filtering buses will be deployed in six more regions – they started in Southampton – as the group accelerates plans to have the greenest fleet of buses in the country, it says. 
The bespoke Euro 6 ADL E200 MMC single-decker buses – which strip pollutant particles from the air as they drive via a roof-mounted device – are now to be deployed in Brighton, Manchester, Newcastle, Oxford, Plymouth and Crawley/Gatwick. The buses will hit the streets from the early European summer, the company states.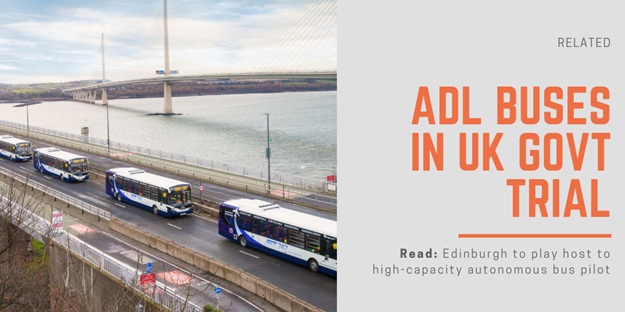 So how exactly does it work? Each bus is fitted with an air filtering system made up of three fans on the roof that suck ultra-fine particles and dirt (known as PM10) into special filters, Go-Ahead explains.
The air filters were designed bespoke by Aerospace engineer company PALL specifically for Go-Ahead.
The current roll-out follows a successful launch in Southampton last year where initial tests showed that a single bus could remove as much as 65g of pollutants from the air – equivalent to the weight of a tennis ball – in a 100-day period (and cleaned 3.2 million cubic meters of city air), it says.
It comes amid growing concern about the rising levels of pollution and demands for local authorities to do to more to clean up the air we breathe, it explains.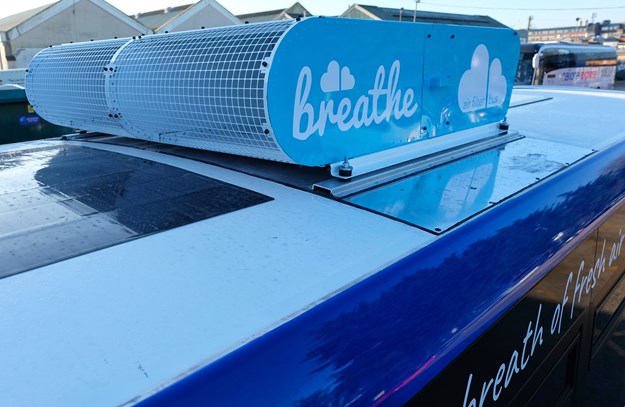 WHY DO IT?
UK doctors in December, 2019, warned of a public health crisis due to hospitals and GP surgeries being swamped with cases of asthma and bronchitis, the company says. 
Go-Ahead also confirms that in addition to rolling the air-filtering bus into six more regions, it is introducing five more of the vehicles into Southampton by early February, covering an entire city centre route.
David Brown, Go-Ahead chief executive, said: "We want to play our part in tackling the crisis in urban air quality and show that buses can be integral to cleaning up our cities.
"Our air-filtering system has exceeded all expectations in how it can benefit the environment, and it builds on our track-record as operator of the UK's greenest bus fleet.  
"We believe the air-filtering bus provides a 'quick win' for councils as they explore initiatives such as 'clean air zones' to tackle toxic pollution."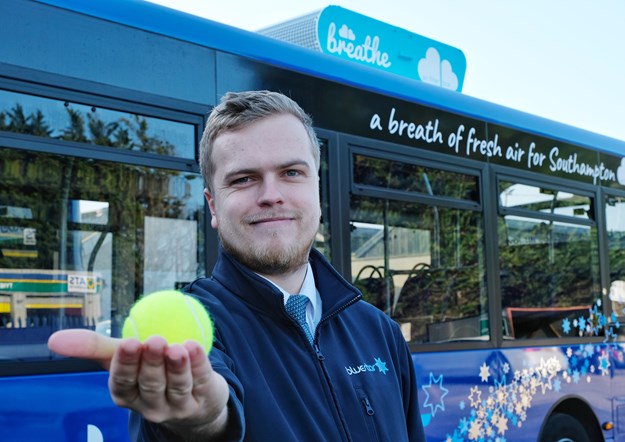 HOW BAD IS IT?
Health problems associated with outdoor air pollution are linked to 4.2 million premature deaths worldwide, according to the World Health Organisation (WHO). 
In the UK, the Department for Environment Food and Rural Affairs (DEFRA) estimates that particulate air pollution reduces the life expectancy of residents by six months on average. And recent research suggested that living in an area with high pollution worsens your memory to the same extent as ageing 10 years, Go-Ahead says. 
Professors at the University of Warwick looked at levels of the PM10 pollutant, which comes from exhaust fumes, degrading tyres, vehicle exhausts and domestic wood burners, it confirms. 
The air-filtering buses are designed to clean the air as they drive through a city, removing up to 99.5 per cent of particulate matter which travels through it, reports the company. 
It was initially deployed on one of the low-emission Euro 6 buses run by Go-Ahead subsidiary Bluestar in Southampton.
IN REAL TERMS
During the original air-filtering trial, which commenced in September 2018, the filter cleaned 3.2 million cubic metres, the equivalent to the volume of 1,288 Olympic swimming pools. The air filter takes in one cubic metre of air per second meaning that in one hour it filters the same volume of air as 6,000 people breathing, Go-Ahead states.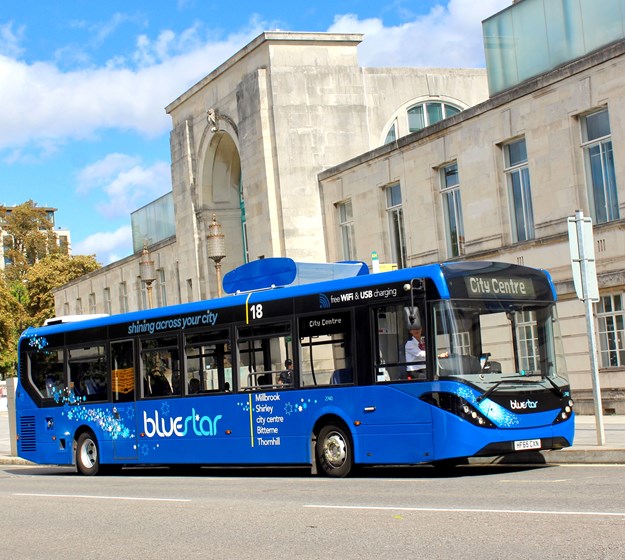 IN ESSENCE
• Transport operator Go-Ahead accelerates shift to cleaner technology by rolling-out its 'air-filtering bus' into six more regions; 
• The bus, launched in Southampton last year, has fans on the roof that suck pollutant particles into special filters; 
• Go-Ahead is ready to share the innovative technology with other local authorities in a battle to tackle pollution and air quality.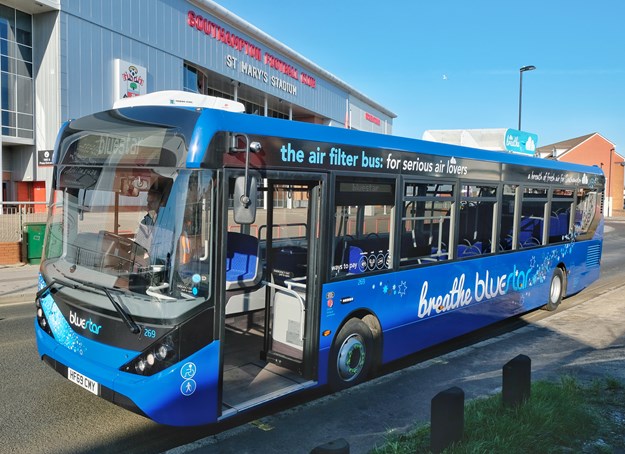 ABOUT GO-AHEAD
Go-Ahead is one of the leading UK public transport operator companies, it states. Its purpose is to be the local partner taking care of journeys that enhance the lives and wellbeing of its communities across the world, it adds.
It employs around 29,000 people across its businesses, with more than 1.2 billion passenger journeys undertaken on its rail and bus services every year, it confirms. In addition to the travelling public, its customers include governments and local authorities. It is committed to contributing to tackling climate change, improving air quality and reducing social isolation, and aims to run a zero emission bus fleet by 2035, it states.
Go-Ahead is also the operator of one of Europe's largest fleets of electric vehicles, including more than 200 buses. The business last year launched a unique geo-fenced service in Brighton, which switches to zero-emissions while driving through the city's ULEZ, while also retaining the longer range of a traditional service, it says. Plus it won an international environmental prize for the £20m (AUD$38.8m) re-development of the Waterloo Bus Garage, which saw it create the UK's first site exclusively for electric buses, it adds.
Subscribe to our newsletter
Sign up to receive the ABC e-newsletter, digital magazine and other offers we choose to share with you straight to your inbox
You can also follow our updates by liking us on Facebook.