CRUISE CONTROL – BCI-MB 'NEW MODEL' CRUISER
---
A unique body-on-chassis relationship between BCI and Mercedes-Benz in Australasia throughout the past seven years forms the basis for their latest success. And the stylish new Cruiser coach replacement looks set to 'represent' the brands well for many more years to come.
Buses and bus travel overall might often traditionally have copped a bum rap, so just as well escapist holiday coach trips have needed to always be ahead of the game to counter that. A pleasurable and safe coach journey arguably does much to imbue a passenger's experience with a certain finesse, embellishing the idea of 'catching the bus' with some much-needed hero status.
Well, that's the theory, anyway. And while not all trips can be guaranteed to go according to plan – which might purely come down to some other annoying passenger's smelly feet, foul mouth or general aural displeasure derived from their earphones' blaring crap music (good stuff can be handled, though – rock on!) – bus product itself must do its bit to nullify any inter-passenger angst, and actually enhance the experience for as many passengers as possible. 'Serenity now!' you may say, as that hilarious final-series episode of Seinfeld enlightened us all with.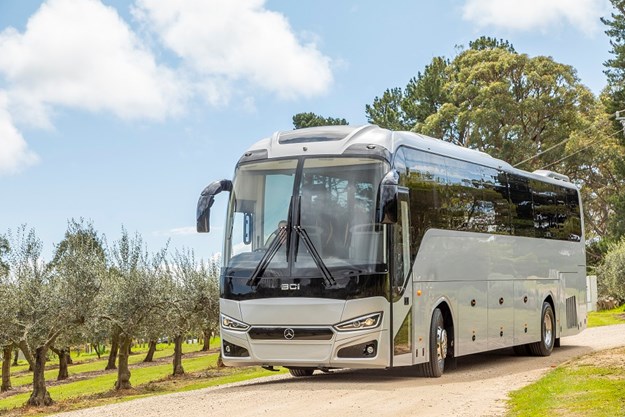 At the recent 2019 BusVic Expo and Exhibition, amongst the slew of cool new bus product on display stood out not one but two tidy-looking 12.3-metre coaches parked up on the Mercedes-Benz stand, which could do just that. Yet while a prestigious three-pointed star graced its funky front end, further investigation would reveal the OC500RF 1939 Euro 6 chassis sat tastefully under a new BCI design that for all intents replaces its preceding Cruiser model.
The beauty of this look was all the more European rather than something penned for the Far East – austerely Germanic underwritten by hints of Mediterranean and subtle twists of … gee, who knows? Some remote fashion-conscious little village tucked away on the back-roads of Lichtenstein or wherever.
The point? It looks the business and is a welcome addition to grace our rugged Aussie roads. But ah! There's that old chestnut again. So while the proven Daimler driveline and chassis would be up to the task, just how would this new body hold up along the iconic rural Aussie highways and byways it is destined to endure?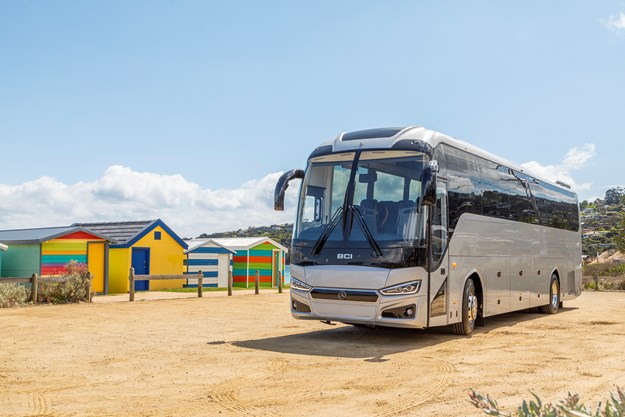 While time will always tell for any new bus product challenged by this beautifully rugged land, from what ABC magazine is exclusively hearing it's already got the right stuff straight off the old Bradman-battered bat.
"At the moment we are going to build two versions – one with the Mercedes-Benz chassis and one on our own chassis," said Cameron Millen, BCI state manager.
"One will be the coach version, which is what we had at the [BusVic 2019] show – which as standard has a stainless steel bodyframe. With our own BCI chassis we'll have a stainless steel chassis as well – and we'll have skirts for it, with timber-look flooring.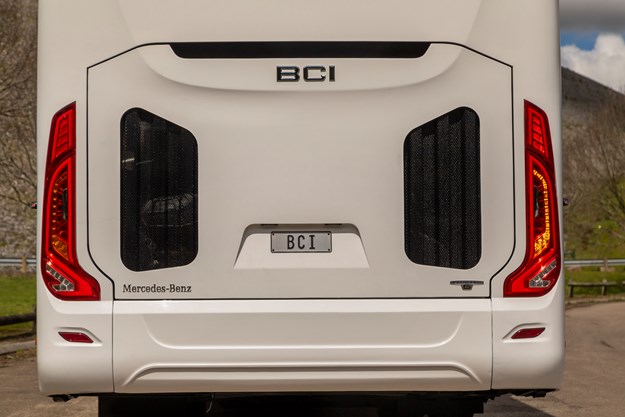 "Our lower indoor skirt panels are composite fibreglass – so apart from being light they are really strong," he explained.
"We originally put them on some Translink buses out at Dubbo, NSW, and you can actually hit them with a sledge hammer without getting any damage to them. And their buses are usually damaged through hitting animals, but in fact they haven't done a panel through hitting animals, whereas their old ones get damaged every night in general on a coach.
"For school-bus applications we use a galvanised frame as standard and we'll change some of the interiors. All those will have aluminium side panels as opposed to the fiberglass," he said.
"School buses will be 12.3m, which is so we can accommodate a bullbar and still be at that 12.5 length," he explained.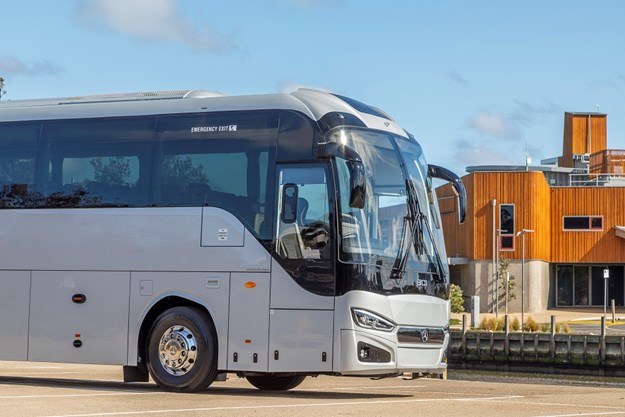 BY DESIGN
While the coach was redesigned all over and mainly for compatibility with the Mercedes-Benz chassis, just how did that relationship work in terms of what was envisaged, expected, required and ultimately delivered by both parties?
Millen gave insight into how this project in particular came about.
"That's the result of the past two years of development at BCI; the new models have been in development with input from Mercedes-Benz to design our new coach, to see us through to the next period of time," he said.
"We wanted to design a coach that would integrate well with the Mercedes-Benz chassis, all their computer gear, all their hardware – as well as produce a coach that we could put over our own chassis," he explained.
"This current relationship with Mercedes-Benz has been going for about seven years now; we first built on the O 500 R and it's just evolved from there. Now we build on their complete product range – low floors, coaches, school buses – and we are doing between 40 to 50 per year.
"And the beauty of this relationship means it is not for anybody else. It's actually kept as our own, so we aren't just building something that compromises their physics, we actually build something that really suits their chassis," Millen proudly explained.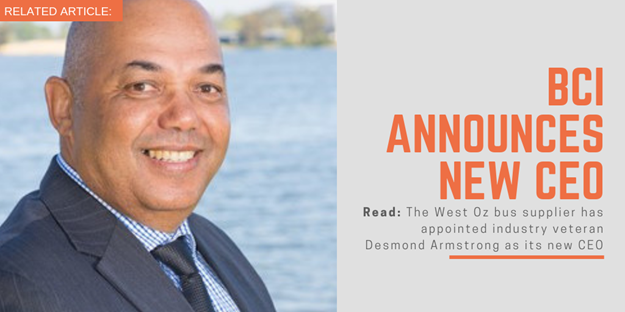 WHAT'S IN A NAME?
According to Millen and insider BCI sources, there is no name for this coach just yet. The current model is the Cruiser and this is arguably an evolution of the Cruiser, they say. At the moment BCI people are calling it the 'New Model Cruiser' – but an official name will hopefully be announced soon. Its model designation is ZBC-6122CRZ1, the company can confirm.
"The two buses at the show were exactly the same, with the only differences – apart from the colours, of course – [were that] one had a toilet and wheelchair lift and one was just a straight 53-seater.
The chassis were both the same," Millen explained.
"They are the first two prototypes we built on the Mercedes 10-litre 390hp (291kW) chassis with their automated gearbox, but now we've got units built on their Euro 5 and Euro 6 automatic chassis coming, too.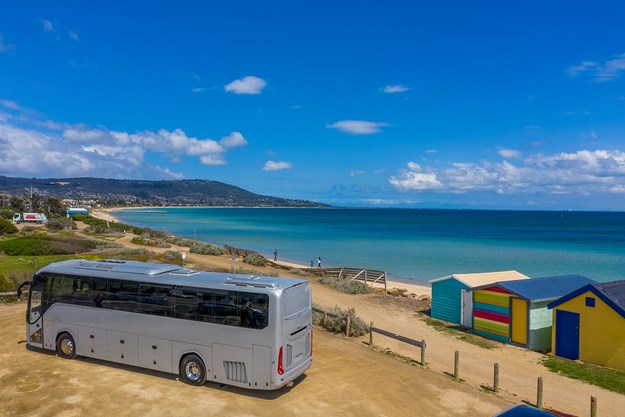 "Mercedes-Benz does have a smaller 8-litre engine, which is 350hp (261kW) and Euro 6, and that can also be used with these bodies.
"We've just taken an order for 10 from a southern [Australia] operator with these bodies on them and we've also got in production now two 14.5-metre three-axle coaches with that body on, in V/Line spec," he said.
"The other thing worth noting in the design process is the front mould improves the aerodynamics of our last model as well, so we are also expecting some fuel savings, which is pretty important to coach operators."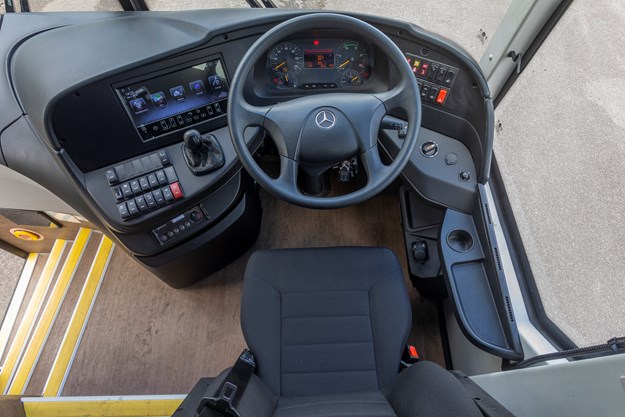 THE NUMBERS GAME
Interest in new buses at shows is one thing, but without bums on seats what it's all worth? So just how many orders have been placed since last month's show?
Millen explained: "With this new model, those two are the only two in Australia right now. The idea was we build two prototypes, we bring it to the show, we get feedback and then we launch it before we go into production.
"We've got buses going into production with the new model now, so there's been about 15 orders already since the show so far around the country."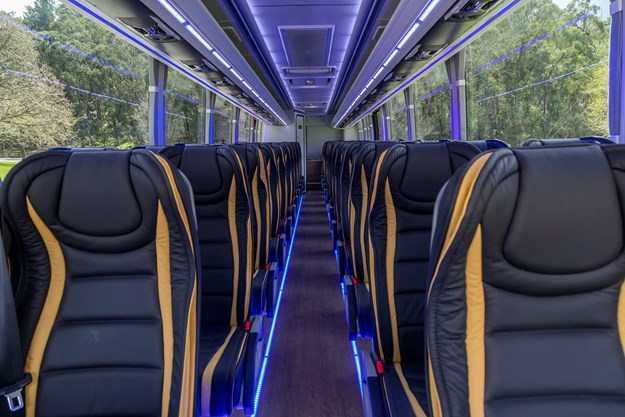 CHANGE OF PLAN
The way this latest design came about was a justifiable departure from how earlier BCIs had come to be, where normally you'd have a reason for a certain type of bus, then get the engineers involved, put it all together and you've got yourself a vehicle.
As Millen pointed out, this time things were very much different to what BCI traditionally does.
"We started with four designers, who came up with some concept drawings. Out of that we chose one of them and then it went from there.
"They came up with some better drawings and then we got the model engineered, so there's new moulds, etc.
"There's nothing on this bus that is basically the same as the older model," Millen clarified to ABC magazine.
"Having said that, our frame design is probably similar, but the front and rear headers are different, the roof is different, the internals are all different, so it really has been designed from the ground up," he added.
"And with that we identified that we were trying to produce a European-style bus."
According to BCI, the designers used for this project were the same as used for the Citirider E electric bus. They are from within the WeiChai family, so they are based in China within the make-up of the BCI group.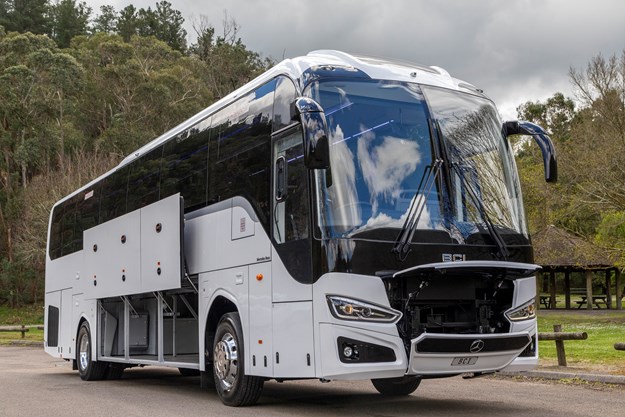 POINTS OF NOTE
"At the moment we will do a local bullbar, but eventually we will have that supplied out of the factory as well. We do that currently with our other models, but yes we will have something locally designed out here," said Millen.
"As for the tyres, I think they are Michelin on the Mercedes-Benz chassis, and we run our own Double Coins on ours.
"In terms of luggage storage underneath, it has 9 cubic metres – so full-through bins; there's no fuel tank or anything over the front axle, so it's a nice and neat full luggage space.
"On our coach as standard we have pantograph bin doors for easier access and for the school bus we still have the conventional bin doors.
"The flooring material is composite aluminium and in the luggage bins we have coin rubber. In the saloon itself it generally is a Gerflor timber-look floor."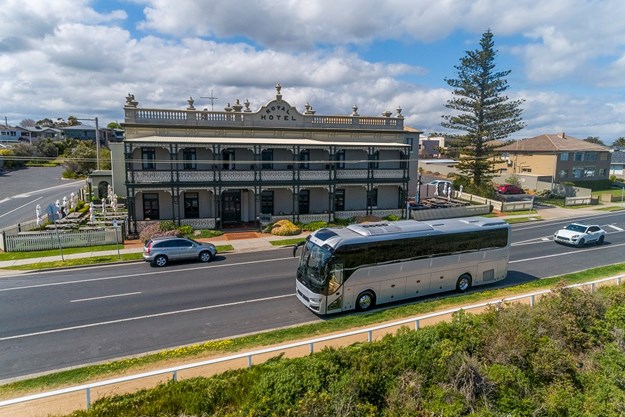 SALE POINT
So just why would an operator choose this coach over the competition?
"It's been designed to be fairly versatile – it can be a coach or it can be a school bus and anything in between," Millen answered.
"We have certainly made it out of using the best materials we can get; our stainless steel comes from Finland, composite flooring is aluminium and there's fibreglass panels.
"I think aesthetically it looks very pleasing. It's got a new front and a new back. It is an impressive-looking bus.
"In the past we have built a good bus, and I think this one now is a good bus and it looks good, too. And I think it will be suitable for us over the next seven to eight years. And that was the plan: to build a model that would last quite a few years and so we can get a return on our investment.
And so what's it like dealing with Mercedes-Benz?
"It's a good relationship. Once again, dealing with one chassis supplier is a lot easier than dealing with them all. We have a great relationship with them; we have a lot of customers in common.
"It's just an easy relationship," he said.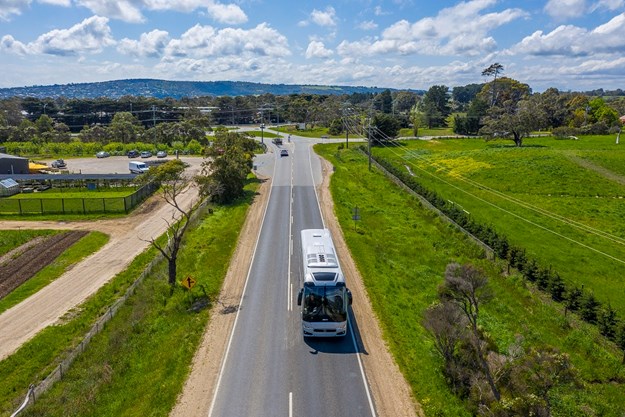 TURKISH DELIGHT
Without a toilet the Silver Mercedes – it's an official MB colour from its car range; the paint is PPG Gold Fleet spec – has 53 seats and the other with a toilet and wheelchair ramps has 51, which are luxury 40-30X VIP seats from Turkish manufacturer Sege. So why those?
The ability to have them with USB ports, tables, phone holders, back pockets, arm rests – and even the capability to get them to slide out so you can extend the width by about 25–30mm sounds like real bonuses.
"I guess traditionally you look for an economically-priced seat, which was done in the past and brought in as a school bus seat or a coach seat. Yet this brand – apart from supplying a well-priced seat – does everything from school buses right up to coaches – with all the options. They've got tray tables and USB ports and everything is modular, so you can include it as an option on a school bus seat, or on a coach seat. And we have had a lot of good feedback and they are a really comfortable seat," Millen said.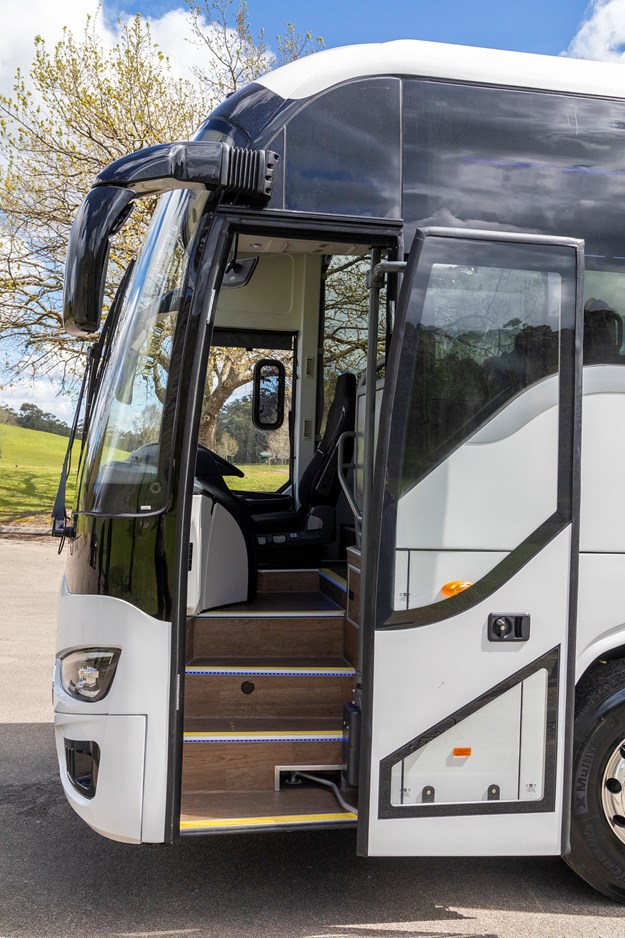 "That said, while it's standard with Sege seats, if a customer wants local McConnells seats or Styleride seats or anything else we can do that, too.
"It's the same with the destos; we use either a Hanover or a Mobitec, which is the same with our CCTV systems – either Hanover or Mobitec, so any of the locally sourced products we can fit into our buses we can do, as well.
"On the Mercedes [as opposed to BCI chassis], the telematics is part of their system, but we use a bolt-on system, as we don't have our own, so generally it's locally supplied," he said.
"In terms of air conditioning, with the Mercedes-Benz stuff we use Thermo King as standard, but we've also fitted Denso, MCC – we can fit any brand of air-conditioning."
SPECS
MAKE: Mercedes-Benz/BCI
MODEL: New Model Cruiser
CHASSIS: OC500RF 1939
DIMENSIONS: 12,300mm (L) x 3,800mm (H) x 2,495mm (W)
ENGINE: MB OM470 LA Euro 6 engine, six-cylinder inline, 10.7-litre displacement. Power – 290kW, Torque – 1,900Nm. Fuel tank – 400L
TRANSMISSION: MB GO250-8 eight-speed automated Powershift gearbox
SUSPENSION: Two axles, independent front
BODY: 40x40mm Stalatube stainless steel frame, six-piece fibreglass front, fibreglass rear, one-piece fibreglass roof, fibreglass stretch panels, composite fibreglass lift-up lower skirt panelling including wheel arches with gas stays; Lights – combination headlights including daytime running lights, combination rear LED tail lights including high mounted stop light 
INTERIOR: Seats – 53 (or 51 with toilet) Sege 4030X VIP reclining seats with aisle arm rests, individual USB ports and fold-down tray tables, trimmed in partial leather and fabric, Isri 6860 NTS driver's seat; touchscreen AM/FM radio with driver's microphone on flexible arm (high-gain antenna), individual passenger speakers, 19-inch front widescreen LCD electric fold-down screen, 19-inch middle widescreen LCD electric fold down screen; composite saloon and luggage bin flooring in heavy-duty Gerflor (timber look) vinyl, ramped floor 1,400-1,600mm; Storage – three-door full-through underfloor luggage bins 9.25 cubic metre capacity (approx.), pantograph bin doors 
MISC.: Thermo King KRS-2139B heat/cool air-conditioning with X430 compressor, individual AC vent outlets, additional driver's outlets on side pillar, driver's heater demister 
OPTIONS: Rear-mounted toilet; provision for Dhollandia wheelchair lift including rear access door, tracking and removable seats to accommodate two wheelchairs (lift not included)
Subscribe to our newsletter
Sign up to receive the ABC e-newsletter, digital magazine and other offers we choose to share with you straight to your inbox
You can also follow our updates by liking us on Facebook.