LIGHT SABRE – EBUSCO 3.0
---
EXCLUSIVE: F-35 jet fighter technology underlines Ebusco's new lighter weight 3.0 electric bus. The carbon-bodied Dutch e-bus's 500km range, razor-sharp good looks and its recent 2019 Busworld Innovation Label award has certainly drawn deserved global attention. Here's why…
Have you ever watched how carbon composite products are made? Not only is it fascinating to observe, but truth be told it is quite therapeutic, too. As the filament is steadily wound or spun into shape – like cotton thread criss-crossed onto a spool – you could be blissfully lost in watching the motion for ages, relaxed by the visual repetition and time-piece accuracy of it all.
Little wonder then that carbon composite fibres are now essential to the modern aerospace and aviation industries, where such materials' superior strength, tolerance to heat and twisting forces – and most notably lighter weight – is key to performance and longevity of many advanced aircraft these days.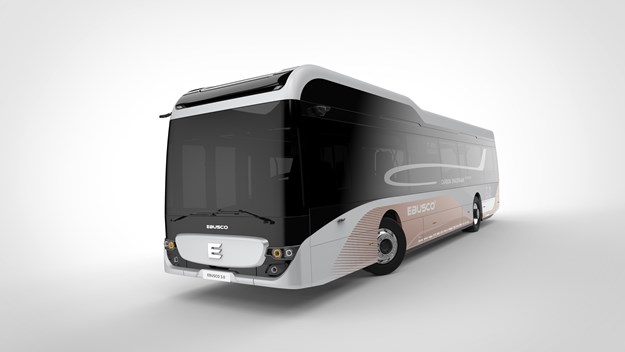 Imagine, then, that tranquillity of production shattered and the material itself needing to be of such fortitude to justify its crucial role in the very make-up of something like the next-gen F-35 Lightning II Joint Strike Fighter. The cornerstone of future air-superiority defence programmes for countries like the USA, the UK, Canada, Italy, the Netherlands and even Australia, you don't have to be an '80s Top Gun movie tragic to realise when that jet is pushing Mach 1.6 with its 28,000–43000lbf Pratt & Whitney afterburning turbofan, or spiralling into tight corners from vertical ascents or supersonic dives, with a surface ceiling of 50,000ft and a +9g force limit you can bet it's arguably an ultimate test of how carbon composite materials perform and last.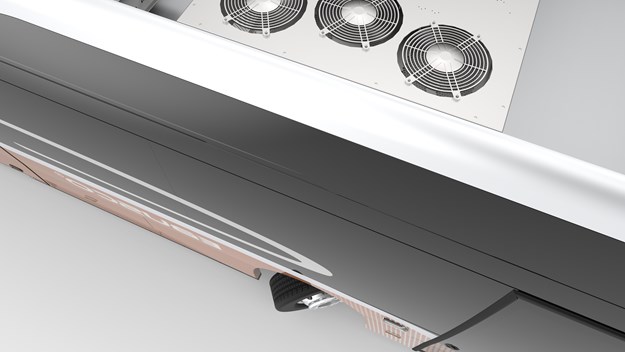 What's that all got to do with buses? In a word, Ebusco – a Dutch manufacturer whose latest 3.0 electric bus team now includes people who worked on that plane's development, and whose e-bus uses carbon fibre composites to imbue it with lighter weight to help its electric bus batteries perform better. And with a claimed 500km driveable radius and a 2019 Busworld Innovation Label award under its belt, it speaks volumes about where the global e-bus manufacturing world is – and needs to be – heading.
Recently, ABC magazine spoke exclusively with leading Ebusco personnel – Bart Schmeink, strategic director; Wesley Brouwers, marketing specialist; and Simon Pearce, sales director Aus/NZ – while they were all here in Australia, a company that has greater links to the local bus market than many might initially think.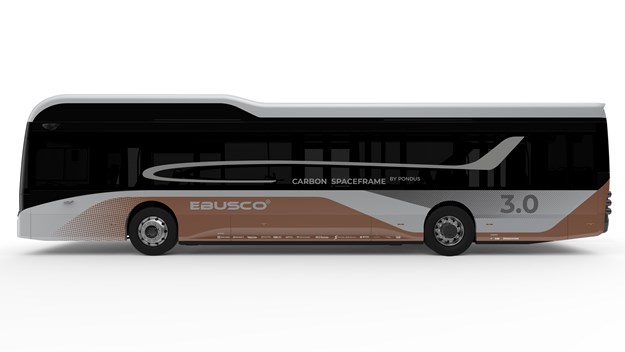 GETTING NOTICED
Thus far, the 3.0 on display at Busworld Europe 2019 is the only completed unit, with another in the process of being built, explains Schmeink.
"These two prototypes will go to Germany, where we have agreed with Stadtwerke München (Munich, Germany) – the public transport authority around the larger Munich area – to get them into service," Schmeink said.
"That will be happening around the first half of next year, or in the latest around the start of the second half.
"At the same time we are building another prototype between now and then, which will be tested extensively on test tracks and in the climate room and stuff like that.
"With Stadtwerke München we have a great understanding and partnership in developing the next generation of e-buses. They were the first to accept our 2.0 in service, and they did exactly the same with our 2.2. They were really eager to get the 3.0 signed up as well – and we even have an agreement with them to test autonomous driving at some time.
"Now, we are developing and discussing the 3.0, but at the same time, as a young company, we need to be innovative, be different, to make a change in the world. So in all honesty we are already thinking about the 4.0, which is the autonomous drive. But it's the 3.0 for now," Schmeink explained.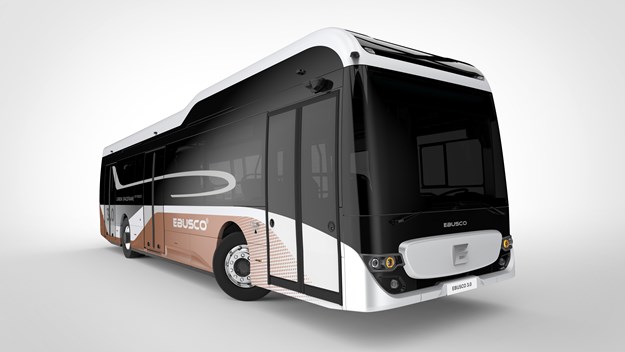 THE PONDUS LINK
So just how did Ebusco get involved with fellow Dutch company Pondus? What impact has it had on the Ebusco 3.0 creation?
"Our founder, Peter Bijvelds, is close friends with the founder of Pondus, and has been in regular contact throughout the years. We started thinking about the carbon bus a couple of years ago. Pondus was actually on a team that was working on the Joint Strike Fighter, the F-35 fighter jet. It's an American-European project. Parts of that plane are made from carbon as well and Dutch company Fokker Aerospace, which used to make aeroplanes, had areas which have worked in the fields of aerospace and aviation, with their Dutch team working on the carbon mapping area of the F-35. Some members of that exact same team have joined Pondus and have thus been working on the design on this 3.0," Schmeink said.
"It is a full carbon body and it's actually reducing the weight by 5,000kg compared to a traditional bus," he added.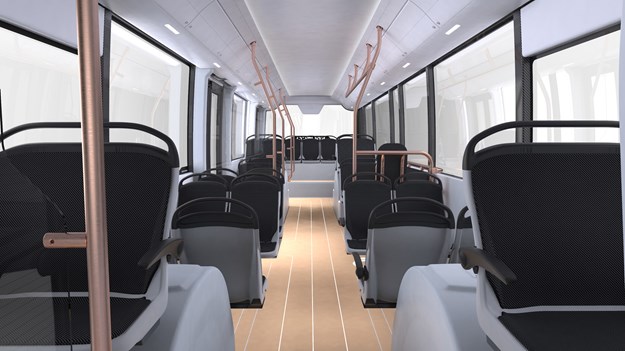 POWER PLAYER
As with all e-buses, it's about reducing weight to put less strain on what the batteries have to do, but where many manufacturers put cells in the roof the Ebusco 3.0 has none of that! Or so we heard. Was it true?
"Yes, that is correct. It's really important for the centre of gravity of the bus, making the drive of the bus very comfortable as well," he said.
"The lower the point of gravity to the surface means you don't actually have this 'wobbling around' of the bus when it takes turns, so the bus gives much better driving conditions.
"The battery packs that we have on the 2.2 are identical, from a capacity point of view, but given that fact that the 3.0's weight is lighter the radius of the bus goes to 500km."
Charging? Depot only needed, according to Ebusco.
"As this bus has a 500km range you don't need opportunity charging anymore; why would you [opportunity charge]? You'd waste a lot of time at the glider. With 500km you save on that and you save on the lifecycle of a battery as well. Opportunity charging adds weight because of the Pantograph arm, etc," he added.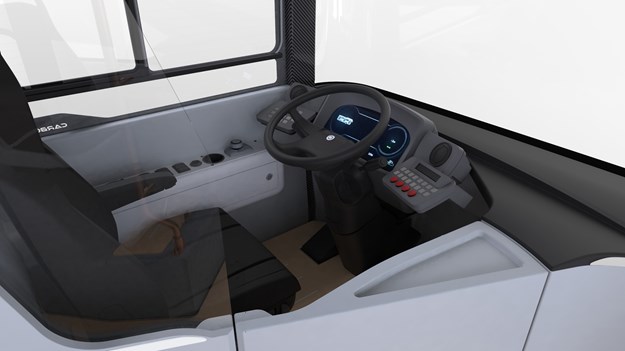 WHAT'S IT GOT?
Upon initial inspection, the 3.0 is a beautifully penned bus whose eradication of pillars and exterior joins meld seamlessly into the overall shape; the windscreen wraps seductively around the edges, thereby gracefully integrating into quite a striking front end spearing up into a roofline that – well, there are no batteries up there, but we will get to that shortly.
Cool tech? Try the mirrors – or lack thereof. The 3.0 has cameras all around, and the 3.0 boasts no blind spot, the company proudly states.
"On the 2.2 we've got the still traditional mirrors; we just received an order from Qbuzz and they have asked to see if we could install the camera mirrors on our 2.2 buses, as well.
"I don't know if you've already seen the Audi e-tronic? That's the first car without any mirrors, so the concept is pretty similar to the Audi e-tronic – no more mirrors because we have cameras.
"In terms of aircon, it's the same system as used on the Ebusco 2.2, which was released in 2016, and this has been tested and used in Turkey quite extensively [some sort of comparative parity to Australian heat conditions perhaps – Ed], so it is a direct add-on to the 3.0."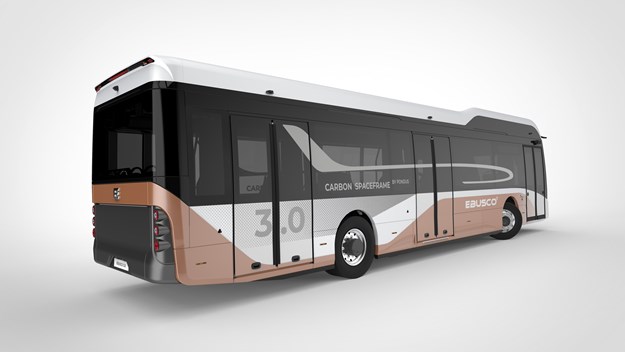 E-bus tyre support? Bridgestone and Continental are involved, it seems. Yet overall the difference is where the Ebusco 2.0 and 2.2 were technically made in China, here the 3.0 if fully European designed and built.
"We are using mostly all European components. We have been in extensive talks with ZF about the driveline given the fact we don't need two axles any more – only one in the back. And the 3.0 has an independent engine, which makes the bus very reliable and very stable and comfortable to drive," Schmeink said.
Wait! One rear e-bus axle? That's sounds like word-first stuff right there. Hmmm…
"This is what we think as well. But bear in mind we still have to test it. That is, it's very convenient for the passengers, but how convenient is it to drive? We will make the final decision once we've got through a rigorous testing programme.
"But, yes, this original design that we are working with at the moment only has one axle at the back," Schmeink confirmed.
"ZF has been very much involved in the development of the driveline for the 3.0, which is to save weight and it creates lots of space, so it's a low floor all the way from the front to the back. That is, when you get on with your pram you can actually walk all the way through to the back of the bus, to the last door, so it's really low floor."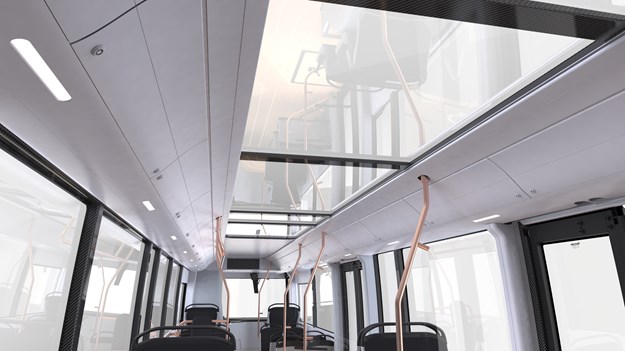 INSIDE TOUCHES
From what we can tell anti-bacterial copper hand rails have been used; not the first time for a bus – Poland's Solaris Urbino 12 e-bus had antimicrobial copper handrails a few years ago – but it looks to be justifiably more extensively used throughout in the Ebusco 3.0.
The seats are standard lightweight items from European supplier Kiel; though they have been covered with specially made material for the Dutch team.
"But you can actually configure the bus any way you like," explained Schmeink, "…you know with the limitations, of course, in terms of numbers of seats, space for seats etc., which is bound by regulations.
"We actually include that as a designer. When you buy the bus you can design the bus interior just like you want."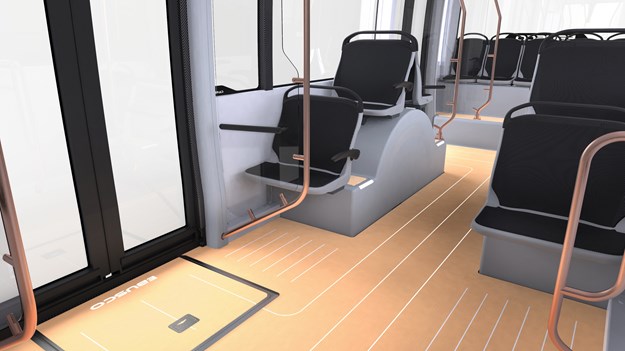 Video footage released onto the internet of the bus at its October, 2019, launch shows quite a few standees comfortably chatting in the bus and perusing its wares, so that would reduce PAX if the number of seated passengers increased, right? Yet that's not how Ebusco sees the future.
"It is what you see in Europe. The bus is actually being developed from a bus rapid transit feel, where actually the layout of trains and trams and metro are getting pretty similar to how we like to treat a bus," he said.
"Many people are stepping into a bus for a couple of minutes for a quick journey and, in many cases, they just stand until they can get out again, so I think space with this bus has a lot of resemblance with a tram or a metro – which is actually the way to go."
"As we call it in Europe – and I guess in Australia, as well – a BRT system in look and feel."
Even the flooring looks pretty cool – and it turns out practical for extended usage, too.
"The flooring is standard for this bus; it's a long-lasting vinyl – the same as what you might find in your house or office – but it's a high-quality version able to be used lots [wear and tear] and last for many, many years.
"If and when we do a refurbishment after several years, you can actually just put another layer of vinyl on top of it, so you can refurbish it really easily."
Better still is the aviation theme that permeates throughout – it's very eye catching, indeed; that is, as Brouwers explains, the luminescent lights along the floor between the panels light up for safety in the dark – much like you may find on a commercial airplane at night.
Very chic, we say.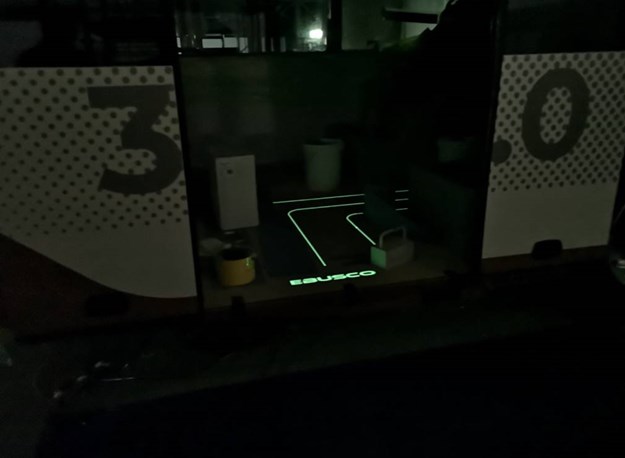 A BEAUTIFUL MIND 
Gorgeously striking is the glass roof, which despite being more commonplace on high-end long-distance coaches works immeasurably well here on the 3.0 which is fundamentally a metro city bus.
Any weight advantage in this, we wondered?
"The roof is completely cosmetic to bring more light into the bus. What I really like about it is the composite carriers of the roof join the glass as well, so it's not a panoramic roof that you have with a Tesla, for example – where you have a fully see-through roof from one end to the other – you see the carbon parts that are carrying the body, as well.
"We really like it because it shows you that it's composite, it's carbon."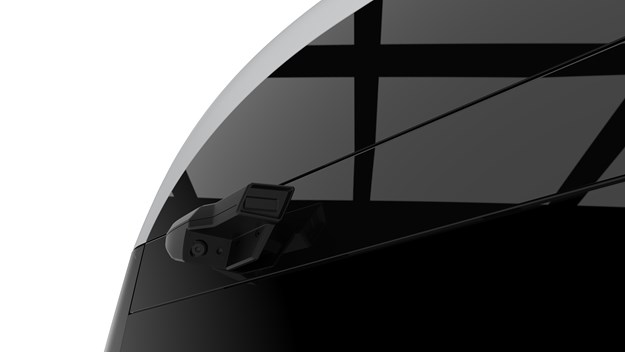 And we'd have to agree...
If buses can be sexy then the 3.0 is a very sexy bus!
Light and airy, something like the Ebusco 3.0 would give city commuters that long-overdue, enhanced metro travel experience. This is key for public transport, to encourage more people to get on and enjoy it.
Schmeink added: "I think it's really important we give the bus a different look and feel because years ago we had buses as boring public transport."
"And we should get rid of that kind of thinking. Making buses sexy, making it kind of light, making it more part of society, making part of an overall transport solution is going to help us."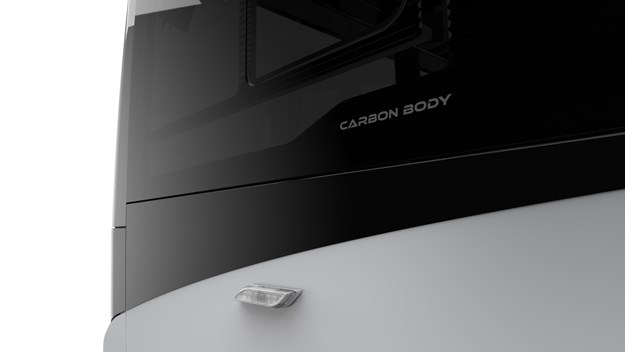 HOW IT ALL BEGAN
Peter Bijvelds, founder of Ebusco, started as one of the first people to introduce electric cars in Europe. He soon realised that the Chinese were developing the first modern electric cars, so he looked into getting these as the first electric cars into the European market, Schmeink recounts.
"He realised though that the quality of the Chinese cars were not good enough for the European market, though, and secondly he realised that if you wanted to introduce electric vehicles quickly into the European society you should start with public transport," he explained.
"That market only has a few key players on a European scale and by introducing the electric buses you can more quickly do the energy transition, which is a big part of running a fleet. So that's why we shifted from cars to buses and we developed 2.0 and got the first European bus with certificate approval in Hannover in 2012.
"The 2.0 was still, however, made in China, but the quality was not as good as you would expect from a high-end European bus, so that's why Ebusco started to develop the 2.2 platform – a complete European design made with European components, with the quality and reliability level of a European bus – but assembled in China, at BCI.
"The new 3.0 is fully made in The Netherlands, though," Schmeink pointed out.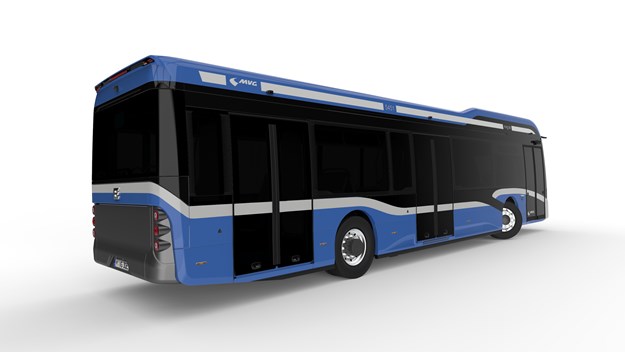 TCO – CHEAPER THAN DIESEL
So just why would an operator need this bus? Or make the transition to such new technology?
"The total cost of ownership per kilometre is lower than a diesel bus. You know you need to maintain a diesel bus, the diesel [fuel] costs a lot as well – plus the way things are these types of buses probably won't be allowed any more, to save this planet," Schmeink said.
"So the lifecycle of our bus is much longer than a traditional diesel bus, maintenance costs are much lower – and actually when you buy a traditional diesel bus normally you use it for 8-10 years to financially write it off; our buses can actually last until 15 years because we can do half-way refurbishments with them to make them look like new again.
"We give warranties on the battery pack – and when you take all the costs into the equation you'll see that the price per kilometre is lower than the cost per kilometre of this electric bus. And we don't just say it as a marketing statement, we make a guarantee on that."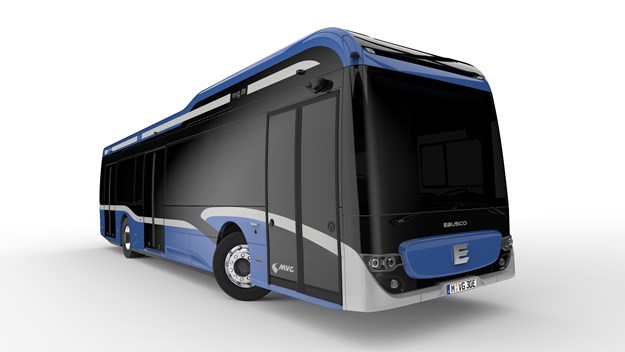 DOWN UNDER
So it's in Europe now and arguably it will be here in Australia via BCI, theoretically. Asked whether there are any other countries or markets that this bus will make it into and be a success, Schmeink explained: "Well, we focus on Western Europe and the Nordics and Australia; those are the three markets that we really want to focus on.
"Yes, we are in touch with other continents, but we consider Australia – especially from a cultural point of view – to be part of Europe. I know that sounds a bit different to say it that way but I hope you understand what I'm trying to say. Especially when you look at the levels of sophistication, society awareness of climate change, we feel the Australian and the Europeans are pretty alike, especially where there is a real focus on trying to take steps toward the energy transition as soon as possible," he said.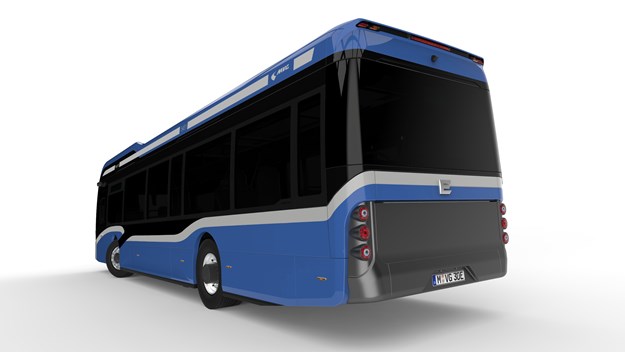 TWIST OF FATE
We asked Ebusco to clarify what it meant buy 'greater insulation properties', whether that was in terms of noise reduction or some sort of temperature control as well.
"Noise reduction, yes. It's really quiet in the bus! And that's underlined especially because of the electric engine, of course," Schmeink said.
"The body has been isolated in such a way that it is really, really quiet inside. However, this has to be tested as well because when it is so quiet on the inside it actually can become uncomfortable as people can hear what other people are saying to each other – other conversations.
"So this needs to be tested. Counter-intuitively, we may at some time have to re-introduce a little bit of noise into it to make people feel they have their own space when they are in this bus."
Sounds about time for some background classical music then, we suggested. Maybe some Beethoven, a little Mozart, or some ... Metallica?
"[pause] Well, yeah, yeah, yeah. Should have… Just maybe." he laughed.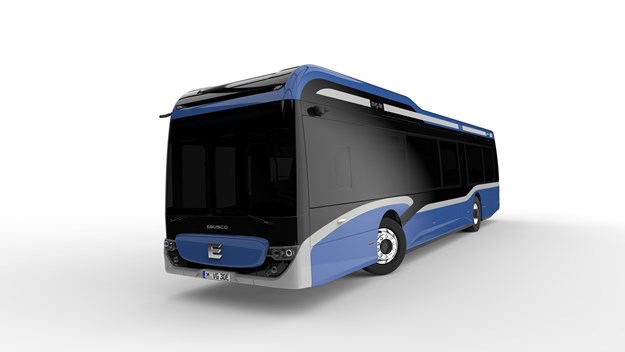 Specs
MAKE: Ebusco
MODEL: 3.0 electric bus
WEIGHT: 8,530kg
AXLE: ZF AVE130 rear axle
BODY: Carbon composite fibre; Moulding – Modec; Exterior panels – 2MV; Driver's cabin and interior panels – Proven Concepts
TYRES: Bridgestone
INTERIOR: Passenger seats – Kiel; Driver's seat – Isri; Dashboard – Continental; flat floor
MISC.: Air conditioning – Knorr Bremse; Mirrors/Cameras – Stoneridge Orlaco mirror replacement system; Glass roof; Online monitoring system – Viriciti; Doors – Ventura
Subscribe to our newsletter
Sign up to receive the ABC e-newsletter, digital magazine and other offers we choose to share with you straight to your inbox
You can also follow our updates by liking us on Facebook.