MADE YOU LOOK – BLK DD3 DOUBLE DECKER
---
COVERSTORY: Where some bus designs are things 'best left unsaid', the stunning BLK (Bonluck) DD3 luxury double-deck at BusVic 2019 did all the talking for itself without even saying a word.
Tucked away nondescript in a quiet corner of the 2019 BusVic Expo and Maintenance Conference, held at the Melbourne Convention and Exhibition Centre recently, the DD3 did well to make itself the centre of attention for many at the show – regardless of whether they were looking to buy a high-end double-decker at all.
Daubed in a gorgeous burgundy hue – the official name of which at this stage must still remain a secret – the BLK (Bonluck) DD3 double-deck, as distributed locally by Queensland-based Bus & Coach Sales Australasia (BCSA), looked stylishly hedonistic without being visually obtuse; svelte and suave it stood as its roofline cascaded down, waterfall-like, into at striking front end that spoke volumes about what potential occupants would be treated to once they were wooed inside.
From the rear three quarters, muscular lines through the haunches give rise to feelings of strength and solidity in the build. She seemed discerningly well put together and amply suited to the inevitable long tourist journeys passengers will take in her. Trips, that is, to charmingly distant places – enjoyed all the more because it would be via such a pretty double-decker coach.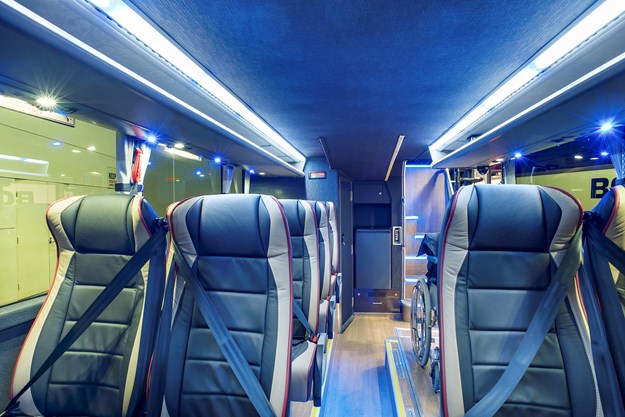 "This is the first Bonluck double-decker for Australia, which is part of only the second batch of vehicles outside of China [to South America, 2.6m-wide variants] to have them. It's the first time Bonluck has built a double-decker as a coach for Australia," explained Rodd Hood, a director of BCSA, who along with fellow director Athol McKinnon was inspired two years ago to 'do something different' and supply the Australian market with a relatively affordable, fuel efficient and – let's just call the shot on this – sexy-as-heck highbrow and high-end double-deck coach.
"The response to date from people who sighted the vehicle before the bus show in Melbourne has been exceptional. And then the enquiries we'd had from the bus show has been very well received also," Hood said.
"We've now been following up on those leads, yet there's a lot of people in the industry that still don't know we have a double-deck coach as such.
"Typically because there's a lot of people who hadn't visited the Melbourne bus show, and also because it hasn't been exposed in your magazine."
Well, on behalf of ABC magazine, consider that rectified…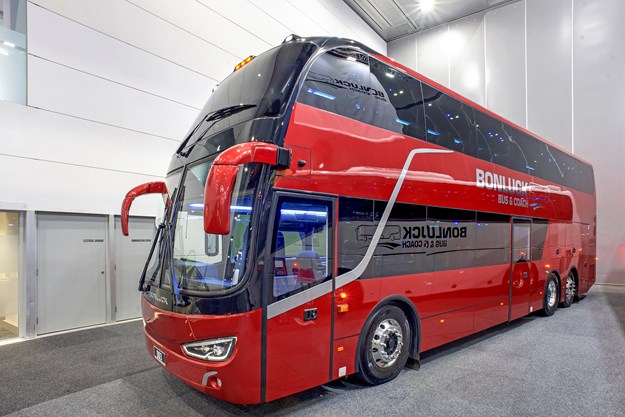 STRAIGHT AWAY!
There was a range of top buses and coaches showcased at the BusVic 2019 event – and we will get to many of them soon enough – but what stood out about this decker was initially that very fact: that it was one at the show. Following some quick pictures posted on our social media pages and given our local and global reader reactions and responses to them, it was indeed time to take a closer look at this special-looking DD3.
So what just drove this product initiative and how did it all get started?
"Athol and I probably spoke about this two years ago. We said people are still looking for high-capacity vehicles, up to 71 seats – depending on the amount of luxury or legroom that you need – but then you had to go for an over-length vehicle, like 13.5 or 14.5 metres, in some cases, to get that kind of seating capacity," Hood explained.
"This didn't suit a lot of people's applications; it meant having a longer vehicle, a larger footprint on the road, and also too restrictions on where you can operate it – whether it be down tight streets, or physically just the process of having to have an over-length bus permit, full stop.
"All the other manufacturers have been focusing on [double-decks] as being city bus, and in that particular market we thought why be another one of those half dozen [bus manufacturers, distributors] producing double-deck city buses?
"There's only one other manufacturer building a [double-deck] coach, but what we've done is used high-quality equipment from all around the world and sold at a very attractive, affordable price, that's within the reach of a lot of high-end charter operators here in Australia," Hood said.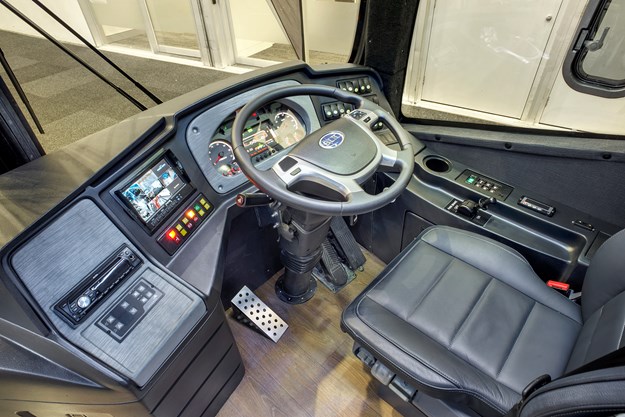 WEIGHTS AND MEASURES
Addressing one of the perennial Australian bus industry elephants in the room, lengths, widths, heights and weights and what can or can't currently be used comes fully into the spotlight once something like the DD3 hits our shores.
"So we now have a high-capacity coach that fits within the 12.5m standard length requirement, standard height, and now with the advent of 22-tonne coming in in December, we have a vehicle that can meet the load requirements," Hood explained.
"Even when it's not at 22-tonne, at 20.5 it's still a legal vehicle depending on the seating capacity.
"So, we have operators who live on the tablelands of Northern NSW, for example, and to come down the coast they are not allowed to go down Dorrigo Plateau, or certain ranges, or even like The Great Ocean Road, and those type of places in a 13.5- or 14.5-metre vehicle.
"So 12.5 metres is its maximum length, and that's where it ticks the box of 'high capacity, but still fitting within that smaller footprint'.
"It's a ticket-seller, as well," said Hood.
"From a kerbside point of view, if you pull up as a passenger – like a non-bus person – and you see a double-decker standing there or a single-decker there, which one do people gravitate to? The double-deck," Hood stated.
As he further explains, the people who have spoken to BCSA say 'Hey, that's not much more money than a single-deck Australian-built vehicle', whereas before it was just out of reach … with the other manufacturers that build them, he happily pointed out.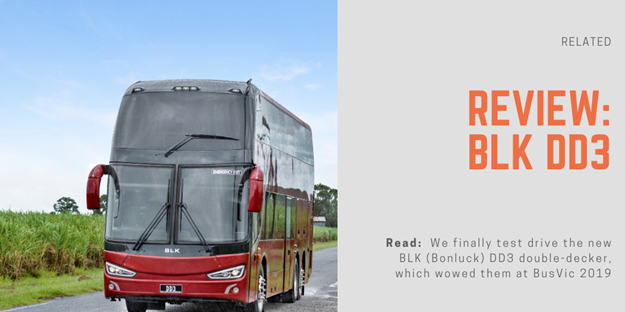 CREATURE COMFORTS
In terms of the passenger experience and the interior appointments, both Hood and McKinnon take great pride in the fact of specifying to Bonluck just exactly what was needed for this market – in terms of pleasing occupants and operators alike.
"It's a vehicle whose specification we advise them of how we want it built. It wasn't a factory imposed specification. So, yes, they [Bonluck in China] have built double-deckers for South America, but the double-decker spec there is vastly different to what you see here in Australia," Hood said.
"The seats are from Turkish company Sege; all leather reclining seats. The stainless steel frame comes from Stalatube out of Finland, which is used by the majority of European high-end manufacturers – and that is both for chassis and the body.
"Here you get a stainless steel chassis and body, whereas you get some European supplier supplying you with a steel European-branded chassis and you can put a steel body on it, but you still have a steel chassis. Here we have top-end corrosion-resistant materials in both the chassis and the body.
"We also offer, as do with all our other vehicles, a galvanised steel chassis and body frame, which comes from Australian Tubemills in Brisbane, so we are the only other manufacturer from China that builds their vehicles with Australian galvanised steel. It actually gets shipped from Brisbane to China," he said.
"So, standard, that double-decker has a stainless steel chassis and body frame."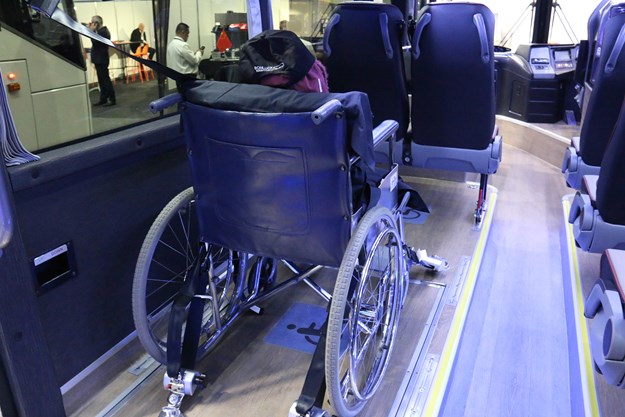 DDA COMPLIANCE
Hood says the coach has two wheelchair positions on the left-hand side of the lower deck of the bus. At the show, BCSA left two conventional seats there just to show where traditional seating would be, but that area is capable of carrying two wheelchair positions, he confirmed.
In terms of delivery time from scratch, operators are looking at five months maximum from time of order, said Hood.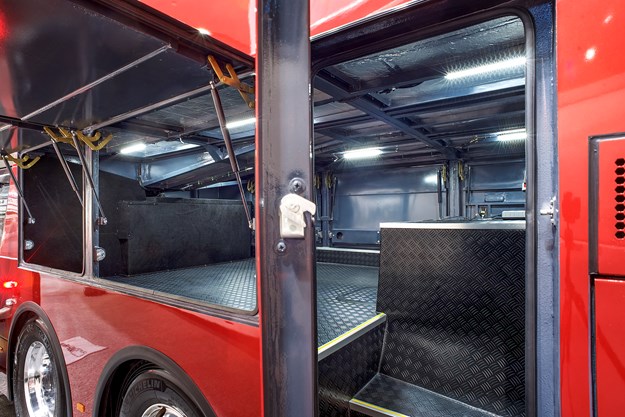 SOLID KIT
The Bonluck DD3 features the latest Cummins X12 Euro 5 11.8-litre engine, pumping out 480hp (360kW). It is also fitted with electronic stability control, EBS and ESC – which was also for when the 22-tonne is introduced, says Hood, because "part of that requirement is you must have ESC, so we've had that fitted. It's a Wabco system," he said.
Other trick bits? This one doesn't have lane assist, but it could.
"It doesn't have lane assist fitted on it right now, but it is optional. We've spoken to operators about that – some like it, some don't want it. Particularly for simplicity, I suppose, without avoiding any safety-related issues.
"Has it been a deal-breaker? No, because we haven't got it fitted to that bus but, yes, we can."
It also has an Allison transmission with in-built three-stage retarder, six-wheel disc brakes with electronic suspension, independent front suspension, ZF drive axle and ZF steerable 'lazy' (tag) axle.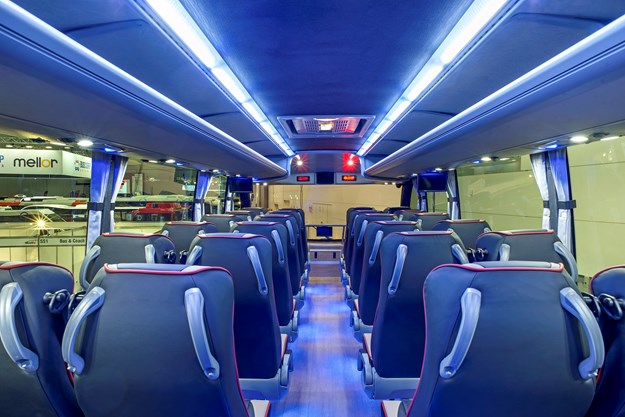 COOL RUNNINGS
For an Australian climate in general, cool is key, so when it came to air-con it had to be double-deck friendly, big time, says Hood.
"It actually has a dedicated Valeo double-deck air-conditioning system – so it's not a single-deck type, which is what the other manufacturers here in Australia use and try to convert. This is a dedicated double-deck system, that way it minimises the differential between upper and lower decks," Hood explained.
"It is a rear-mounted unit above the engine on the roof; it fits in under the rear seat on the upper deck and then it also has two evaporators in the lower deck, as well, operated off the main system. And it has dual controls for the driver. The driver can finetune the upper and lower decks separately."
On that note, drivers will love the Isri driver's seat with full air suspension while passengers will be relieved to know there is a freshwater flush-toilet downstairs.
Add in double-tinted glass all around and it's covering a lot of bases, in a good way: relative affordability, length requirements and such.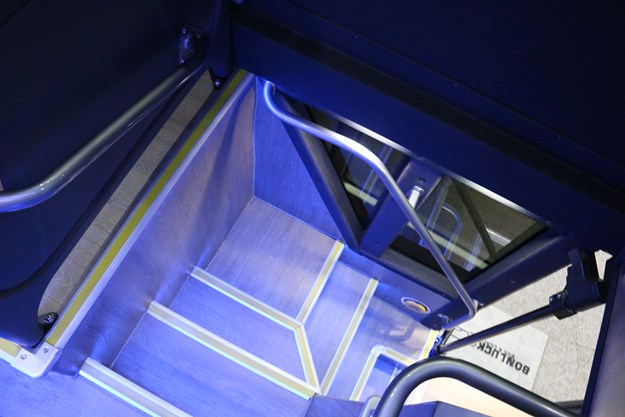 "It's 4.2 metres overall height. We could have gone to 4.4 metres, but we left it as 4.2, which was pretty much the way we built them 30 years ago.
"The vehicle is all fibreglass exterior panelling, with aluminium lower skirts. So you've got fibreglass front, fibreglass roof, fibreglass rear, fibreglass stretch panels – then the lower skirt is aluminium," Hood said.
"We've used all the best possible anti-corrosion type panelling for this bus.
"We don't use steel exterior panels like other manufacturers do."
In terms of luggage storage capacity underneath it's at least 8 cubic metres. The fuel tank? An easy 400-litre job.
Overall, something like the DD3 ticks a lot of the boxes for a certain type of operators.
Ultimately, if it encourages more people to spend weekends away touring Australia in comfort and style and leaving the car at home then that can't be too bad a thing at all.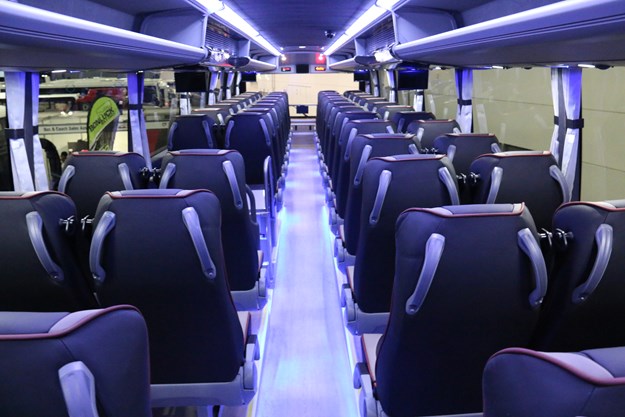 Specs
MAKE: Bonluck (BLK)
MODEL: DD3 Double Decker
ENGINE: Cummins Euro 5 X12 with cruise control. Power – 480hp (360kW)
TRANSMISSION: Six-speed Allison, built-in 3-stage retarder
BRAKES: Fitted with electronic stability control (ESC) and electronic braking system (EBS)
BODY: Fully stainless steel chassis and body
INTERIOR: 71 full-leather Sege recliner seat-belted seats with USB (+ courier seat), two wheelchair spaces, a freshwater restroom, Isri driver's seat
MISC.: Valeo CC430FS heat/cool air conditioning, Alcoa wheels
Subscribe to our newsletter
Sign up to receive the ABC e-newsletter, digital magazine and other offers we choose to share with you straight to your inbox
You can also follow our updates by liking us on Facebook.