ELECTRIC AGE – BCI CITIRIDER E
---
AUSTRALIAN bus manufacturer BCI debuted its new Citirider E electric bus at BusVic 2019, recently. Using the latest generation lithium-phosphate batteries that are around 10 per cent lighter than previously, it will be interesting to see what this all means here for the BCI brand.
BCI debuted its own latest 12.5-metre electric Citirider E prototype at the 2019 BusVic Expo and Maintenance Conference, held October 1-2 in Melbourne. It boasted more than 400khW in battery storage capacity, and an Australian market-leading weight that allows passenger capacity of up to 45 seated and 20 standees, it says. It weighs 12.7 tonne complete with destos, monitoring systems, air-conditioning system and other ancillaries, BCI confirms.
Its new Citirider E electric bus caught more than a few casual glances at the Melbourne event, given the now ever-emerging attention to electric buses as a whole – particularly as a locally delivered and supported product option for operators.
Interestingly, BCI says it has a rapport with Dutch bus builder Ebusco, whose prototype Ebusco 3.0 e-bus won the recent Busworld 2019 Innovation Label award for a range of reasons, including use of composite parts, making it 33 per cent lighter without compromising on robustness, stiffness or safety, Ebusco states.
"Any co-operation with Ebusco would bring global benefits in electric bus advancement for both companies," said BCI CEO Desmond Armstrong.
Ebusco Australia sales representative Simon Pearce added: "We believe with the Ebusco 3.0, we will provide an unfair advantage to bus operators, by significantly lowering the TCO model in an extremely competitive environment, whilst delivering significant benefits to customers."
It could be an interesting joint e-bus product one day, some industry insiders might say.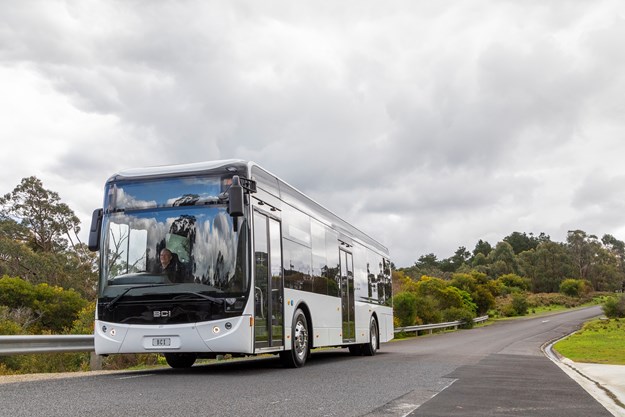 WHAT'S IN THE BOX?
ABC magazine spoke with BCI senior engineer Lorenz Eberl about the Citirider E prototype, gaining insight into how it came about and what such development meant for e-bus standards in the Australasian region.
"BCI was one of the first companies to bring out an electric bus design to Australia in 2008. Technology has moved on since in big steps, particularly motor drive technology has improved a lot – where you control the driveline – and battery technology," Eberl explained.
"I recall for those early buses you had to do manual battery cell balancing and other things to keep the battery healthy.
"There are now a lot of new suppliers and products out there that have solid 'track records', particularly from China. There's been lots of electric full-size buses that have gone into service over the past few years, more than 100,000.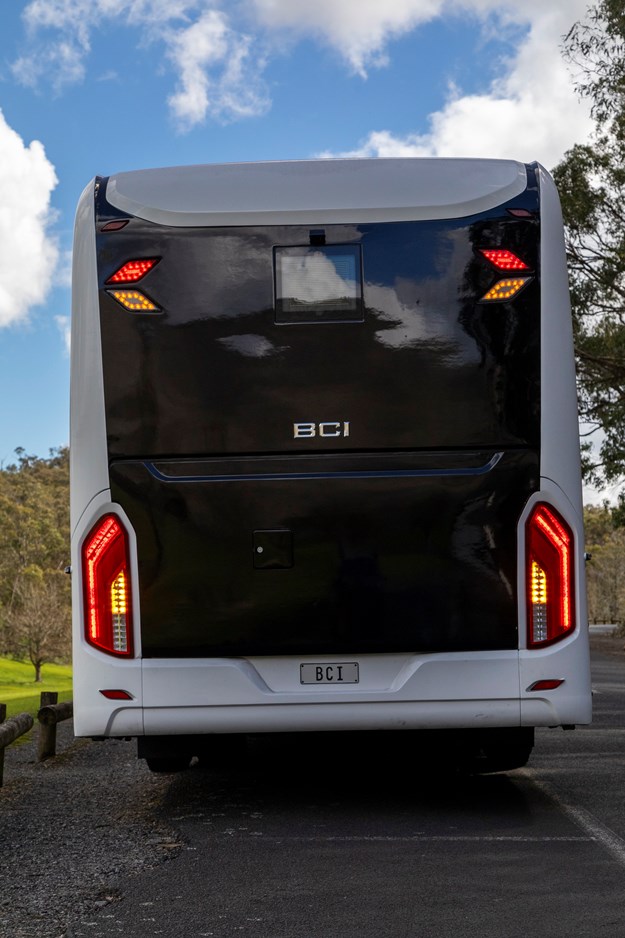 "And we can see now that this electric-bus move around the world is gaining momentum. The first order from Ebusco for Europe was 41, the next order around 62, then there was one for 30, and the last order we got for them last month 157 [which, up until recently, was the largest order for them outside of Europe], so it's really gaining momentum – and for good reason.
"We are at the point where electric buses can sensibly replace diesel buses and there are potential benefits there for both the public and the operators," he explained.
"Our customers in Europe are already now saying that the total cost of ownership of EV buses will be on par with the diesel buses. But a lot of that has to do with electricity prices because that's the major ingredient in the running and operating costs.
"As far as maintenance costs go, it's down on electric buses; we don't have transmissions, we don't have engines – there's not even a fanbelt on our bus any more. It's direct drive from electric motor to the wheels via the differential, so we've only got crown wheel and pinion in the driveline, that's it. And on our particular bus there aren't even any hub reduction gears," he said.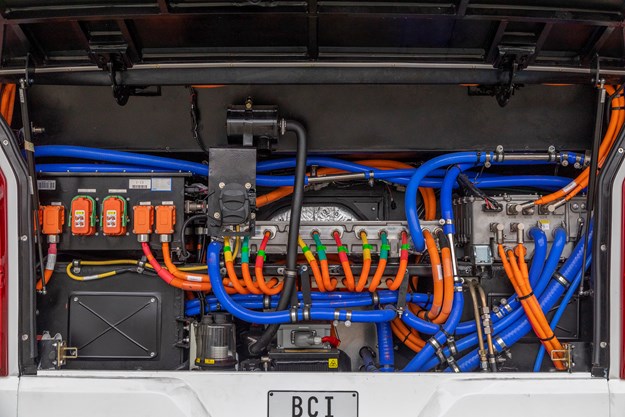 "In our bus, we have a permanent magnet synchronous drive motor. This motor has only one moving part and that's the rotor – a round item with two bearings and rare-earth magnets on it.
The motor is controlled by a solid-state motor inverter with no moving parts. Low voltage (24V) power for lights, fans, wipers, etc. is provide with a solid-state power inverter. The only moving parts in the main power and control system are circuit-breaking relays. Everything else is solid state.
Eberl raised an interesting point that mirrors what industry now realises, but which many government experts seemingly fail to comprehend – or if they do, won't say it:
"If electricity is able to be purchased at the right price for overnight charging at the bus depots and EV buses are equipped with enough battery capacity to run – then we get to the point where there is no turning back and the e-bus will become the standard for city buses."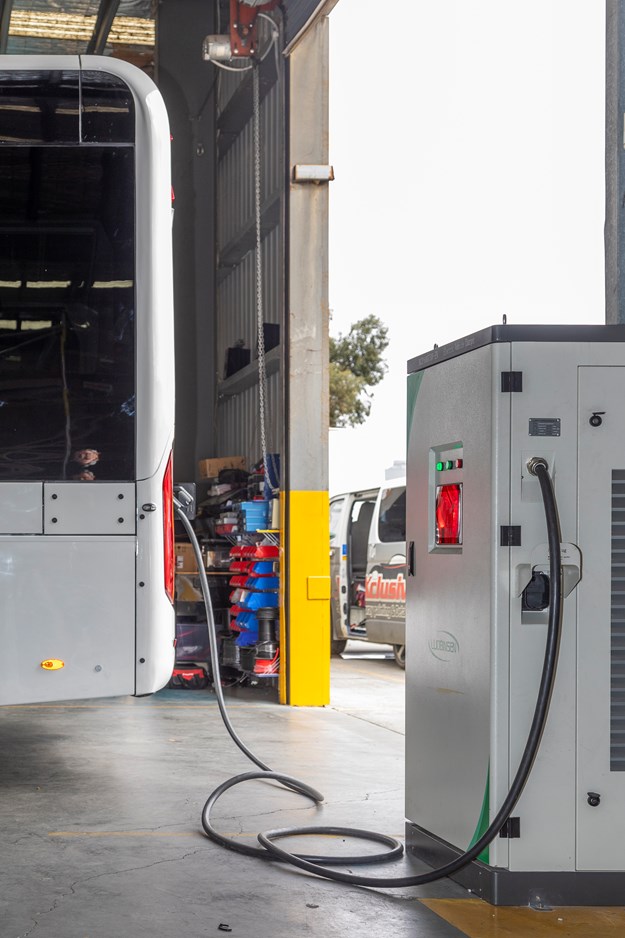 PUSHING BOUNDARIES
There are currently only a few ways an e-bus's batteries can be charged, or a combination of them, and Eberl confirms that for the BCI Citirider E prototype it can use both pantograph and plug-in types.
"But the one we've released for Australia now – the one we showed at BusVic 2019 – is a plug-in bus. We've pushed the boundaries in terms of battery capacity, carrying capacity and performance," he said.
"We are over 400khW in battery storage capacity, which is bigger than what any of the opposition have displayed [at the show]. The new Citirider EV is 12.5 metres long and we are still coming in with a weight that allows up to 45 seated and 20 standees on the bus."
Eberl says the tare weight of the bus is under 13 tonne complete with destos, the monitoring systems, the air-conditioning and so on.
"So the GVM is 19 tonne, but obviously in Australia we can only use 18 tonne – with 18 tonne we get that carrying capacity," he explained.
TEMPERATURE REGULATION
Optimum interior temperature control and battery heat regulation is key, with the former administered by a new E1200 Thermo King air-conditioning system, a variant of which was developed especially for BCI.
"It has a hermetically sealed compressor, just like your fridge. It comes from the Thermo King factory with refrigerant, electrical compressor [runs directly off DC 600 volts], it has an in-built battery coolant chiller and it's reverse cycle for heating and cooling," said Eberl.
"It has to be reverse cycle for EVs because we need to get efficiency for heating. So basically at relatively low ambient temperatures the a/c system can still achieve a coefficient of performance of 2.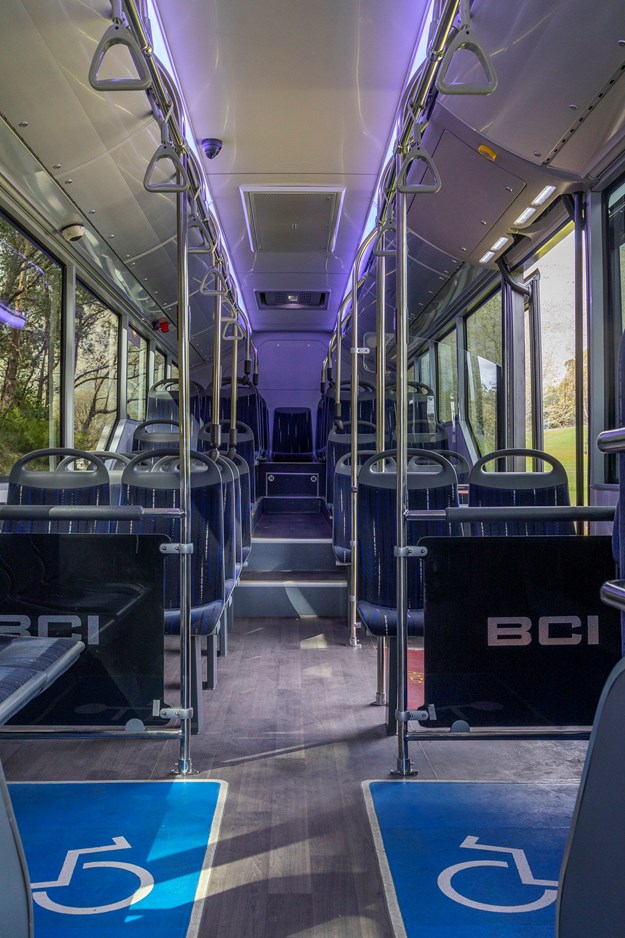 "So even in moderately low temperatures it is still cooling outside air and then pumps that heat into the vehicle.
"For really low temperatures it's got PTC heating added to it as well, so we've got a very modern self-contained air-conditioning system that is much more efficient for heating than conventional electric-element heating systems. That's important because we don't have waste heat from a diesel engine cooling system," he explained.
"In Europe you can have the e-buses running with air-cooled main battery systems, but that doesn't work in Australia when you want to maintain an ideal battery temperature between 25–35 degrees C while the outside air temperature is 40 degrees C.
BATTERY SPEC
BCI's Citirider E has 12 battery packs in total. Each pack is divided into many cells and they are cascaded together in series to give the output as a single DC supply to a control box. This then distributes all that power to either the motor or the ancillary equipment, like the air-conditioner that runs at 600 volts, and the power steering pump that runs at high voltage also.
"We've gone for quite a large battery capacity. The batch we got was only recently released in June by the biggest battery manufacturer for commercial vehicles in the world: CATL. It's the latest generation of LFPs (Lithium-ion Phosphate) that's now about 10 per cent lighter than the previous generation."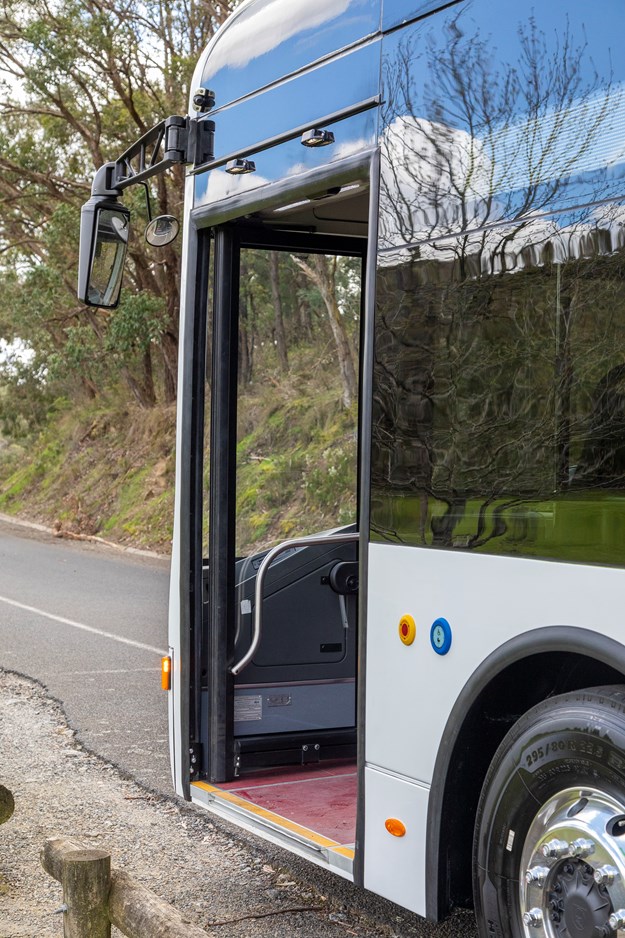 GOING THE DISTANCE
So what's the range on a single charge? In ideal conditions – just under 350km, says Eberl.
"If you've got extreme heat or extreme cold and you use a lot of electricity for heating and cooling, that range will reduce. But we pushed the boundary a bit. I think there was no-one in [BusVic 2019] that had anything with over 400kW/h in a bus that can still carry 65 people," Eberl said.
"And that's basically due to picking the latest technology on motor drives and batteries, which are the chief ingredients together for range.
"The performance is astonishing. I mean, I've driven this thing and I was surprised how lovely it was to drive. With 350kW of maximum power, it takes off like a rocket. And there's a reason we went fairly high on the motor capacity and the batteries that's often overlooked by people.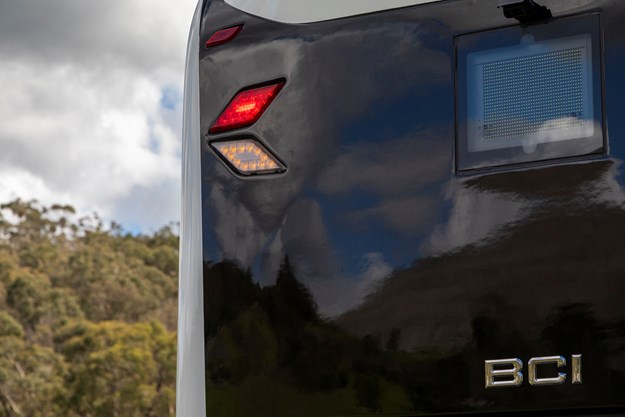 "If you don't have enough motor power, you also haven't got enough regeneration power. And what you really want in an EV bus is you want to capture as much of the braking energy as you possibly can. If you have a motor that's not big enough and you apply the brakes you partly get regeneration; the rest gets burnt up in friction braking.
"You really want to recover as much energy as possible from braking and put it back into the battery, so it can be used again. And we do that very effectively.
"If you drive the bus – unless you make an emergency stop – you virtually don't use the brakes at all. You only use the brakes really when you get down to the last 5km/h, just before you stop, the friction brakes apply to halt the bus. Before that the motor does everything as a generator, sticking energy back into the batteries. That's why you also need big battery capacity that can take the charge rate and a big motor that can generate the charge rate as a generator.
This is often overlooked, but it's a vital ingredient to get range and efficiency."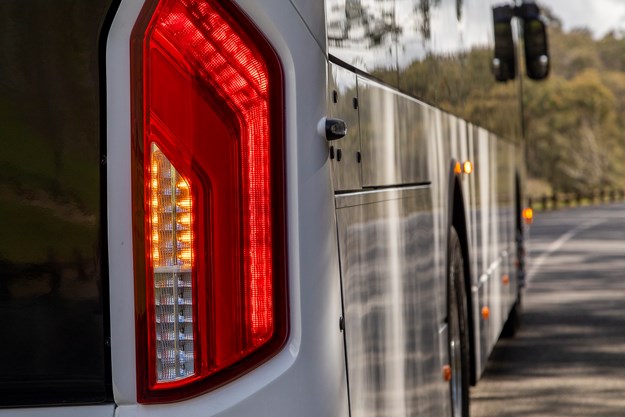 CLEVER FUNCTION
Of the new BCI e-bus, Eberl is quick to point out an added feature to the power steering system.
"Our power steering pump automatically switches to 24 volts supply as a safety back-up should you lose the 600-volt system for some unknown reason completely," he explained.
"When a diesel engine cuts out you've lost power steering, right? In an electric bus if you had a complete failure of the main electrical system – under normal circumstances – yes, the steering pump would go too, but in our case it's a special one that switches to low voltage power and you can still steer the bus with power steering from the body 24-volt battery system for some time.
"This would happen when your main electrical system completely fails, which is highly unlikely, but a possibility," Eberl clarified.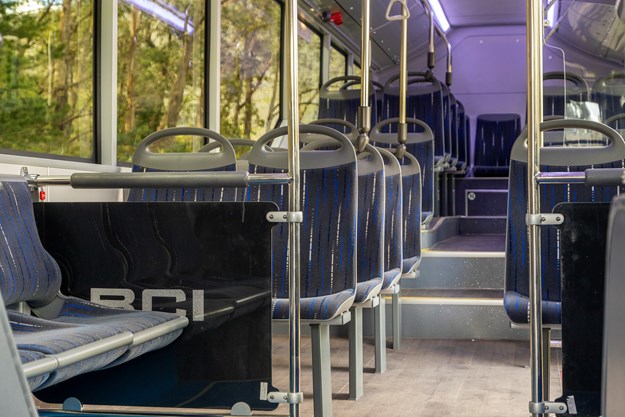 FORWARD THINKING
"It definitely has a few nice features built into it," said Eberl.
"Some of the EV buses have been designed to only go to about 80–85km/h that is ok for certain applications, like city traffic. But for Australia we've got a fair amount of runs that have high-speed sections in it as well.
"We've marked ours in our brochure at 95km/h, but we've now speed limited it to 100km/h and it hangs onto it quite easily."
The braking system is an EB3 developed by Wabco and the LFP batteries it uses comply with EU regulation 100.2, which includes destructive testing and impact tests.
The seats are Ster, from Poland, with conveniently replaceable cushions and squabs.
"Basically we stared out with a group of designers throwing up concepts, which the BCI team then reviewed. We then modified some of the far out stuff to make it practical."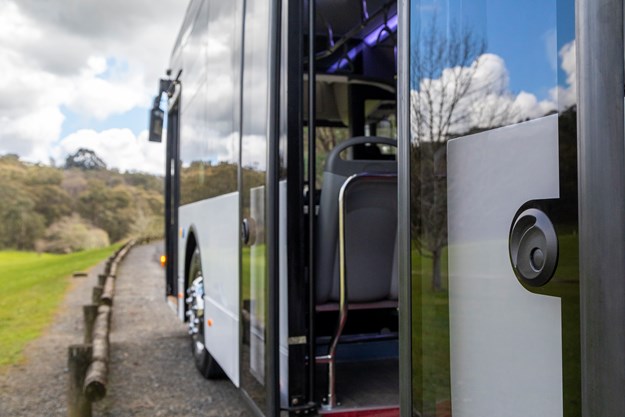 There's a single-piece windscreen with very small pillars to exceed the requirements of the ECU regulation for driver forward visibility.
Two big doors are wide enough to take wheelchairs – with two wheelchair positions at the front, behind the front wheels (as normal for a diesel bus) and no big boxes inside for batteries, he says.
"For Australia we have used the manual flip-down ramp; it's actually a Ventura ramp and also electric-drive Ventura doors.
"We basically said we want a durable bus, we want a high-quality bus with good performance etc, so let's not skimp on the componentry."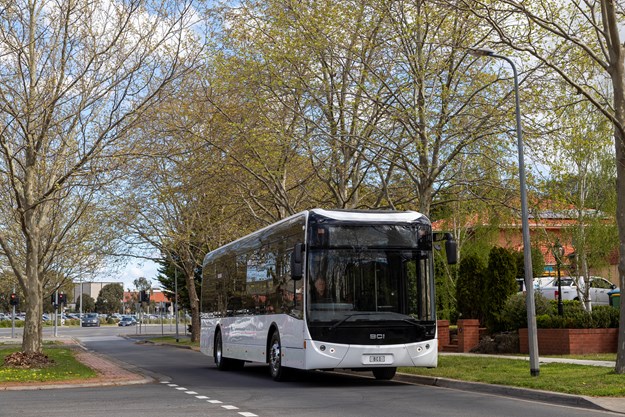 KEY POINTS
Citirider E highlights include: European stainless steel, Bosch power steering system, ZF axles and suspension, Wabco EBS 3 brake system with ESC, Wabco ECAS, drive system from TM4 Prestolite, CATL battery energy storage system, Thermo King air-conditioning, Valeo long-life coolant pumps, Ventura door systems, Mobitec and Hanover passenger information systems, Isri driver's seat, Continental instrumentation and mulitiplex systems, and Hella LED lighting.
"The body panels are flame-retardant fibreglass, especially for fronts and the rears, the skirts around the ring are aluminium, side panels are fibreglass – there's really nothing on there that's difficult to repair, or corrodes over the lifetime of the bus," he said.
"It's an integral chassis and bodyframe completely made from stainless steel."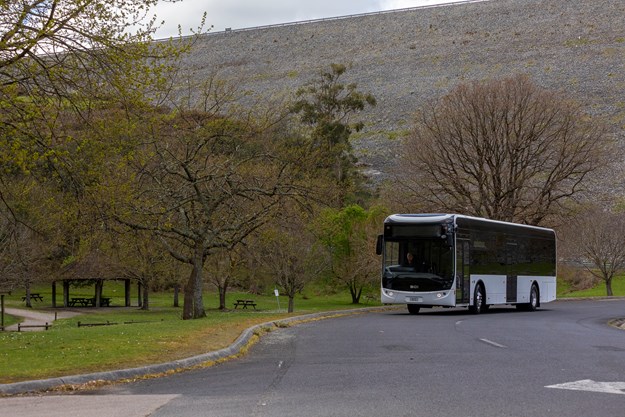 ABOUT BCI
BCI is now one of the most recognisable brands in the Australasian bus industry, it states.
Ron Nazzari, chairman, and Desmond Armstrong, CEO, have shared 30 years of friendship and partnership building and distributing buses in Australia.
When BCI founder Nazzari established the company in 1991 it was a small, family run operation in Perth, with its manufacturing outfit in Xiamen, China. Today BCI's head office is still located in Perth, with dealerships in Victoria, Queensland and South Australia, and a growing export flow to New Zealand, North America and Europe.
ABOUT EBUSCO
Ebusco is dedicated to the development, marketing and sale of fully electric city and intercity buses, mainly for the European market, it states. It is an originally Dutch company based in Deurne, The Netherlands, started in 2012.
Ebusco is a pioneer and a forerunner in the development of electric buses and charging systems and is now able to offer an electric bus that is cheaper than a diesel bus, it states.
Ebusco Australia was established at the beginning of 2019.
Specs
MAKE: BCI
MODEL: Citirider E
DIMENSIONS: 12,490mm (L) x 2,495mm (W) x 3,400mm (H). Weight (Tare) - 12.7-tonne
MOTOR: TM4 Prestolite drive system
BATTERY: CATL 400khW+ battery energy storage system (12 packs)
STEERING: Bosch power steering system
CHASSIS: Integral European stainless steel chassis and bodyframe
SUSPENSION: ZF axles and suspension
BRAKES: Wabco EBS 3 brake system with ESC, Wabco ECAS
BODY: flame-retardant fibreglass panels, aluminium skirts, Ventura door systems, Hella LED lighting
CAPACITY: 45 seated, 20 standees + driver
INTERIOR: Isri driver's seat, Ster seats, Mobitec and Hanover passenger information systems, Continental instrumentation and mulitiplex systems
MISC.: Thermo King air-conditioning, Valeo long-life coolant pumps
Subscribe to our newsletter
Sign up to receive the ABC e-newsletter, digital magazine and other offers we choose to share with you straight to your inbox
You can also follow our updates by liking us on Facebook.