WISH UPON AN IRIZAR – i6S
---
TRIM, TAUT AND TERRIFIC. Irizar's new i6S luxury coach body gives updated i8 looks to the hugely successful i6 formula – and thus evolves another new winner for local operators from the Spanish body-building team. Let's take a look…
You know those people who say they are going to the gym for the first time in a long time and deep down you know they need it? They are fine, no problem with them. But the ones who are kind of slim and fit-looking anyway and somehow seem to easily balance their time well enough to make exercising easy and end up looking and feeling even better than they needlessly needed to? Well, those are the type of people you need to stop talking to, unfriend on social media, and generally steer clear of for a while – you just don't need that kind of negativity in your life.
The truth is, while the rest of society is almost happy to scoff down 4am kebabs mid-week and wash them down with goon juice (cheap wine 'in a box') and half a discounted 7-Eleven chocolate bar as a chaser, it seems there is justifiable envy for those reprobates opting for the healthier lifestyle amongst us. Fair play to that; to each their own…
Where the system breaks down is ... well, guilt.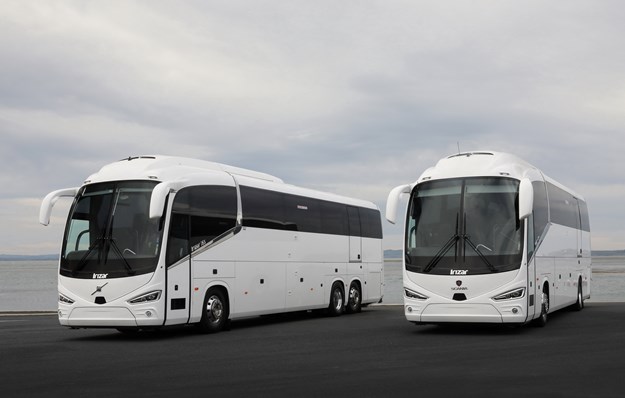 Suddenly a tuning fork of common sense gets twanged deep, deep down in the hearts of the rest of us and this fitness craze starts to become disturbingly inspiring. And it's the same inspiration and 'feel good factor' you get when stepping onto a good-looking, modern bus.
Truly, it lifts you up, makes you want to be there. And if it's a long-distance journey and you need to travel in style, something like the new Irizar i6S starts to make a heck of a lot of sense.
The successor to the venerable i6 coach body that first launched in Australia in 2012 – which was six years after Irizar officially landed here with its Century (discontinued 2013) – this new i6S is the latest interpretation of an i6 body that will still continue to be sold here in some form to this day – that's how 'fit and healthy' it is to many Australasian operators.
The i6S is THAT person we know who arguably didn't need to go to the gym, but now does so and looks all the better for it. And local Irizar fans are already loving it.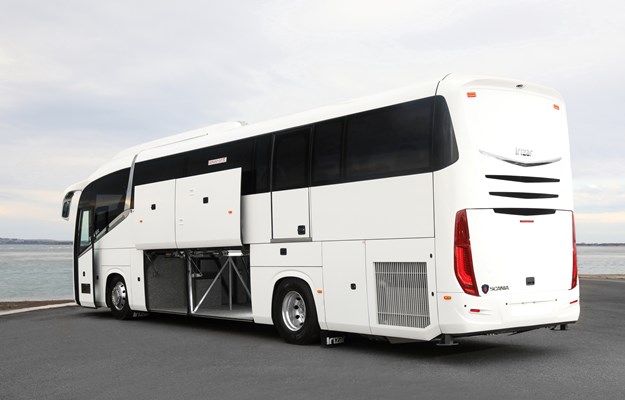 "It hasn't officially launched here yet, but we have an order intake of around 20 units; six of them are landed in Australia already," explained Irizar Asia-Pacific general manager, Daniel Castro.
"So far Dysons, Australia Wide Coaches, Sid Fogg's, Compass Tours, Alston Coaches and Around Town Tours are the first ones to receive the new i6S," he confirmed.
"We hope to confirm many more orders after the launch; some remarkable operators are now shifting to Irizar," he added. "I cannot say much, but will give you a hint when they authorise."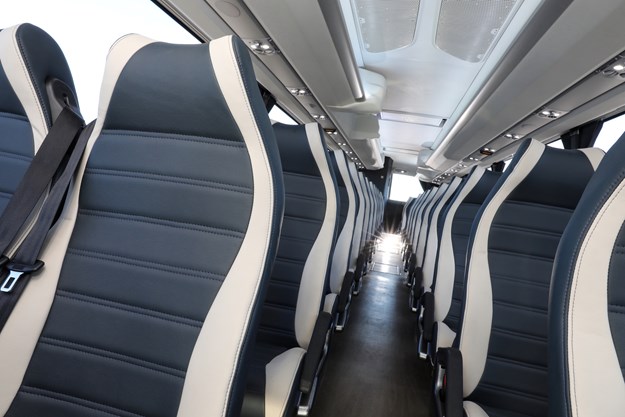 So why the i6S now? Castro says 2018 is a very important year in Australia for Irizar.
"It is 12 years since we have produced the first Irizar coach for Australia in 2006. The Irizar i6S is landmark because it is the first model completely designed for Australia, with the experience that we gathered along the past 12 years," Castro said. "In 2006 we delivered one unit in Australia, 2018 will be our record with 95 units. In 2019 we forecast over 100 units. To date, more than 750 Irizars are on Australian Roads. Oceania is figuring in the top 10 markets, in volume, within the Irizar Group.
"Irizar in Australia is owned by Irizar Spain. We are a factory branch that started in 2015 with just two employees and today we employ 30 people, across four states," he said.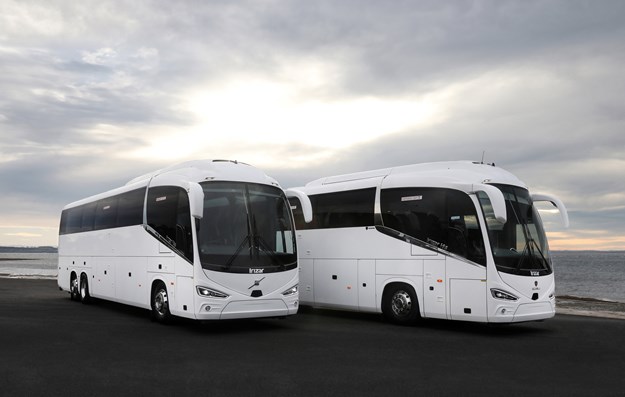 GLOBAL OUTLOOK
The i6S was first launched in Europe in 2016. Continental America got it in 2017, Oceania and Africa in 2018.
Currently, there are more than 2,500 Irizar i6S on road all around the world – hallmarking it as proven technology, it would seem. In 2017, there were record sales of this model with more than 500 units delivered in different markets, according to the company.
"The Irizar i6S is to be the new 'top of the range' for Irizar in Australia. It is only available in the high-deck version, 3900mm. It is important to remember that for our customers the Irizar i6S will coexist with our Irizar i6 charter and school versions," Castro said.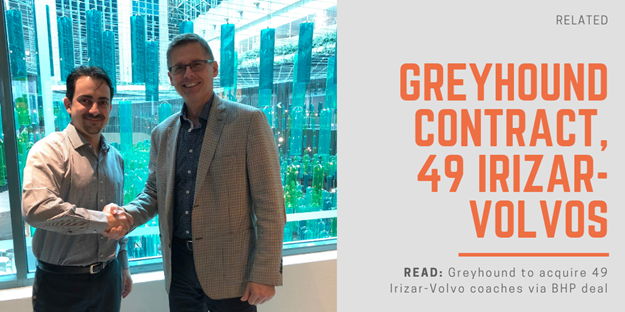 SHE'S GOT THE LOOK
In terms of design, here are some key points to note: the new i6S concept inherits the design of the acclaimed European Best Coach for the Year in 2018, the Irizar i8. It represents new advances of the design in the Irizar Group with the adoption of straight lines and the V-shape concept, the company says, with the new Irizar coaches, "the landmark of a new trend in design in Europe".
"Still, the soul of its aesthetic revolution is the cutting-edge technology that capitalises on the values of the Irizar i6: quality, robustness and reliability of a model of coach tested along the years in the best proving ground: the customers' operations," explained Castro.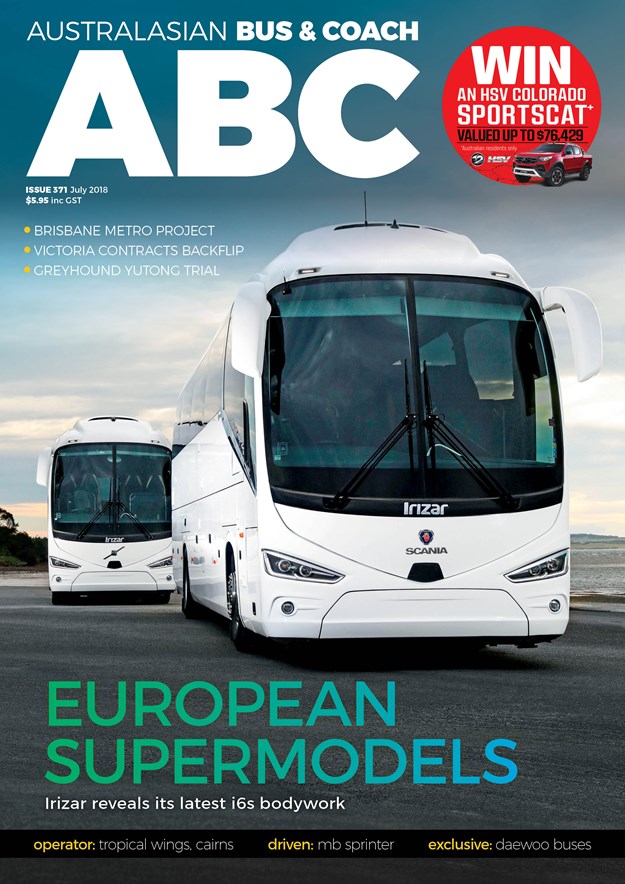 OPERATIONS AND TOC
Operations and TOC (total cost of ownership) were the focus of the new design, according to Castro. First is the fuel saving.
How so? "Air conditioning plays an import part of consumption and the Irizar Group understands that. The i6S has specially designed air conditioning. The project encompasses the design of air ducts concerning insulation and airflow. The condensers have received a front air intake, which improves the efficiency at speed and reduces the electric consumption," Castro said.
"The new body thermo-insulation also enhances climate system performance in winter or summer. Every standard light in the new i6S has now been replaced (above the i6) by LED low-consumption lights. The anti-fogging system designed by Hispacold does not run the air conditioning compressor at all times, providing even better economy in winter."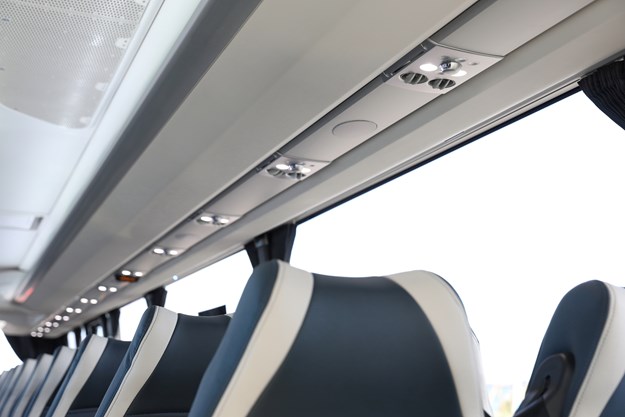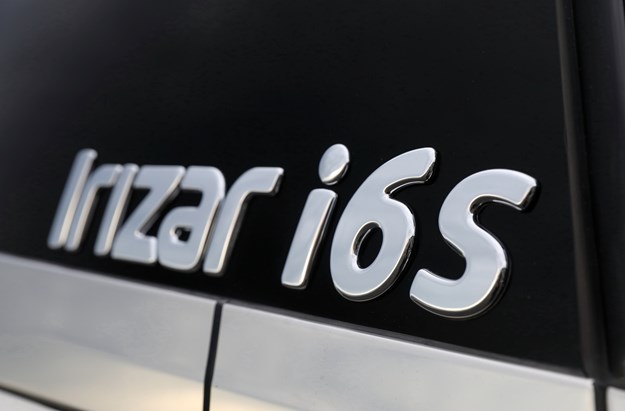 Explaining things further, Castro says Irizar's relationship with Hispacold goes back more than 40 years.
"This is a strong and unbreakable partnership. They are the masters of our AC design, working through the whole integration (body x AC). Please understand that we do not use an off-shelf solution for AC. Off-shelf solutions can be poorly integrated to [our] bodies and that is exactly what we do not do. "Hispacold is one of our strongest [sales] values in recent years. It also goes along with our one-stop shop service; our customers know they need only ring one number for any body or AC problems."
Then there's the operation cost. Key to this is spare parts commonalities with the i6. All glass panels and sections and air-conditioning parts are the same for both models.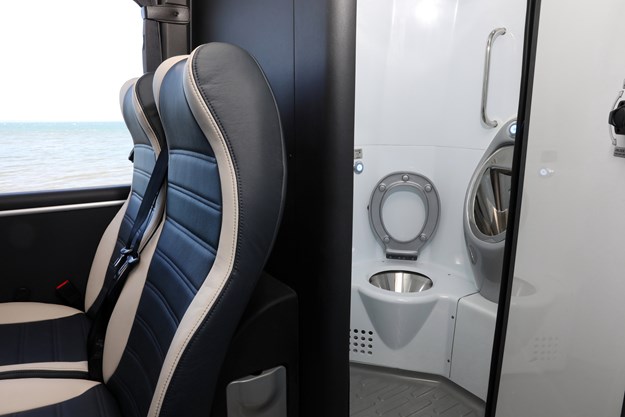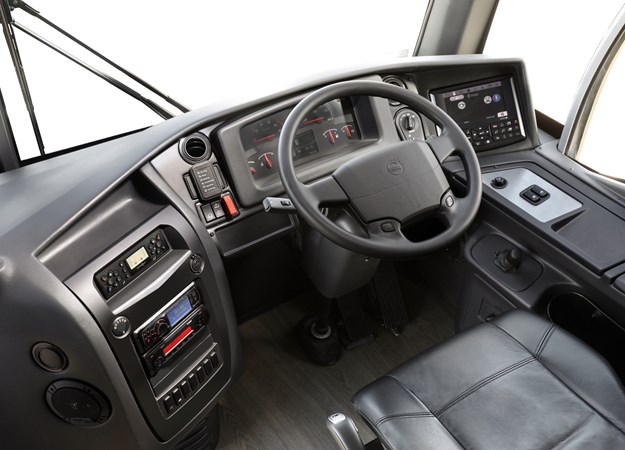 New advancements also include driver comfort improvements. There's a new dash, with re-positioned driver control panel. The fibreglass parts were replaced by injection-moulded panels (lighter and more durable), and there's a new front area with wider-access steps.
Long-distance travellers in particular will like the new toilet area, which has been re-designed to a more compact layout - providing greater internal space and option for a men's urinal and baby change table.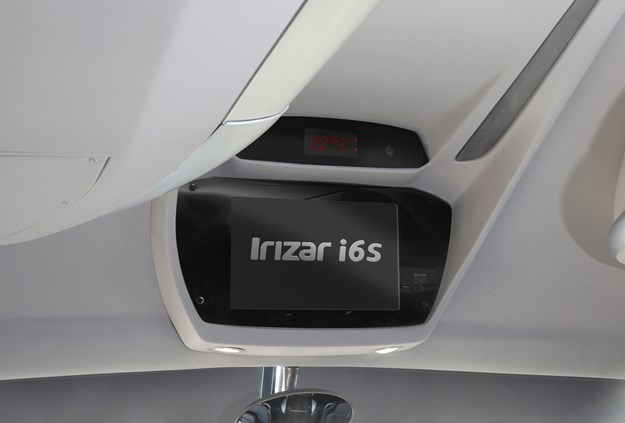 SEATING COMFORT
In terms of what actual seats can or will be used in the new i6S, Castro says a strong collaboration with local and European seat manufacturers provides a range of options – with new technical solutions of integrated USB ports and tray tables at the back for the seats. Nice one.
"Styleride and McConnell are our historical partners and we've been able to build excellent relations with them along the years, working on special projects," Castro said.
"The new kid on the block is Sege seats [a Turkish seat manufacturer], which is gaining some momentum selling their products.
"At the moment, seats are a customer's choice and we are happy to collaborate with all manufacturers."
As pictured during ABC magazine's exclusive photoshoot, the seats shown are Styleride Aquarius, which feature a smartly designed silver button to activate the reclining system.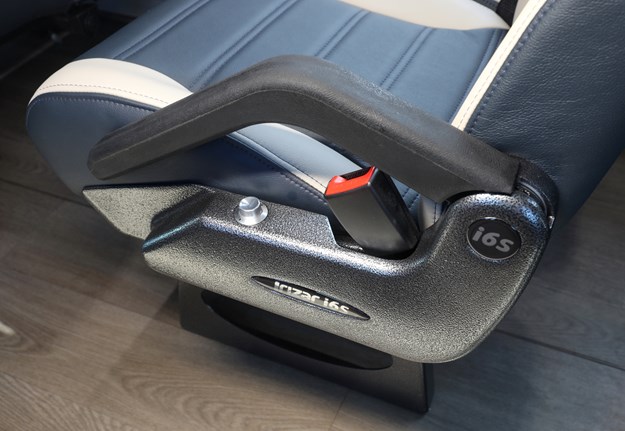 BODY BEAUTIFUL
Castro confirms that the new i6S will have successful integration with any chassis from any leading manufacturer.
In terms of design, the new i6S has basically the European i8 front end and the headlights, but at a body width that is ADR compliant, so it's the best of both worlds, he says.
Painting? "We currently use the Axalta One automotive line. They have been able to provide a more reliable process and it has an incredible durability in salt spray tests.
"Every Irizar i6S has four layers of clear coat in the end of painting process."
And build construction?
"Irizar uses an after-welding coating process. In other words, after the body cage is completely welded, there's a day of process it goes through to make sure the structure is protected with a high-wear level of primer, applied in four steps."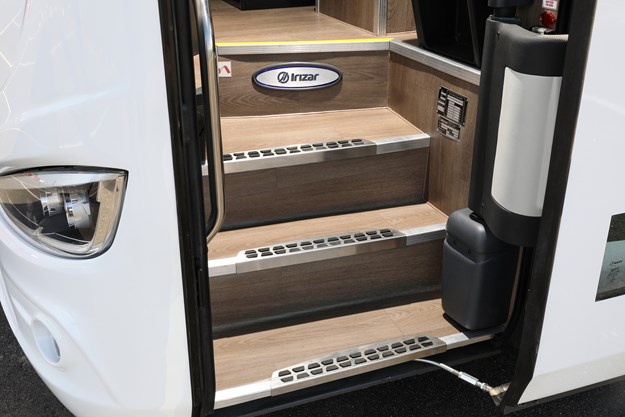 INSIDE TECH
"The i6S is fully Multiplexed and works with Actia equipment designed and manufactured in France. The system encompasses a control panel (seven-inch touchscreen combined with switches) and three nodes. All the software intelligence is developed in-house," Castro said.
"The driver's control panel has diagnostic functions available in different levels of accessibility, providing drivers and maintenance technicians with the information they need to accurately diagnose the coach.
"The system presents a high level of customisation as the screen and the functionalities can be adjusted for the benefit of the operation. For 2019, a bluetooth connection on the Multiplex system will transfer the coach data to a mobile application to help on maintenance and operation – this is still in testing phase," he explained.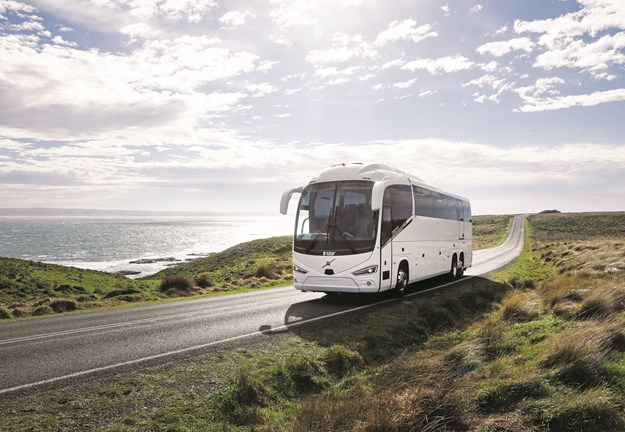 ABOUT IRIZAR
Irizar is the parent company of a leading business group in the bus and coach sector and a benchmark in the sectors of electronics, communications (ITS solutions) and rotating machinery, it's stated.
With more than 3,300 employees, the Irizar Group operates through five coach and bus production plants (Spain, Morocco, Brazil, Mexico and South Africa) and five other companies involved in different sectors in Spain, as a result of its industrial diversification policy. It also has its own R&D Centre with a long-term focus on the applied research process and the technological development of proprietary products and systems, it says.
The group's headquarters are located in the town of Ormaiztegi in Gipuzkoa, Spain, where Creatio – the Irizar Group Research and Development Centre – is also located.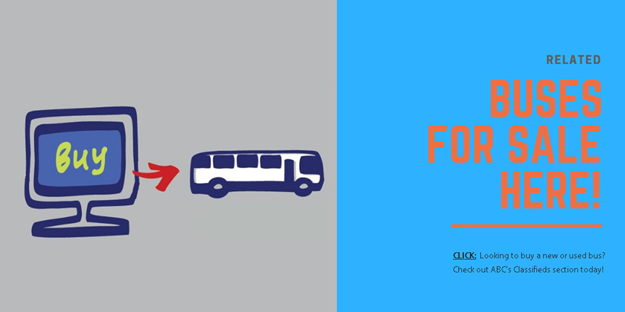 Subscribe to our newsletter
Sign up to receive the ABC e-newsletter, digital magazine and other offers we choose to share with you straight to your inbox
You can also follow our updates by liking us on Facebook.