INTO TEMPTATION – ADL ELITE NZ COACH
---
IT USUALLY TAKES a sublime combination of coveted destinations and supreme luxury coach product to easily sell commuters the 'bus travel' dream. In 'Aotearoa', ADL's Elite New Zealand model is doing its bit to tempt as many others as it can.
Its distinctively swooping roofline sets it apart from its peers, its coach-form length eminently beatifying the effect as opposed to other shorter vehicles, where such roof design arguably just makes it all look rotund and disappointingly ostentatious.
On the chic Elite New Zealand – designed by Plaxton, a part of leading British bus company Alexander Denis Limited (ADL) – that luscious roof slicks back to a tastefully jutting-out tail, while forwards its frontal lines cascade downwards into a beautifully panoramic windscreen that meets a front bumper below punctuated by a trio of globes in headlights either side.
Along the flanks, round-edged window treatment fluidly fuses the roofline edges above to the doors of the bin bays and side panels below. At the rear, similarly thought-out tail-lights mirror their counterparts at the front of the coach, the backside overall tidily stylish and professional in look.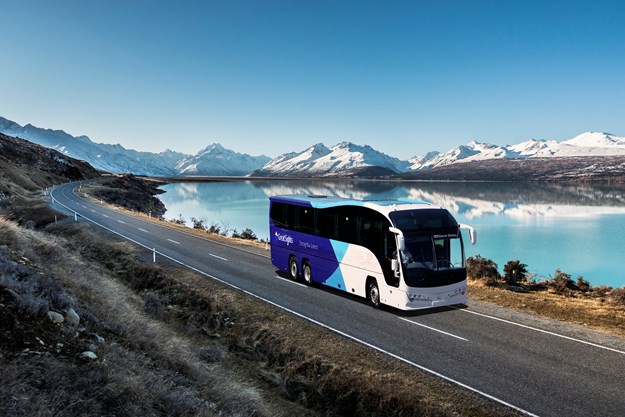 This is the Elite by ADL. Or more specifically, the suitably named Elite New Zealand. It's been a few years since Alexander Denis left Australian shores, its ownership of Custom Bus not the best foray, but its Asia-Pacific base now is Hong Kong and its British-origin, Kiwi-spec Elite is blissfully at home amongst some of NZ's finest tourist destinations along its soothingly sweeping roads.
A design that's not new – it's circa 10 years old having made its debut at Euro Bus Expo in the National Exhibition Centre, Birmingham, UK in November, 2008 – but she's evolving supremely with bespoke tweaks befitting the NZ travel market.
As ADL is quick to attest to, citing it as the "evolution of passenger travel", the Elite is, "inspired by Plaxton's pedigree in coach innovation and influenced by the very best in classic and contemporary design". That the Elite's iconic styling is, "designed to take passenger travel to new levels of sophistication, style and comfort," and that, "from the second passengers step on board to the moment of their arrival, the Elite delivers a premium passenger experience…"
THE INS AND OUTS
When ABC magazine contacted Tony Moore, general manager, Alexander Denis NZ Ltd, he said, "The Elite is head turning and, at the same time, is highly fuel efficient. It's designed with a sweeping aerodynamic front and its unique panoramic styling gives a new approach to passenger visibility. It also gives the driver class-leading vision for enhanced safety."
According to the company, the Elite offers a sense of space that unsurpassed without compromise of passenger comfort or modern styling. Highlights include: a distinctive profile; panoramic vision; fuel-efficient design; front lighting detail; practical features; a luxury interior; and sleek overhead styling.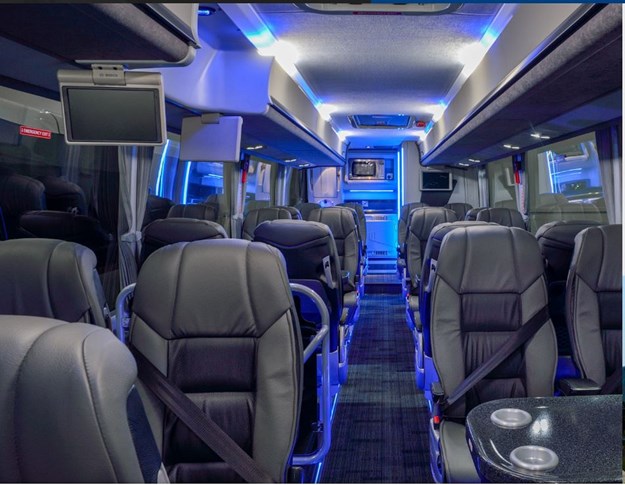 MOVIE THEATRE FEEL
If you are a true movie buff you know that no home theatre job really cuts it (mind you, there are some awesome ones you'd never want to leave in a hurry) and part of 'going to the movies' is not just the flick but the physical theatre presence itself. The lighting, the ambience, the width of the walkways to each cinema room – not to mention the orgasmic smell of freshly popped popcorn. While the Elite does not come standard with a popcorn maker – though, that might be a future option for any coach after this gets printed, who knows? – such is the feeling the Elite sets out to achieve.
ADL says first impressions count and its Elite offers a stylish, wide entrance, guaranteed to impress, with the "theatre-style front seating with an open frontal aspect" providing passengers a panoramic view of their surroundings. The seating configuration is for up to 53 reclining seats featuring dropdown armrests to gangway sides.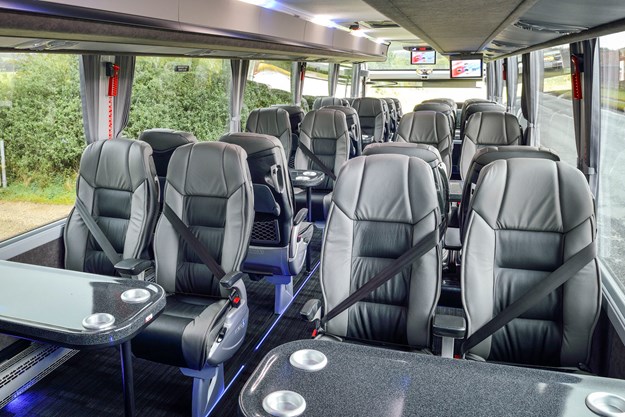 Inside, it's been designed to maximise the passenger legroom and comfort, offering multiple seating and hospitality configurations; alternatively, where even greater comfort is required, wide seat pitches for further leg room can be specified, it adds. A stylish, streamlined luggage rack houses individual overhead controls for the advanced air-conditioning system while a high-quality audio-visual system for on-board entertainment, with multiple options tailored to customers' individual requirements, is available, says the company.
The individual passenger seats feature three-point seatbelts, with multiple seat options available including universal-type seat belts, leather pad and piping, and adjustable footrests. The 'super wide' VIP passenger seat upgrade option is available together with full leather trim options. Ultimately, a choice of seating configurations is available including the accommodation of table seating. Perfect for chow time or playing Uno on the go.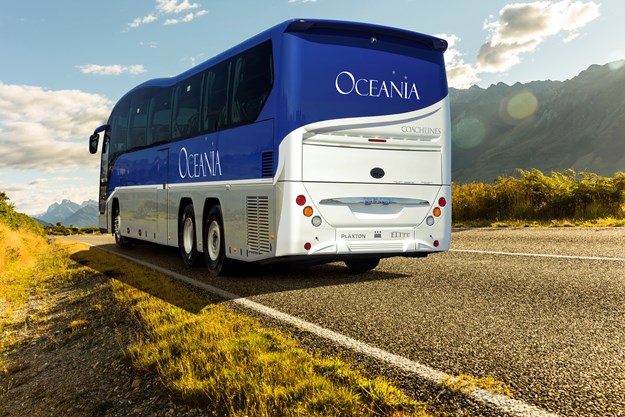 In terms of amenities, the Elite offers fresh-water flush washroom designs to either the centre or rear saloon, featuring modern styling, multiple options, and maximised space. In proper
airline style, the company says the user-friendly, bespoke servery options available help the crew offer first-class hospitality on the move, including a rear three-way servery. This incorporates sink, storage and electrical outlets to allow for different kitchen devices and an optional choice of appliances. If TV chef Gordon Ramsey's reading this – mate, you're [expletive]-ing covered.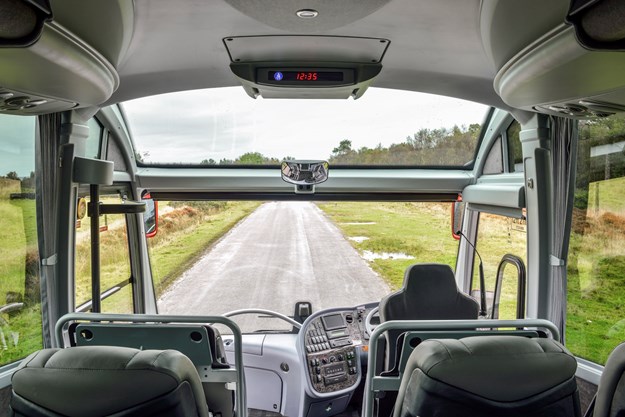 It's all comforting and cosmetically pleasing inside. And safe – the three-step entrance leads to non-slip floor covering throughout. Once past the stylish tubular and glass entrance with driver partitions, passengers are greeted by Microtrim fabric trim to the side casings, racks, roof panels and trim panel inserts.  Interior parcel racks with individual reading lights and vents, air-conditioning and driver's personal locker are there, too. The LED interior saloon lighting with nightlight facility, additional entrance area and stepwell lighting are most welcomed, so too the roof-mounted saloon climate control unit.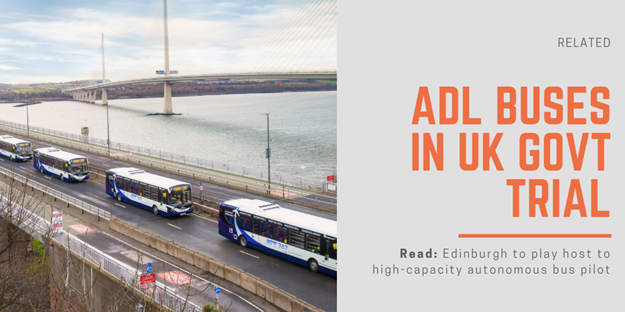 DRIVER HEAVEN
Moore says the Elite New Zealand was developed for driver satisfaction, offering exceptional visibility and safety.
"The distinctive panoramic front windscreen is heated with thermal and acoustic interlayer, provides exceptional visibility, and aids safer driving," he explained. "Electrically heated and adjustable mirrors, together with powered screen blind and heated driver's power-operated signalling window, are all standard features.
"The widest entrance in its class allows for easy passenger access and improved driver's view. In addition, the entrance provides maximum flexibility for a disabled access option," he added.
As for driver ergonomics there's a choice of fully adjustable air-suspension deluxe driver seats and a reclining seat in the spacious crew area, it says. An individual driver's air-conditioning control is fitted for year-round comfort, while ergonomically positioned controls, binnacle-mounted gear selector and an easy-to-read dash panel enables effortless operation, it's claimed.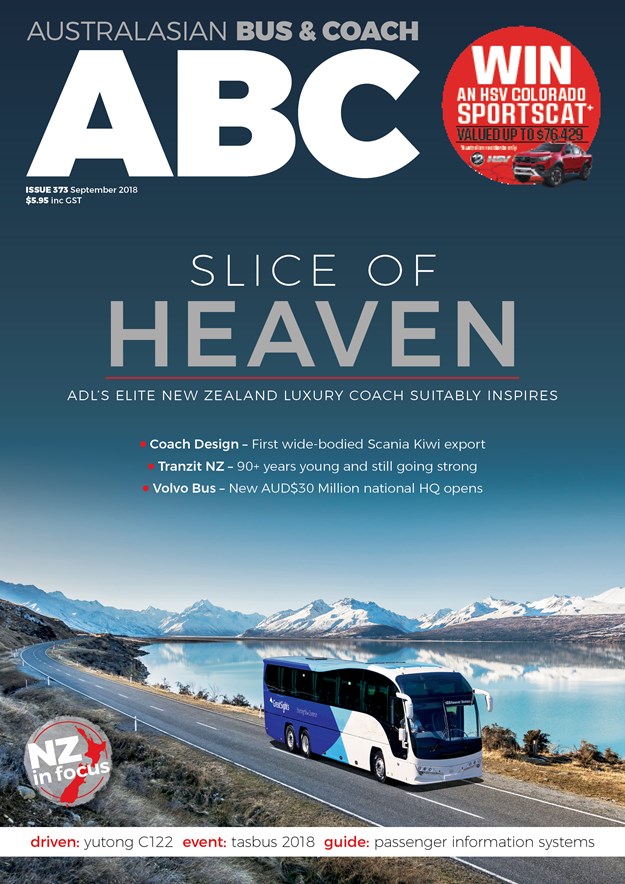 UNDER THE SKIN
So what about its skeleton? As for framing it's a jig-built, welded 1.4003 stainless-steel structure meeting the requirements of ECE R66 regulations governing rollover strength. All frame surfaces below the waist rail are treated with a primary anti-corrosion protection and the vehicle is undersealed in a two-stage process.
The exterior panels are single-piece, composite main side panels, bonded to the main structure. Aluminium-framed locker doors with single-piece aluminium skins are top edge hinged or parallel lift. There's GRP front and rear panels.
Outside, there's a power-operated, outward-opening plug entrance door with three-quarter depth, double-glazed window complemented by a powered plug-type secondary exit door. Green-tinted single-glazed and curved glass side windows look cool and there's a three-piece laminated front screen.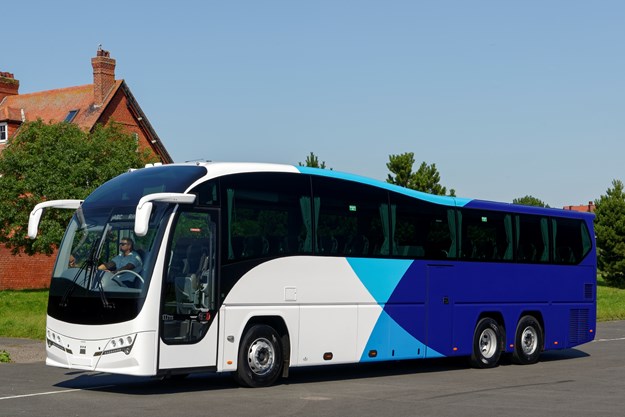 At the back it's a single-glazed rear window, or solid rear panel option. The driver signal is with electrically operated and heated drop-down section and there are two glazed roof lights.
As for lighting, it's halogen pinpoint headlamps, combined indicator and sidelight lenses – all mounted on easy access cradles. Add in single, side-mounted LED indicator repeater lights and LED skirt-level marker lights, LED markers to the front and rear roof domes, and front fog lights for good measure. Ultimately, though, there's a range of comprehensive optional extras to meet desired operator tastes and requirements, with cost effectiveness in mind, says ADL.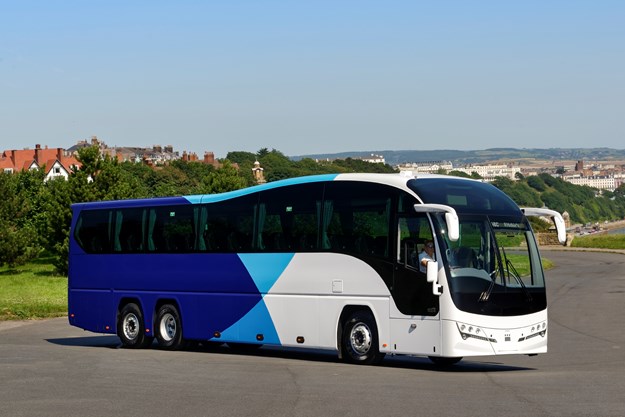 THE PACKAGE
A new Plaxton coach means you're also investing in the top-quality after-sales service, which has become a hallmark of Alexander Dennis, it states. Alexander Dennis is an established force in New Zealand and is geared up to supply best-in-class support for both parts and service; the local aftermarket team has an extensive range of parts in stock and are dedicated to maximising uptime and keeping cost of ownership to a minimum, the company adds.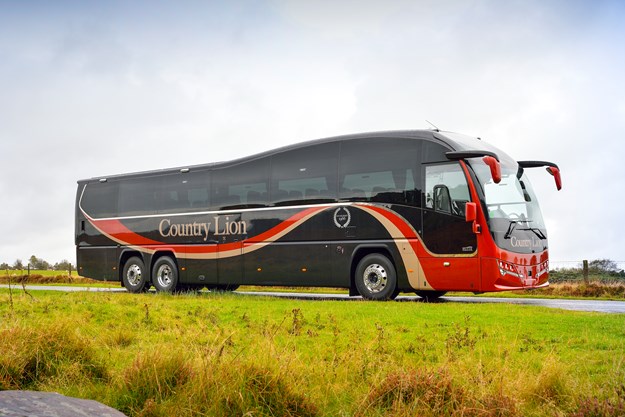 A BIG DEAL
Late last year, Ritchies Transport Holdings – New Zealand's largest coach operator more than 80 years old and with about 1,200 vehicles – ordered eight Elite (pictured above) executive touring coaches, with the 13.5m Elite coaches built on a Scania K440 chassis. As the company stated at the time, while the Elite is a well-respected and much loved coach in the UK, the vehicles delivered to New Zealand (left) are not simply carbon copies of the domestic offering, and been meticulously tailored to the customer's specific requirements.
Of the eight vehicles ordered, two specification variants exist – one with a near side centre exit door plus centre toilet and a second variant featuring a rear saloon floor-mounted toilet to facilitate passenger access and maximise luggage capacity. A brand new HVAC climate control system and single glazing conform to New Zealand's weight regulations. Interior trim options bespoke for Ritchies have been developed in leather and fabric materials.
"This level of flexibility and customisation, along with the Elite's styling, sophistication and cost competitiveness were strong factors in my decision to choose Elite coaches," stated Andrew Ritchie of Ritchies Transport Holdings. 
Tony Moore, GM for ADL NZ stated, "We have an established track record in bringing to market highly engineered buses and coaches which deliver outstanding reliability for a low whole-life cost.
"The Elite coaches … designed uniquely for this market are testament to this. This agility along with the significant investment we've made in our NZ-wide parts and service operation is what differentiates us from our competition."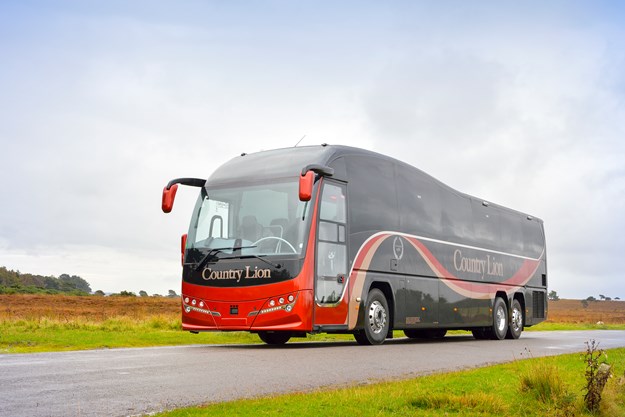 Specs
MAKE: ADL/Plaxton Elite
MODEL: New Zealand
LENGTH: 13.5m
CHASSIS: Scania K 440 EB6x2*4
ENGINE: DC13 05 Euro 5 six-cylinder
POWER: 324kW/440hp
TORQUE: 2,300Nm@1,100-1,350rpm
TRANSMISSION: Scania GRSO895R, 12-speed fully automated manual transmission with retarder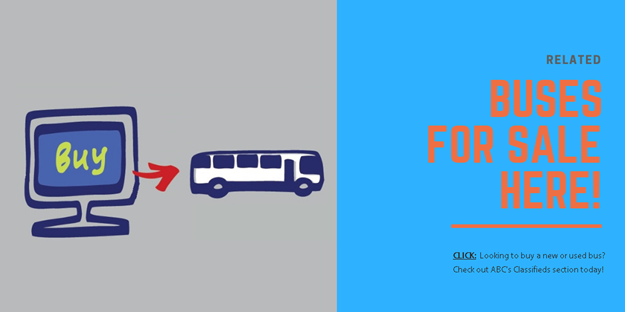 Subscribe to our newsletter
Sign up to receive the ABC e-newsletter, digital magazine and other offers we choose to share with you straight to your inbox
You can also follow our updates by liking us on Facebook.