ELECTRIC POTENTIAL – MERCEDES-BENZ eCITARO
---
AT THE IMPENDING 67th IAA Commercial Vehicles Show this September in Hannover, Germany, electric vehicles will be big news – and not just prototypes. Two in particular will stand out for different reasons. One will be the evolution of the best-selling low-floor city bus ever; the other will showcase a battery capacity that puts electric bus performance benchmarks on notice. Both are German. Let's take a look…
A lot has happened in five years, in terms of electric vehicle development. Why five years? Why not 10? Or 35, or even more?
Indeed, why not? Scientists have dabbled with experiments and advances in battery production and electricity maximisation since Benjamin Franklin first zapped himself via his kite during his famous thunderstorm experiment in 1752.
Yet arguably the magnitude of such advances only dawned on mainstream society throughout the years once it proffered a practical and tangible enhancement to the way we lived.
Lightbulbs being a doozy of an example, and many are just appreciating now the often largely unappreciated work of Nikola Tesla about 150 years after Benji-boy Franklin.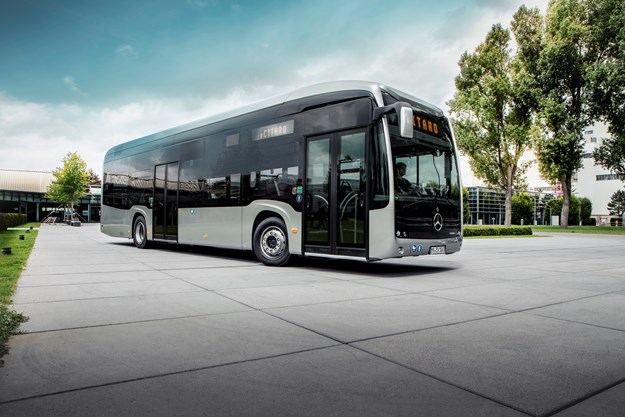 Global environmental concern for the planet and carbon emissions in the modern era has seen the majority of those who traditionally needn't care about how, why and where their electricity comes from every time they flick the switch in their bathrooms for the Urban Dictionary's 'three S's' each morning, to seemingly coveting any morsel of news about electricity advances being the panacea to a fossil-fuel-free future.
More than 190 nations signed the legally binding 1997 Kyoto Protocol to fight climate change and now, three years after it was agreed, since July 2018 195 United Nations Framework Convention of Climate Change (UNFCC) members have signed the Paris Agreement – and 179 have become a party to it. Add on two years prior to 2015 for some poor person to type up said agreement to get it ready – probably on a dot matrix typewriter to save electricity anyway – and there's your five years right there.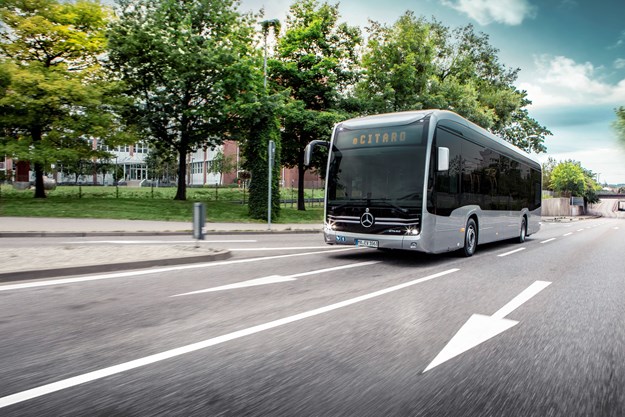 With the agreement's central aim to, "strengthen the global response to the threat of climate change by keeping a global temperature rise this century well below 2 degrees Celsius above pre-industrial levels and to pursue efforts to limit the temperature increase even further to 1.5 degrees Celsius," the clock is ticking. The year 2030 is a universal deadline for many countries and governments to gauge meaningful carbon-reduction achievement – or maybe not.
And with the latest Bloomberg New Energy Finance report expecting sales of electric cars to surge to 28 per cent worldwide, but most interestingly electric buses to rocket to a massive 84 per cent of their respective global markets by 2030, vehicles just like the new Mercedes-Benz eCitaro and MAN Lion's City electric could prove key.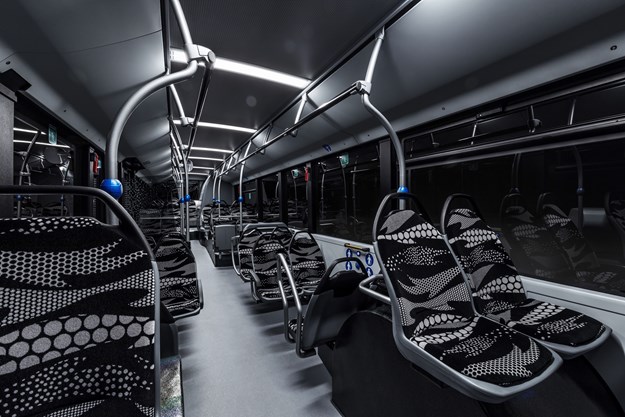 FROM LOW TO NO EMISSIONS
From what we've seen and heard thus far since a recent Daimler preview event, the new eCitaro has plenty going for it. Basically, it gets a tailor-made exclusive exterior; flexible charging technology – plug-in charging as standard, optional pantograph; new approaches for heating and climate control; and a practical range also under difficult conditions, according to Daimler.
"It emits zero local emissions and runs almost silently. It combines the thousandfold proven platform of the world's best-selling city bus with new technological solutions," the company states.
"The all-electric Mercedes-Benz eCitaro takes electric mobility using city buses to a new level altogether," and it, "offers an impressive and unprecedented standard in energy efficiency, courtesy of its innovative thermal management system that uses innovative components available for the first time with the launch of the eCitaro."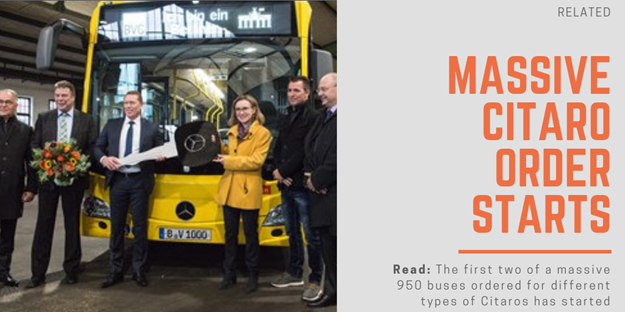 How this all translates in the real world European operators (mostly) will know soon enough, but on paper it sounds like an intriguing piece of kit.
"Its performance enables the eCitaro to cover a large part of the requirements of the transport operators right from the start. In addition, it is ready for the battery technology of the near future – the performance capabilities will increase quickly."
"Its design fuses the basic shape of the Citaro with elements of the Mercedes-Benz Future Bus into a distinct appearance. It is also more than just a city bus: Mercedes-Benz takes a holistic view of electric mobility, embedding the eCitaro firmly in its overall eMobility system. In addition, the eCitaro is the starting signal on the road to an electric future," the company states.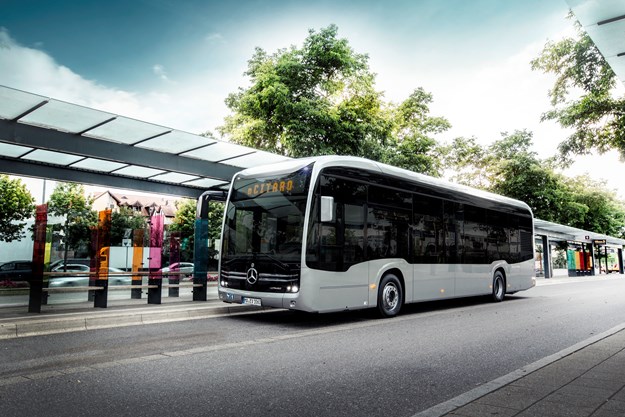 Daimler says the eCitaro will be an important element in any 'well-developed' local public transport infrastructure, with low-emission and locally emission-free buses.
Based on the concept of a regular Citaro – the world's best-selling city bus with more than 50,000 units sold – the eCitaro joins the large-capacity CapaCity bus, as well as the Citaro hybrid and the Citaro NGT in showcasing Daimler's "highly sophisticated level of development of powertrains", said to be "characterised by both their efficiency of operation and their low emissions".
"The all-electric eCitaro is now taking the next step from low-emission bus to locally emission-free bus."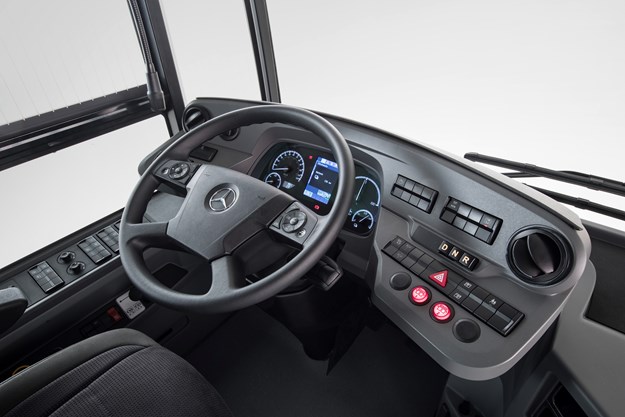 EXCLUSIVE EXTERIOR?
Fundamentally, the eCitaro marries exterior design elements of a normal modern Citaro with that of the stylistically boundary-pushing Future Bus Concept, its autonomous bus project. At the front, a 28cm Mercedes star highlights attractive lighting effects from different angles and in changing sunlight, with the star, the trim elements and the Mercedes-Benz badge embedded into the high-gloss black front panel, integrated with individual LED headlamps. The model logotype with a blue 'e' indicates the all-electric powertrain.
Its curved windscreen smoothly transitions into the roof with dark bars on the left and right. At its middle, the roof sports an 'island' in vehicle colour that forms the roof membrane. A multi-piece roof-edge ridge hides the roof-mounted equipment. Further 'optical tricks' lend the eCitaro "perfect proportions and make it seem light," the company states.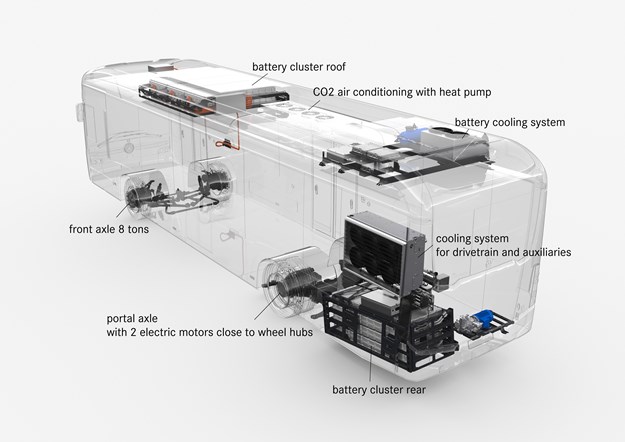 INSIDE STORY
In the passenger compartment, the eCitaro features a general update of the interior of the entire Citaro family. The 'coffered' design ceiling above the centre aisle and the sweeping roof-edge flaps hide a new air-circulation system with textile ducts in place of the current plastic air ducts. They are said to be even easier and simpler to install.
In addition to the closed look and the new interior lights, the advantage of the new ceiling is a significantly reduced number of individual parts.
Together with the new air-circulation system, this lowers the already low interior noise in the passenger compartment even further, which means more comfort, it's claimed.
Also new is the black trim on the sills and window posts. As a result, the output of the motors is 2x125kW, while torque is 2x485Nm.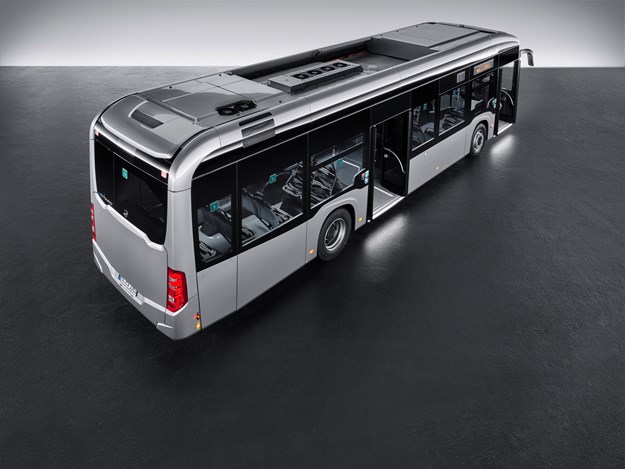 Lithium-ion batteries with a total capacity of up to about 243kWh provide the power. They are modular in design; the batteries are split between up to 10 modules, each supplying around 25kWh. As well as two battery modules on the vehicle roof, the standard equipment includes four modules in the rear of the bus. In the eCitaro these take the place of a combustion engine and transmission. Depending upon customer requirements, another two or four battery modules are mounted on the roof of the eCitaro, says Daimler.
Each battery module is made up of 15-cell modules, as well as "a control unit for monitoring purposes and as a means of balancing the charge of the battery cells". Each separate cell module houses 12 battery cells. Mercedes-Benz uses prismatic cells with a capacity of 37Ah each.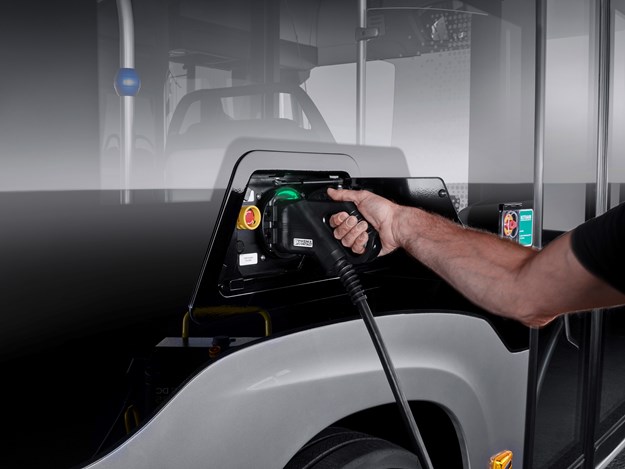 With a minimum of six and up to a maximum of 10 possible battery modules, transport operators can adapt their usage and charging strategy very precisely to individual needs, it's claimed. Opting for the largest number maximises the range of the buses, while a smaller number reduces the weight as well as the cost of purchase and allows more space for passengers – but potentially makes time-consuming opportunity charging necessary, the company explains.
With the maximum complement of 10 battery modules, the eCitaro in standard specification weighs around 13.44 tonnes. In conjunction with a gross vehicle weight rating of 19.5 tonnes, this corresponds to a payload of more than six tonnes or around 88 passengers – in line with what is needed in practice even during rush hour, it states.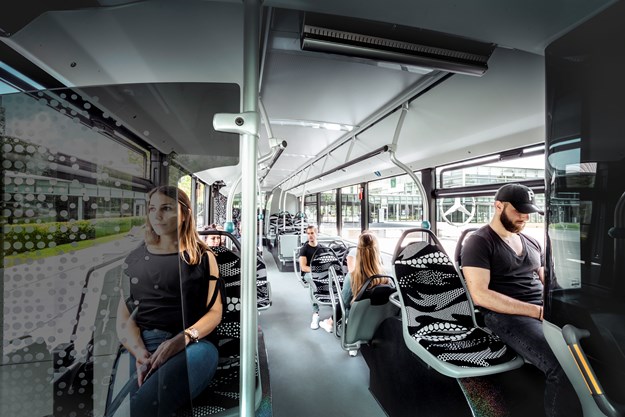 FLEXIBLE CHARGING
For the start of eCitaro series production, plug-in charging is intended. To this end, the city bus features a socket for a Combo-2 plug above the front wheel arch on the right-hand side of the vehicle in the direction of travel as per the provisions of the German Association of Public Transport Operators (VDV). This ensures the simplest, fastest and at the same time cheaper power supply variant, the company says.
If opportunity charging is required to extend the range, there will also be an option to charge the eCitaro via a pantograph in future. This option will be gradually phased in once series production has started.
There will be two possible variants: in phase 1, an integral pantograph on the roof; in phase 2, charging rails on the roof that will allow charging via a stationary pantograph of a charging station. In both cases, the installation space will be level with the front axle.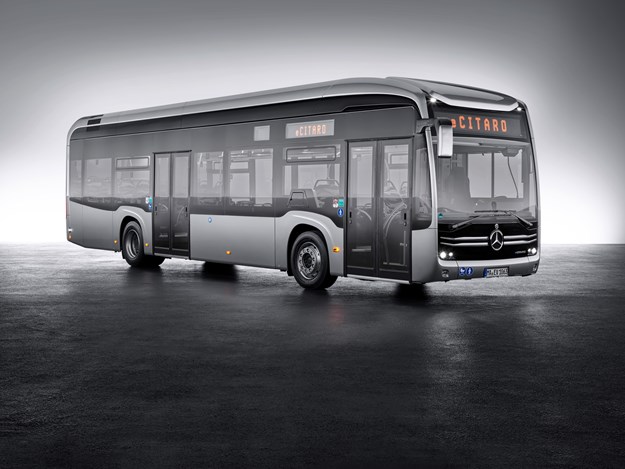 This intelligent modular concept of battery and charging technology means Mercedes-Benz is able to offer transport operators the opportunity to configure the eCitaro precisely to the individual requirements of the company or even of individual routes, it's stated.
In addition, the eCitaro is also able to generate electrical energy through an energy recovery process. In this case, those two electric motors at the wheel hubs of the drive axle act as alternators during braking, transforming the kinetic energy of the vehicle into electricity.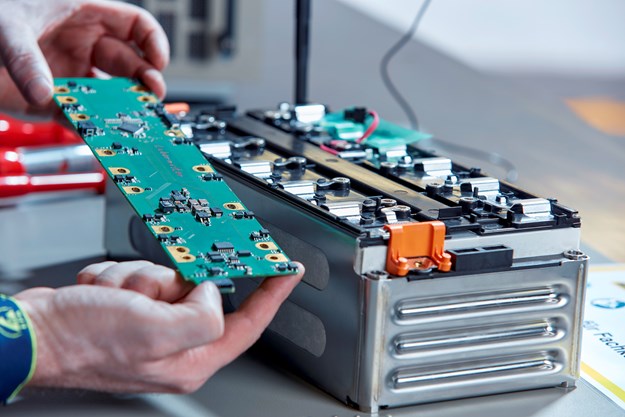 BATTERY HEAT
Batteries at their ideal temperature give maximum performance and service life, so thermal management is important.
Mercedes-Benz cools the batteries to ensure that they remain at the ideal temperature, thereby ensuring maximum charging capacity, performance capability, and service life, it's stated.
"This cooling is undertaken by a separate battery cooler mounted on the roof. At extreme outside temperatures, the standard passenger-compartment climate control system is used to boost the cooling of the batteries."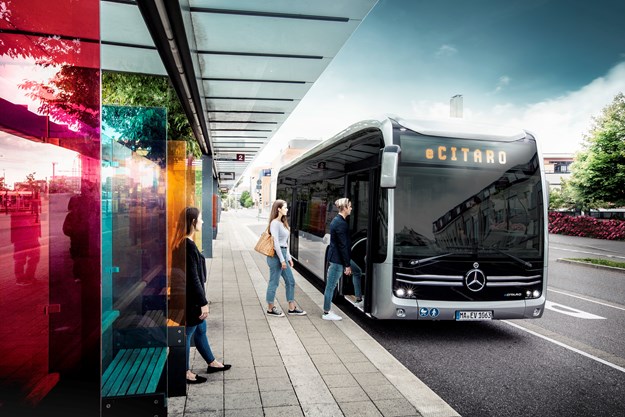 PRACTICAL RANGE
Operating range figures for all-electric-powered city buses are often difficult to compare and caution is advised, since reference values can be missing and the figures have often been calculated under ideal conditions, says Daimler Bus.
For the eCitaro, in the interests of reliable data, Mercedes-Benz prefers to consider a "worst-case scenario" and therefore takes its direction from the challenging standardised city driving cycle known as SORT2. To make things even trickier, Mercedes-Benz also adds the energy requirements of the ancillary consumers into the equation.
According to SORT2, the Citaro with a full complement of batteries achieves an operating range of around 150 kilometres in the [European] summer.
In other words, it is already possible to serve some sub-networks within the daily workload of a city bus without opportunity charging.
Without opportunity charging, the eCitaro already covers about one third of all requirements of the transport operators. That is, it can seamlessly replace one in three city buses powered by a combustion engine. Under ideal conditions, the eCitaro even drives around 250 kilometres without opportunity charging, it's claimed.
The eCitaro testing saw engineers also evaluate the compatibility of the bus with different charging systems. It ensures the eCitaro communicates in accordance with ISO 15118 standard, with the charging station communicating with the control unit of the eCitaro.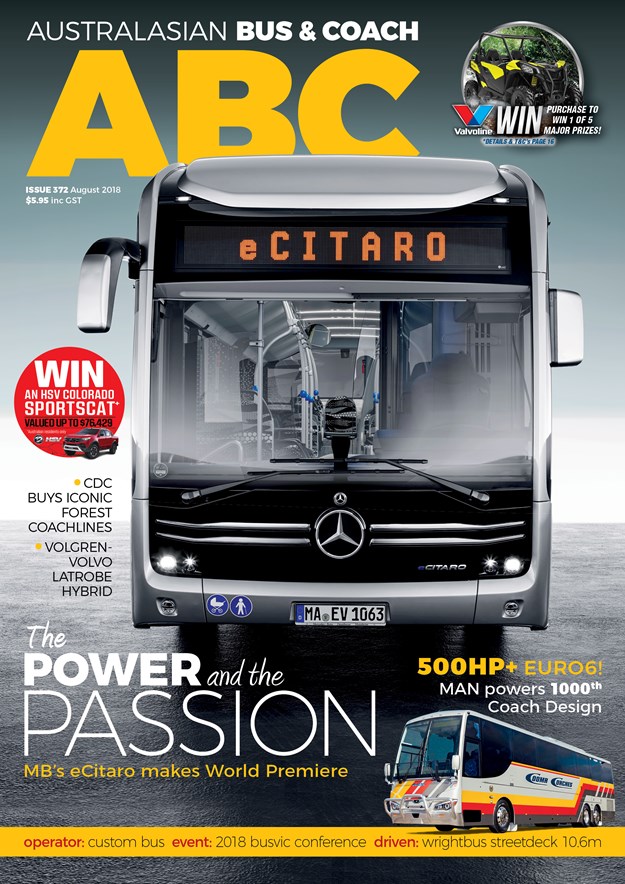 BATTER UP!
Rapid battery technology progression means the eCitaro is ready for such advancement. Lithium-ion batteries with lithium nickel manganese cobalt oxide cells (NMC) are currently in use, it's stated.
On the eCitaro, they have a balanced mix of energy density and simultaneous quick-charging capability. The 'next gen' of NMC batteries with larger capacity and increased range will be provided to customers of the eCitaro after reaching production readiness.
With 33kWh per battery module and a resulting total capacity of up to 330kWh, the eCitaro will then cover about 50 per cent of all applications, it's stated.
This greater battery capacity also makes a meaningful introduction of an eCitaro G articulated bus with a reasonable range possible. Future lithium-polymer batteries are options. These 'solid state' batteries feature an especially long service life and high energy density.
With a rated battery capacity of about 400kWh and more in the articulated bus, eCitaro will then meet about 70 per cent of all requirements without opportunity charging, it's stated.
Solid-state batteries are not interchangeable with NMC and not suitable for quick charging. As a result, eCitaro in future will be offered with a choice of either.
Subsequently, the eCitaro range will be increased yet again through a fuel cell that generates electricity. Designed to allow nearly 100 per cent of all requirements on city buses, this eliminates the need for opportunity charging and complex infrastructure required elsewhere.
Start of series eCitaro production is still planned by the end of 2018, with initial orders received, it's stated. First customer deliveries will also start before the year is out.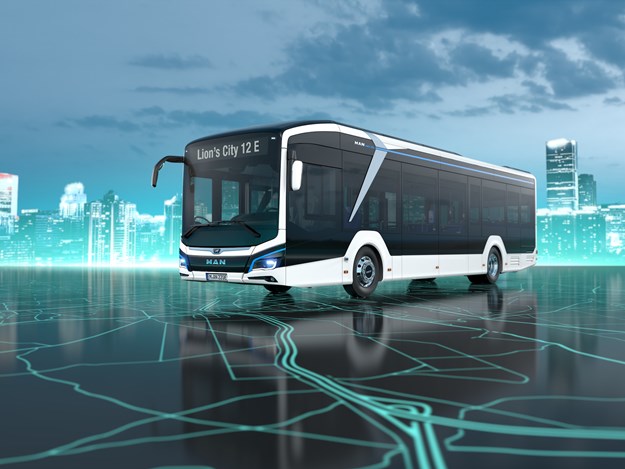 THAT'S NOT A KNIFE. NOW THAT'S A KNIFE!
Where most electric batteries range from 240kWh to 350kWh, MAN Truck and Bus's IAA 2018-debuting Lion's City electric will pack a whopping 480kWh, with 640kWh for the articulated version.
That is, MAN's fully electric Lion's City E will have the biggest (most powerful) battery on market, it's stated.
According to the company, the vehicles will have a central electric motor and depot charging capability – the latter for good reason. MAN conducted a survey that indicated a preference by operators for depot charging.
Yes, nearly 200 customers throughout Europe and several cities helped MAN conclude that, "for the sake of routine operations later in the day, flexible and uninterrupted service [without opportunity charging] is more important than an unlimited range. Especially since battery technology is developing at a rapid pace".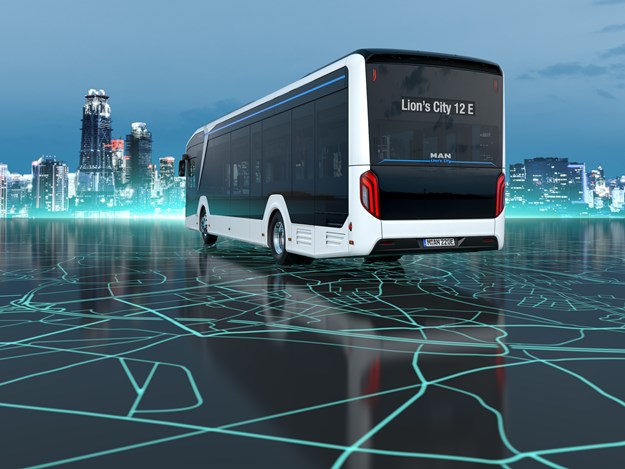 Thus, here on the Lion's City E the batteries are plugged into a CCS and charged at the depot, which can fully charge buses in less than three hours, articulated buses can be done in less than four hours, averaging 100kW charging power. This timeframe reduces when a maximum charging power of 150kW is supplied.
The fully electric driveline produces 160 to 270kW (non-artic), via modular batteries with massive 480kWh capacity (640kWh articulated). These batteries' sophisticated temperature management guarantees especially strong availability, regardless of the time of year, it's claimed. This way, the Lion's City eBus can reliably ensure their 200km range in realistic conditions and over their batteries' full life cycles.
The Lion's City E can have its batteries upgraded in time, and charging outside of peak hours will also enable operators to tap into smart charge management and benefit from lower electricity rates, further adding to the electric buses' cost effectiveness.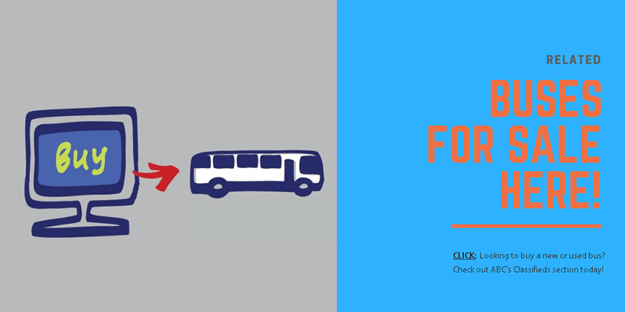 Subscribe to our newsletter
Sign up to receive the ABC e-newsletter, digital magazine and other offers we choose to share with you straight to your inbox
You can also follow our updates by liking us on Facebook.