A BEAUTY AND A BEAST – 500HP+ EURO 6C MAN 3-AXLE
---
WE MAY LIVE in a world of unavoidable compromise, but this blissful 1000th Coach Design-bodied, 500hp+ Euro 6c MAN chassis special for Cooma Coaches, NSW, does its best to try to buck that trend. And then some…
You should have seen the look on the fish-market shop assistant's face. He was incredulous. In front of him stood part owner of Cooma Coaches, Trevor Heise, who had just picked up his new set of wheels: an MAN (that's pronounced 'em-ay-en' - always) 500hp+ Euro 6c three-axle powerhouse under a very special body: the 1000th unit from premier Australian bus builder Coach Design (CD), parked conspicuously outside.
You see, it's a little bit of a tradition that when Mr Heise ventures through these parts around Ballina, NSW, he stops at a very particular fish market to buy a very particular selection of seafood. About $350 worth of fresh cooked Banana prawns. Not the biggest ones, mind you. The ones sized juuuust under those because, and as it would soon be revealed, they taste better for a range of reasons most of us probably would never really think about or appreciate when stuffing our faces while scoffing them down. But Trevor Heise has thought about how and why they taste so good that way – a lot – and that's just the way it's got to be, so uncompromisingly yet unpretentiously discerning is his taste in things.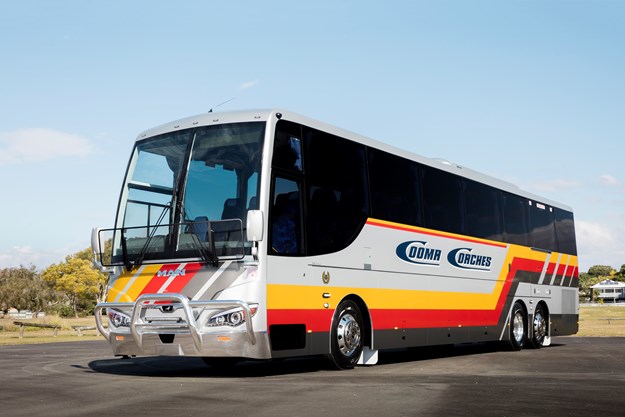 So with 20-odd kilos of golden-red Bananas on ice in a styrofoam box, ready for transport back on his new coach, Heise spontaneously picks up the mother-of-all-looking greyish-white King prawns in the tray beside it, stares it out for a bit … then plonks it right in the middle atop of the box full of reddish cooked prawns as some sort of trophy of the catch. This thing wouldn't look out of place in an old forest cabin mounted on a wall with dusty moose and bear heads, it was so big. Maybe.
"Hey, what are you doing?" the shop assistant laughed uneasily, masking his disbelief at Heise's chutzpah in picking it up and the fear this massive, massive prawn (worth god knows what on its own) might make its way out of the shop for free.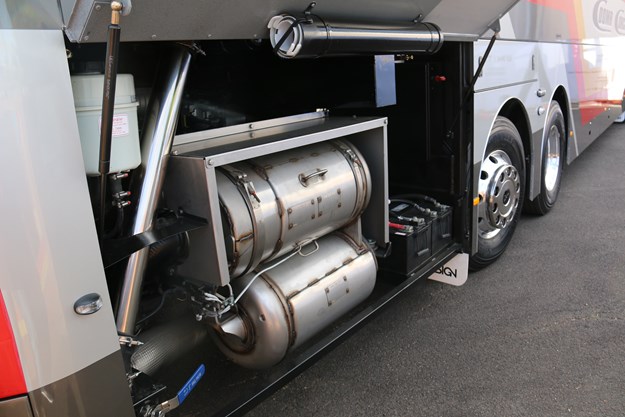 Not that Heise ever mentioned nor motioned that would ever be the case or was his intent.
What ensued was a nanosecond mental Mexican stand-off in slow-mo, as it were; a case of wait and see…
The sales chap picked up the big Kingie from the pile, patted its head and stroked it to buy some time, assumedly … then realised 'the customer is always right' - $350 later - and placed it back on top of the case full of prawns before bidding it a probably reluctant adieu.
"It will look good and be a bit of fun when I deliver it to my mates," said Heise cheekily, as we picked up the packed box and head back out to the new luxury coach, like successful tribal hunters after a big expedition.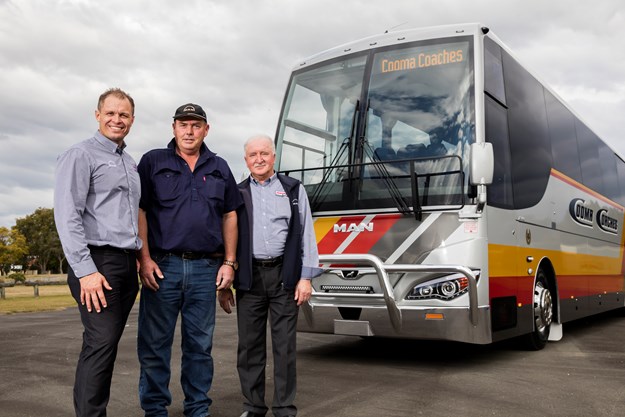 FOURTH GENERATION
It was in that moment one thing was apparent. Trevor Heise is a man who knows what he wants and isn't afraid to ask for it or get it.
And when it comes to his buses – as a fourth-generation family bus operator (his great-grandfather started in 1912) – it's a certain combination that usually does the trick for him, without doubt: MAN chassis; Coach Design body; Styleride seats. And everyone else … can go and get stuffed!
'Stuffed' is no bad thing, in this context, mind you. It's more 'I've made my choice. An educated choice. And I'm happy with that'.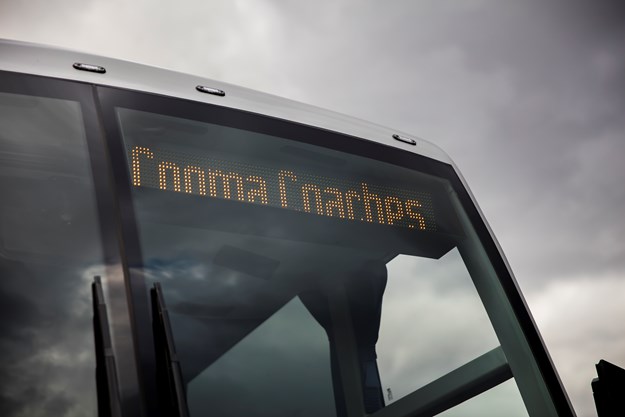 It follows on from a Euro 5, tri-axle MAN chassis two years earlier for Cooma Coaches, giving the company the only two three-axle MANs in Australia - both 14.5m units, 62-seaters, with adaptive cruise control and emergency braking (standard on MAN three-axle chassis) – but this latest one has wheelchair capacity and a fire-suppression unit (the latter a AUD$9K addition).
"If somebody pulls out in front of you, these things will stop [automatically]," he explained.
"It stops faster than you can move your foot off the accelerator to the brake pedal. It does it quick," he explained. "Hopefully we won't have to use it on the way back," he laughed.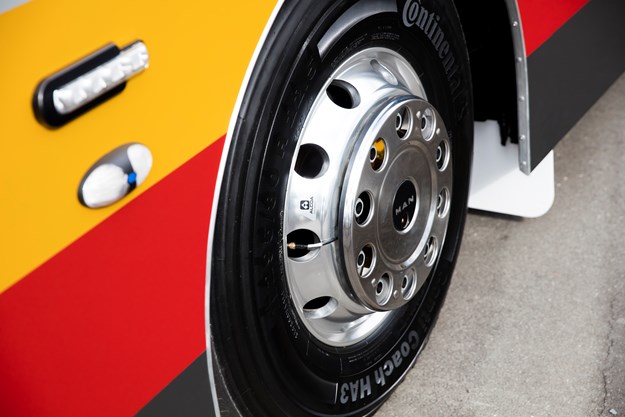 So, is he happy with how these are set up? "There hasn't been one problem with the Euro 5 we have. Not one problem. It's done about 120,000km in about two years," explained Heise.
"I love the MAN product and the people behind it in Australia – Johnny Dernaj is my man. Because of him, I have 20 MANs in my fleet and 28 vehicles in total.
"And I've been a Styleride buyer for 20-odd years now; I won't have any other brand," he added.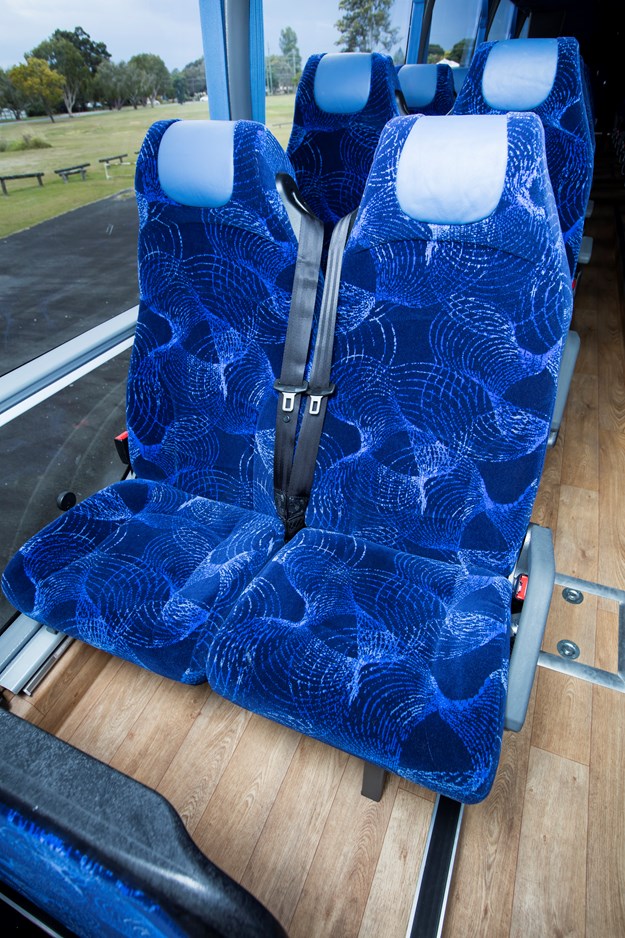 A VERY SPECIAL COACH
Its pedigree is unquestionable. Its significance no mean feat.
This most recent addition to Cooma Coaches' arsenal offers a range of characteristics and a certain skillset that many a coach operator would love to have on their fleet. And it's the numbers that get you.
This is Australia's most powerful coach to date ever! Butter it up any way you want to, but at in excess of 500hp this MAN Euro 6c three-(tag)axle coach is a monster.
Yet not in a brutish, vulgar, 'rip your hair out and scare your underpants off' kind of way, but more a confident, compliant and sophisticated delivery of mass torque and power at your disposal. And all done pretty quietly and smoothly, too. Perfect for coach travel.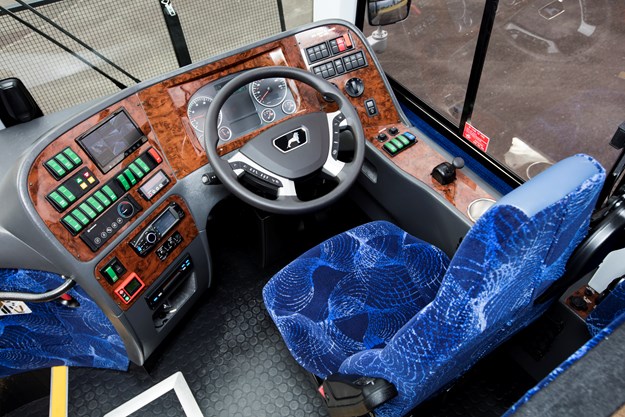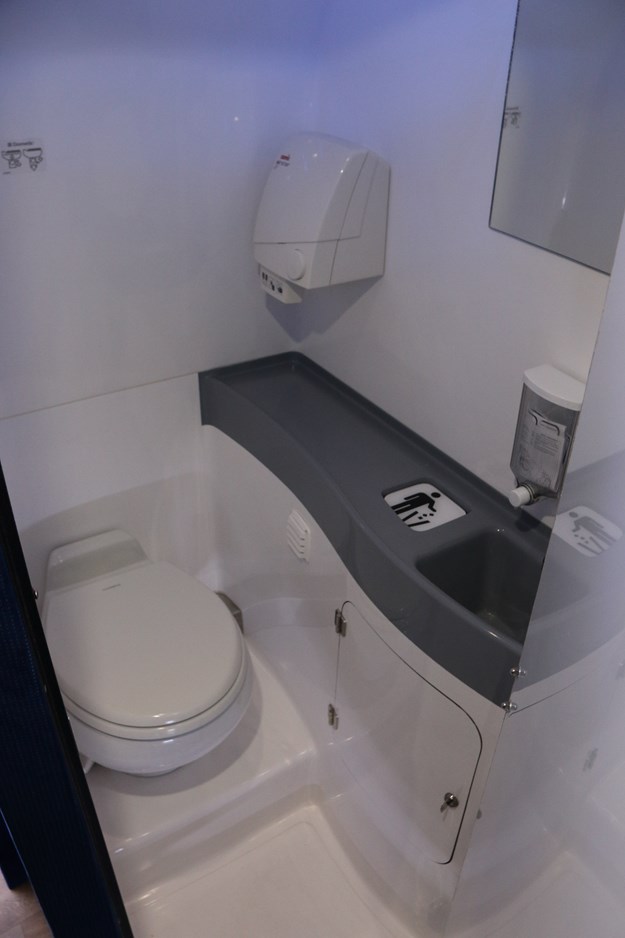 At a recent private function in Acacia Ridge, Queensland, Australian body builder Coach Design and MAN/Penske Commercial Vehicles officially handed over this 1,000th CD Alpine-bodied vehicle to new owner Cooma Coaches, with the celebration unit featuring the nation's first 500hp Euro 6c chassis.
Clint Stoermer, national sales and service manager – MAN Bus, Penske Commercial Vehicles said: "This is MAN's latest and most powerful Euro 6c, three-axle coach chassis to arrive into the Australian market!"
"The RR4 CO26.500 coach chassis is equipped with … 12.4-litre D26 in-line, six-cylinder engine, producing a huge 500hp@1,800rpm and 2,500Nm … from as low down as 930rpm. Combined with a 12-speed Tipmatic transmission and MAN hypoid axle, the drive provides more than enough power reserves to flatten any mountain!" he added.to see a clear cost benefit when operating an MAN.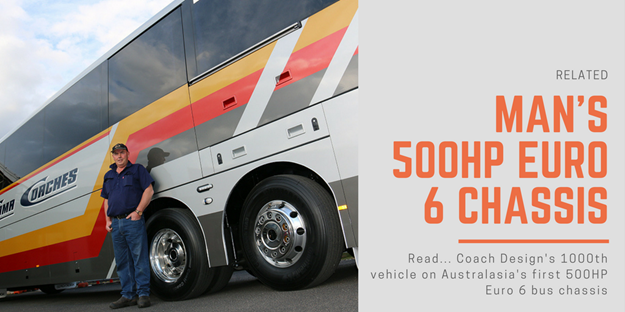 "Safety is also a key factor in high-speed touring coaches. In this respect the MAN RR4 is unequalled.
"Not only is it equipped with EBS and ESP, which includes roll-over protection (ROP), additional driver assistance features commonly found in high-end passenger cars, such as adaptive cruise control, tyre-pressure monitoring, lane guard, and emergency brake assist, are all offered as standard."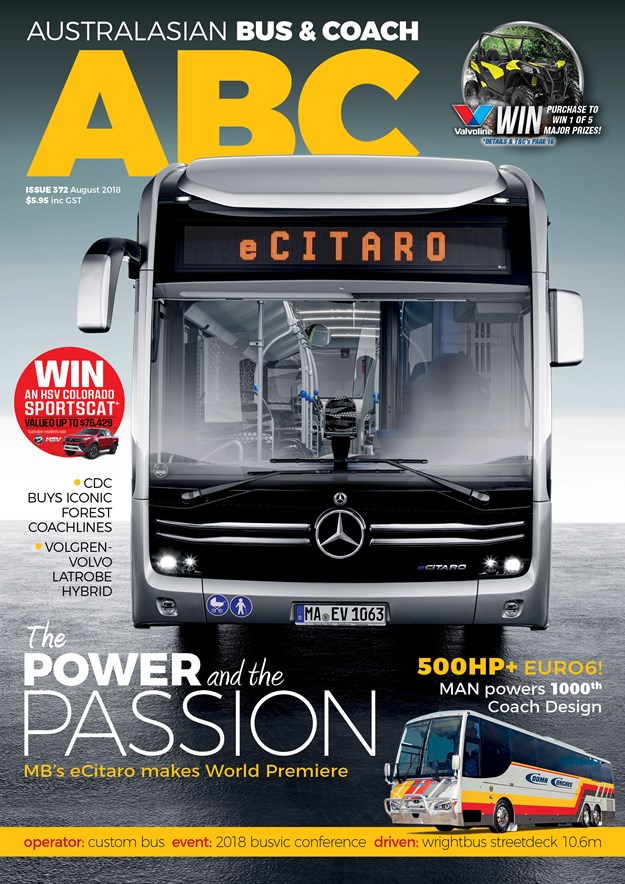 A GREAT-LOOKING SORT
"Today is a great reflection of a lifetime of hard work. And it's great to be part of a fantastic industry with fantastic people," said Chryss Jamieson, CEO of Coach Design.
The Coach Design quadruple-figure milestone came after its first delivery in 1992.
Cooma Coaches' Heise and Chris Fogg took delivery of the special coach, which then would make its way south on a 13-hour journey from Queensland to Cooma, NSW – which ABC magazine was privileged to be a part of, up to Coffs Harbour, NSW.
Daubed in Cooma Coaches livery (a design since 1990), the base colour [is] in light grey and there are three distinct strips down each side: yellow, red and dark grey – all clear over base.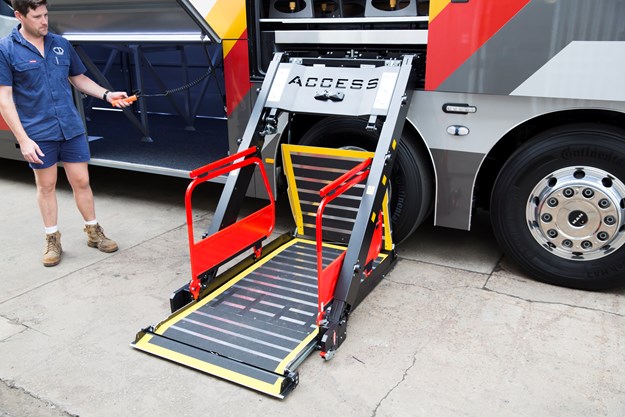 "The finished coach looks fantastic," said Ashley Jamieson, a part of Coach Design's management team, confirming there'd been a lot of excitement around at the company during the build-up for this 1000th bus – its latest Alpine body design.
"Job 1,000 is our 10th vehicle for Cooma Coaches. With Trevor's proximity to the snow the roads that the vehicles use are often salted, so we go to a lot of preventive measures to stop corrosion and rust. Things like stainless steel luggage bins.
"We also fit special vents on the inside to defuse the air for the climate control to stop fogging," he explained.
And to commemorate the bus, a jeweller was commissioned to make a special plaque now fitted to the vehicle.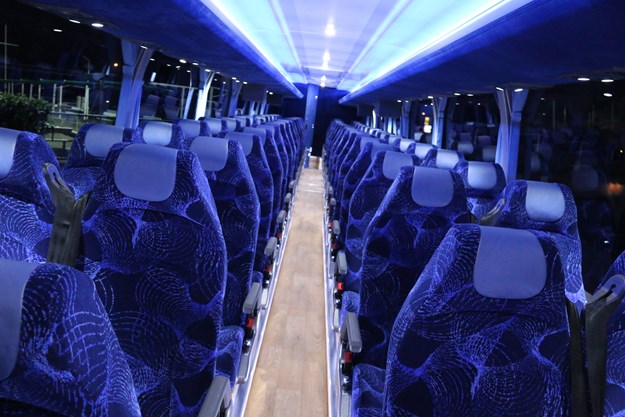 "Our first vehicle was delivered in 1992. A lot of our staff have been working here for many years. We even have a couple of guys that started when our build number was in two digits, so for them and everyone else, too, there is a big sense of accomplishment," he explained.
"One thousand vehicles is a good time to reflect on our achievements, but it is also a good chance to look into the future and think about how we can keep putting out quality vehicles with competitive prices."
COACH DESIGN
Coach Design founder Chryss Jamieson was an apprentice coach builder in 1970 after leaving school at the age of 16.
After serving six years learning the trade with Brisbane City Council, he moved on to a position with a prominent Brisbane coach builder specialising in luxury five-star coaches. Having gained a huge amount of experience in luxury coach building, in 1986 the "timing was in place to follow his dreams of creating his own coach building business," it's stated, with his business partner, Desiree Jamieson.
According to the company, it survived initially doing bus and coach repairs, spray painting and turning old coaches into mobile homes. As the demand for new bus and coaches increased in the early 1990s, Coach Design took new and innovative designs to market to take out 1992 Coach of the Show award at the prestigious Sydney Bus & Coach Show.
Increased demand would see the company produce its first 4x4 off-road safari tour bus, it's reported. Further success in future years saw Coach Design win Coach of the Show awards at the Sydney Bus & Coach Shows five times in a row, the company states.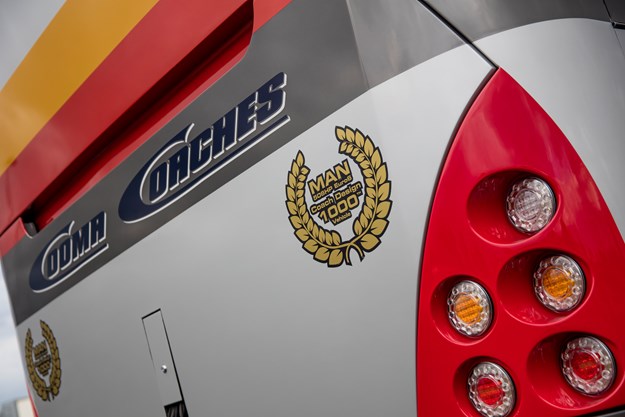 MAN/PENSKE
MAN Truck & Bus, with headquarters in Munich, Germany, is one of the leading international suppliers of commercial vehicles and transport solutions in Europe, with production plants in three European countries as well as in Russia, South Africa, India and Turkey.
As well as new and used trucks, coaches, rural and municipal buses and all you need in terms of service, support and funding, MAN Germany also operates its own trucks and buses and manages vehicle fleets.
In Australasia, the Penske brand is proudly represented in through leading on- and off-highway business concerns including Penske Commercial Vehicles, Penske Power Systems and Penske Truck Rental.
It distributes commercial vehicles from Western Star Trucks, MAN Truck & Bus and Dennis Eagle, as well as diesel and gas engines, and power systems from Detroit, MTU and Allison Transmission, with related parts and service interests.
All of these local brands form a part of Penske Transportation Group International, the local holding company for Penske Automotive Group, which is a Fortune 500 company, operating automotive and commercial vehicle dealerships across the United States and Western Europe.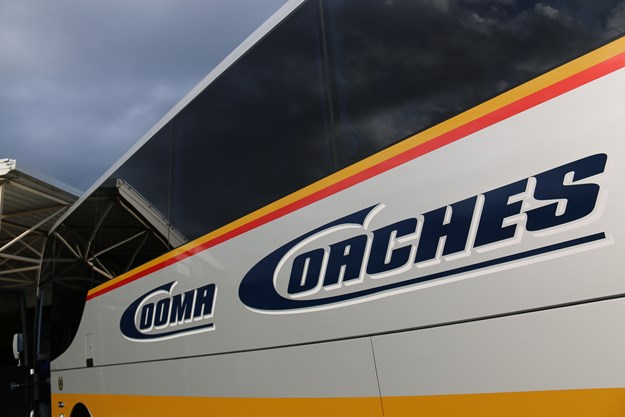 COOMA COACHES
Heise employs one full-time mechanic and has a full onsite workshop, with most repairs and maintenance done in-house in the Cooma depot, which is about 100 kilometres south of Canberra.
"I have a few Scanias and Rosas as well," he said.
Heise employs about 30 staff, including casuals at the moment. The bulk of the work he does is school runs, of which he has 17. He also does plenty of charter work.
"I'm a fourth-generation bus operator. My great grandfather was a bus operator, as well as my grandmother and my father, Arthur Heise. My mother, Merle, was also a big part of the business originally.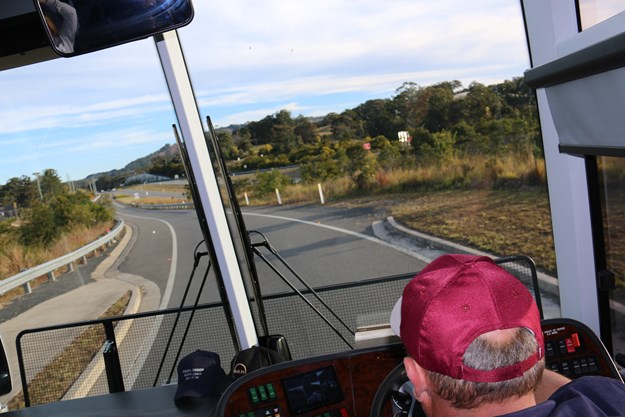 "My parents worked at Picton Coaches until 1978. My mother and father bought Cooma Coaches and moved away from the business at Picton in New South Wales."
"I recall in 1978 my father bought four school buses and then in 1980 he bought two coaches that were part of Rub and Beryl Armitage of Cooma Coaches' fleet. He bought the school buses first because we were mostly doing school work at the time.
"In 1984 I arrived in the business. The coaches were owned by my mother and father at that time. My father passed away in 1993 so I took over when I was 28."
Prior to that, Heise was driving, cleaning buses and learning the ropes of the business.
Specs
OPERATOR: Cooma Coaches
MAKE: MAN/Coach Design
MODEL: RR4 CO26.500
ENGINE: 12.4-litre Euro 6c D26 in-line, six-cylinder
POWER: 500hp/373kW@1,800rpm; 2,500Nm
TRANSMISSION: 12-speed Tipmatic
Subscribe to our newsletter
Sign up to receive the ABC e-newsletter, digital magazine and other offers we choose to share with you straight to your inbox
You can also follow our updates by liking us on Facebook.