COME AS YOU ARE – MCI D45 CRT LE
---
The strength of any public transport system or mode is its ability to move all passengers en masse 'quickly', 'safely' and 'conveniently'. The landmark, award-winning North American MCI D45 CRT LE high-floor coach breaks all the design rules to achieve all of the above – plus crucially one more … 'equitably'.
Did you know Canada invented the first wheelchair-accessible bus in 1947? Did you also know Canada invented – aside from peanut butter, garbage bags, the egg carton and the paint roller ­- the first motorised wheelchair in 1952? If you did then there's no need to thank ABC magazine when you win your local pub or church trivia night because those questions had popped up. Yet if you didn't then, you know … feel free to share your winnings with us – or at least grab us a cheeky drink at the bar later.
Based in Canada but now a US subsidiary of New Flyer Industries Inc. (NFI Group) – the largest transit bus and motor coach manufacturer and parts distributor in North America – Motor Coach Industries (MCI) has perhaps truly honoured wheelchair-using commuters worldwide – or at least on its own continent for now – by designing a luxury high-floor coach that has a unique vestibule area for customers to comfortably travel in.
It truly revolutionises the ability for wheelchair users to greater imbue themselves with a sense of equality and freedom as passengers, as they can quickly and conveniently access and alight from the coach all on their own.
In that capacity, the MCI D45 CRT LE arguably offers them, as commuters, a sense of public transport 'equity' the world has never seen – well in terms of global bus product at least. And while world bus-design markets are at times totally different and moulded and restricted by a raft of seemingly wildly idiosyncratic localised laws and regulations, such ingenious use of space and the thinking behind why it needed to be achieved is eminently worthy of celebration regardless of where you are on the planet.
So here it is ... in ABC magazine ... for all the world to see…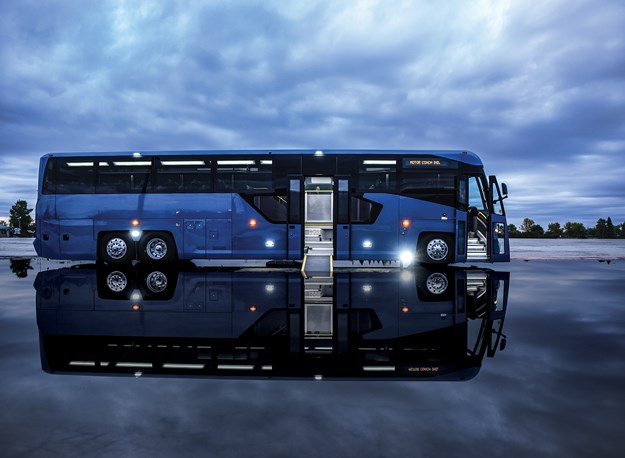 A BREAKTHOUGH
"We consider the MCI D45 CRT LE a landmark vehicle on three fronts," explained MCI president Ian Smart.
"First, the model launches a boldly progressive modern design along with the amenities and comfort necessary to getting commuters to switch from commuting by car. It's important that this is a coach where people want to try commuter travel. Second, we are looking ahead to a more diverse society where different groups of citizens will face a range of mobility issues, and we believe the MCI D45 CRT LE is part of the solution.
"We listened to what our customers wanted and created a coach like no other with a low entry vestibule that vastly improves dwell times, and the overall passenger experience.
"Finally, we're very proud to be rolling out a 100 per cent electric version [be released in 2020] because it becomes the most accessible and environmentally friendly vehicle we've ever created," Smart said.
While MCI's current commuter coach model will continue to feature wheelchair lifts, the new D45 CRT LE is designed with an automated (or manual use) curb-level ramp and a second door that opens directly into a same-level patent-pending low-floor entry (LE) vestibule area with passenger seating. Additionally, the forward-door entry opens to an ergonomically-designed spiral entryway that's well lit and features supportive grab rails, the company states. This combined ease-of-entry technology is expected to cut the considerable dwell time of traditional lifts, it explains.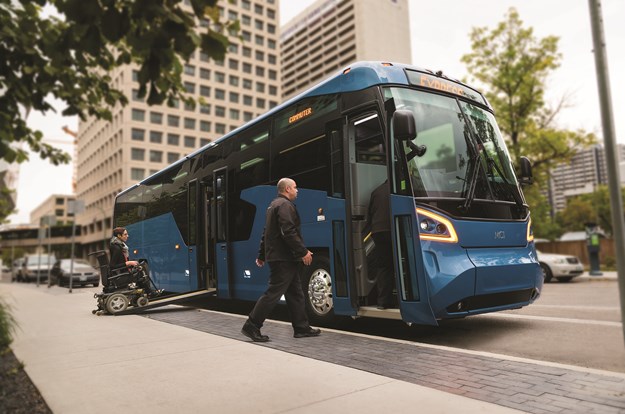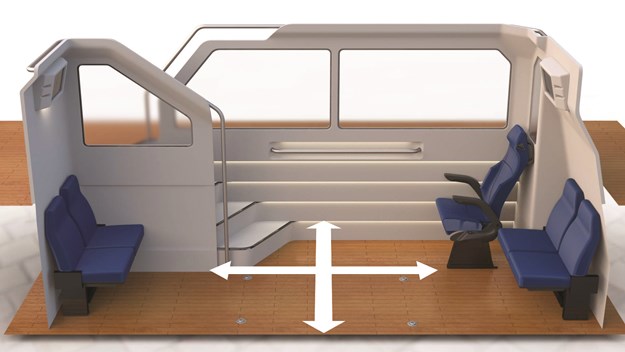 FUTURE THINKING
At the vehicle's launch during at APTA EXPO 2017, MCI explained that as commuters cover greater distances without the need – or desire – for automobiles, and communities look to build cost-effective transportation systems, it was unveiling its new commuter coach model to equip the future with comfort, environmental efficiency and maximum accessibility for an increasingly diverse commuting population.
MCI says it created the new MCI D45 CRT LE to enhance the experience of Commuter Rapid Transit (CRT) and Bus Rapid Transit (BRT) systems for a range of commuters with the goal of improving accessibility.
MCI, whose commuter coach model is already North America's most popular and a prominent staple in fleets serving commuter routes, chose the APTA EXPO 2017 in Atlanta, Georgia, USA, to unveil the all-new, next-generation model, as communities America-wide consider CRT an effective way to respond to commuter tastes and investment objectives in expanding transportation systems, it says.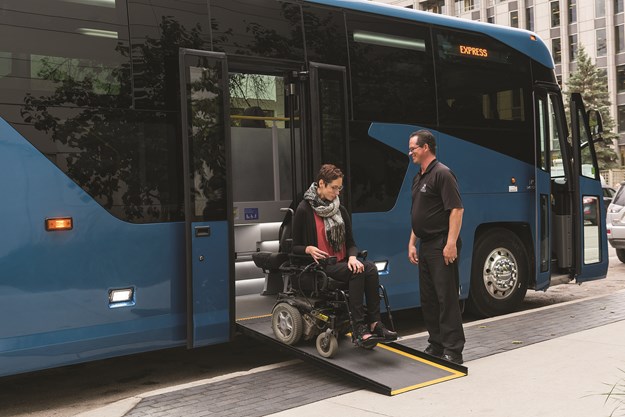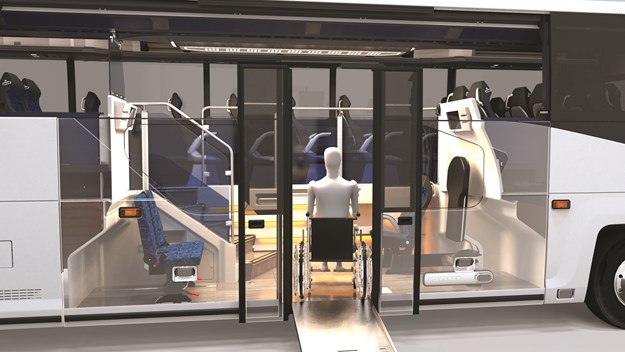 BY DESIGN
The design process for D45 CRT LE involved rigorous analysis and review. MCI engaged a range of engineering, design and accessibility experts – including Designworks, a BMW group company – MCI's long-time consultants on model design, and volunteer members from the National Council on Independent Living (NCIL) and the American Association for People with Disabilities (AAPD). After evaluating 32 alternative concepts, MCI created a functional model and engaged user groups to validate its design, it explains.
According to Brent Maitland, MCI's vice president of Marketing and Product Planning: "We immersed ourselves in the user experience when designing this coach, seeking the input of a broad range of passengers, including users of mobility devices. Their participation guided our low-floor entry and vestibule design, and our engineers worked closely with Designworks on the overall styling for it to be an alluring, progressive vehicle in the fleets that operate rapid commuter transit.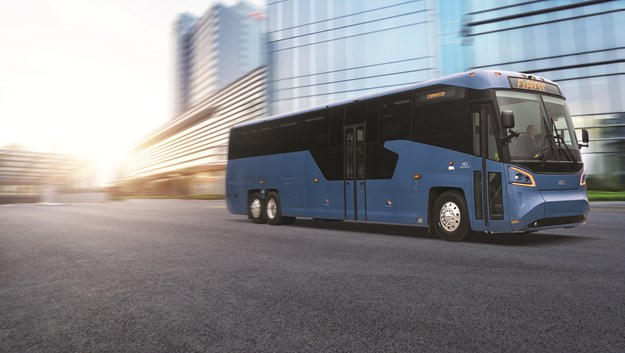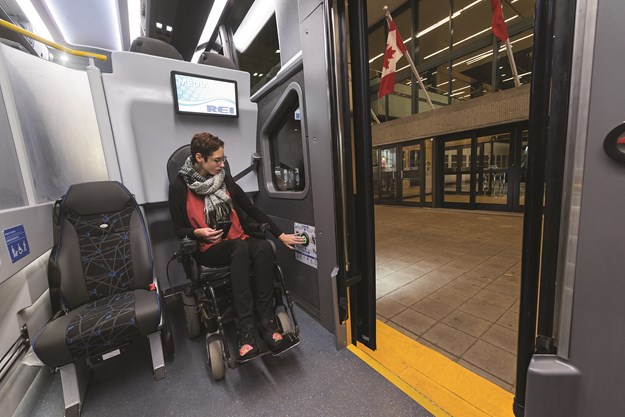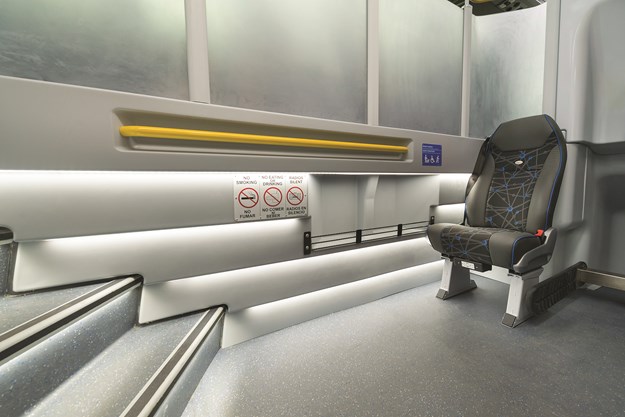 "Designed for the highway, it is a versatile, comfortable, transportation solution for regional communities looking to provide the best solution for all their transit users, now and in the future."
The CRT LE low-level-entry vestibule, accessible by a second door at the midpoint of the coach, includes seating for five passengers, allowing for up to two secured mobility devices and an attendant. The model offers a high-capacity 54-passenger seating configuration overall, with seating for 52 when there are two passengers using a mobility device. 
"We focused on accessibility, riding and exit experience from the passenger perspective, mapping the journey from waiting to board, entering the coach, securing and exiting," said Maitland.
"It's some of the most comprehensive user testing we've ever done. We are grateful to our participants for their time, feedback, evaluation and design acceptance.
"It's been a remarkable experience from the beginning. We learned what features people using wheelchairs or other mobility devices were looking for, plus how our design could help reduce the stress often associated in a daily commute, in addition to full comfort and convenience factors everyone wants on commuter express.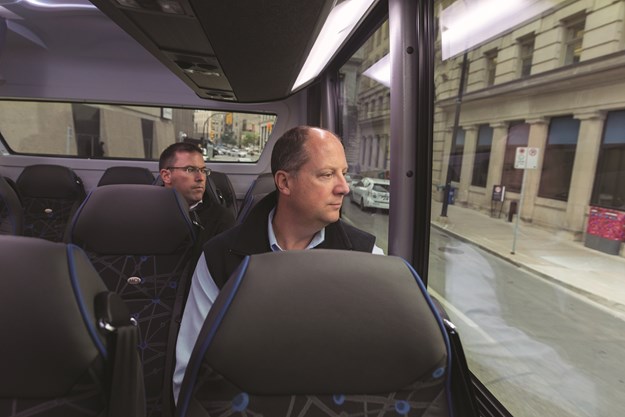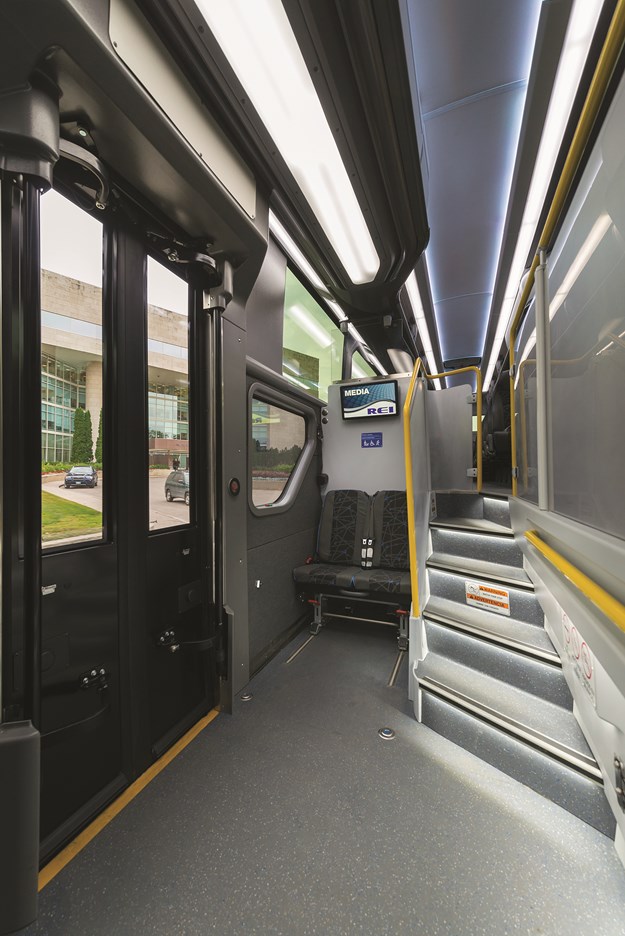 "With passenger tests going on now on both coasts, passenger feedback has been outstanding," said Maitland, adding that passengers of a
West Coast transit agency conducting in-service user testing recently gave the D45 CRT LE a 93 per cent approval rating, and this positive feedback has been consistent with other in-service demonstrations that have followed.
According to Tim Fuchs, NCIL operations director, "We're featuring the D45 CRT LE at our annual conference on Independent Living because we support this vehicle and the options it gives people with disabilities accessing OTR (Over the Road) and commuter buses," he said.
"We know how closely MCI considered NCIL's feedback and all regulatory requirements when designing this vehicle, and we appreciated the new ideas that came out of the process," said Fuchs.
"There's still much more to be done in regard to fully accessible mass transit, but we appreciate that MCI involved us from the beginning and then listened."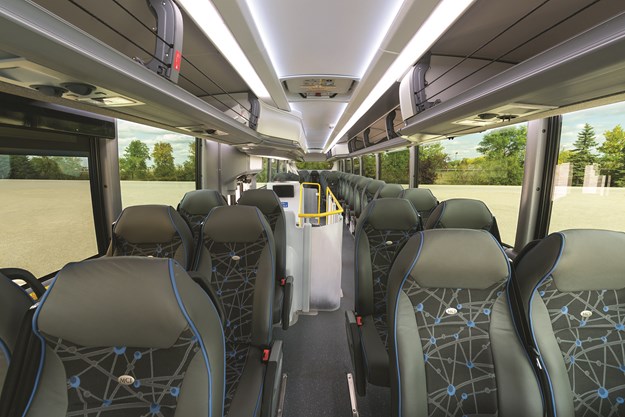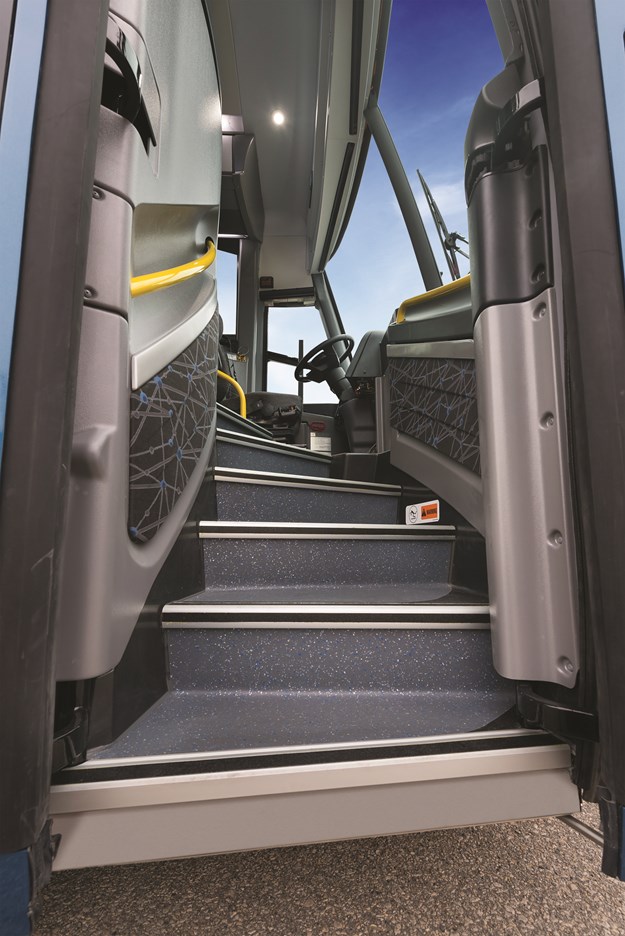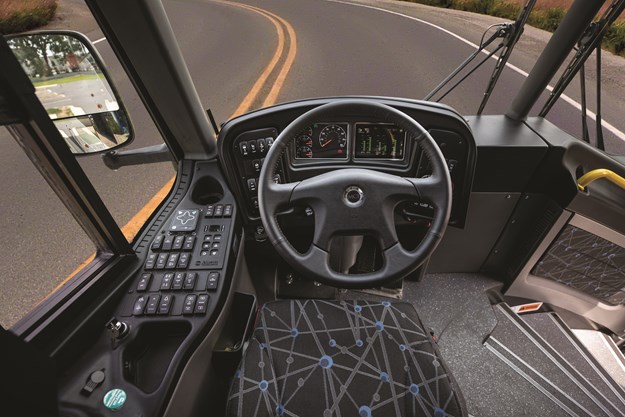 GRAND DESIGN
In September this year, MCI won a Grand Award in APTA's (American Public Transportation Association) 2018 AdWheel award competition, in Nashville, USA.
The coach's unveiling snared top honours in the category 'Best Marketing and Communications to Increase Sales Special Event'. The event included a video screening and a public countdown with a blue-curtain reveal showcasing the coach's innovative vestibule design.
The AdWheel awards recognise APTA member public transportation systems and business members for outstanding marketing and communications efforts that contribute to strategic organisational goals. Judges reviewed 300 entries this year before narrowing the field to 55 First Place winners and eight Grand Award winners.
The D45 CRT LE is the newest entry in MCI's D-Series – the all-time industry best-selling coach line-up, it says – and the company's first model redesign in more than two decades, and was a four-year undertaking.
Patrick Scully, MCI executive vice president of Sales and Marketing, said: "We are honoured to receive a Grand Award and thank APTA and industry judges and the MCI team that made it happen. The line to see our next-generation D45 CRT LE didn't stop until EXPO ended. We're passionate about accessibility and this new model's ability to reduce dwell time. It is gratifying to experience our industry's support, interest and approval of a revolutionary model created for a new demographic of ridership working with more mobility issues and traveling longer distances for jobs and leisure opportunities."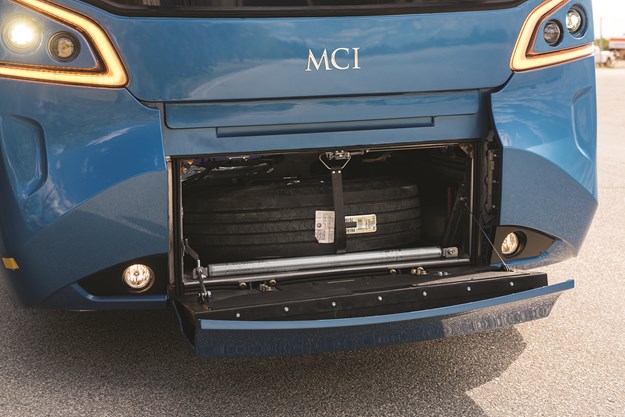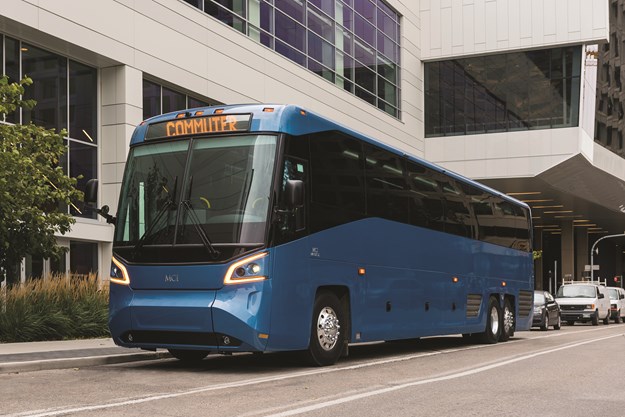 FIRST ORDER
After its debut, MCI offered several D45 CRT LE demos for passenger testing for major transit systems and private operators, earning high passenger approval ratings, it states.
Performance tests have been equally impressive with the coach passing the industry standard 10-month Altoona test for reliability over a 12-year, 5000-mile service life, MCI says.
Alberta, Canada's Bow Valley Regional Transit Services Commission has already placed the first order for the MCI D45 CRT LE, followed by an order for SouthWest Transit, Eden Prairie, Minnesota, USA, with 83 North American deliveries scheduled so far in 2019.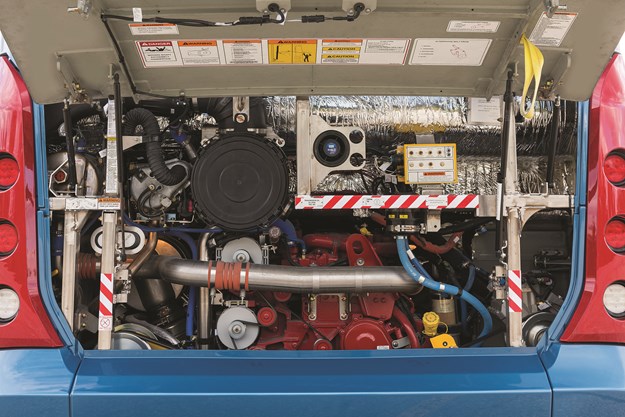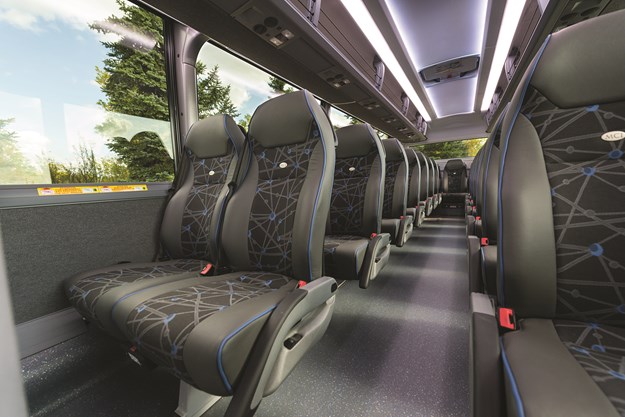 ABOUT MCI
While MCI has its roots in the tour and charter business, MCI history suggests that the first transit use of its coaches goes back to 1965 and Gray Coach in Canada, which was eventually absorbed by Ontario's GO Transit agency.
At about the same time in the US, Chautauqua Transit purchased an MC-5A, and 10 MC-7s were delivered to Vermont Transit in 1969. Other transit systems soon followed.
By 1991, many more US regional transit authorities were created and many of those were expanding to connect suburban communities, office parks and park-and-ride operations, and the energy crisis forced commuters to rethink their automobile usage, all contributing to the growth of MCI Commuter Coach.
Accessibility has also been a factor in MCI's transit history – as early as 1984 MCI became the first manufacturer to introduce a wheelchair-lift model, at least six years before the Americans With Disabilities Act went into effect.
Here's how MCI leads in public transportation today:
-    Ten of the 25 largest North American transit agencies already feature the MCI Commuter Coach model on Commuter Rapid Transit routes.
-    MCI's sister company New Flyer, under the NFI Group, developed and tested the very first low-floor transit bus to the North American marketplace in 1988, marking over 8,000 deliveries to agencies to date. Today, 85 per cent of all buses in North America use this technology.
-    Only MCI builds North America's Buy-America-compliant, Altoona-tested, fully accessible Commuter Coach in clean-diesel, CNG and electric options.
Patrick Scully, MCI executive vice president of sales and marketing, added: "We've made history in this business while becoming an important partner to public transportation agencies large and small throughout North America. We are very proud of the CRT LE and expect it to be one of our most evolutionary vehicles as we serve a changing commuter public."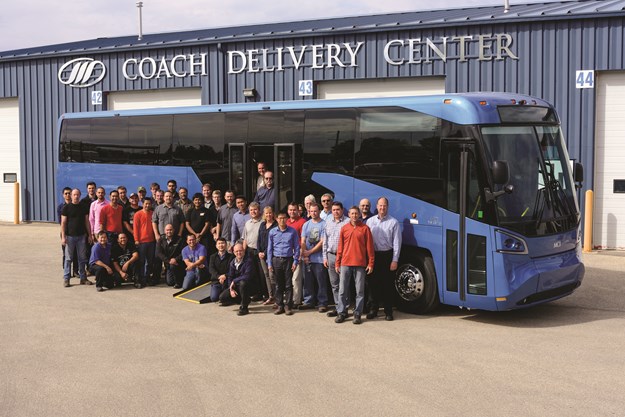 ABOUT NFI GROUP
NFI Group is the largest transit bus and motor coach manufacturer and parts distributor in North America, with 31 fabrication, manufacturing, distribution, and service centres across Canada and the US employing more than 6,000 team members, it states.
It is North America's heavy-duty transit bus leader and offers the largest transit bus product line under the brand Xcelsior, incorporating the broadest range of drive systems available, including: clean diesel, natural gas, diesel-electric hybrid, trolley-electric, and battery-electric.
NFI Group actively supports over 44,000 heavy-duty transit buses (New Flyer, NABI, and Orion) currently in service, of which 6,400 are powered by electric and battery propulsion.
NFI Group is also North America's motor coach market leader offering the Motor Coach Industries Inc. (MCI) J-Series, the industry's best-selling intercity coach for 13 consecutive years, and the MCI D-Series, the industry's best-selling motor coach line in North American history, it states.
MCI also supports nearly 30,000 MCI coaches on the road with maintenance, repair, 24-hour roadside assistance, and the industry's only Automotive Service Excellence (ASE)-accredited MCI Academy technician training centre.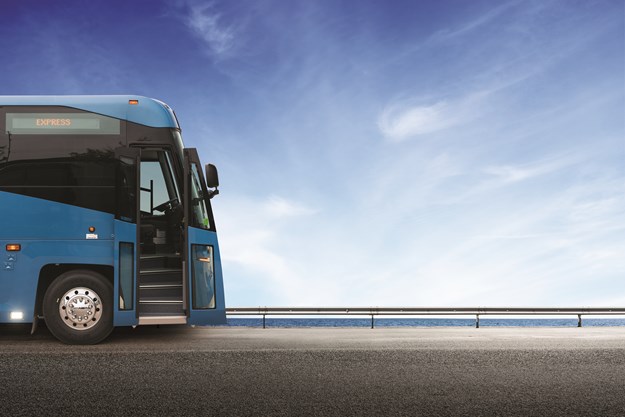 Specs
MAKE: MCI
MODEL: D45 CRT LE
DIMENSIONS: 13.8m (L) x 2.59m (W) x 3.51m (H). Interior (H) - 2.14m; GVM - 24,494kg
BODY: High-floor coach with mid-body vestibule entry; semi-monocoque low-corrosion stainless steel; fibreglass composite front and rear caps, exterior skin and baggage doors; dual-entry / egress locations; air operated bi-part entrance and mid-coach doors; ultra-durable front and rear bumper systems; patent-pending headlight bezel design for easier service access; new  acrylic rear tail lamp panels
ENGINE: 2017 EPA Cummins ISX 12-litre w/engine brake. Power - 425hp; Torque - approx. 1965.9Nm (1,450 lb-ft); Cummins Connected enhanced diagnostics (optional); 2x 150 Amp Denso alternators
TRANSMISSION: Allison Gen V transmission with prognostics capability; Linnig electromagnetic three-speed fan clutch
STEERING: Tilt and telescoping steering wheel with integrated controls and ZF variable-ratio steering; passive rear steering system; Turning diameter - 12.42m
SUSPENSION: Bendix ESP; independent front suspension system with 'labyrinthically'-sealed unitised wheel ends - 17,000lb rating; 23,000lb drive axle and 16,500lb tag axle with independent suspension; wide-ride suspension with Sachs shocks; extreme-duty tag axle unload valves for MDSS / Bendix air system
BRAKES: Bendix all-wheel ADB 22X disc brakes
WHEELS/TYRES: Hub-piloted 22.5x9.0-inch steel wheels; Firestone 315/80 R22.5, L-rated tyres; optional Alcoa aluminium wheels with Durabrite coating, 22.5x9.0-inch Michelin 315/80 R22.5, L-rated tyres
INTERIOR: High-visibility yellow ergonomic handrails throughout the vehicle; displays in vestibule; 45,000 BTU ProHeat or 120,000 BTU Spheros (Webasto) auxiliary heaters; seating - 54 passengers (53 with 1 mobility device or 52 with 2); MCI-exclusive front spiral entrance stairway; USSC A-220 thin-back seats with separate headrest and integral 3-point seatbelts; LED tube lights in ceiling; enhanced LED interior lighting; multifunction dash display and steering wheel; notched dash; USSC or Recaro three-point driver seats with seatbelt alarm; Parker/Vansco fully Multiplexed solid-state electrical system
SAFETY: Amerex fire-suppression system and engine compartment fire detection; Digital Wheel End Sensing (DWES – to detect faults)
MISC.: Brigade 360 degree camera system, Brigade 500GB (four exterior cameras) or 1TB (4x interior + 4x exterior cameras) digital recording system
Subscribe to our newsletter
Sign up to receive the ABC e-newsletter, digital magazine and other offers we choose to share with you straight to your inbox
You can also follow our updates by liking us on Facebook.