A TALL STORY – DAIMLER SETRA S 531 DT
---
The beauty of the new Setra S 531 DT high-end double-deck coach is twofold – and a mere listing of specifications in no way would do it justice. What it represents in other aspects of city bus travel and greater coach tourism in future truly sets it apart. A game-changer? Indeed. And then some…
Where to begin? There is so much to cover...
In its rawest terms, and right off the bat, the salient points are this: As an OEM bus it can apply the brakes itself in an emergency, and it can inspire greater Australasian tourism patronage, capitalising on year-on-year statistical growth and imbuing 'bus travel' with much needed 'halo status' to the benefit of us all. Or something like it at least – given the iconic Setra brand from the massive Daimler stable is not intended for our shores. But we will get to that.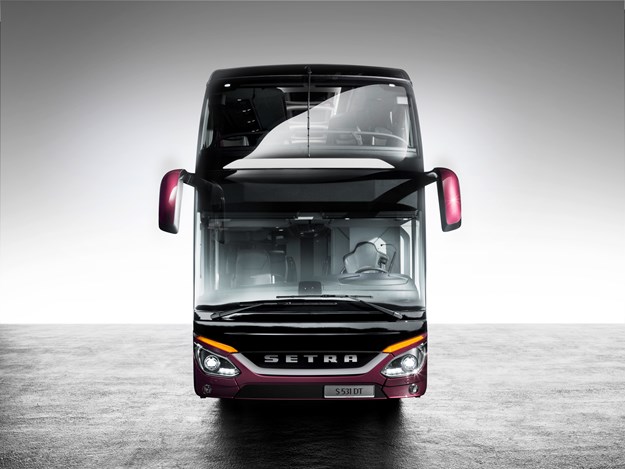 Firstly, though, it's the safety features that have put the Setra S 531 DT on the global bus and coach map. In the right combination of the latest iterations of Active Brake Assist (4) and Sideguard Assist, it is a first on any bus or coach in the world, according to Daimler.
And while technologies such as Active Brake Assist and advances similar to Sideguard Assist – for the blind spots; it monitors a vehicle's side periphery - have been on cars from a few marques for a while now (and even, in more recent times, on trucks) on a bus such capabilities are arguably even more at home. How so?
Buses and coaches are at heights and widths and lengths that make 'mindfulness' of pedestrians in dangerous proximity to a moving bus in city environments crucial. Doubt that? Just go watch at street level in major cities at peak periods on weekdays during lunch hour. Observe busy intersections for the 'cellphone-obsessed zombies' who obliviously cross the paths of traffic in their trance-like state. Sure, not all are in full-on 'Dawn of the Living Dead 7.3' mode, but a lot of them these days are.
In the event of an unforeseen human error or otherwise, such warning and avoidance systems should be par for bus transportation sooner rather than later – if not right now. That's without mandatory government regulation – which, like drifting continental shelves, usually moves slow enough as it is.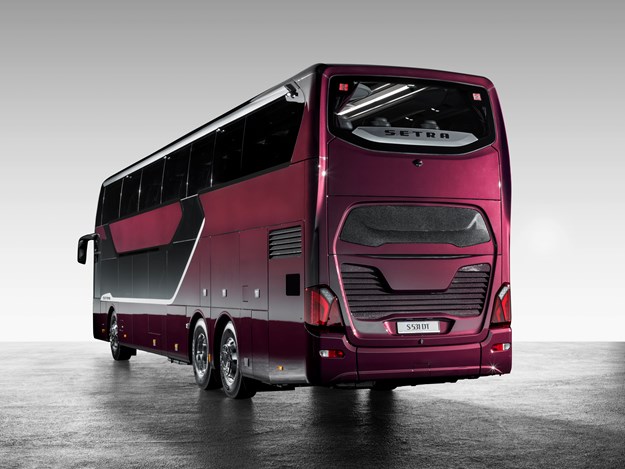 MEET THE SETRA
Touted as the successor to, "the clear market leader in the double-decker coach segment" – the Setra S 431 DT – it is the first model facelift after nearly 15 years and offers, "up to 10 per cent fuel savings in comparison to the previous model," according to Daimler.
With space for more than 80 passengers, it is ideal for busy long-haul routes. And with its emergency brake system and pedestrian recognition and sensors monitoring the flanks and blindspots, it marks a world premiere for a bus.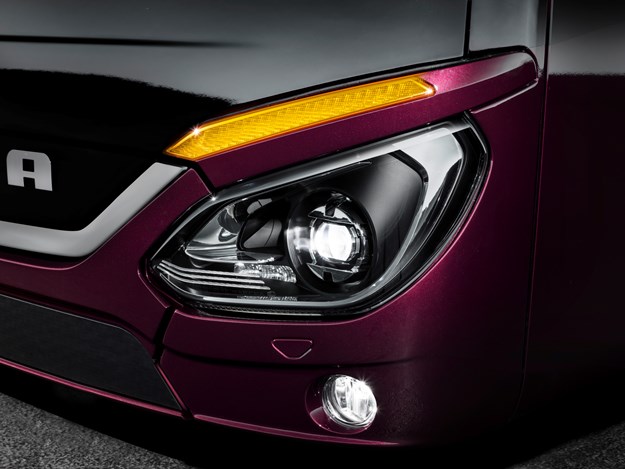 Hartmut Schick, head of Daimler Buses said: "The Setra double-decker is the biggest and most comfortable touring coach from Daimler Buses and the clear market leader in its segment. No other coach is as fuel-efficient, flexible and safe as the new two-decker premium touring coach from our EvoBus plant in Neu-Ulm."
The EvoBus plant in Neu-Ulm is Daimler Buses' competence centre for touring coaches. The company is continuously investing in the development of new products and in its locations, it says. Between 2013 and 2017, more than 50 million euros were invested in the Neu-Ulm plant alone. Incidentally, Daimler Buses has invested a total of around 400 million euros in the development and production of the new-generation touring coaches, the company says.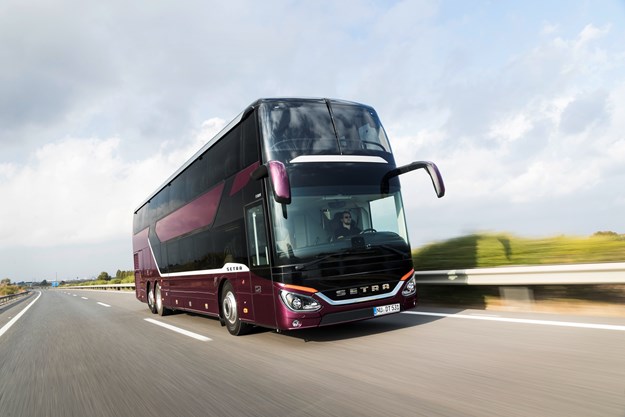 SUCCESSFUL HISTORY
The original Setra S 431 DT has sold more than 2300 units since its launch in 2003. Interestingly, according to internal Daimler surveys, its customers include many long-haul bus operators – and about three quarters of all double-deckers operating long-haul routes are Setras.
In Germany, one in two long-haul buses features the Mercedes-Benz or Setra logo, it's claimed.
"It demonstrates yet again the technological expertise and ingenuity that make Daimler Buses such a success worldwide. I am certain that our new double-decker will build directly on the success of its predecessor," stated Schick.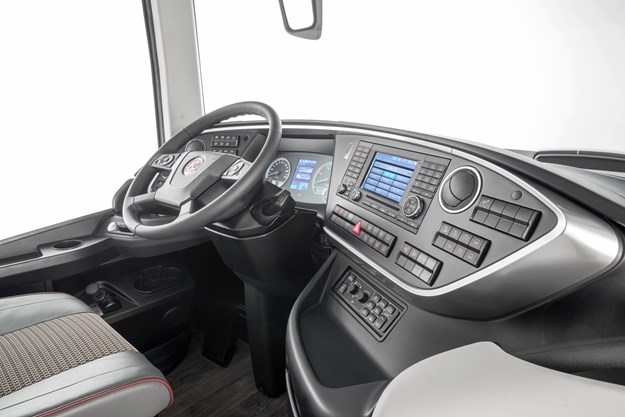 In terms of fuel consumption, the new decker is said to be up to 10 per cent more fuel efficient due to improved aerodynamics, which equates to a thirst reduction of several thousand litres of diesel per year, depending on mileage covered, it's stated.
And in addition to being the world's first bus to be fitted with an emergency brake system with obstacle and pedestrian recognition – and sideguard assist – it has a high-performance media router on board to allow fast Wi-Fi and offline use of media services. The latter will become increasingly crucial on any bus transport in future, if not at least in cities.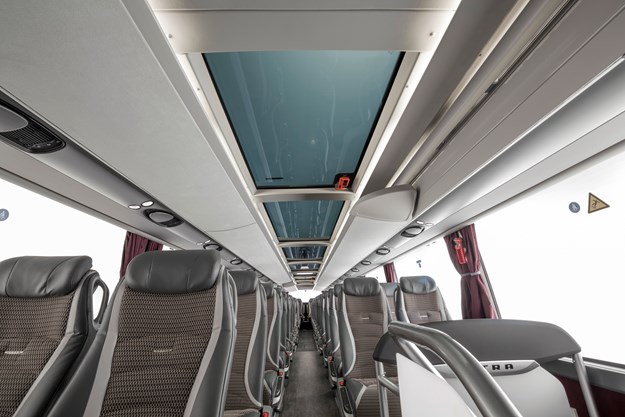 A SAFER BET
Whether country driving or inner-city bustle, buses and coaches have an even greater responsibility for safety given the amount of passengers on board and pedestrians and cyclists that might be harder to 'see' around the vehicle, from a driver's perspective.
To monitor distance from vehicles ahead and warn of possible impending collision (using multi-mode radar systems that cover a range of up to 250m), Active Brake Assist 4 now also recognises pedestrians moving up to 80 metres in front of the vehicle, in almost all traffic situations. If the predetermined distance is dangerously underrun and an accident is unavoidable with the driving system unchanged, the system alerts the driver.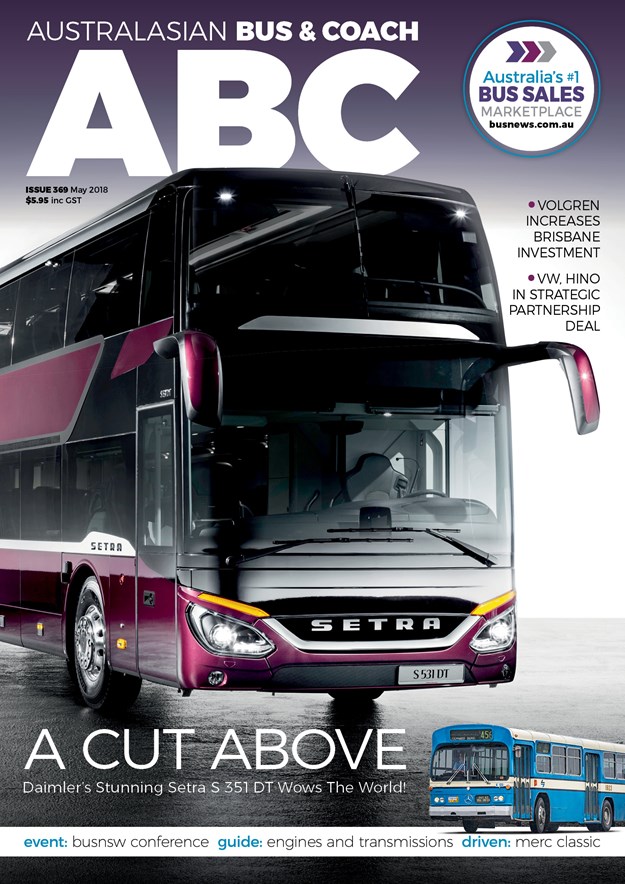 If the driver does not react, the system independently triggers full braking, says Daimler. For pedestrians that's massive!
Gustav Tuschen, head of development at Daimler Buses, says: "Active Brake Assist 4 with pedestrian recognition marks a milestone in the development of assistance systems for coaches."
On the Setra TopClass S 531 DT with Sideguard Assist, this amazing technology is said to considerably increase the safety of unprotected road users by warning the driver of moving or stationery objects to the right of the vehicle (left-hand drive in Europe). The latter uses radar sensors to monitor the lane to the right of the coach along the vehicle's entire length. It helps the driver with the blind spot, and warns of pedestrians, cyclists or stationary obstacles while turning. On the highway, it additionally serves as a lane-changing assistant, it's stated.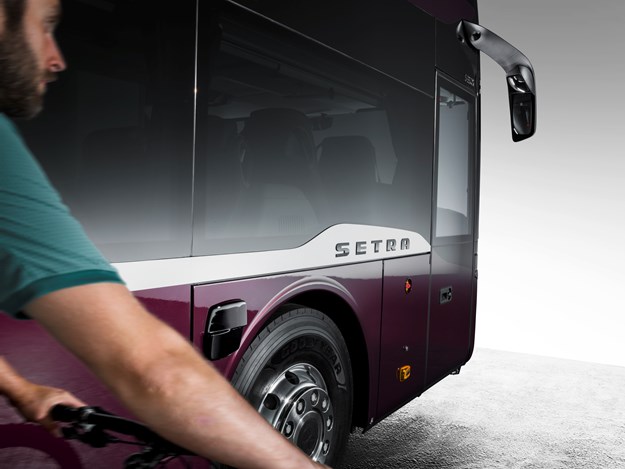 THE WHOLE PACKAGE
The magnitude of what this tech combination means for buses and coaches should not be understated. While no technology is foolproof and the variables in any incident are often too unpredictable, whether from an OEM or the aftermarket such aides would prove crucial in potentially saving lives or minimising human injury in future.
Only last June in Sydney's CBD did a 30-year-old Uber passenger die when the vehicle he was alighting from accelerated away and he tragically fell into the path of a bus. Yes, the Uber driver had been on a 21-hour virtually non-stop shift and, yes, the bus driver was thankfully found not at fault at all, but who is to say evolution of such technology – if not now – couldn't prevent such instances in future?
In that context, the S 531 DT is a luminary of such safety capability that arguably would, could, or should be regulation standard in cities around the world – today!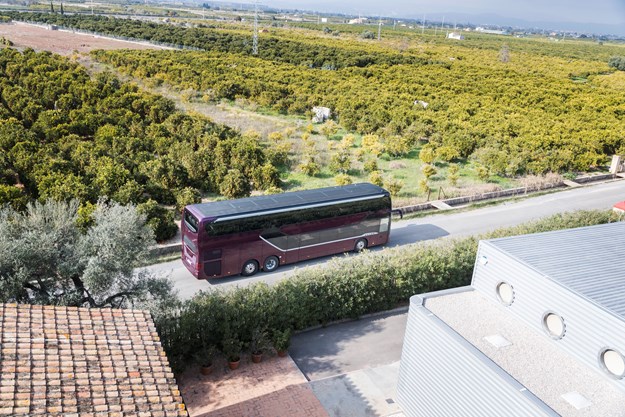 RUNWAY STUNNER
Love or loathe double-deckers, few bus fans would be quick to knock the looks of this Setra. She's a pretty thing with style and elegance to match, worthy of the Setra TopClass 500 series.
As a new feature, the two windscreens are seamlessly joined together and structured by an aluminium bar. On the side wall, the designers adapted the brand's hallmark 'La Linea' aluminium strip, which now extends horizontally along the edge of the roof.
Yet 'pragmaticism' underscores it exterior; the Setra boasts outstanding aerodynamics for its class, racking up a slick drag co-efficient of 0.35.
All in the aid of fuel efficiency, the little things count. At the front, "strongly curved windscreens with large edge radii allow the air to flow around the vehicle, while at the rear recesses and airflow break-away edges guide the airflow," Daimler says.
Even the windscreen wiper on the upper deck is vertical in its rest position – a feature adopted from motorsport.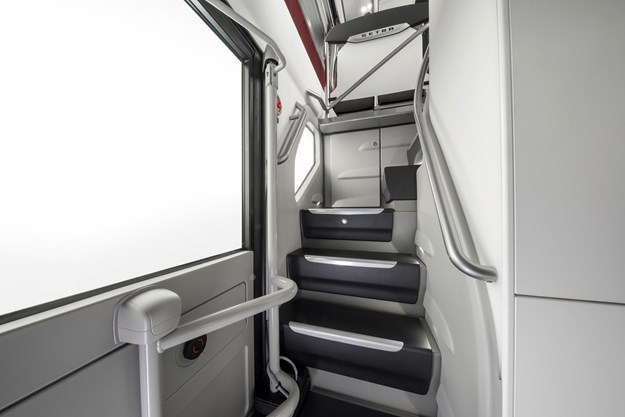 COMFORT ZONE
Inside, this Setra was designed to cover all bases. The lower deck is variable, so you can have rear-facing seats and work desks, wheelchair bays, installations for 'bistro buses' (yep, think airline travel and pre-ordered meals and drinks served by certain operators), a demountable platform with pram area for inter-city lines, or with platform in the classic seating for touring purposes.
Up front, there's a choice of cockpit appointment for the driver: the elegant yet functional Setra ComfortClass 500 dash etc., or the more luxurious cockpit from the TopClass 500.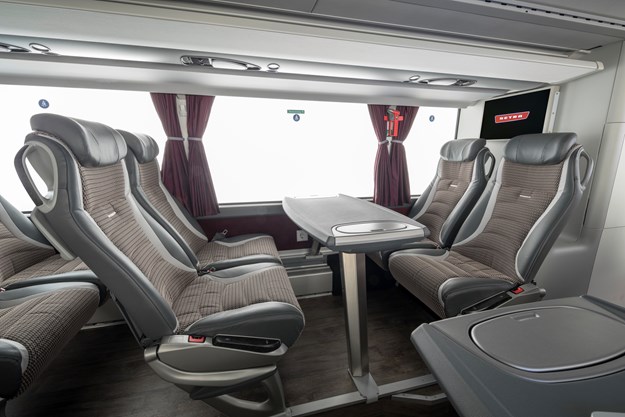 It's bright and modern throughout the bus to give the impression of space, says Daimler. The stairs between the decks look inviting and safe thanks to translucent acrylic plastic panelling on the inside, evenly spaced two-tone steps with individual lighting, landings and continuous silver handrails.
Even the dunny and modern-look washroom is set up diagonally for a bit of extra room – you'll be loving that during those unpredicted long-haul 'big jobs'. And, on that note, the Setra's optional fragrance dispersing system – when the ignition is turned on and door one is opened, or when a door is left open – automatically "dispenses a discreet and unobtrusive yet highly pleasing scent". Whew!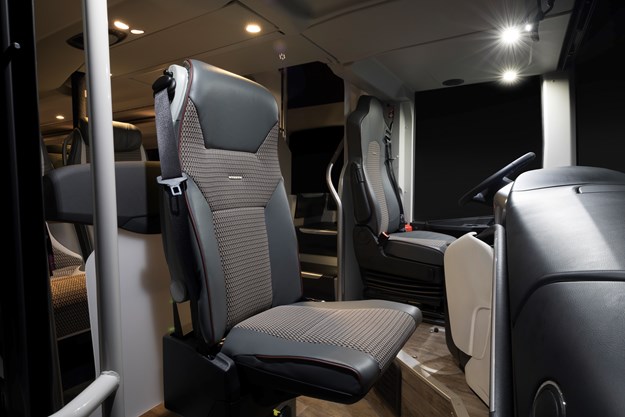 LONG-DISTANCE BOOM
With more than 25 million passengers per year in Germany alone and an ever-expanding route network in Europe, Daimler says there's a bit of a long-haul bus boom to be had, with further growth forecasted. A slight increase to over 26 million passengers is expected – with a 2 per cent increase on German routes and an increase of up to 7 per cent on international routes.
In Germany the route network is already well developed, with particularly high-capacity utilisation on main routes between larger cities, it must be duly noted.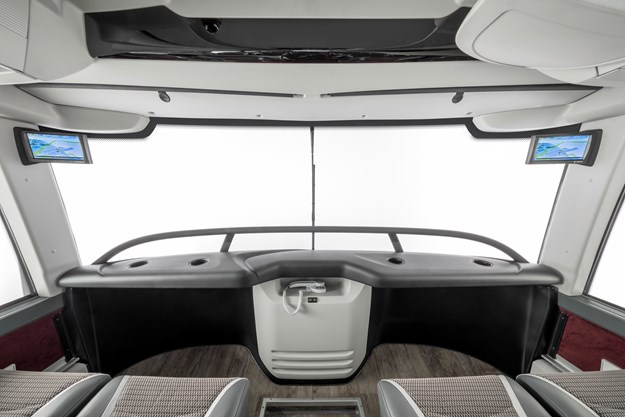 In essence, its passenger capacity means the new Setra double-deck coach is, "the biggest touring coach from Daimler Buses, making it ideal for busy long-haul bus routes. Nowhere [can] more passengers … be transported by just one driver than in a double-decker coach".
Yet perhaps most interestingly, according to Daimler, "Young people in particular tend to see the touring coach from a whole new perspective. Reasons include the high level of comfort and the cutting-edge internet and media services on board."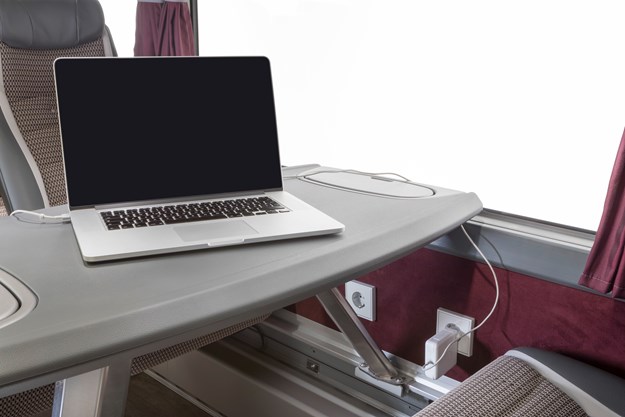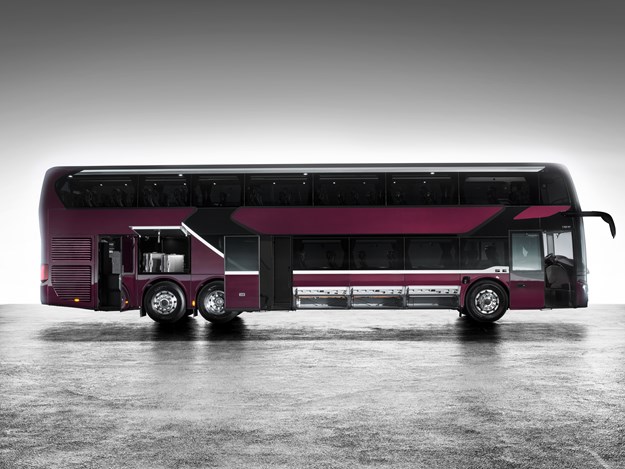 LOCAL DRIVE
If something like the S 531 DT is primed to maximise the uptake in European tourism, could not the same type of vehicle not only be used in this region for tourism maximisation – but even increase whatever is currently occurring? The ingredients seem available, the machinations there being mirrored here. How so? According to recent statistics from Tourism Australia (www.tourism.australia.com), for the month of February 2018, there were 914,500 visitor arrivals – 16.1 per cent relative to the same period of the previous year.
In fact, in the bigger picture there were 8.9 million visitor arrivals for year ending February 2018, an increase of 6.6 per cent relative to the previous year. Importantly, leisure arrivals (holiday + VFR) continued to drive international arrivals growth, with an increase of 8.1 per cent over the 12-month period, it's stated.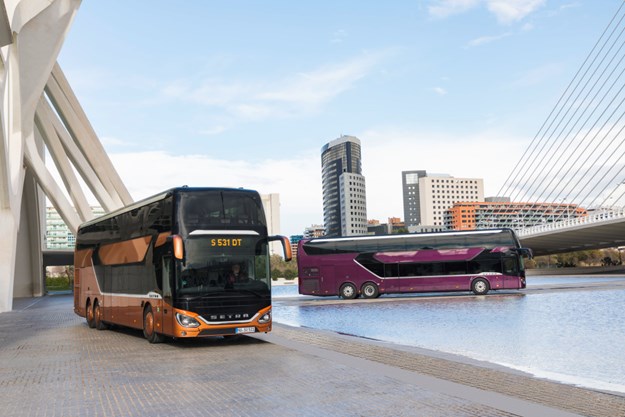 Similarly in New Zealand, the Ministry of Business, Innovation and Employment (MBIE, www.mbie.govt.nz) states that as of April 3, 2018, international visitor arrivals for the year ending February, 2018, there were annual international arrivals of 3,775,000, which was an annual increase of 7 per cent, with total international visitor expenditure (NZ$ millions year ending December 2017) of $10,563 – growth of 5 per cent. Notably, this, "excludes international airfares and individuals whose purpose of visit to New Zealand was to attend a recognised educational institute, and are foreign-fee paying students." In layman's terms that's a stack of people bumming around the joint who aren't budget-conscious students looking for something to do. Result!
TAPPING IT HARD!
So what can they do? Aside from Australasia's pristine beaches, mountains and forests, Pavlovas, weird (to them) accents and whatnot, collectively the region boasts some of the world's prime wine regions all over. And these days, whether it's wine-tasting tours, golf or weekend getaways for locals – or the increasing number of music festivals and concerts held at the larger wineries, a quick peruse of YouTube videos reveals many tourists and travellers catching a bus of some sort to these regions.
The regrettable part? Often it seems the 'bus or coach' journey is the most boring and uninspiring part of their experience. Something like a Setra Topclass 500 S 531 DT could flip that notion upside down, making it the highlight for many tourists and travellers instead.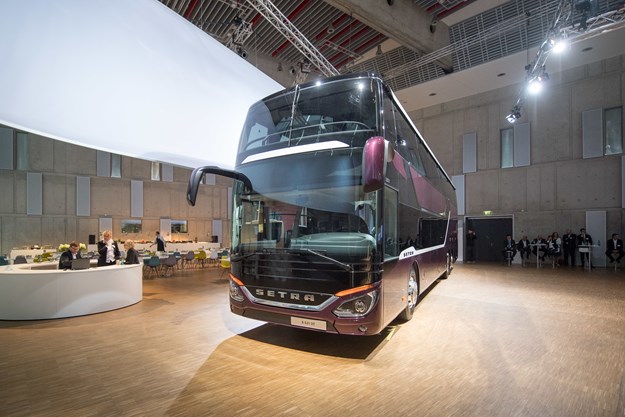 Specs
MAKE: Setra - TopClass 500
MODEL: S 531 DT
DIMENSIONS: Length – 14m, Width – 2.55m
ENGINE: OM 471 Euro 6, 12.8-litre, in-line six-cylinder
POWER: 375kW/503hp
TORQUE: 2500Nm @ 1100rpm
TRANSMISSION: Mercedes-Benz GO 250-8 MPS, eight-speed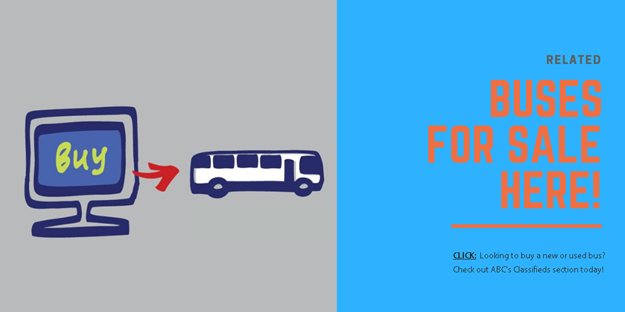 Subscribe to our newsletter
Sign up to receive the ABC e-newsletter, digital magazine and other offers we choose to share with you straight to your inbox
You can also follow our updates by liking us on Facebook.