ZF embracing the future
---
SPONSORED CONTENT: Although the global market is highly competitive, ZF transmissions are becoming more popular with bus operators globally
ZF Friedrichshafen AG's Director Sales Commercial Vehicle Technology Christian Meichle says ZF is on the brink of an exciting global revolution in terms of the type of engine components that are being produced as buses become more advanced.
"With the commercial bus industry here in Australia youcan clearly see that we are gaining dominant market share," he says. "This is not only happening in Australia but worldwide.
"We have been working on a lot of new developments with our transmissions and our axles — just to keep ahead of the level that the market requires."
One of the main issues ZF is looking at right now is ways that its products can help reduce fuel consumption of the buses its components go into.
"There are many other considerations as well as fuel consumption, such as noise reduction and improved durability," Meichle says.
Electric and hybrid vehicles of the future will require specially made ZF transmissions and much work has and is being done in this area to prepare for this change.
"We are well prepared for the jump to electric buses that has already started to happen in Australia," Meichle says.
"I think this development has really helped to put us in a strong position within these emerging markets and put us ahead of the competition.
"For driveline manufacturers, electric vehicles can be a threat. Electric vehicles don't need a complicated transmission – if at all.
The electric motor brings the right power to the wheels without a transmission.
"You could see this as a threat, but we have embraced it as an opportunity and that's the difference in our mindset. We decided long ago that we needed to find solutions for electrification.
"If you look at China, they have put 100,000 electric buses on the road last year. It's unbelievable they changed from diesel within two or three years. The case in China is very interesting because they thought it would take them years to transition to Euro 6, so they just jumped straight to electrification."
There was a Bustech bus on display at the 2017 Australasia Bus & Coach Expo on the Gold Coast that featured the ZF AVE 130 axle – the first vehicle in Australia in which this most advanced ZF axle has been used – so the organisation is already working with forward-thinking bus manufacturers here in Australia and globally.
"This is the one of the most advanced axles that we have ever produced. The ZF AVE 130 is essentially a low-floor rear axle with two motors in the wheel ends. It's perfect for low-floor buses and very practical for city bus applications. It's also very powerful at 240 kilowatts."
Hybrid technology is also very much on the cards, particularly for road coaches.
"We are also in the development of hybrid transmissions for long-distance coaches, for this we will use a central drive electric motor transmission," Meichle says.
"We are one of the few companies that are investing a lot of money into research and development in order to supply the market with the products that it needs."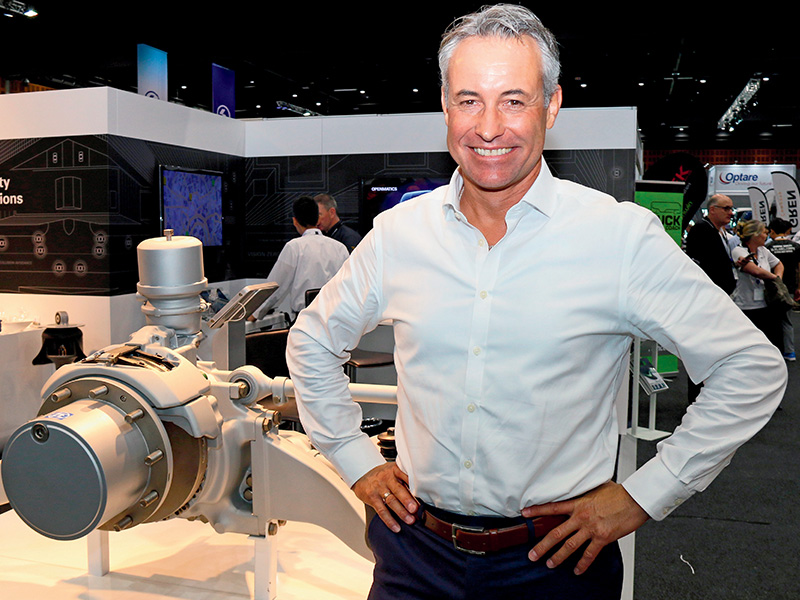 It's not just the acceptance of change that is driving the organisation forward; the business structure itself has also contributed to the success of ZF.
"Another key element is that we are dedicated to the bus market. We have a business unit within ZF that is dedicated to bus and bus products only – not products that have been developed for trucks and then adapted to bus – and that really does make a big difference."
"On the technical side, because we are building components specifically for buses, our automatic transmissions have a primary retarder which helps your brakes last longer, and that's very important in city buses where you are stopping and starting a lot and this is a significant advantage over our competitors' products."
Meichle has been with ZF for more than 20 years and has seen a lot of change over that time.
"It's a very exciting industry to work in and the technology is always improving, which means you are always learning new things and trying to solve problems that people in the market are facing.
"I've been coming to Australia for 15 years now. I try to visit every two years and this has enabled me to understand the local bus industry and the Australian culture of business.
"As the mother company, it's important for us to understand the local market and what makes it tick.
"Also it works the other way around, so every two years we have a technical seminar in Europe and a sales seminar to train the Australian team and teams from all around the world on the latest ZF products and what the customers are doing, which is fantastic."
ZF has already acted on the challenges it foresaw within the traditional bus component market years ago, and by being proactive has turned these into major opportunities as the industry edges closer to electrification and zero emissions.
Subscribe to our newsletter
Sign up to receive the ABC e-newsletter, digital magazine and other offers we choose to share with you straight to your inbox
You can also follow our updates by liking us on Facebook.