MAKING ITS official public debut at the 67th IAA Commercial Vehicles Show, in Hannover, Germany, Volvo's new premium 9900 coach has won the Sustainable Bus Award 2019, it's reported recently.
The award was conferred at a ceremony during the IAA trade fair in Hannover on 19 September. Iveco's Crealis 18m In-Motion-Charging trolleybus won the Urban category while Mercedes-Benz mild hybrid Citaro Ü received the prize as most sustainable Intercity bus, it's reported.
The award takes into account environmental performance as well as other sustainability aspects, such as safety, comfort, noise level, recyclability and the manufacturer's general environmental performance, organisers state. It was launched in 2016 and winners are chosen by a jury of representatives from bus magazines in several European countries.
"The launch of the new 9900 range represents a real turning point for Volvo. Modern design, improved Cx and new driving area, together with the well-known Volvo Dynamic Steering, are just some of the main new features developed by the Swedish manufacturer," the jury wrote in its statement.
Ulf Magnusson, head of Business Region Europe at Volvo Buses, said: "It is an immense honour to receive the Sustainable Bus Award 2019. The choice of winner shows that the jury has really taken the overall picture into account. With excellent fuel efficiency, industry-leading safety and superior driving and passenger areas, the Volvo 9900 gives our customers the best possible conditions for long-term operational sustainability and profitability."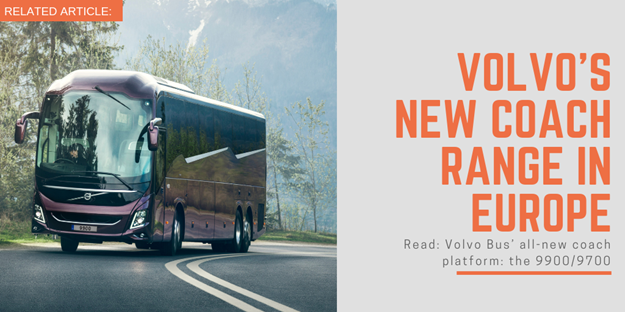 VOLVO 9900 HIGHLIGHTS
Safety – Safety Zone Management, Driver Alert System and more robust frontal impact protection;
Working environment – A new, integrated driving area improves the driver's ability to drive efficiently and without disturbance, it's stated. Manoeuvring is facilitated by the Volvo Dynamic Steering system and the bus's low centre of gravity offering excellent stability, Volvo says;
Fuel and CO2 – Low air resistance and various weight-saving measures contribute to excellent fuel efficiency and low CO2 emissions. Fuel consumption and emissions can be further reduced by choosing options such as Dynamic Chassis Lowering and Volvo I-See, which optimises gear changes to suit the topography.
ON SHOW
At IAA 2018, Volvo unveiled its all-new platform for tourist and line-haul coaches, which features striking design, fuel-saving aerodynamics and safety of the very highest level, the company says.
Introduced earlier this year, the range encompasses two models: the luxurious Volvo 9900 and the versatile Volvo 9700. Both feature a dynamically designed exterior with crisp lines, smooth sides and rounded corners to give low air resistance, says Volvo.
The new 'Z-shaped' side window line combined with the sloping theatre floor of the Volvo 9900 marks a totally new design language for coaches, it says.
"I'm immensely proud to present our new premium-class coach platform at IAA. It marks our biggest investment in this segment in more than 20 years, and our customers have given the new platform a particularly enthusiastic welcome," said Håkan Agnevall, president Volvo Buses.
"With our all-new, modern coaches and flexible service packages, we have a highly competitive holistic offer to the market. Put simply, we make it easier for our customers to offer first-class service and to make money."
IN DESIGN
The new Volvo 9900 offers an extra-high floor level and large glass panels to provide exceptionally good views both to the front and sides, the company states.
The interior roof is eight centimetres higher than usual, and a straighter transition between walls and roof creates "an airy feeling with a far greater sense of space". The versatile Volvo 9700 is available with a variety of equipment alternatives for medium range line-haul, or premium tour and charter operations.
Inside the vehicles the design team concentrated on both visual and tactile quality. Passengers encounter a harmonic, well-balanced colour palette, and tasteful combinations of cloth and leather with details accented in metal, says Volvo.
To give passengers a high-quality travel experience Volvo Buses has also invested heavily in comfort-enhancing solutions such as ergonomically designed passenger seats and a well-insulated interior with a low noise level, it's claimed.
The climate [control air-con] system has undergone significant development to ensure a uniform and pleasant temperature throughout the bus – irrespective of outside conditions.
The integrated driver's environment, featuring a new steering wheel and instrumentation, gives the driver the right preconditions for working efficiently and without disruption. Driving is made easier thanks to the vehicle's lower centre of gravity, which ensures excellent stability and manoeuvrability – properties that are improved still further with Volvo Dynamic Steering, the company adds.
TECH IT OUT!
The new 9000 range features technology that makes it one of the safest coach ranges on the market, it's stated. Both the Volvo 9700 and the Volvo 9900 feature a comprehensive suite of solutions for active and passive safety. Among the new features are more robust front impact protection (FIP) and a Driver Alert system that monitors the vehicle's movements and issues alerts if the driver is tired or not concentrating on the road, says Volvo.
The buses' low air resistance and lighter weight make it possible to cut fuel consumption and CO2 emissions by up to four per cent. And with the optional Dynamic Chassis Lowering and Volvo I-See*, the potential savings are even greater, the company adds.
Volvo Buses' electromobility solution is represented at IAA by the Volvo 7900 Electric Hybrid (plug-in hybrid) and an OppCharge station for quick-charging of the vehicle's battery pack. The Volvo Buses range of electrified models also includes all-electric propulsion – the Volvo 7900 Electric – and hybrid buses. All told, Volvo Buses has served as a pioneer in electromobility and has to date sold more than 4000 electrified buses globally, it states.
FAST FACTS
MODEL: Volvo 9900. Height – 3.85m; Length – 12,13,14m; Axles – 4×2/6×2; Sloping 'theatre floor'.
MODEL: Volvo 9700. Height – 3.65m; Length 12,13,14m; Axles – 4×2/6×2.
Both models can be customised via a range of package solutions and options.
DRIVELINE: Volvo D11 Euro 6 with 430/460hp, I-Shift (*I-See optimises gear changes to suit the topography).
BODY: Newly developed corrosion-preventive structure. 'Sandwich construction' roof for low weight and a low centre of gravity.