SOUTH PACIFIC French territory New Caledonia has received no fewer than 22 Iveco 18-metre Crealis electric buses for service in its new Noumea BRT network, Iveco confirms.
The capital's new fully dedicated line is 13 kilometres long and it will serve 23 stations, linking together several municipalities in the urban area, Iveco states.
With the creation of a BRT line equipped with 22 Crealis, the Noumea urban area is providing its residents with a modern, innovative mode of transportation, the company says. Before these vehicles were commissioned, extensive work took place to develop a true Bus Rapid Transit line, it explains.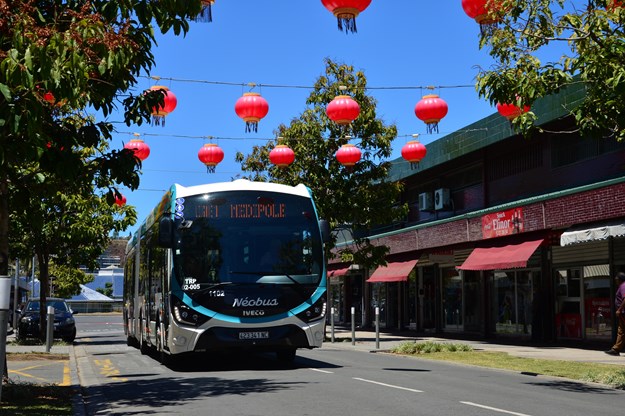 In total, 23 brand-new stations, a park-and-ride station and eight interchange hubs were created, improving the living environment and enhancing the urban landscape, the company states. A latest-generation maintenance centre was also built, making it possible for a Crealis to pass every 5 minutes during peak times, for service running from 5.00am to 9.00pm.
"The city of Noumea and the SMTU – the company responsible for urban transportation in Greater Noumea – chose the Crealis model for its design and interior fitting options," said Tarik Drir, whose role is business development for South-East Asia at Iveco Bus.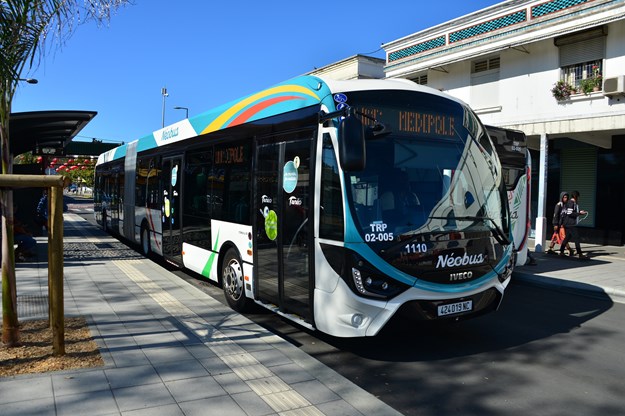 COMFORT CONTROL
Equipped with a 400hp Cursor 9 engine, they can accommodate up to 140 passengers, for a total of 4 – 6 passengers per m2, the company claims. This level of comfort was important to Christophe Lefèvre, director of the SMTU, says Iveco.
A variety of on-board equipment adds to the Crealis's functionalities: video during stops inside the vehicles and outside, for monitoring from the central office; a live information system; Wi-Fi and a single-fare structure for the entire Greater Noumea network.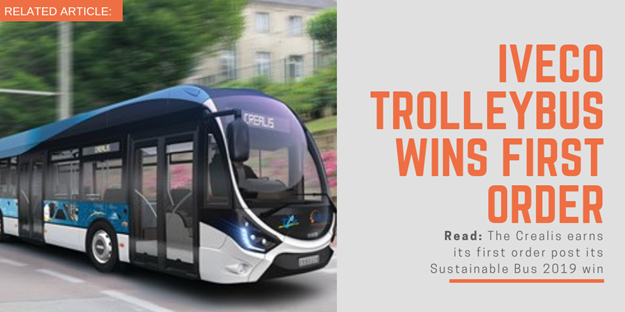 Designed for strong, large-scale lines, the Crealis offers exceptional passenger comfort; a modern, welcoming interior design; excellent lighting; and a unique style that combines low windows with a triple row of LEDS in the interior, says Iveco.
For the operator, the Crealis's advantages include noise reduction and pollution reduction – and, therefore, less greenhouse gas emissions, it adds.
The SMTU also gets warranty and after-sales services of Sodauto, the local dealer in Noumea.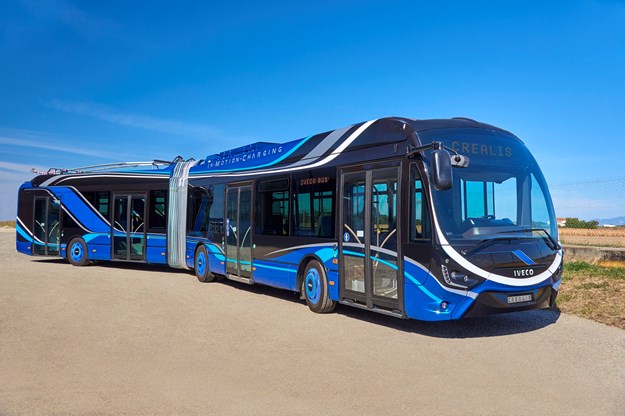 SUSTAINABLITY RECOGNISED
The Crealis 18m In-Motion-Charging fully electric bus had its world premiere at the IAA show in Hannover, Germany, in September 2018, where it was awarded the 'Sustainable Bus of the Year 2019' title in the 'Urban' category.
The Crealis offers a more advanced and efficient electric mobility concept and completes the brand's range of alternative tractions, the company says.
Its on-board batteries have been reduced to a minimum thanks to its 'In-Motion-Charging' technology, it says. The vehicle combines electric overhead lines with a small on-board battery thereby allowing new electric bus routes to be deployed, at no extra cost, even if there are sections without overhead lines, says Iveco.
Operating time is maximised as the vehicle's batteries recharge automatically when running on roads with overhead lines. The Crealis In-Motion-Charging is also capable of running on batteries for 25 – 40 per cent of the route, apparently.
Photography: courtesy Iveco Bus Europe