THE TOLL OF TOLLS - A BUS, TRUCK STICKING POINT
---
PROJECTIONS for increased NSW toll road fees over the next 25 years has put immediate and forecasted bus and truck operator costs in the spotlight recently - but will future transport tech, like 'air taxis', radically alter such transport calculations?
Increases on no fewer than 10 NSW toll roads brought in the new year and the state branch of the Transport Workers Union (TWU) was quick to call on recently appointed NSW Roads Minister Natalie Ward to address, "...out-of-control toll road costs," as her, "...first order of business," recently.
It should be noted these 'cost concerns' overlap somewhat with those outlined late-2021 from BusNSW, which itself appeared at the public hearing following an earlier submission to the NSW Inquiry into Road Tolling Regimes. Here the state bus association highlighted: that buses and coaches in NSW are subject to the same charges as trucks; the distinction between the contracted and non-contracted long-distance, tourist and charter (LDTC) sectors of the industry; and that while the cost of tolls for metropolitan bus operators was generally factored into contracts and absorbed by the NSW government, long-distance, tourist and charter buses were not protected and passed on the toll fares to their customers.
The union call came as TWU projections show that Sydney's toll roads are set to more than double (and in some cases triple) over the next 25 years. The increases are particularly significant for truck drivers and other heavy vehicles, who pay triple the tolls of other drivers on most roads, the union highlights.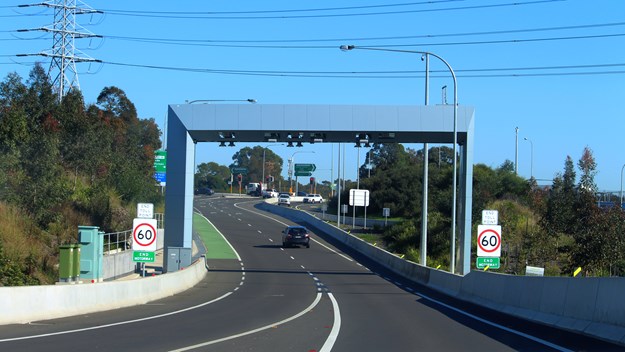 CRIPPLING COSTS
TWU NSW state secretary Richard Olsen says a new year and a new Roads Minister presents the perfect opportunity to provide meaningful toll relief to owner-drivers and all road users.
"Under this government, increases on our toll roads have become just as much a part of Sydney's New Year's ritual as the fireworks on the Harbour Bridge," Olsen said.
"There's nothing more urgent for the new Roads Minister than providing relief to owner-drivers and transport operators who are being crippled by these massive toll road costs.
"The numbers don't lie - if the government doesn't do something urgently, the cost of using these toll roads will triple within the next 25 years. How are truck drivers and other small businesses using these roads supposed to afford those kinds of increases?
"This week, the cost for a truck to use the NorthConnex tunnel has gone up to $25.33, and is on track to be $35 one-way by 2030 and almost $74 one-way in 25 years' time. That is nothing short of complete madness."
Tolls on the NorthConnex, M2, M4, M5 East, M5 South West, M7, M8, Lane Cove Tunnel, Eastern Distributor and Cross City Tunnel have all increased, recently.
Australian-owned Transurban - which the union highlights admitted at a parliamentary inquiry to collecting more than $2 billion in toll revenue from Sydney drivers - partially or entirely owns all of the abovementioned roads.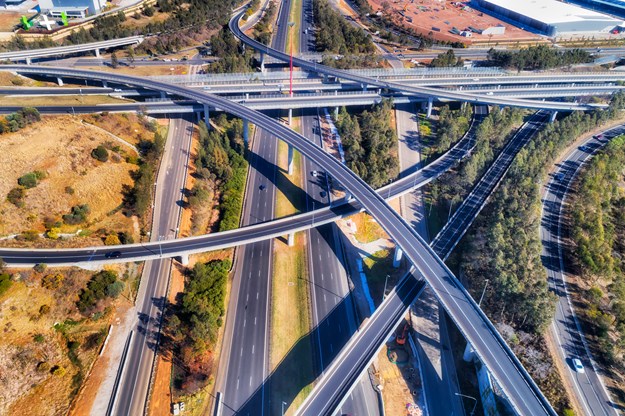 REBATES AND RELIEF
As reported via the news site news.com.au, Minister Ward responded saying the NSW government was committed to financially supporting those drivers who choose to use toll roads more often.
"The NSW government is focused on reducing cost of living pressures on NSW households, with more than 70 rebates and savings available, including the Toll Relief program and Small Business Fees and Charges Rebate scheme," Minister Ward said.
"Last financial year, almost $70 million was paid to more than 200,000 eligible drivers under the Toll Relief scheme, which allows regular toll users to claim free rego or half-priced rego.
"That's in addition to other initiatives including the M5 South-West Cashback scheme and the Small Business Fees and Charges Rebate. This was recently increased from $1,500 to $2,000 to provide even more relief for regular toll users.
"There are a range of factors that have not been considered by the TWU in comparing today's prices to speculation across a 30-year period," she explained - which might be more accurate than it seems, but from multiple differing angles.
The site further reported that NSW Labor has previously vowed to make toll roads a hot button election issue, with leader Chris Minns this year calling for an end to new tolls on existing roads and deals that would keep toll increases in line with inflation.
BUS SCHISM
On 28 September, 2021, BusNSW executive director Matt Threlkeld, BusNSW industry development manager Philip Whipp and BusNSW president John King appeared before the NSW Legislative Council's Portfolio Committee No. 6 (Transport and Customer Service), which was conducting an inquiry into Road Tolling Regimes in NSW. The BusNSW appearance at the public hearing followed an earlier submission to the Inquiry.
During the presentation, BusNSW explained the distinction between the contracted and non-contracted LDTC sectors of the industry, it confirms. BusNSW highlighted the fact while the cost of tolls for metropolitan bus operators was generally factored into contracts and absorbed by the NSW government, LDTC buses were not protected and passed on the toll fares to their customers, it explains.
BusNSW raised concerns with the Toll Relief system in NSW and the fact that bus operators who frequently use tolls don't have access to free vehicle registration like owners of privately registered vehicles.
Buses and coaches in NSW are subject to the same charges as trucks, which is generally three times that of cars. Due to the rising costs of tolls, bus operators were itemising toll fares when providing quotes to hire a bus or coach to seniors, social and school groups. This cost is a burden for these operators as it affects the customer value proposition, it highlighted.
Due to the significant impact of Covid on the LDTC sector, BusNSW had previously made two requests to the NSW government to waive toll costs from NSW toll roads for 12 months for buses and coaches with a 'CBUS' (LDTC) registration.
In response, BusNSW was advised that the decision to waive or reduce a toll payable for using a toll road is a matter for the NSW toll operators, BusNSW explains. BusNSW considers that it is concerning that the NSW government doesn't have this lever to pull as an important Covid-recovery support measure for the industry.
Overall, the association considers that tolling needs to recognise the difference between the task performed by trucks and buses. While buses and coaches are 'heavy vehicles', they provide social and environmental benefits that do not apply to freight vehicles, it states.
The BusNSW submission to the inquiry concluded that the bus and coach industry has the ability to further increase the social and environmental benefits of public transport and group travel through the restructuring of the NSW tolling regime.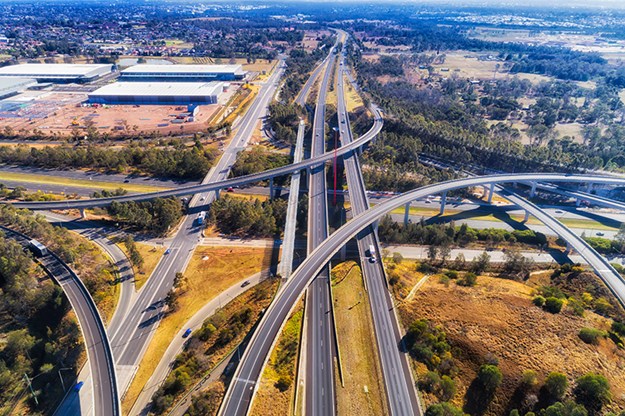 SUGGESTED OPTIONS
As an outcome to the Inquiry, BusNSW says the industry would support:
- The current Toll Relief Program for privately registered vehicles being extended to include buses and coaches that frequently use toll roads for LDTC services.
- The consideration of bus interchanges on any future toll roads, including assessment of Bus Rapid Transit (BRT) opportunities in travel corridors. New tolled roads or lanes should factor BRT features into the project design.
- Future toll roads to consider the road's interaction with public transport, in particular pedestrian access to and from toll road bus infrastructure.
- Toll pricing to incentivise a shift to high-capacity public passenger vehicles including the consideration of high occupancy toll lanes to link group transport and toll roads.
- A portion of toll revenues to be used to provide financial support for the provision of public transport services on toll roads.
- Future toll roads to consider opportunity charging infrastructure to accommodate on-road charging of Zero Emission Buses (ZEBs) providing regular timetable services on toll roads.
- The appointment of an agency, such as IPART, to provide independent advice on the determination of tolls and their escalation.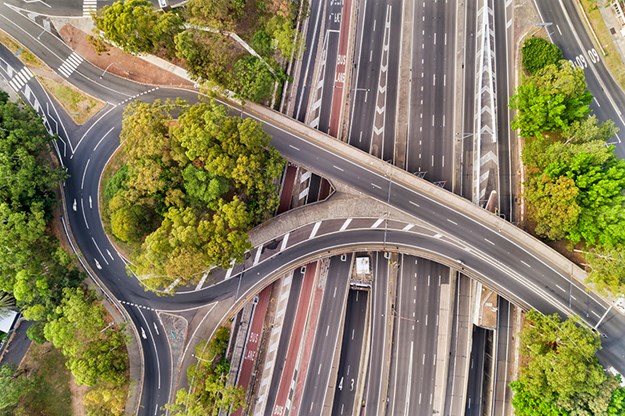 CRYSTAL BALLING
While projections over an arbitrary 25-year timeframe based on previous and current road usage by different transport means is thought-provokingly worthwhile extrapolation - particularly to contextualise more immediate toll-cost concerns now - said timeframe does broach into emerging and presently available technology that is much closer to modern 'transport' use than many might think it is, with implications perhaps not directly affecting freight haulage but commuter movement inevitably, with arguably mass-use potential.
Only recently did leading market intelligence provider IDTechEx provide insights on mobility trends for 20 years. In this time, electric vehicle start-ups have moved from obscurity into some of the world's most valuable companies; most traditional automakers have committed to an electric future; drivers have been caught sleeping at the wheel of self-driving vehicles; and - most pensively - flying electric taxis have started to leave the pages of science fiction, it states.
According to the UK-based entity: "The rapid pace of change has been enabled by technological leaps in the underlying componentry and materials, from Li-ion batteries to LiDAR. But there is still a long way to go as the industry strives to close the performance gap with internal combustion engines, increase safety, lower costs, and overcome regulatory barriers."
In IDTechEx principal analyst Luke Gear's insightful exploration of six key future mobility trends, drawing from IDTechEx subscription research, it highlights aspects currently well known, but underwrites it with forefront encapsulating data that greatly illustrates to the uninitiated just how tangibly close and useful tech advancement in that space is at present.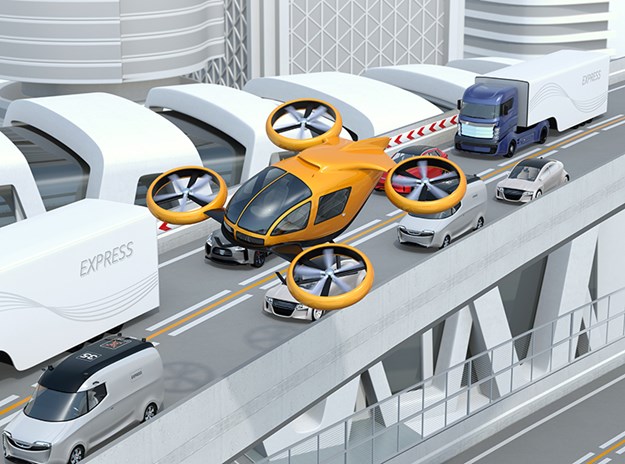 KEY POINTS
With electrification being global and happening in all sectors - and for parity using the forward-thinking timeframe of, say, 25 years - it highlights that, a decade ago, IDTechEx's 2011 report bullishly predicted 1.5 million battery-electric car sales by 2021 - this turned out to be an underestimation by over half, as China, the US and Europe all grew their markets last year.
The sheer volumes and successes of electric vehicles in the automotive market are driving down costs, creating opportunities for many other mobility sectors, it says.
And just as electric ferry deliveries have boomed to ~80MWh yearly as battery pack costs fell below $600 per kWh, energy densities improved and thermal-management innovations vastly increased safety.
Similar drivers are pushing forward investment into electric air-taxis, with American Airlines, Virgin Atlantic, United Airlines, UPS and Avolon, having all placed pre-orders. Electrification is not so much unstoppable as inevitable and will continue to play a dominant role in the decarbonisation of mobility, it states.
The lynchpin of success to the everyday usage of - potentially en masse - air-taxis in future seems to be autonomy evolution and advancement, which for on-road use IDTechEx expects commercial 'autonomous cars, or 'robotaxis', to be market-ready and "…match or exceed human safety by as early as 2024."
Projecting forward current safety data, the implication is autonomous cars [read: inherently buses and trucks, too - Ed] will be capable of fulfilling the world's mobility needs without a single collision before 2050, it claims.
As a result, autonomy will have a profound impact on the travel habits of consumers: having removed the highest cost of current popular ride-hailing services - the driver – robotaxis, "will enable affordable mobility services, driving the market to grow rapidly at 30 per cent CAGR, it explains.
Private car ownership will become a relic of the past for new generations, it postulates, and since one autonomous car has the capability to serve multiple people a day, fundamental demand for new cars is expected to fall even as global passenger-miles increase, it adds.
Additionally, it says lithium-based batteries will continue to be the great enabler for electrification. As battery costs level, the key focus for the industry will be increasing sustainability of raw materials and supply chains whilst ensuring there is still enough supply to meet the huge demand. Later in the decade, a move beyond Li-ion towards the holy grail of solid-state and lithium-metal batteries is critical for a step-change in safety and performance, and to open the door to new applications such as electric long-haul aircraft.
Which brings us to e-motor advancement and how it affects 'flight'... Advanced motors and power electronics are key to lowering cost and increasing range, it states.
Improving the efficiency of power electronics and electric traction motors is key to either increasing range or downsizing batteries (reducing costs), it says. Two important trends in these areas are market convergence on permanent magnet motors and a transition towards wide bandgap semiconductor devices, it says.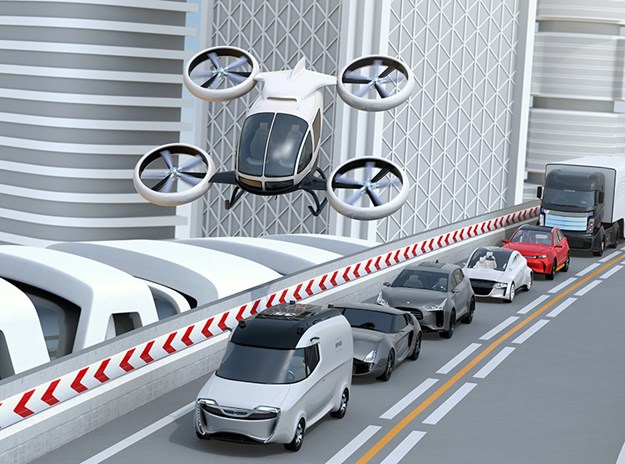 PIPE DREAM - OR NOT?
If everyday air taxi use instead of, or in addition to, getting on a bus or catching a cab all sounds too far off, perhaps factor in that technology improves exponentially and that rate is fastest now when it comes to battery-electric energy maximisation, if the past 10 years alone was anything to judge by.
And, in fact, while air taxis prototypes have been around for the past five or so years and with some using regular fuel, battery and delivery-drone advancement puts air-taxis right amongst the mix for how more people may choose to travel in future.
Touted flight ranges from 60km to 600km (Sydney to Coffs Harbour, Melbourne to Canberra et al) gives solo and light travellers new city and intercity movement options, as potentially parking lots become the new 'helipad' areas of tomorrow.
Only late last year did Australian national broadcaster ABC news report a plan for flying electric taxis over Brisbane in time for the 2032 Olympics.
In an article titled "Flying electric taxis could be operating over Brisbane for the 2032 Olympics, says aviation futurist Skyportz", it cites the Australian company aiming to build an air-taxi hub near the city in two years.
It reports Skyportz chief executive Clem Newton-Brown OAM telling ABC Radio Brisbane his company would be part of the planned Australian Advanced Manufacturing Centre of Excellence, to be constructed in the Moreton Bay council area by 2023.
Newtown-Brown says his company wanted to operate electric air taxis in the Brisbane region in time for the Olympics, connecting locations that may not have easy transport links.
Crazy? To those 'just tuning in' it is a little, yet given as so much has changed so soon in the past two years at least, crazy might just be the only 'new normal' that's even remotely 'normal' now.
How much transport operators will pay on toll roads in future might be just as fickle and hard to determine either way as to how much we'll be paying to 'move people' 25 years from now in the air.
Subscribe to our newsletter
Sign up to receive the ABC e-newsletter, digital magazine and other offers we choose to share with you straight to your inbox
You can also follow our updates by liking us on Facebook.