70 YEARS OF SMALL TOWN SPIRIT - WALTERS
---
OPERATOR: The Walters family serviced the north-east Victoria town of Euroa for 65 years before downsizing and moving their base an hour north to Kyabram in 2017. Here, we chat with the team about how it all started and how business has been these past few years.
For charter and tour specialist Walters Passenger Service, business was severely affected in March, 2020, when Covid-19 hit. Almost two years on and it has started to pick up again - but slowly.
"It was heartbreaking to see our coaches and self-drives parked up for months," said Walters Passenger Service operations manager Carmel Moore.
"We are grateful for rail replacement and our school contracts, which gave us the opportunity to keep our staff employed. Covid procedures and cleaning practices have changed and shaped our business over the past few years. The safety of our staff is the most important thing in this time of uncertainty."
The business currently operates school bus runs around Kyabram and North Central Victoria, as well as interstate tours (when the latter becomes a reality again). It also offers school camps, senior tours and probus club and garden club tours around Victoria and interstate, and does a lot of theatre trips to Melbourne with senior groups.
Covering all of these is a team of 25 employees, with the core group being current owners and managers Sue and Wayne Walters, Moore herself, plus a mechanic and a maintenance person.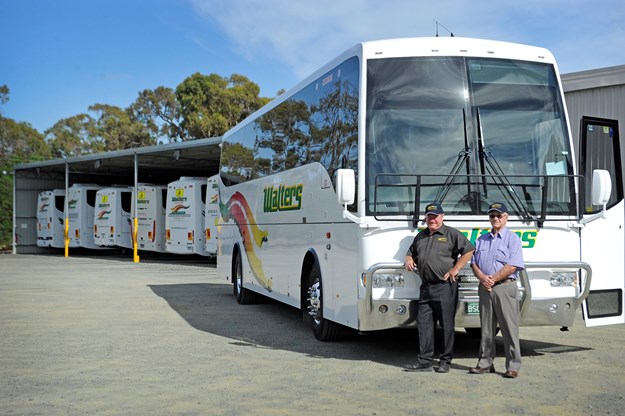 THE FLEET
As the business expanded and Walters Passenger Service bought other, smaller, companies it inherited a variety of buses and coaches.
At one stage it had a mixed bag including Mercedes-Benz, Volvo, Scania and MAN. In 2008, Walters started looking around for a new coach model that could become a standard for the business. Wayne ended up going for a Coach Design body with a MAN chassis.
"We were a little worried about going into new technology, but MAN and Coach Design have proved to be a very good combination for us," said Wayne.
"That has become our standard now and we have stuck to that combination for our other coaches. We have very good working relationship with both MAN and Coach Design. Their backup is exceptional. They look after us even when the coaches are a few years old. We have very little problems with our Coach Design-MAN combinations and found them very reliable and good to work with.
"Our smaller bus fleet features Mitsubishi Rosas, Toyota Coasters and Toyota HiAces. We've not had any problems with these models either and overall we're very happy with our fleet. Just before leaving Euroa we had around 39 vehicles in our fleet. After downsizing, we have 13 school runs in Kyabram, four coaches and six smaller vehicles," he said.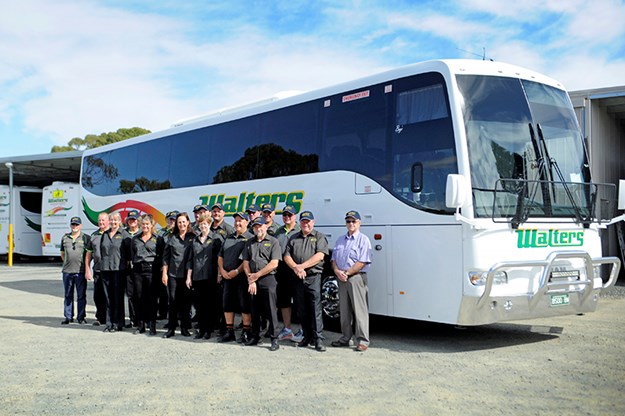 OPERATIONS
In 2017, Wayne and Sue made the hard decision to sell the Euroa part of their business after operating as Walters Buses in Euroa for 65 years.
"We made the move to Kyabram to finally condense ourselves in one position and downsize," said Sue.
"Saying that, we still have 13 school runs and the charter side of the business."
Wayne added: "As our children were in university by then and they were probably not going to come into the bus industry, that was another reason we didn't want to keep punching on in Euroa, and make our life a little easier in the last 10 years. It is still busy here in Kyabram with our school runs, coaches and charter business at present."
Employing the right people to go on charter was a big thing for Wayne. Moore and Wayne were the two top drivers in the business. Moore, who calls herself a 'jack of all trades', has been with Walters for 17 years.
"Carmel learnt driving from a minibus up to a coach. She has been great to work with and brought a lot of work home for us," explained Wayne.
Strong relationships with the clients helped them grow. At one point, Walters had a big group for the senior tours and being from a small community meant the group would explore a new place every time - from Fraser Island to the Kimberley, Barossa, Gold Coast and all of South Australia. They nurtured a great relationship with this group and, as Wayne put it: "It was like going away with a big family and fun time for them and us, too."
The team has made trips to places like Central Australia, Canberra, Tasmania, the Tropical North, the Great Ocean Road, all state capitals and overseas to New Zealand and Norfolk Island.
"We've done some pretty special jobs over the years that always bring back fond memories," he added.
"In 2000, we took six buses to the Olympic Games. We had a few buses at the Commonwealth Games, where Carmel, Henry and I moved a lot of the athletes out of the village. We've been very lucky to get our nose in the door and enjoy different types of jobs. It has been a good journey."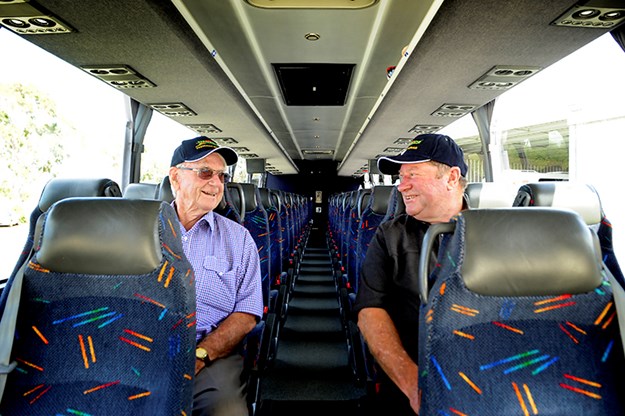 SERVICE HISTORY
Wayne is the third generation of the Walters family to carry the bus company torch. His granddad, Vic Walters, set up Walters Passenger Service in 1952 after buying three school runs and buses from Gordon Underwood in Euroa.
"Vic had a love for vehicles; he got his brother-in-law, who was a body builder in Bendigo, to build him an elite coach in 1954 - fitted with a Cadillac motor," said Wayne.
After Vic retired, his son, Neville, took on the operations full-time. By 1975, he had replaced the old fleet with Bedfords and, in 1986, he purchased his first Austral Coach to begin some charter work. His wife, Lorraine, helped with the charter bookings and cooking during their trips. Walters Service soon became one of the most well-respected bus and coach business around Euroa.
Despite growing up in a bus family, Wayne didn't think he'd end up there. At 16, he moved to Melbourne to do an apprenticeship as a boilermaker but, seven-and-a-half years later, he met Sue and ended up returning home to Euroa. He started working for his dad and, in 1995, bought two school runs from him, before buying Neville's last vehicle 18 months later.
"My parents used to do a lot of charter work, including senior tours, theatre runs to Melbourne and back, a pokies run on Sundays and school camps during the week.
"Mum helped us out a lot managing the charter side of the business until Sue quit her job to help out in the family business. Mum's business skills and business brain was really helpful for me and Sue starting out - how to organise charter work and how to treat people, be wonderful, organise charter work and be one step ahead.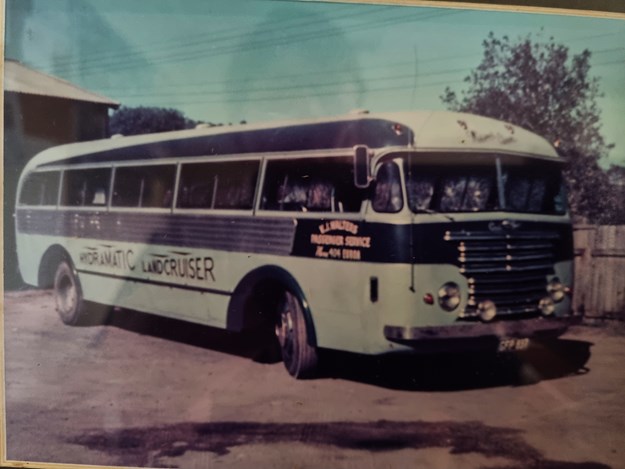 "We used to have a bus pit and depot at our home and, one day, when John and Val Russell of Violet Town came in for a regular maintenance check, he mentioned that he was hanging up the boots that year. He offered me the opportunity to buy his school runs and we did a handshake deal. That Christmas I bought his school buses in a deal that would include his number one driver: his daughter, Julie Keel. In the past 19 years Julie has become a very close friend and colleague of mine. Buying John's school runs was the beginning of our expansion as a business."
Meanwhile, Neville continued to remain actively involved in the business, filling in on school runs or moving buses between depots. Starting driving buses in 1952, Neville held his bus licence up until the end of 2019. The family believes it could possibly be one of the longest-held bus licences in Victoria.
In 2006, Wayne and Sue bought two school runs in Kyabram - starting their association with Kyabram that would eventually become the final leg of their bus and coach business legacy. "Still, it's a real good bet, the best is yet to come!"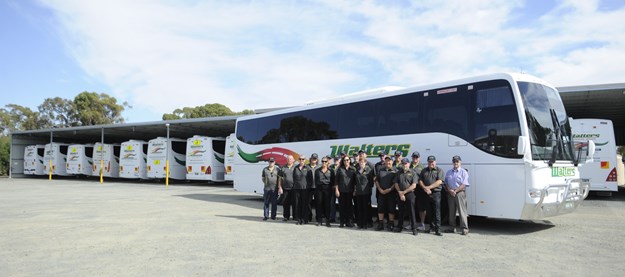 Subscribe to our newsletter
Sign up to receive the ABC e-newsletter, digital magazine and other offers we choose to share with you straight to your inbox
You can also follow our updates by liking us on Facebook.