TRANSPORT CANBERRA BUS FUEL, EMISSIONS 'ECOLUTION' SAVINGS
---
FOLLOWING its successful city bus fuel and emissions-saving trials via Scania's original 'Opticruise' program, the results of its latest 'Ecolution' strategy are even further improved, the companies report.
Recent results of a seven-month trial using Scania Ecolution – which includes key driver training hints and tips – indicate it cuts fuel use by close to 10 per cent and increases passenger comfort simultaneously, Scania explains.
Ecolution aims at maximising fleet fuel efficiency using ongoing driver training, digital coaching, vehicle and fleet optimisation, and other tools to achieve pre-determined sustainability goals, as well as enhance operating cost controls.
Self-described as, "…a tailor-made partnership for the sustainability of bus operator businesses across Australia," the successful Transport Canberra campaign indicates a decrease in operating costs and emissions using the Ecolution optimisation program, they confirm.
As its name implies, 'Ecolution' aims to: "…reduce fuel consumption and carbon emissions through vehicle optimisation and by meeting agreed fuel and CO2 emission reduction targets," Scania Australia explains.
Centred around a group of 40 Transport Canberra drivers on regular route work, a new low of 28.12-L/100km was achieved for fuel consumption, a saving of 9.7 per cent above the benchmark established prior to the start of the seven-month program, the Swedish bus OEM reports.
Additionally, the drivers achieved a 7.8 per cent reduction in carbon dioxide tailpipe emissions as a result of their improved driving performance, it says.
During the program, the drivers covered 260,025km and the buses consumed 74,697 litres of diesel, Scania states. Prior to their Ecolution training, TC bus average consumption was 31.15-L/100km, while the average consumption during the program fell to 28.12-L/100km - the best result being 24.46-L/100km during a week in August, Scania claims.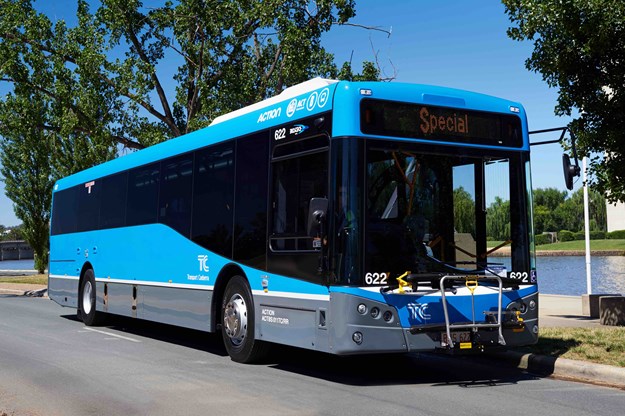 STANDING STILL
Average idling time was also reduced as a percentage of total runtime, from 22.4 per cent to 16.3 per cent with the best result logged being 11.2 per cent, recording proves.
Harsh braking events were reduced from 2.7 per 100km to 2.3, with the best result being 1.3 per 100km. Harsh acceleration also reduced significantly from 0.82 per 100km to 0.27, with the best result being 0.02 per 100km. Benefits here are a smoother ride for passengers, says Scania.
The driver group involved in the ACT program in 2021 has been encouraged throughout the Ecolution program by Transport Canberra training staff, as well by Scania's driver trainer Peter Verbrugge, who coached the drivers remotely due to pandemic restrictions.
Drivers, however, set about competing against each other to set new low fuel burn results, as well as focusing on smooth driving techniques and reducing their idling, Scania informs.
"Reduced idling has been notable in this program," says Hamed Shoghi, National Fleet Services manager at Scania.
"Idling is just burning fuel for no benefit, and idling levels were quite high at the start. There are many opportunities during the day when the engine can be shut off and this saves fuel, money and reduces overall exhaust emissions," he said.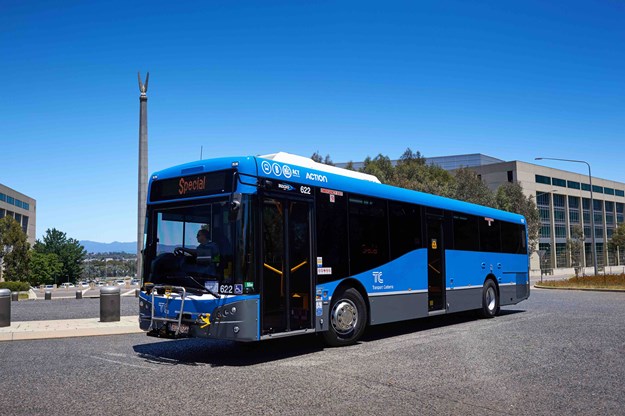 FLEET FILTRATION
"Good habits taught by the program have certainly raised the performance bar," added Glenn Dougall, senior director at Transport Canberra.
"This is our third Scania driver-focussed program and we have seen a cumulative reduction in fuel consumption and emissions over the period.
"The benefits of the Scania driver training program have spread out through the fleet, as we have had our own driver trainers trained by Scania.
"The core messages regarding fuel saving, smoother driving and reduced idling habits have filtered all across our operations to a far wider group than just those on the Scania Ecolution program," he explained.
"At the start of the Scania driver program three years ago we saw idling rates of around 40 per cent and the training cut that almost immediately. "We're well below that on average among the participating drivers in 2021, at 16.8 per cent.
"As an operator we are looking to reduce our emissions and fuel burn and the Ecolution program is assisting this.
"We're on a journey to transition to zero emissions by 2040, or earlier. "All our electricity in the ACT is sourced from renewables, so we see the reduction in fuel burn and consequent emissions as a real benefit," Dougall said.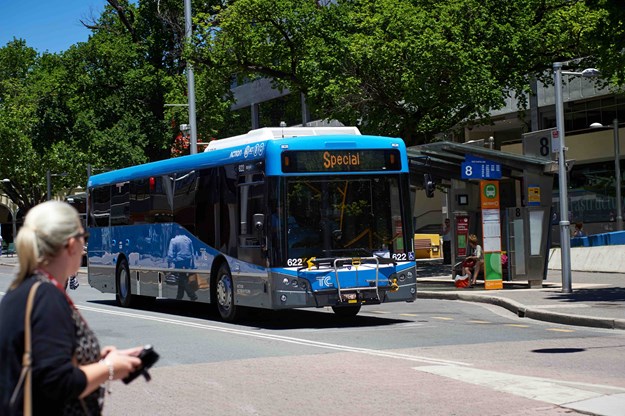 AUSSIE SPEC
Scania's Ecolution program has been modified to suit Australian operating conditions and comprises a selection of features and benefits for operators to apply in the pursuit of efficiency and the resulting reduction in operating costs and emissions, Scania Australia confirms.
"The Scania Ecolution program allows us to discuss with our customers the goals they want to achieve, and provide them with a pathway to success," said Hamed Shoghi.
"We can modify vehicle specifications, maintenance contracts and driver training to enable the driver and vehicle performance to be optimised. "Then we use the follow-up coaching principle to keep the driver training lessons fresh in the mind over the longer period until it becomes an ingrained way of working," he added.
"In the first program we saw a significant increase in efficiency and fuel reduction of 16 per cent, but that was starting from a very low base.
"When we started the third program earlier this year, the drivers within Transport Canberra had already been exposed to some degree to the concepts and so a lot of the drivers self-nominated to be part of the program.
"The fuel savings are valuable and enhance the operator's desire to reduce tailpipe emissions.
"Transport Canberra was the first government public transport fleet to adopt Euro 6 emissions standard engines in 2014 and has remained committed to specifying the cleanest exhaust standard over the subsequent years.
"This operator now has 186 Scania Euro-6-compliant vehicles on the roads of the ACT.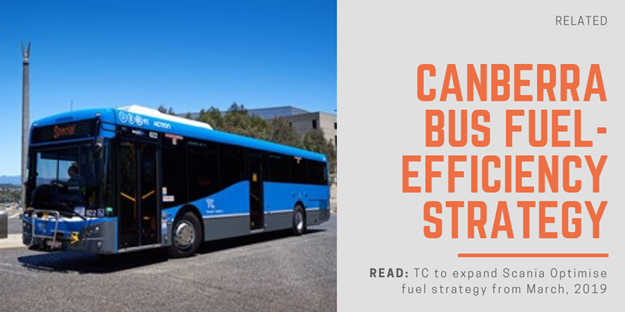 Hamed concluded: "Scania has several options for operators wanting to reduce their tailpipe emissions already available in Australia, from switching to biofuels (which dramatically cut CO2 emissions) to specifying the Scania hybrid-electric power-plant, all of which utilise essentially the same (if enhanced) hardware as a regular diesel bus, but offer significantly reduced emissions."
Scania Australia's Sustainable Solutions manager Anthony King stated: "Ecolution by Scania is part of our overall commitment to a sustainable transport industry, as is our wide range of Euro 6 engines for alternative fuels."
"This journey towards a better, cleaner and more effective future is one we would like to share with all our customers.
"At the end of the day, in order to minimise operator fuel consumption and emissions, we need to think 'outside the tank'," he concluded.
Subscribe to our newsletter
Sign up to receive the ABC e-newsletter, digital magazine and other offers we choose to share with you straight to your inbox
You can also follow our updates by liking us on Facebook.