SUPER VISION – ANNA WESTERBERG
---
INTERVIEW: A new electric bus product to launch with massive global implications for the brand's future push into electro-mobility was as good a time as any for ABC magazine to chat with Volvo Buses' relatively new president Anna Westerberg. With Volvo Bus general manager Australia and New Zealand Mitch Peden popping in for the online link, too, the intense bus talk began...
ABC: Hello, Anna. Nice meeting you and thanks for your time. Firstly, how did you get to this position today – what's your career background?  
AW: I joined Volvo Buses in February, so I've been about seven or eight months now on the job, but I've been with the Volvo Group for 12 years. It's my fourth job at the Volvo Group. I started out in Volvo Penta, working with diesel engines for industrial applications, and then moved to our venture capital company, making investments in different types of tech start-ups, so very much to secure the competitive future of Volvo Group. After a couple of years there, I got the opportunity to lead a newly-formed unit within Volvo Group called Connected Solutions, which had the connectivity platform and developed different types of connected services to Volvo Group customers around the world. So, I have been working in Volvo with everything from diesel engines to being at the forefront of service development. And now, at Volvo Buses, it's a little bit of all of that. The transformation towards electric is really obvious[ly] ... accelerating. Even if it has been tough times due to the pandemic – the impact in the transport industry and other industries of course – I see many exciting opportunities for the future. So, it's fun to be in the middle of this transformation, now. Before joining Volvo, I worked as a managing consultant for a Swedish-American management consulting firm, so I was living in the US for three-and-a-half years. After that, I was working for a company with business in the UK and France as a managing director. So, I have done various things – maybe 10 years outside Volvo and then a little bit over 10 inside Volvo – but I am born and raised in Sweden. Australia is actually very special for me because I was an exchange student in Sydney from '91 to '92, so I have a second family and lots of friends in Australia.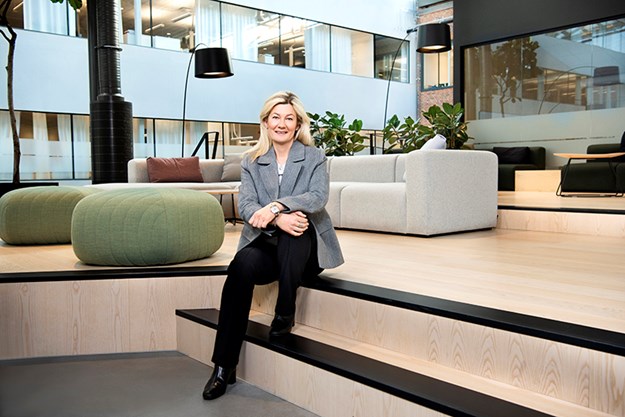 ABC: Have you been back since that time when you were an exchange student? 
AW: I have been back several times and friends have come over to Sweden, but I haven't been back for 10 years, so a long time now. 
ABC: And maybe if it wasn't for the pandemic, the BZL launch would have been a good excuse to come down? 
AW: For sure – I'm really looking forward to coming to Australia as it's a very important market for us at Volvo Buses. As soon as we can travel again I will, for sure, make a visit. 
ABC: Just to confirm – the BZL is just for the UK, Australia and Mexico? 
AW: No. In the launch video we had pinpointed those markets. They are very important markets for Volvo Buses, but the BZL is a global product so it will go wherever the demand is around the world.
ABC: Looking at the material that came after the launch there was a quote saying "…to be the world's most responsible electric bus system," in terms of what Volvo's offering and for the whole 'cradle to the grave' experience for operators. How would you say Volvo's interpretation of being 'responsible' is different to your competitors? As you can imagine, a lot of companies are talking about electromobility and zero emissions and clean product. What does Volvo pride itself on that's something a little bit different from an operator's point of view? 
AW: I think it's moving beyond zero emission. That's an important thing, to be sustainable, but it's really looking at the materials, how you source them, how you manufacture [the product], how you then take care of it for the second-life application, recycling, etc. and doing that to the highest standards and in the best possible way.  For us at Volvo, the environment has been one of our core values for a long, long time. Sustainability for us is about resources, it's about people, it's about material and so on, so it's a wide thing and really embedded into how we do business overall. We view that as something that is very important actually: to be competitive in the future, so we have a high focus on that whole sustainability area. 
ABC: When it comes to electric buses, many call them 'silent buses', but sometimes a bus being 'too silent' can be an issue. There's been research into what pedestrians hear and whether they are too silent – is this something that Volvo has looked into? Is there a certain decibel level that you need to meet? Any alarms or whistles, driver training? Anything like that in terms of pedestrian safety around electric vehicles? 
AW: Yes, we have done tests with this and applied noises to buses as they approach a bus stop and so on. There are many things that we can do to add that to the quiet buses, if that is something that is wanted. In Gothenberg [Sweden] we implemented 150 electric city buses more or less overnight and some of my friends said: "Wow, it was quiet in my apartment," and they are talking about it being a totally different feeling. So, from that perspective, the value of the quietness, of the no noise in the city, is very high. But I agree with you and I have been thinking about it myself, when you have electric cars that are super quiet and you don't really know if someone's coming or what's happening. So, I think that it's an area to further explore. But, as I said, we have announced that we have tested different types of sounds and so on that you can have. Artificial sounds, you can say, that you put on.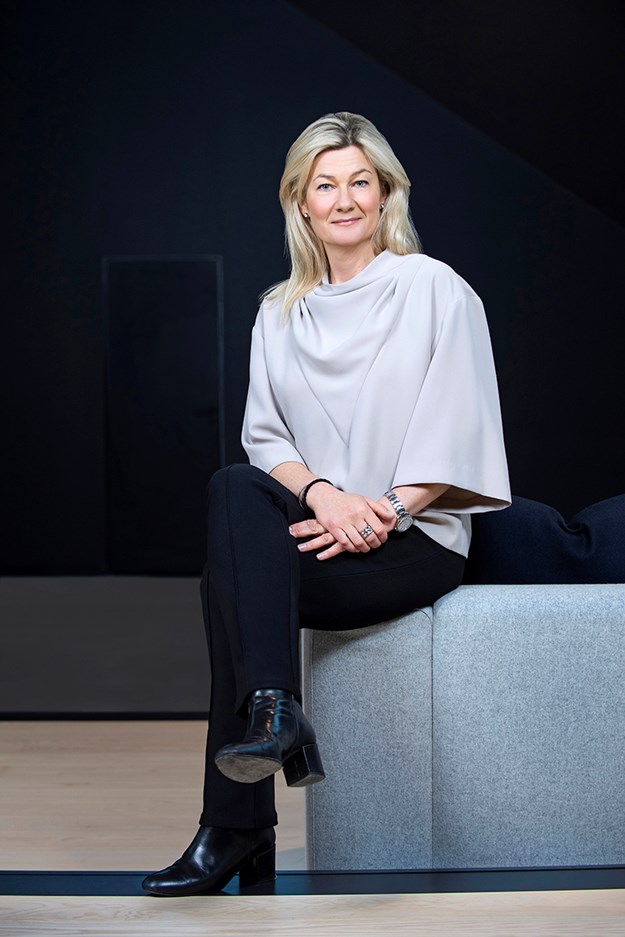 ABC: European cities are ahead of us in terms of the roll-out of e-buses and e-vehicles. Did Sweden have a government target to meet per year in terms of vehicles, have those targets been met and where does Volvo sit in terms of the percentage delivered of those electric vehicles out on the road? What's the current state of play?    
AW: To be honest, I don't know what the regulations have been but, of course, we have high ambitions to be a sustainable country, which have been reinforced lately with quite high ambitions, which have been needed. You can see this in other countries as well around the world, due to the situation with climate change and so on. We have been offering electric city buses in Europe for several years now and we can see that it's been accelerating. Not all cities or countries have taken it for granted, let's have electric versus this or that, but we can see now, in the past year or two years, that cities will go full electric. And we support it, we think it's very good.    
ABC: Talking about BZL and recyclability – I've heard 90 per cent and thought 'wow, that's a lot of the bus', that's great. Are there any weird or amazing secondary lives for these components? Are they in pot plants? Is it in building tiles?  What sort of stuff is the recycled material going into?    
AW: We don't do it ourselves – we work with different partners who are experts in recycling so they see if it can be reused into a totally new product or can it be used for something else. When it comes to the actual battery we look at secondary applications. Can they be used, for example, for energy storage or handle peak levels in apartment buildings, etc. We feel a big responsibility that we have all of that set up so we know that we take care of anything that we have used in the best possible way.     
ABC: Sure. I'm talking to a lot of companies and the big thing that I am asking people as we go into this is that, after the second life, third life, what's happening to the cells? It seems to be an evolving field and that's where my interests are. I saw another type of normal battery, not for vehicles, and they stripped it down and are trialling fertiliser with it. Any ideas like that?   
AW: I agree with you, it is an emerging field and we need to be in the forefront for understanding that, so monitoring the batteries with connectivity, etc. and understanding how they are performing, how they are evolving – that is an area where we have invested quite a lot in, in order to understand that. But, as you say, everyone has still a lot to learn about what will be the best secondary applications or how do you match a certain battery, depending upon how it has been used, into different types of applications. So, it's a very exciting area. Within Volvo Group we have formed a separate unit – I think we announced it earlier this year: Volvo Energy – with which we will work very closely and their whole focus is to find this out: where Volvo Group batteries can be used in the best possible way for their second life.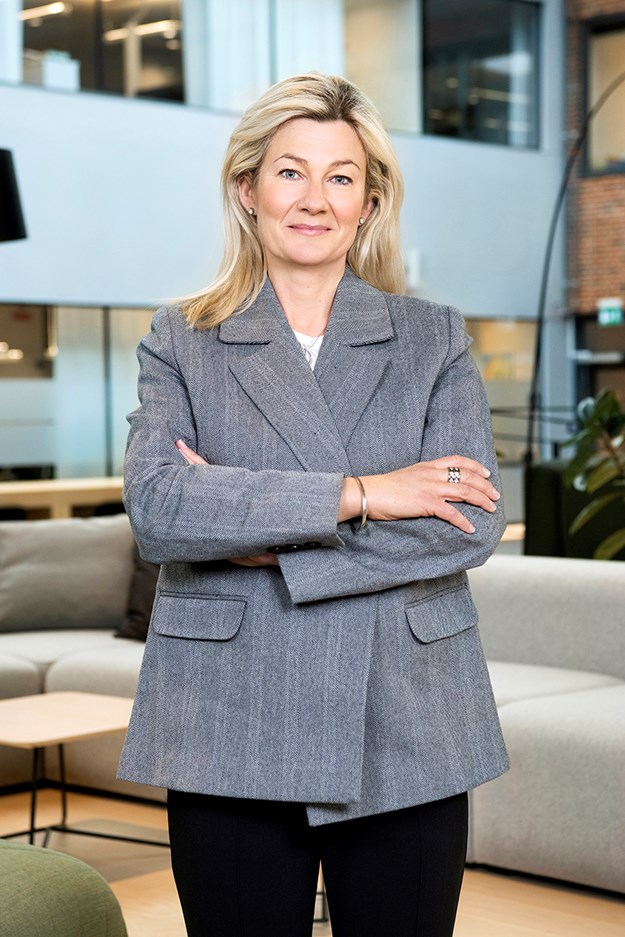 ABC: That's good to hear and I'd be interested in pursuing that further – to chat to someone to see what we can come up with. The BZL in single and double-deck form – there was a video of the chaps in London in front of the bus. So, are they tri-axle or dual-axle the double-deckers? 
MP: They were dual axle on that occasion. The tri-axle is most likely coming down the track but, on that iteration, it was dual-axle. I'm glad you raised that point, Fabian, because we've had some questions about why the batteries are on the roof and would the centre of gravity be better if the batteries were lower. But, we're very confident with our ESP braking and our expertise in our chassis design [and that], both with our partners, that we are very well placed [to show] that we do double-deckers well [in order] to have a single decker with batteries on the roof. I think we can showcase our abilities in this area to have a higher centre of gravity but to still have an extremely safe bus outcome.
ABC: Absolutely, and I think somebody asked that question of Dean Moule about the batteries and they said that, if they were on top of the bus, they were out of the way. That's how I interpreted it, yeah? So that's a good thing. These things happen in life, so it's always best to plan in advance. So, Volvo in your homeland, when you're making your own full units you'll have your own body design. When you're working with external body partners throughout the world, to what extent does Volvo have a say or get involved with the design and look of the body from a partner? Is it a case of just seeing final designs or, throughout the process, do you guys get involved? Or are you so selective of choosing a partner that you say: 'I'm sure you'll come up with something, I'm sure it'll be fine'? How does that work with how Volvo rolls its product out?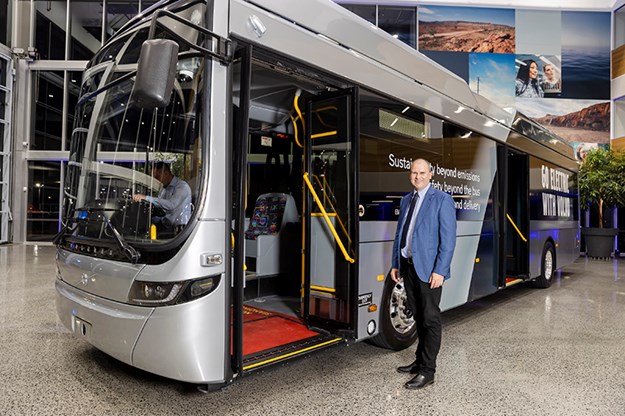 MP: Dean, who you know, and Mark Fryer, who works with him, are our body-build specialists. They work hand in hand, in an engineering sense, with our body partners. Yes, the body partners come with their aesthetics and designs for the exterior of the bus, but we have a very big hand in guiding them on how to build a chassis, what's required – particularly around the weights and the like and the structural integrity required for building on our chassis. Of particular interest with the BZL are all of the entry points that we have for servicing the bus. When you get to look at it, there's a lot of little hatches and all these sorts of things to enable very quick ease of servicing of the bus for just maximising uptime and limiting the time required for technicians and the like to be digging around within and under the bus, let's say. That's been very clever and it's a different solution that we've been presenting with this. And that's all come down to just meeting in the middle with our body-build partners and understanding how we can marry up. But they can do what we need. 
ABC: You've talked about Volvo Connect, which I'm assuming in Europe in terms of connectivity and geofencing, is much more advanced than how it is here. But I got the impression that you're still offering it in this region imminently. To what extent is that reliant on actual government rollout of infrastructure and GPS and all that? Or, is this Volvo Connect something that you can do independently with your own communications from the bus to your own head office and setting that speed and design on your own mapping thing? Is it independent or is it needing to do with cities and governments and the infrastructure that they have put in place? 
AW: My previous job was actually developing the Volvo Connect product. We have the Volvo Group Connectivity Platform, which means that our trucks, buses and construction equipment are connected from the factories when they go out and then the customers decide what type of services to subscribe to. But, of course, for telecommunication – for sending that information from the bus to the cloud solution that we operate – we are dependent of course on there being telecommunications providers. We also have the satellite partnerships. So, if you're in a very remote location – sometimes it happened to our construction equipment, for example – then we have special solutions in order to accomplish that.
ABC: So, when you say 'special solutions' for remote areas or mining, what sort of technology's involved and being able to commute with a vehicle out of a city – is that something other than satellites?    
AW: We have to have the satellite communication so it goes through that, which is of course more expensive than if you use the normal 4G network for example.    
ABC: And it's still good enough reception through a satellite – no issues with that? Ever lost a vehicle?    
AW: There can always be issues but, overall, we have very good experience. We send so much data, because our customers want it for various reports and how are they driving, what is the fuel consumption, etc. Now, we are we monitoring the batteries, what is the useable energy, how can they see the status of all of their assets? So, we send enormous amounts of data to look into that and, in most cases, it is working very well with the new buses and trucks.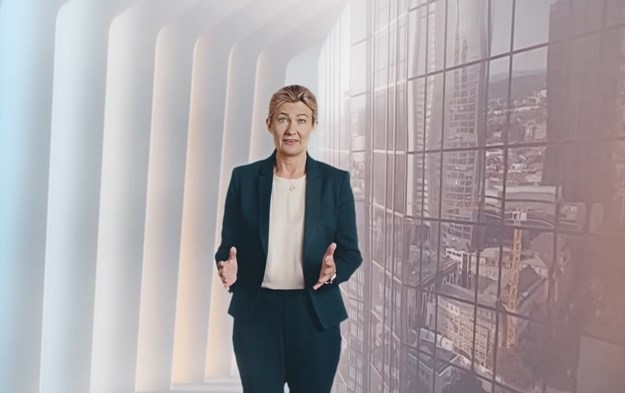 ABC: The 20-year energy guarantee for the BZL – was that just specific to Australia?
MP: The context of that was that obviously we'll be selling buses with batteries, but we are able to take positions with customers out to 20 years. Some customers may only want to be talking to us for the next five years, let's say. We are offering a very flexible business solution – in no way a one-size-fits-all approach – to taking very bespoke offers to our customers to meet their various needs, their contracts, their particular lengths and terms that they want, and be able to provide them some surety around the energy that they need from our bus solutions to meet their routes, based on their requirements. And we have already put a tender in around that sort of timeframe, but we'll really be able to take conversations between three [years] and out to that period, and everything in between, and be very flexible around our approach, which I think is fantastic and has been welcomed by customers. 
ABC: In this transition to electric around the world for so many companies and people, for Volvo, for your latest diesel product, what's going to happen to that? Are there still markets for that? Is there a phase-out happening? Is there waste? What lessons are we learning? What happens with all this stuff?    
AW: With the city and intercity segments, we believe a large part will become electric in the coming years. When it comes to the modern coach segment, it will remain diesel for a bit longer but, step by step, we also believe that there will be a transformation to battery electric, and when it's needed to get the range, in combination with a fuel cell. So, we will look at different solutions depending on what is the segment demand and the application demand. But, for city applications, in most areas of the world, it will be electric in the coming years.     
ABC: Internally, if you had diesel specialists, they would be retrained and 're-homed' into the whole electro-mobility field, right?    
AW: We have worked on that for some time now and we have been thinking a lot about how do we do that, because there's a lot of competence that we need, not only on the engineering side but also when it comes to sales because, when you sell an electric bus, it's not just an electric bus, it's actually a system that you're selling because you have to optimise it together with charging, etc. So, we are working on that and we have it as a very high focus, but when it comes to our engineers, we have really been seeing how they are able to learn new [skills] and I suppose that's in the nature of being an engineer. I myself am an engineer, actually. And some of the more traditional technology areas are coming back in importance when you transfer to electric. For example, thermal management and understanding that, so it's a mixture, actually. It's not so dramatic [a change] as we might have thought a couple of years back.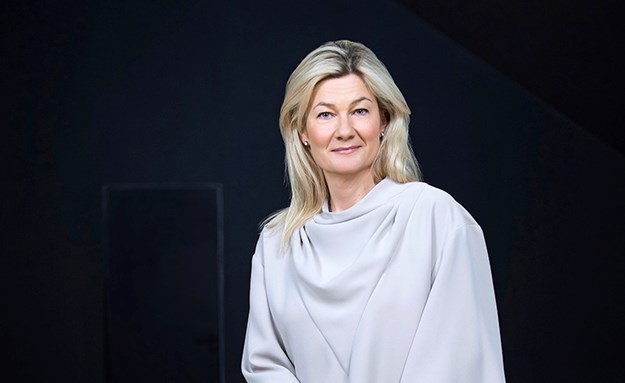 ABC: In this role, where do you see yourself and this company within the next year, five years and 10 years? How do you want to evolve the company? How do you see the company evolving? If I were an operator making predictions about my fleet, what is happening at Volvo? What exciting things are coming? Any concerns?  
AW: We are, right now, in this transformation phase to cleaner, sustainable, safer types of public transport and it's very much enabled by technology, and we feel that we have a very strong technology heritage and background. So, together with our customers and other partners, [we want to] make sure that we really drive and lead this industry in this transformation towards more sustainable public transport because we are convinced that this is needed. We need to travel together in order to handle situations and be able to also create an attractive society. So it is to be in that game, to be in the forefront, working close to our customers to drive that transformation, which will be very much the electro-mobility race, but also [developing] different types of services and solutions to better support our customers. We will continue to leverage, from the Volvo Group, developments. It's a big group and we invest a lot in into these new technology areas, but we will also tailor it to our specific customer demands. So, we will take the best that we can get from the Volvo Group together with what we can find with our own development, or with our partners, to provide those most attractive offers, and continue to stay focused on that track. That's important for us.    
ABC: In Europe, and other countries, you have opportunity charging. In Australia, it seems that we don't need that or we're avoiding that and just have depot charging. Have you had any feedback from operators asking about opportunity charging here in this region? Is there any avenue for that to come here or us needing it?    
MP: Absolutely. Particularly, let's say, Sydney – they've got a number of depots and a continually growing population. Their bus numbers aren't going to decrease, but they're very landlocked on some of these depots, so they're already talking to us about opportunity charging – pantograph up or pantograph down – as their depot solution, before we even talk about out on the road for top-up-type charging. And we've got a very flexible bus offer. We can be putting our CCS2 charging on the left or right or rear and we have the opp charging roof solutions as well, so we can very much tailor our solution to every different customer's needs, which is pretty cool.     
ABC: That's obviously at the ordering stage for what someone wants. So, the operator just says 'I prefer it on the right' and you'll do it? Is that what happening there with that decision making?    
MP: It's more so that – we like to think of ourselves as experts and being able to deliver expertise on the bus, but when it comes down to understanding each individual operator's depot sites and the like, there's a lot of effort that goes into mapping out the traffic flow and modelling, then the charging stations and infrastructure, and then we can begin to understand what's the most optimum solution for us to provide on the bus for them to get the best flow, and to get the best layout of their charging. It might be a range of different solutions for different buses housed within the same depot that makes it flow correctly. And we're working with partners to help drive a quality outcome, which is great. And we're starting to have these conversations now. We're learning a lot – there's often more questions than answers – but we learn a lot as we go.    
ABC: How long does it take to swap out a battery? Is there a benchmark for downtime? Is it a 'pitstop at Formula 1' thing or a day? Is it an evolving realm or a sales pitch that 'we can do it faster'?    
MP: It generally takes about an hour and we will be set up with our dealers to work from heights, so we'll have all of the correct gantries and the like, but it takes about an hour to change out the batteries. They're very heavy; it's more about the managing of the weight of it and the safety operation of working from heights and working with weight. The plug-and-play side of it isn't wildly complex – it's just a matter of getting them in and out and just making sure the system's reading and the like, then the test phase, and then they're good to go.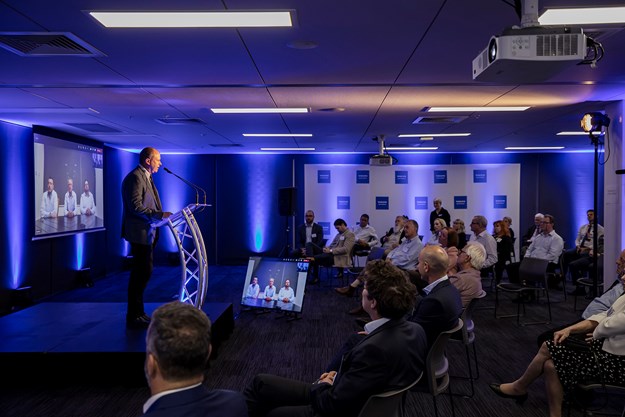 ABC: So, if an operator has a problem with a battery, are they expecting to get the bus back the next day/the same day?     
MP: If we're having to change out batteries, we would anticipate buses coming in and we'll be able to have a bus going out fully charged, to go back to operation, the next day.    
AW: We don't foresee extensive[ly] having to swap the batteries because we're also foreseeing them to last a long time. And maybe we'll only change part of it as well.    
ABC: Finally, is there anything else you would like to add?    
AW: For me, we are excited to bring this product to Australia and I look forward to seeing what we can achieve together with customers and society in Australia, and [our] partners. And to transform into more sustainable public transport solutions. I look forward to being part of that.    
MP: From my side, this is obviously our 50th anniversary year here in the Australian market, and we've been 11 years the market leader, so we have a lot of established partnerships, a lot of trust in our brand and a lot of our partners are looking for our guidance on the transition from diesel to electric. We're extremely well placed to have great conversations. It's very exciting to have our product now; a good plan around a timing roadmap to start to have great conversations; start to introduce partners to infrastructure providers and the like; and start to build some understanding of how we are to transition some of our key partners into the future, which is very exciting.   We're [already starting] these conversations after [the BZL's] launch – it's straight into it – which is pretty cool.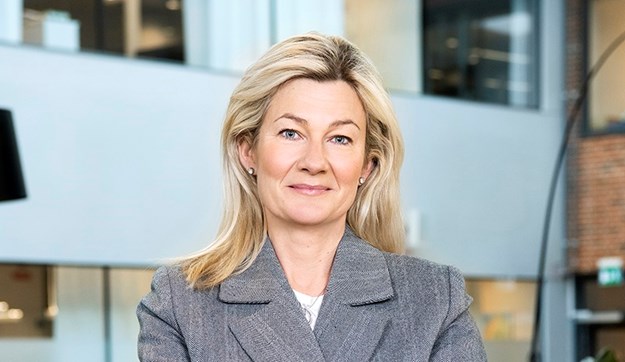 Subscribe to our newsletter
Sign up to receive the ABC e-newsletter, digital magazine and other offers we choose to share with you straight to your inbox
You can also follow our updates by liking us on Facebook.