PASSIONATE AUSSIE BUS INDUSTRY RESCUES CLASSIC QLD BUS
---
KEY MEMBERS of the Australian bus community have quickly rallied to pool $45K in a week for saving a beloved 83-year old heritage Bedford bus, the Queensland Omnibus and Coach Society (QOCS) reports.
The iconic bus - one of the oldest Queensland preserved buses in existence - a 1938 Bedford WLB that operated passenger services in Toowoomba for 40 years, was purchased from Greyhound Australia via an online auction, QOCS confirms.
With online time ticking, the generosity of a consortium of bus industry colleagues and members and friends of the McCafferty family, which altogether donated $45,000 to QOCS, allowed the society to make the bid.
According to a spokesperson, after the vehicle was put up for auction in November, 2021, Tony Hopkins, chief executive officer of CDC's Regional Australia division, put out a call to a group of Queensland bus operators to gather funds for QOCS to make the bid.
"The Queensland bus industry has been built on the back of family businesses, and this particular vehicle is an important piece of our history that needs to be saved," Hopkins said.
The bus is currently under the care of the Burpengary, North of Brisbane-based Kangaroo Bus Lines workshop team, which quickly got the bus running again after several years of inactivity.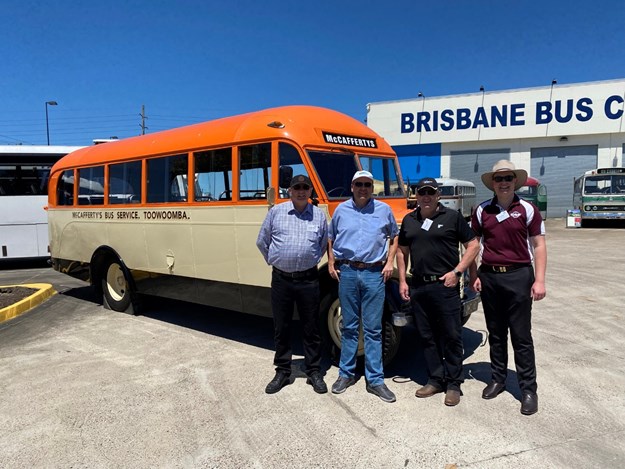 Above (L-R): Tony McCafferty, John McCafferty, Michael Dempsey, and Nick Wilson with the bus recently at the Heritage Bus Expo in October, 2021.
TEAM EFFORT
Following an initial pledge of $5,000 from operator CDC, Tony Hopkins, together with QOCS president Nick Wilson, coordinated gathering a further $40,000 in pledges from operators, suppliers and industry personnel throughout Australia, as well as from the bus-renowned McCafferty family.
"In my 10 years with QOCS, I have never seen such a significant sum of money generated in under a week, such was the gravity of the situation," said Wilson.
"This was a true industry-led push to make sure that a critical piece of our transport heritage was not lost forever", he added.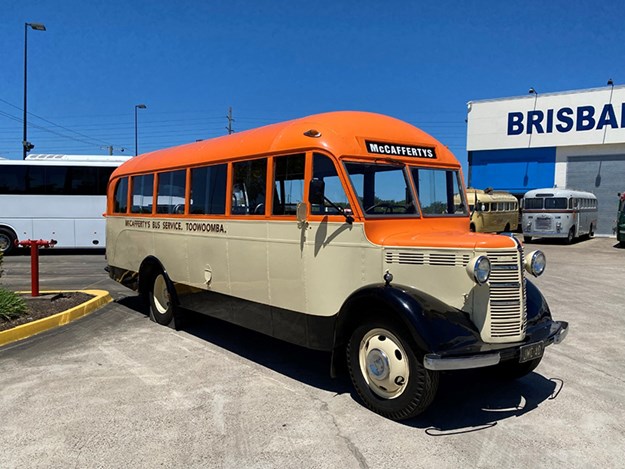 QOCS acknowledges and expressly thanks the following companies and individuals making the acquisition possible by donations and in-kind support:
Tony Hopkins; CDC Australia; Irizar Australia; Kangaroo Bus Lines; Hornibrook Bus Lines; Emerald Coaches; Southern Cross Transit; Bus Stop Sales and Service; Michael Dempsey; The Isaacs family; Pino Gattellaro; Jason Eldred; Matt Baird; Dene Rozema; Ben Hogg; Kelly McCafferty; Nicolas McCafferty; John McCafferty.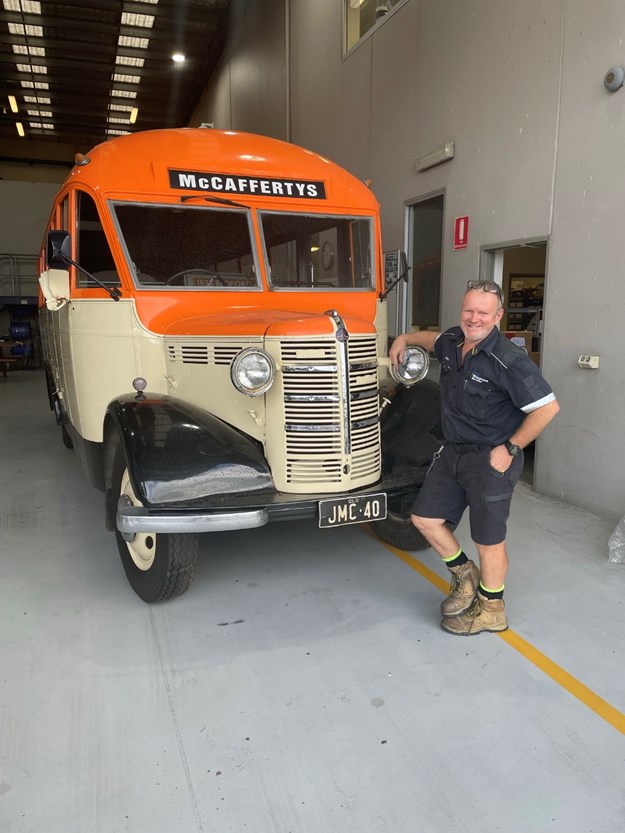 Above: Former McCafferty's Coaches workshop foreman, and current Kangaroo Bus Lines employee, Warren Eckhardt - reunited with the bus.
83 YEARS OF HISTORY
The bus in question's story began in England during 1938, when the chassis was exported to Australia - one of the few WLB-model Bedfords that arrived in prior to World War II.
Its bodywork was completed by Waddingtons (later renamed Commonwealth Engineering) at Granville, in western Sydney, on 5 April,1939. Its body frame construction is all steel, which is rather rare at the time as most builders in Australia were still using wood for framing, explains QOCS. It was sold new to Toowoomba bus proprietor James Frain, who operated a service between the city and south and Alderley Streets.
In October 1948, the bus and service was sold by James Frain to a partnership comprising George Edward Wingett, William Joseph Mitchell and Walter Stewart Cousins for £4,000. Wally Cousins was the son-in-law of George Wingett, while Bill Mitchell later started what is now Brisbane Bus Lines.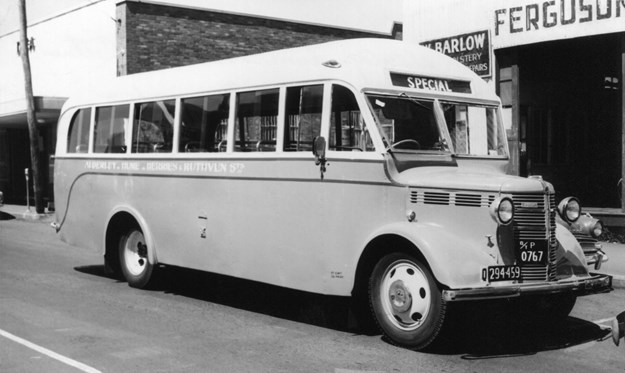 Above: Pictured in September, 1965, under the ownership of George Edward Wingett, William Joseph Mitchell and Walter Stewart Cousins trading as Hume Street Bus Service.
In February 1968, the bus and service passed over to the sole ownership of Wally Cousins. By June 1978, it had passed down a generation to Graham Cousins, who owned the service until 2 April, 1979, when it was sold with no vehicles to Alfred and Coral Probst trading as South East Toowoomba Bus Service.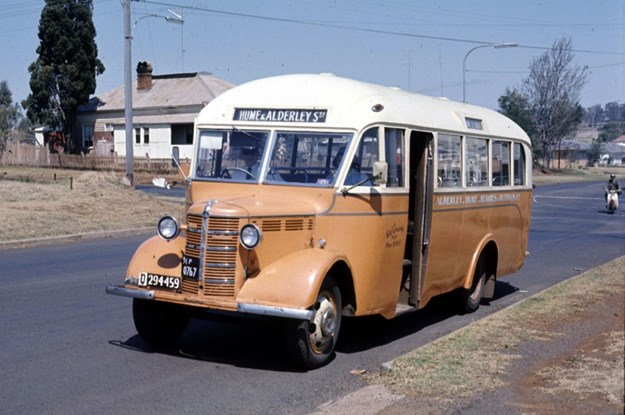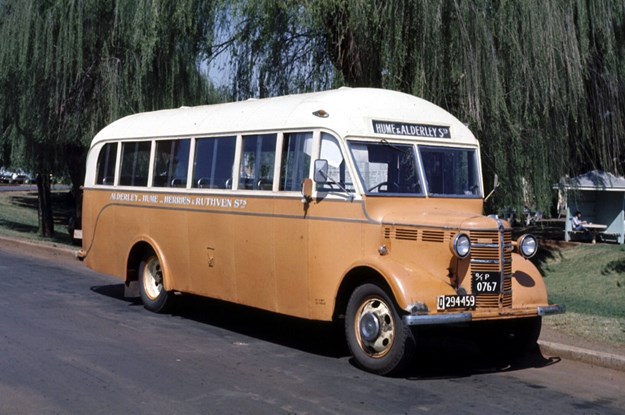 Above: Shown on 14 September, 1972, at Alderley Street and Cathro Park in Toowoomba under the sole ownership of Wally Cousins.
At 40 years of age, the Bedford was one of the oldest passenger service vehicles in Queensland. The Bedford was stored by Cousins and then sold for preservation to Alastair Grant, owner of Sunshine Coast Coaches at Maroochydore, who repainted the vehicle into his original all-over light blue colour scheme.
After Alastair Grant passed away, the bus was purchased by Tony McCafferty of McCafferty's Coaches and restored into the original McCafferty's colour scheme by Royans-Coachworks for Jack McCafferty's 82nd birthday in 1996. Although the bus was never owned or operated by McCafferty's in service, it is nevertheless very significant to the people of Toowoomba as it plied the local streets for four decades, QOCS says.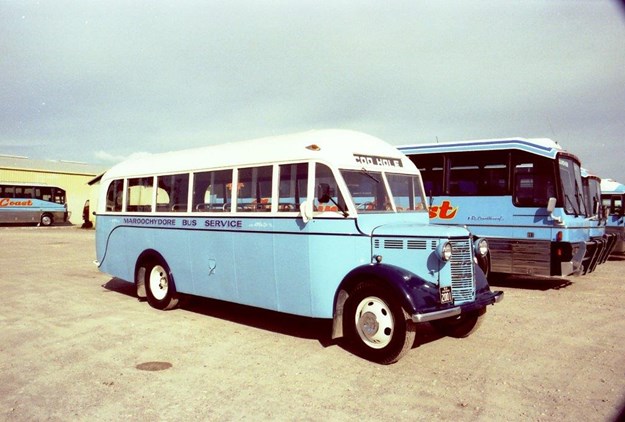 Above: Sunshine Coast Coaches proprietor Alastair Grant owned the bus as part of his heritage fleet until 1996.
Below: Jack and Lorna McCafferty pictured with the Bedford bus outside their home in Turnbull Street, Toowoomba after the bus was refurbished by Coachworks for Jack McCafferty's 82nd birthday in 1996.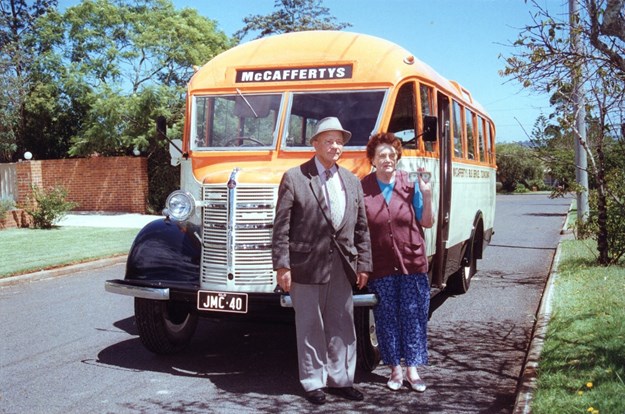 The vehicle remained in the possession of Greyhound Australia Pty Ltd (originally McCafferty's Greyhound Pty Ltd) for 18 years until its acquisition by QOCS on 22 November, 2021.
Subscribe to our newsletter
Sign up to receive the ABC e-newsletter, digital magazine and other offers we choose to share with you straight to your inbox
You can also follow our updates by liking us on Facebook.