ABC ISSUE 412 – OUT NOW!
---
EDITORIAL: If it's not electricity-grid shutdown threats it's holographic aliens coming to town - not Santa [facepalm]. Seriously? Gees...
Fallen asleep searching for one video online only to wake up to something like random cat bottoms on your screen? Eeek! Hey, we've all been there. But, this time, it was aliens. Holographic aliens, in fact.
Not alien bottoms, I hasten to add - thank God! I mean full holographic Klingon-type aliens, or such.
Do a search; you can't make this stuff up. Under the umbrella title of 'realistic holograms', there's not only aliens - which apparently will be shown to us en masse as some sort of invasion and we get scared and then comes all this unjustified spending on military stuff - but there's all sorts of - awesomely disturbing and realistic - holographic examples online. Check it out!
Whether it's whales jumping out of the water and splashing around in front of people while they are sitting inside a basketball auditorium, or people in a shopping mall interacting with giraffes and polar bears in real time and positioning themselves - gobsmacked - near the animals and patting them, etc; I tell you, it was graphically impressive, yet equally desensitising, to just how advanced in technology we are and to what high level things need to be for us to be entertained these days - lest we die of abject boredom 10 seconds later.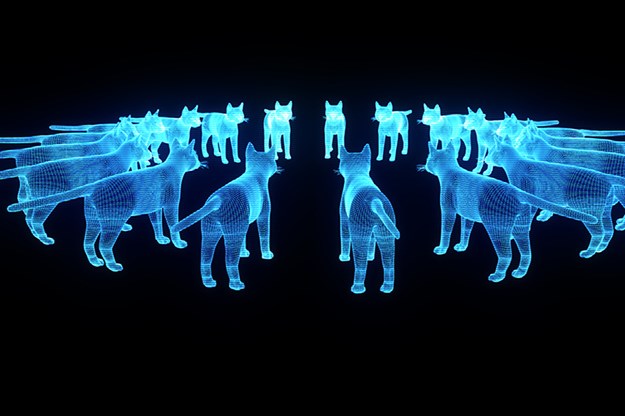 I guess, like Kurt Cobain justifiably and calmly (not) pointed out to us years ago in the hit song Smells Like Teen Spirit: "Here we are now, entertain us", followed by that crucial "Yeah!" scream in there somewhere. But I digress...
The point is, scaring people with aliens? Not sure that will work. We've all seen enough movies like Independence Day to know we have to fearlessly punch them in the head and say: "Welcome to Earth." So who are they kidding?
If we are collectively pumping money and energies into already expiry-date-doomed holograms, when are we collectively going to direct such greater efforts into healthier living, our schools and hospitals, improving education systems and fixing potholes? Hmm...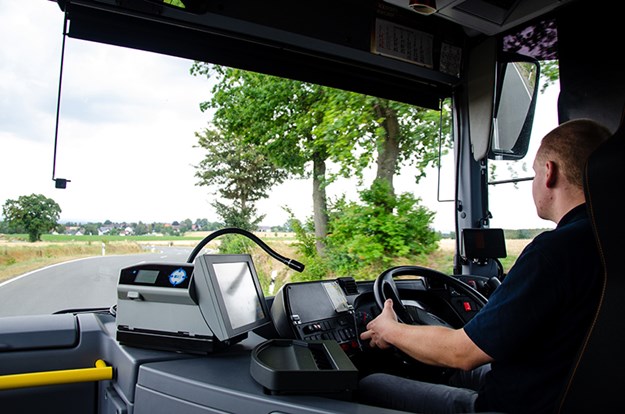 BUS STRESS
Which brings me to mental health in the bus industry. It was an interesting month online for us, where some blocked social media comments (not me, the algorithm does this automatically itself, usually for swearing) led to a conversation with a passionate reader about the lack of mental health help in the bus community, following the recent passing of her friend, and the major lack of support for the issue within an organisation.
The chat further helped remind me and, in turn, hopefully others, that each organisation is responsible for their own approach (NDAs?) - good or bad - and that such stressful current times would have made things worse for many drivers, so please speak more about it to friends and family or professional support groups if needed. And likewise let's all be more open to listening to others and look for signs of distress, and help and direct, especially as us 'busies' wind down for the year.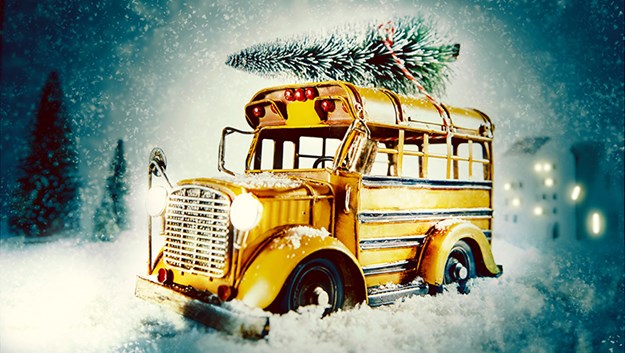 HO, HO, HO!
Let it never be said ABC magazine doesn't give out Christmas gifts and cheer each year, for within these pages of Issue 412 you will actually be receiving yours. You are most welcome. ;)
But seriously folks... Gracing our cover this December is something a little different indeed and one that's genuinely for a good cause - feeding people who cannot afford it. The Foodbank bus program has been added to via two Kinetic-donated ex-Skybus articulated buses, which Volgren reworked to be 'mobile supermarkets' (yes, you read that right!), designed to deliver fresh produce and healthy food (hoping that's not strictly marketing bumpf and someone's at least sneaking some decent chocolate on board to slip to people with a nudge and a wink) to those who desperately need it.
The concept probably has greater impact now with so many poor people who have lost their jobs, or having had to leave for a range of reasons, so anything that can keep them going for however long it takes to get back on their feet, if at all, speaks volumes about the type of society we are and how we choose to be.
The 18m-long 'bendy bus' (mainstream speak for 'articulated', BTW) - called 'Dorothy' will soon be joined by another early 2022, and if there's any justice for the greater canine community it will be named 'Toto'. Maybe. Check pages 34-39.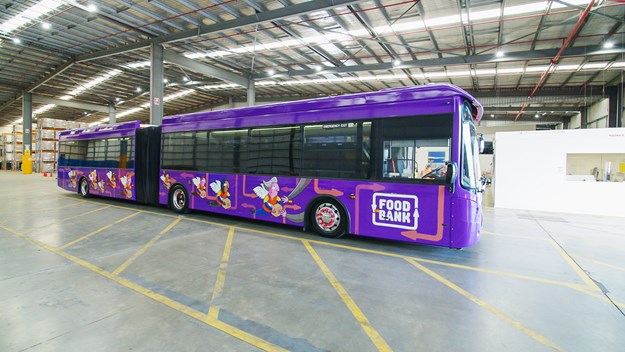 Also inside we chat to relatively new Volvo Buses Europe president Anna Westerberg, who joined local GM Mitch Peden on an ABC video call at the time of the new BZL electric bus launch, last September. Yes, it's taken me that long to type up the recording. Yes, I type each character and then re-look left and right at the keyboard for the next key to hit. My bad. Much thanks, though, to our production co-ordinator Cat Fitzpatrick, who masterfully saved the day and continued my poor efforts, so we had it ready for this issue. Thanks, Cat. See pages 52-57 for that one.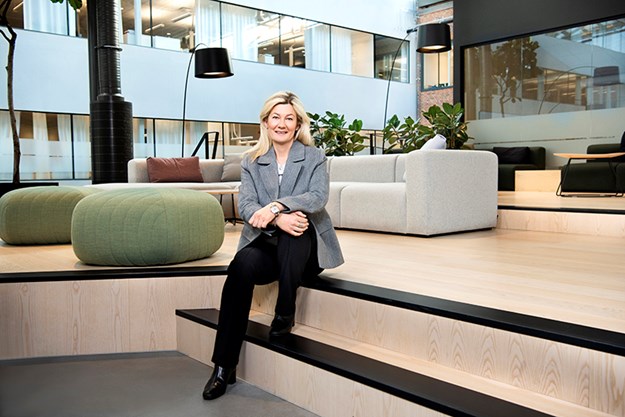 Operators? By a quirky twist of fate we have two this issue. We figuratively head to south Oz's centre to visit Adelaide's Kanga Coachlines, then pirouetting - while maintaining supreme balance in a tutu (not a pretty sight given my stubborn lockdown pounds) - south-east to Van Diemen's land (old school) to visit Tassielink and check out its latest 'Huonville Express' buses. They are on pages 58-63 and 40-45, respectively.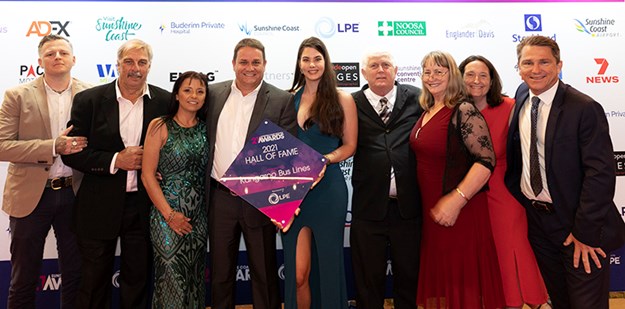 Plus, there is a retro-cool Queensland heritage bus event (on pages 46-51), we muse over the world's first electric double-deck coach from Van Hool (on pages 30-31), check out a new city e-decker in London (pages 26-28), congratulate Kangaroo Bus Lines on its Hall of Fame award win (pages 32-33) and also welcome Torrens Transit's new MD Sharon Brown (pages 24-25). Plus there's loads more.
Ultimately, though, the time we next speak we'll be on the other side of ... God knows what, given how things have gone since 2020 - so all I can say is: On behalf all of us at ABC magazine and Prime Creative Media, we wish you a very merry and safe Christmas and even merrier and safer (hopefully) new year.
And heartfelt thoughts and a warm virtual hug out to all who may have lost someone dear to them this year. :(
Until the next thrilling instalment...
Subscribe to our newsletter
Sign up to receive the ABC e-newsletter, digital magazine and other offers we choose to share with you straight to your inbox
You can also follow our updates by liking us on Facebook.