WORLD'S FIRST ELECTRIC DOUBLE-DECK COACH LAUNCHED
---
BELGIAN bus-manufacturing specialist Van Hool has built the world's first battery-electric double-deck coach – the TDX25E, with 500km range for the US bus market – on the eve of reaching its 75th anniversary in 2022, the company has announced.
The new TDX25E - affirming Van Hool's experience in the field of electrical drive systems for buses and coaches, it says - is yet another highlight of the company's history, with next year also marking 40 years (1982 – 2022) of Van Hool double-deck coaches (more than 3,500 units built).
Only a year ago did Van Hool produce the first fully electric single-deck coach, the CX45E, also shipped to the US market, it states.
Van Hool's TDX25E provides space for 69 passengers (18 on the lower deck and 51 on the upper deck) and has a range of up to 500km - depending on the climatological conditions and the route's topography, it clarifies. The US-market TDX25E will be used for comfortable employee commutes and/or regular passenger transport, according to Van Hool.
Following the sale of 22 fully electric single-deck units sold Stateside, the company is, "…once again demonstrating its innovation based on its vast experience in electrical drive systems," it states.
During the past few decades Van Hool has built more than 1,200 vehicles with an electrical drive system (hydrogen, trolley, battery and hybrid), it confirms. Both the single-deck CX45E and the brand new double-deck TDX25E use electrical components, including a Siemens power train and Proterra batteries.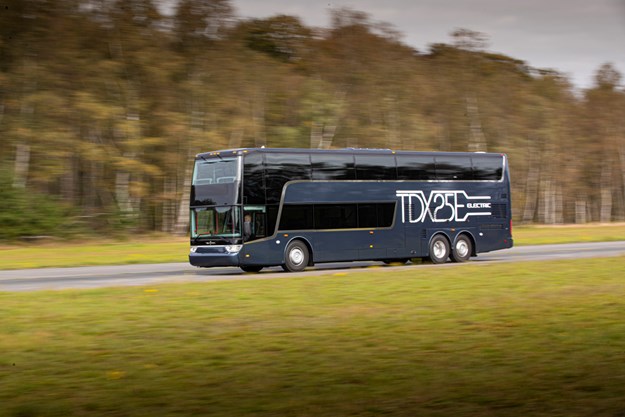 Van Hool CEO, Filip Van Hool, said: "American customers reacted very enthusiastically to the driving experiences with our first battery electric coach, the CX45E. This prompted us to quickly set to work on developing a battery electric double-deck, which has a higher passenger capacity."
"Our experience with electrical drive systems in the past, and recently with the CX45E, really helped us with the rapid development and comprehensive testing of the newest Van Hool double-deck: the TDX25E," he said.
"We've been producing double-deck coaches since 1982. Twenty-five years later – in 2007 – we shipped the first double-decks to the US. And now, 15 years later, we are launching the first 100 per cent battery electric double-deck coach on the US market.
"This is a second 'home market' for Van Hool; nowhere else in the world is the demand for our double-deck coaches higher than in the USA. "Globally, Van Hool has sold more than 3,500 units in 19 different countries," Filip Van Hool confirmed.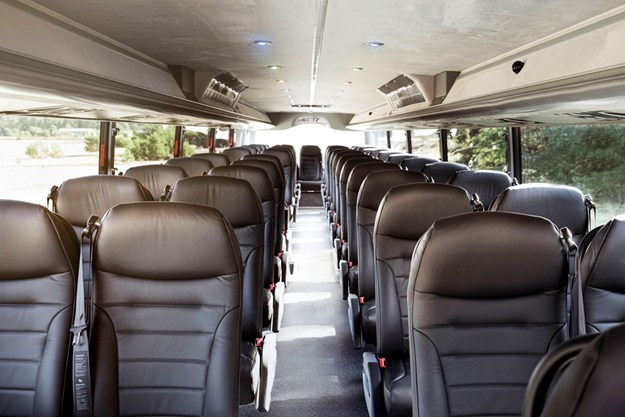 ABC CONNECTION
"The partnership between Van Hool and its distributor on the North American market - ABC Bus Companies, Inc. - began 34 years ago. After all these years of hard work, together we have managed to put Van Hool on the map in North America," Filip Van Hool stated.
"Today there are more than 11,000 Van Hool coaches and buses on North American roads serving many customers, including a number of large Silicon Valley companies, who organise shuttles for their employees.
"Due to demand from several customers for fully electrically driven vehicles, we at Van Hool looked for a solution," he explained.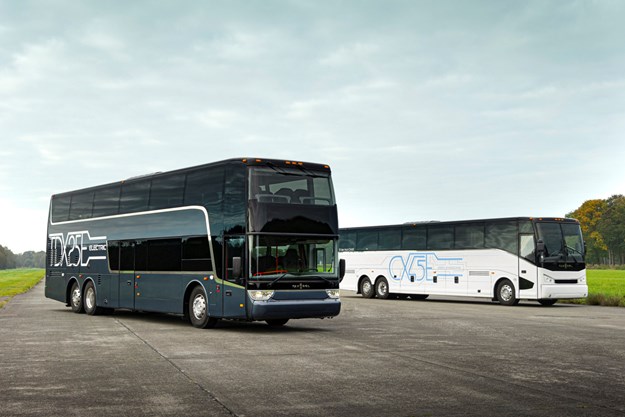 ABOUT VAN HOOL
Van Hool is an independent Belgian bus, coach and industrial vehicle manufacturer, it explains.
The company, founded in 1947, is based in Koningshooikt, Belgium. In 2022, the company turns 75, it confirms.
The majority of units produced are destined for Europe and the North America markets.
Van Hool has around 3,500 staff worldwide, the majority of whom work at the production facilities in Koningshooikt, Belgium, and Skopje, North Macedonia, the company explains.
Subscribe to our newsletter
Sign up to receive the ABC e-newsletter, digital magazine and other offers we choose to share with you straight to your inbox
You can also follow our updates by liking us on Facebook.