TRUE BLUE AUSSIE – BLUE BUS TOURS
---
OPERATOR: Blue Bus Tours director and founder Geoff Jacob loves driving coaches and sharing his love of the Australian outback. He and his wife, Sandra, run a school bus and tour charter business in Queensland. ABC magazine caught up with the couple to talk about what it is like running a bus company in the present environment.
Early last year, Blue Bus had 18 tours in its brochure ready to promote in 2020, when the dark shadows of the pandemic descended and cancelled everything. The company managed to get a few tours off the ground after August 2020, but the operations missed that pre-Covid level before further restrictions derailed the plans again. Despite that, the husband-wife duo is planning a full tour program for 2022; "Living in hope," as Geoff says.
In 2002, the couple bought Russell Island Bus Service with a 31-seater Isuzu bus and now operate 10 coaches under G & S Jacob & Sons Pty Ltd - trading as Blue Bus, Russell Island Bus Service, and Macleay Island Bus Service (purchased in 2004), offering school bus services and short and extended accommodated coach tours.
"Having worked for Diddillibah Bus Service, Geoff wanted an easy-to-remember, and spell, business name that reflected true-blue values; hence the name, Blue Bus," said Sandra, who manages accounts, payroll and marketing for the company.
Together they operate a fleet of buses and coaches ranging from 29- to 57-seaters including, five BCI coaches, a BLK, a Volvo, a Mercedes-Benz and two 57-seat Daewoo B117 buses that do school runs on Russell and Macleay Islands. Their vehicle service and mechanical work is managed in-house at their Redland Bay workshop, in Queensland.
Geoff continues to drive, doing most of the long-distance hauls for the extended tours and camping safaris, and cooks for those groups as well. Once a month, he goes to the islands to service the school buses there.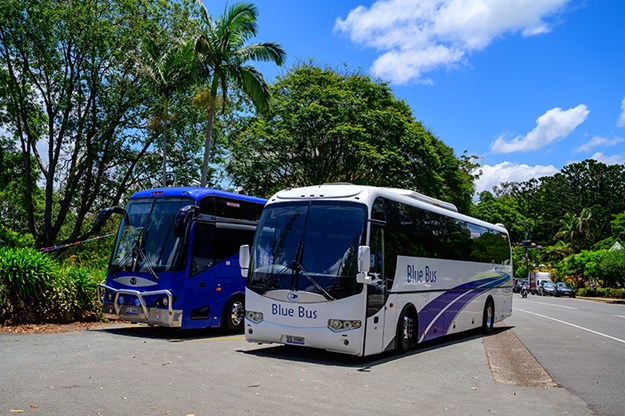 CHANGED OPERATIONS
In the pre-Covid era, Blue Bus ran tours all over Australia, but border restrictions meant it had to limit its operations to Queensland.
Until March last year, Geoff and Sandra were running all 10 of their vehicles and employing 14 staff, but since trimming down their operations they have four active vehicles and eight casual staff.
"When all our charters and tours were cancelled last year we only had our island school runs operating. JobKeeper kept some of our staff engaged but, after a while Geoff and I took on more roles ourselves, as we couldn't afford to keep our mechanic and office staff. As a result, we have worked far longer hours than we ever have, for less return," said Sandra.
"While planning for when things would improve, we scaled back all our expenses, de-registered some of our vehicles, kept contact with our customers and refunded a lot of tour payments. However, we were grateful that many of our customers were happy to leave payments in credit for when tours re-commenced. We were very lucky to get our first extended tour away in August, 2020, and it was a 13-day tour to Birdsville. We were the first tour coach to visit some of those outback towns last year," she explained.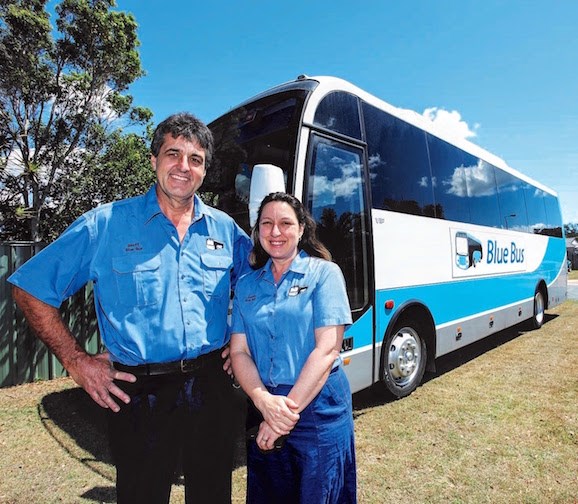 Treating customers as people, not numbers, is an important business value for Blue Bus. The team knows the customers by name and Geoff prefers to speak to them directly on the phone rather than interacting through a booking system. That's the reason they haven't put automated booking on their website.
"Safety of our drivers and passengers is really important to us. We have put Guardian Seeing Machine systems in our long-distance tour coaches, which gives us reassurance that the driver is being constantly monitored for fatigue. We also take a defibrillator on the tour coach, which is reassuring to our passengers," said Geoff.
"We have great drivers. We encourage them to work independently and give them the skills and authority to make decisions on the road to ensure our tours progress smoothly. Things don't always go to plan during a tour, but a good driver can overcome obstacles to still ensure the passengers have a great time.
"We use the services of group itinerary planner Expanding Horizons for our tour planning, which has helped us immensely.
They are working very hard for a lot of small operators like us and only charge for their services if the tour goes ahead."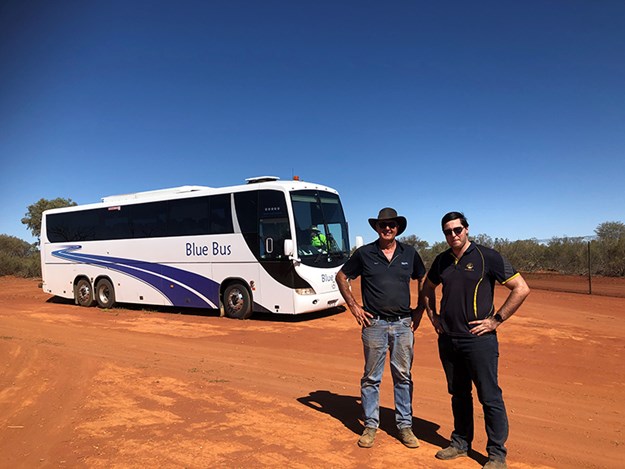 CURRENT ENVIRONMENT
With authorities changing rules at short notice during the ongoing pandemic, businesses like Blue Bus Tours suffers not just upfront financial losses, but also time spent planning the charters and tours, some of which have been several weeks or months in the making.
"There's no compensation for these changes and we're the ones copping penalties. The state government should do more to assist small operators," said Geoff.
"Dealing with Queensland Transport is also a challenge because the de-registration and re-registration rules due to Covid weren't clear to their staff. We had to go in person to re-register the vehicles and ended up wasting a lot of time there; even dealing on the phone with them takes time.
"There is no government support for the bus and coach industry as a whole. Airlines received funds to keep afloat, customers are getting vouchers for flights, but there is no consideration for the tour bus industry.
"We went on an extended accommodated tour to Birdsville after the restrictions in 2020. We were the first tour coach to visit some of those outback towns last year and spent a lot of money with local providers and there is no recognition by the Queensland state government that we're doing that.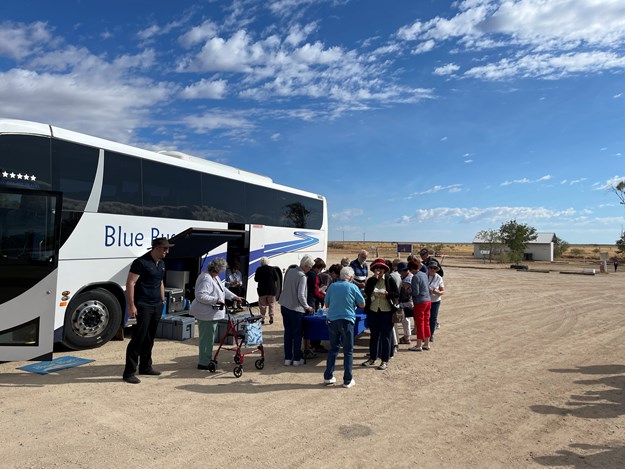 "We support those communities when things are good and bad, but it's very frustrating that the government doesn't see that our passengers are worthy of a travel voucher to jump on our coach and go for a tour. All the support has been for big businesses, with very little for small businesses like ours.
"One of the saddest things we're seeing is many small operators are losing their businesses.
Small operators can provide a cost-effective tour for passengers and the big guys need to help out the little guys because it is in everyone's interest that coach operations continue."
Geoff also feels that there is going to be a skills shortage because the bus industry has not done much to address the issue of driver shortage over the years.
"Once the government starts saying there will be no more lockdowns and restrictions, hope and confidence will return and passengers will book holidays again. Until then, we are a long way off recovering.
"However, we remain positive about our future despite the current challenges. Our goals are to improve our fleet age, which sits at a 12-year mark presently; get back to long-distance touring across borders; have purposed-designed tour coaches that cater more for passengers with mobility issues – this is close to our heart as our child uses a wheelchair – and; also get to the part where we're having fun again."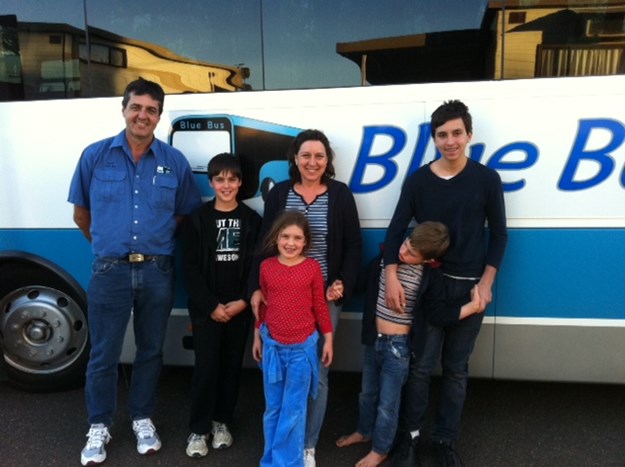 FAMILY HISTORY
Geoff Jacob, a farmer's son, didn't have any familial ties with the bus industry. He did his mechanical apprenticeship in a small town in southern NSW, Holbrook.
As a trained petrol and diesel mechanic, Geoff started working for Mylon Motorways in Wodonga before driving for Swagman Tours doing tours all over Australia. He also worked for Palmwoods Coaches and Diddillibah Bus Service out of Maroochydore. Nearly all his jobs had a tour element involved – from doing school camp transfers and snow trips to safari tours. A few years after their wedding in 1990, Sandra took a break from her teaching career to join him working for Swagman Tours on safari as a hostess and cook.
In the beginning, Geoff subcontracted coaches to do safari tours for international exchange students before buying a Motorcoach 53-seater to do school charters and tours out of Mt Cotton. By 2015, they had added five more coaches to the fleet, expanded operations to include more school work, started running camping safaris and begun 'citizen science' tours for the Save the Bilby Fund.
Blue Bus continues to support the national charity by diverting fares collected from any adult passengers who travel on its school buses to the Bilby Fund.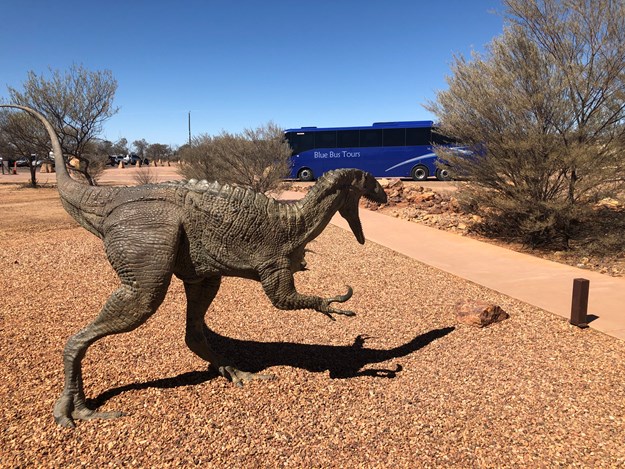 In 2019, Geoff and Sandra started Blue Bus Tours – an extended accommodated tour program using their BLK 13.5m tour coach.
Pre-Covid, they were also running extended tours and regular day trips for up to 50 seniors groups, in addition to regular charters for schools and sub-contracts for other tour companies.
The couple lived with their four kids, Adam, Travis, Lara and Gary, on Russell Island and operated the school bus until 2007 when they moved to the mainland to gain better health access for their youngest son, Gary. He was born with Bosch-Boonstra-Schaaf Optic Atrophy Syndrome – a severe form of intellectual impairment and autism. Sandra quit teaching to provide full-time care to Gary, who was born a day before the couple bought the business.
In 2015, they were able to get some assistance from Queensland Disability Services and later from the National Disability Insurance Scheme (NDIS), which allowed Sandra the flexibility to accompany Geoff on tours. The couple's love for tours goes back as long as their love story; they met on a coach tour to Ayers Rock back in the 1980s.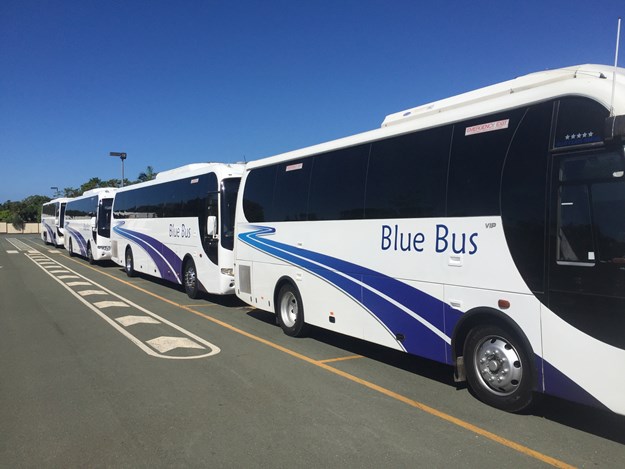 Subscribe to our newsletter
Sign up to receive the ABC e-newsletter, digital magazine and other offers we choose to share with you straight to your inbox
You can also follow our updates by liking us on Facebook.