FINAL VOLVO-VOLGREN BRISBANE COUNCIL CONTRACT BUS DELIVERED
---
THE LAST BUS of a Volvo-Volgren 12-year bus supply agreement with Brisbane City Council (BCC) has been delivered, the occasion marked officially at Volgren's Eagle Farm production facility recently.
The now symbolic Bus 882 capped off the successful 12-year council supply run, which amassed almost 900 vehicles delivered from the collaborative bus duo, the companies confirm.
The handover event featured the last of the locally built buses to leave the company's Eagle Farm facility, as well as the very first bus - a Volvo B7RLE - built in 2009.
Volgren has been operating as prime contractor to Brisbane City Council in partnership with leading chassis manufacturer Volvo.
Volgren CEO Thiago Deiro says the partnership has and will always be an integral part of the company's history.
"We are grateful for the trust that Brisbane City Council has shown in us for 12 years as prime contractor, and for more than two decades in total."
"We are also incredibly proud to have been given the opportunity to manufacture in Brisbane.
"This bus, just like more than 800 before it, were made by Queenslanders for Queenslanders," he said.
"And our partnership with Council will endure.
"We believe that when you choose Volgren you don't purchase a product, you purchase a relationship. Product supply is just one element of that relationship; we have a multi-skilled fully functional aftersales team based at Eagle Farm. They are only a phone call away."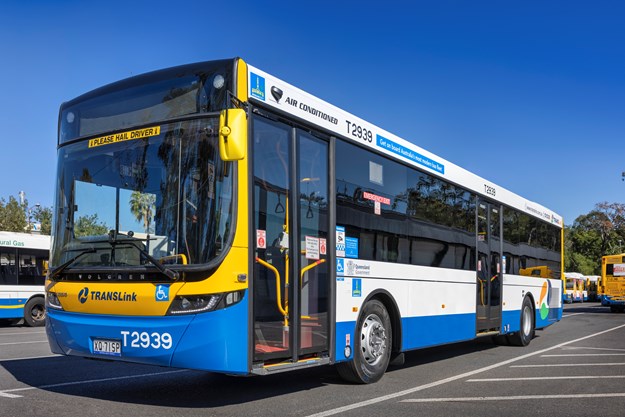 VEHICLE EXCELLENCE
Deiro says Volgren was doubly appreciative of the Brisbane City Council partnership, which not only helped to bring about a vibrant bus-building supply chain in Queensland, but helped Volgren improve its products.
"We believe we have helped Brisbane City Council develop and maintain one of the country's leading and modern fleet of buses. In return, they have contributed valuably to the success and excellence of our vehicles," he explained.
"Our Optimus is our flagship bus and we aim to make our next Optimus better than our last. We are continually making improvements, and many of the standard features have come from recommendations that were originally modifications specific to Brisbane."
Transport for Brisbane manager - Engineering and Assets - Karl Hain said: "Our collaborative partnership has seen several key product improvements for safety, customer and environmental outcomes."
"Fitting fire suppression, setting industry best practice for emergency exits, USB charging points and the introduction of Euro 6 low-emission vehicles have been key improvements along the journey."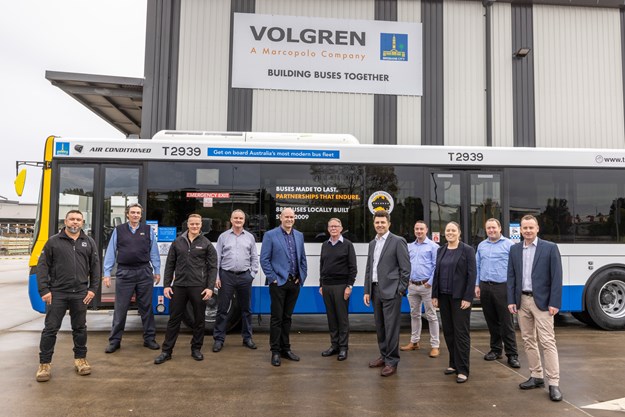 FUTURE SCOPE
Deiro adds he was hopeful that Volgren's strong presence in and outstanding knowledge of the Queensland market would stand it in good stead when any future Brisbane City Council bus tenders were announced.
"Volgren has a proud history of supplying high-quality buses to all of Queensland and we have built up a dedicated team of specialist bus body builders and more than 20 local suppliers.
"As Australia transitions to zero-emission buses, led by operators such as Brisbane City Council, we believe we're well placed to supply the next generations of on-road public transport vehicles to operators in this state and across the country."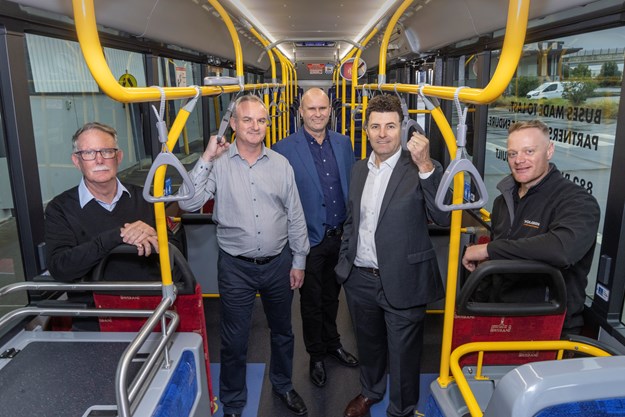 TIME FOR REFLECTION
Volvo Bus Australia (VBA) reflected on more than a decade of successful partnership with BCC and Volgren Australia.
With close to 80 million passenger movements annually, across more than 400 bus routes, BCC is a major provider of public transport services – with VBA at the forefront of supporting BCC through the supply of safe, reliable and environmentally friendly vehicles and servicing, it states.
Throughout the decades, BCC grew its small fleet of 11 buses to one that now boasts more than 1200 vehicles, it confirms. VBA has proudly been a part of BCC's journey throughout this time, after official awarding in 2008 of the initial three-year contract to supply chassis to BCC, it states.
VBA would soon go on to have its supply contract extended for a further nine years and would continue to deliver buses with its long-time body-build partner, and BCC's prime contractor, Volgren, Volvo explains.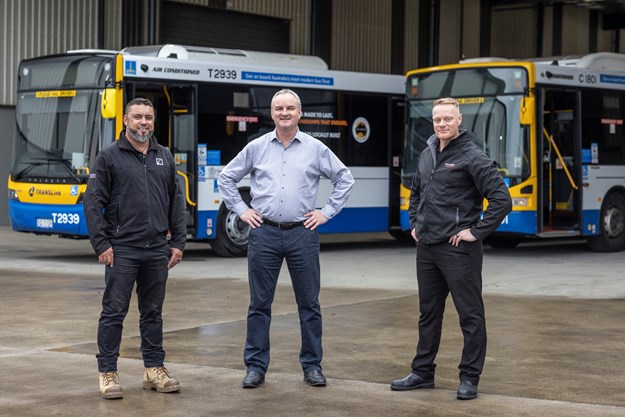 MODEL BREADTH
Since 2008, VBA and Volgren have together delivered 882 buses to BCC.
As Volvo explains, BCC has experienced the best of Volvo throughout the years, with deliveries of various bus models including the B7RLE, B12BLE, B8RLE, B8RLEA, and the Volvo B5L self-charging hybrid.
BCC was also one of Volvo's first customers to adopt Euro 5 and Euro 6 vehicles, leading the way in deploying sustainable and efficient transport solutions, it confirms.
Throughout the years, BCC's Volvos had their bodies built locally in Eagle Farm, Brisbane, by Volgren. In addition to BCC's support of local manufacturing its commitment to a clean, low-carbon public transport network has been boosted by the deployment of Volvo buses – particularly with BCC's heavy investment in low-emission vehicles in advance of legislative regulations, Volvo says. In fact, in 2011 the council won the inaugural Lung Foundation Green Leaf Award for its introduction of the Volvo B7RLE, which presented a diesel engine that achieved lower or equivalent emissions to natural gas buses, it adds.
The deployment of these vehicles has not only mitigated environmental impacts through reduced CO2 emissions, but has provided unparalleled bus safety to the general public of Brisbane, Volvo states.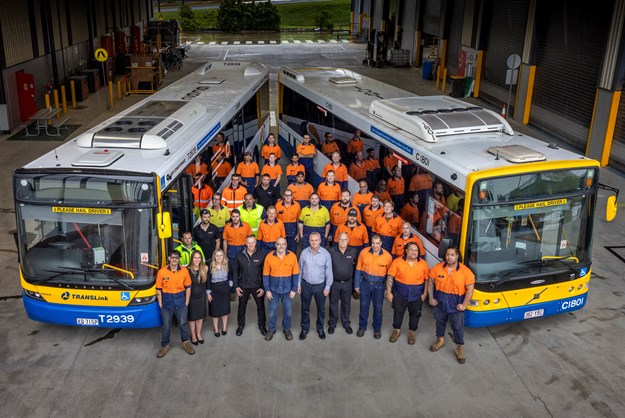 SAFETY FIRST
With driver and passenger safety being priority for BCC it made the strategic decision to partner with Volvo and Volgren to maximise quality and safety for all, it says.
"Council's strategic partnership with Volvo and Volgren has been instrumental in introducing new technology to improve safety and reduce emissions, which aligns with our clean, green city vision," stated Hain.
"Through the partnership, council's bus fleet has grown by over 20 per cent, resulting in one of Australia's most modern bus fleets," Hain added.
Supporting BCC's Volvo fleet for more than a decade has been Volvo's dedicated bus team, which includes the team from VCV Brisbane, which has and will continue to work closely with BCC well into the future to support its Volvo bus fleet, VBA confirms.
VBA currently has the only dedicated bus team in Australia that showcases more than 320 years of combined industry experience, enabling five successful decades in the Australian market and 11 consecutive years as the market leader in 2021, the company explains.
It is the joint dedication of BCC, VBA and Volgren to delivering safe, reliable and sustainable solutions that has enabled the successful ongoing partnership throughout the past 12 years, the entities agree.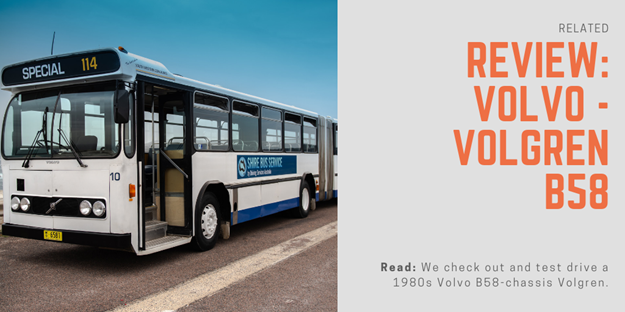 "It gives VBA great pride to reflect on decades of successful partnership with BCC as we hand over the final bus in our 12-year contract," said Volvo Bus Australia general manager Mitch Peden.
"Our relationship with BCC dates back a long time after delivering BCC's first Volvo B58 in 1976 – so being awarded the contract to supply chassis to BCC in 2008 meant a great deal to us.
"Our relationship with Volgren dates back to the mid-70s and they have been a trusted partner ever since.
"Entering BCC's contract with Volgren as a prime contractor has been extremely beneficial in delivering key outcomes, so that we can best support BCC and Brisbane commuters that rely on us.
"Volvo's values of quality, safety and environmental care have run parallel to the mission of BCC and Volgren over the years – allowing us to remain trusted long-term business partners dedicated to driving successful transport solutions," stated Peden.
Subscribe to our newsletter
Sign up to receive the ABC e-newsletter, digital magazine and other offers we choose to share with you straight to your inbox
You can also follow our updates by liking us on Facebook.