CROWNING ACHIEVEMENT – CROWN COACHES
---
OPERATOR: When it comes to transporting our children to and from school, safety is non-negotiable. That's why Melbourne's Crown Coaches has chosen to bolster its fleet with the new-generation Fuso Rosa. The new Rosa gives a lesson in advanced safety, performance and comfort, while helping the business stay on the road to carbon neutrality.
Melbourne's Crown Coaches has a simple motto: "Our family transports your family." That's exactly what the family owned company has been doing since 1967, now guided by the third generation of the Haoust family.
With depots in Nunawading and Dandenong South, the fleet is fast approaching 160 vehicles, primarily deployed on contract morning and afternoon school runs for specialist state schools and private schools, as well as servicing corporate charters, weddings and other events.
The company has recently consolidated its fleet with the purchase of four new Fuso Rosa Deluxe 24-seaters, two of which are fitted with wheelchair lifts for deployment in the aged-cared sector.
Crown Coaches business development manager Ivan Furlanetto says the safety innovations offered in the new generation of Rosa models were vital selling points, and are a significant step up from the previous model. Crown Coaches currently has 53 Fuso Rosas in the fleet. 
"Safety sits at the top of the tree in terms of our decision-making process," said Furlanetto.
"We're active in pushing our OEM [original equipment manufacturer] to provide vehicles that have car-like safety features, as well as helping us on the road to carbon neutrality and reducing fuel consumption. The new Fuso Rosa delivered on all those three points."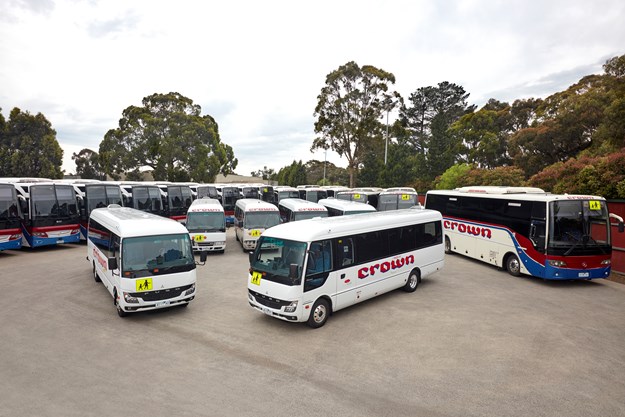 The new Rosa features an advanced, automated emergency braking system; pedestrian detection; lane departure warning system; driver and passenger air bags; hill-start assist; and a reversing camera. Furlanetto says these new safety innovations are a significant step-up from the previous model.
"These options bring the Rosa into line with our minimum requirements. We also load-on engine bay fire suppression and a five-camera surveillance system, so we're monitoring the interior, the steps, left and right side and forward facing."
Another innovation Crown Coaches has championed has been the use of reflective tape to make the vehicle more visible, bringing the coaches in line with the tape used on fuel tankers.    
"The more visibility the vehicle has the better, and this is now standard fitment on all new buses," said Furlanetto.
Working with Fuso, the company is also trialling a new pedestrian/blind spot detection system, particularly topical given the new laws around separation distances between vehicles and cyclists.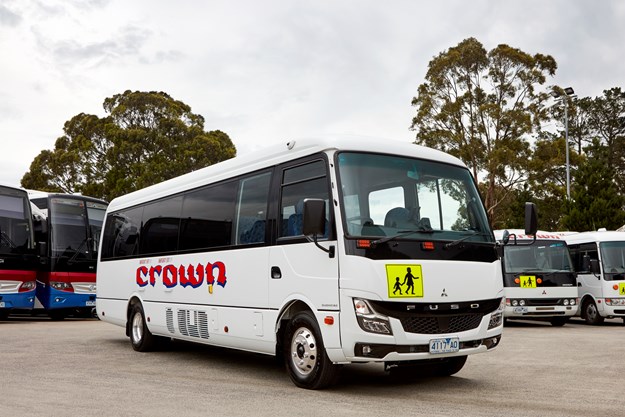 BIG CHANGES
Furlanetto says he worries that with modern coaches becoming so 'car-like' it could lead to complacency from drivers. Hence the extra focus on safety.
"These new units aren't 'boxy' anymore and they handle so well. What worries me is drivers might drive them like a car. But they weigh a lot more than a car and you're driving at rush-hour with children on board. It's a very high-risk environment, so let's do everything we can to mitigate those risks."
The new Fuso Rosa also boasts big changes in the engine and transmission, dropping engine capacity from four litres to three, while the transmission changes from fully automatic to six-speed automated manual.
"We've had automated manual transmissions in our Eaton-powered products for the last 15 years and they work fine," explained Furlanetto.
"With a smaller engine the revs are a little higher for changing gears, but we've had no issues with that. With fuel economy we're seeing more than the advertised five to seven per cent saving over the previous model and, interestingly, we're seeing an even greater fuel saving with female drivers."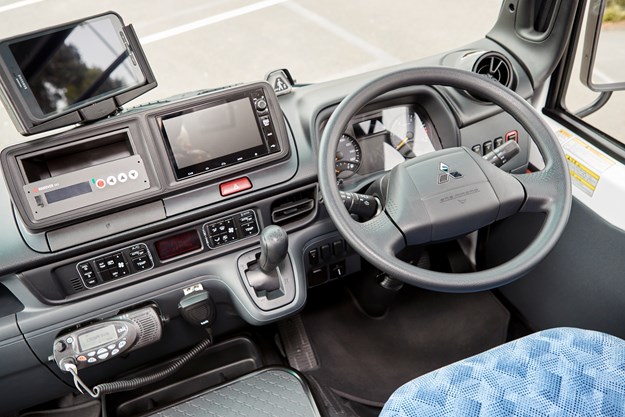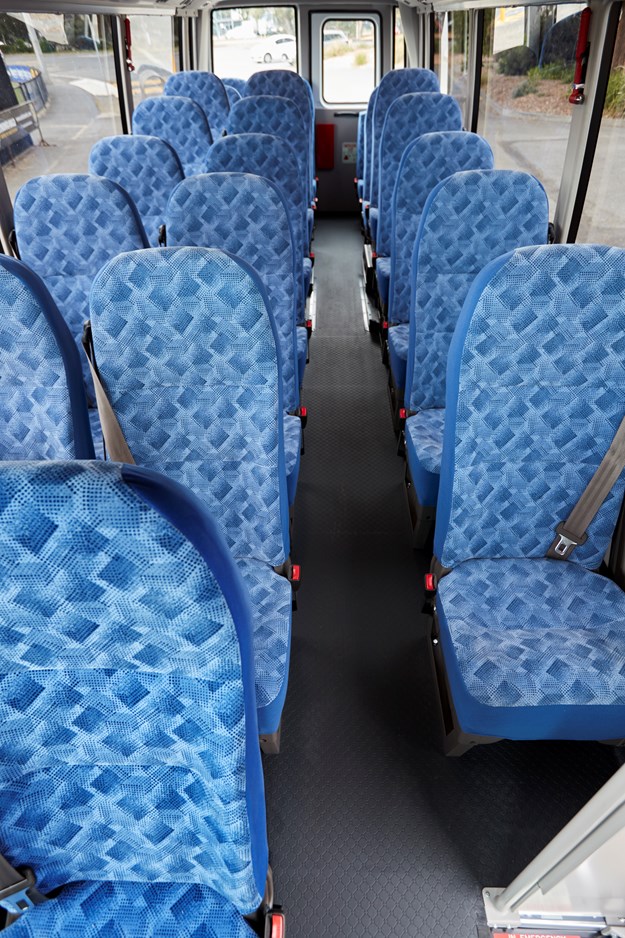 It is all part of Crown Coaches' drive towards carbon neutrality, he explained.
"We don't buy anything that's not Euro 6," said Furlanetto, who added that Crown Coaches' fleet now has 31 Euro 6 vehicles.
"Moving from Euro 5 to Euro 6 has seen our fuel bill reduce, so it's good for the planet and good for the business."
CONSTRUCTIVE CRITICISM
Furlanetto credits Fuso with being receptive to feedback on future improvements. If there was a small criticism he had on the previous model Rosa it was the positioning of the hand brake, which was located under the dash.
"As a tall person, it would crack my knee," he said.   
"So, I gave feedback to Fuso and they've taken that on board and moved the handbrake to the left of the driver – an old-school pull-up lever. It goes to show that sometimes old school works!"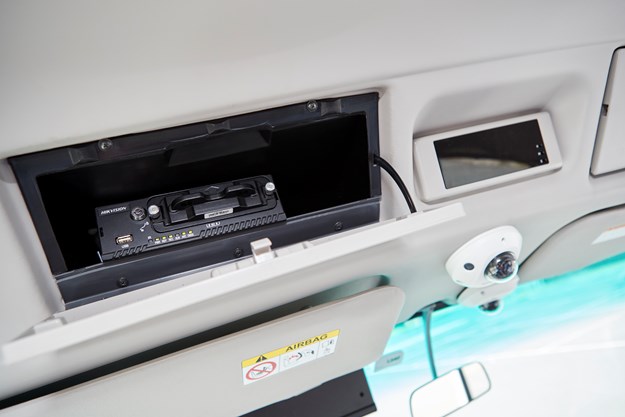 Another tweak on the new model has been moving the radiator header tank to a more accessible position, moving the transmission control and flattening the floor under the driver to improve driver comfort. It's all about saving time and making things easier for the drivers.
"As part of our daily checks we have a 50 visual-point checklist each morning and we want this to be as quick and efficient for the drivers as possible. In the old Rosa, the header tank for the water was underneath the steps so was hard to see. Now it has been moved to a much more accessible position. By moving the transmission control, it makes the hatch easier to lift off to get a visual of the engine for fluid checks."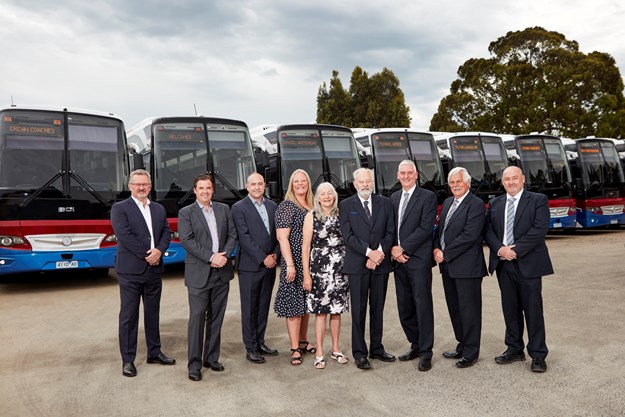 SOLID PLANS
After the disruption of 2020, Crown Coaches is looking forward to a bright future.
"Having schools closed due to lockdowns was a major hit to a company that trades in transporting children to and from school," said Furlanetto.
"But the business has shown that it's agile and resilient, and we're in a great position going forward. It's been really exciting to expand our fleet with the latest Fuso Rosa because it's a vehicle that aligns with our commitment to safety and innovation."
Starting out 54 years ago with one Bedford bus, it seems clear that Crown Coaches will be serving Melbourne for many generations to come.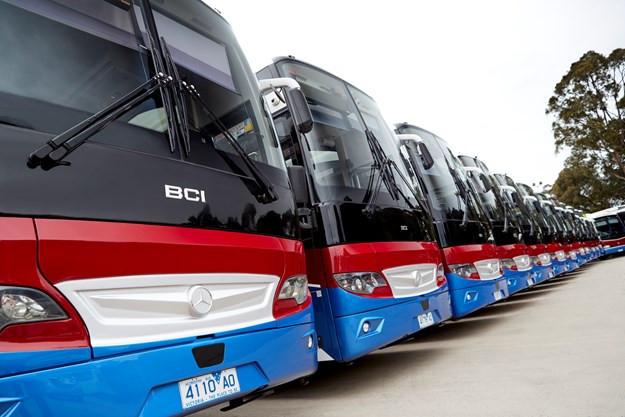 ABOUT CROWN
Crown Coaches is Melbourne's premier bus and coach transport provider, it states. Family owned and operated since 1967, the company is a Victorian Accredited Bus Operator – AO269.  Crown Coaches is known for its outstanding safety record, as well as for being an industry leader in environmentally sustainable transport solutions, it explains.
Crown Coaches was one of the first bus services in Melbourne and coach companies in Australia to offer an entire fleet of seatbelt-equipped vehicles, it confirms. Crown Coaches bases its operation on the key values of safety, accessibility – offering Victoria's largest fleet of wheelchair-accessible vehicles, innovation, accountability and integrity, it says.
The current fleet comprises minibuses, to accommodate up to 24 passengers; mid-size vehicles, which carry up to 43 people; and full-size coaches, with a capacity of up to 61 passengers.
Subscribe to our newsletter
Sign up to receive the ABC e-newsletter, digital magazine and other offers we choose to share with you straight to your inbox
You can also follow our updates by liking us on Facebook.