BUS DRIVER BEHAVIOUR 'ON THE RADAR': TRANSIT SYSTEMS
---
NATIONAL ROAD SAFETY WEEK – 16-23 May, 2021 - was acknowledged at Transit Systems' Morphettville, South Australia, bus depot where both Transit Systems and Torrens Connect team members hosted a morning tea with special guest speaker Peter Frazer, president of Safer Australian Roads and Highways.
On 15 February 2012, Frazer's daughter, Sarah, was killed in a completely avoidable road crash on the Hume Highway south of Sydney.
As a consequence of this tragedy, he and his family decided they would contribute to improving road safety outcomes through their policy development, community education as well as their advocacy work, Sealink Travel Group-owned Transit Systems explains.
With in excess of 5120 drivers and support staff at the company, National Road Safety Week is a time to put all driver behaviour 'on the radar', according to Seal ink Travel Group CEO Clint Feuerherdt.
"We can all help reduce the chances of an avoidable accident occurring," he said.
"As public transport providers, road safety is crucial given most of our team spend the majority of their time out on the road each and every day.
"National Road Safety week serves as an important reminder to us all to eliminate distractions, be alert at all times and keep safety front of mind while we are behind the wheel or near roads and vehicles.
"It's not just about our drivers, it's road safety; it's being an aware driver, an alert cyclist and a mindful pedestrian," Feuerherdt stated.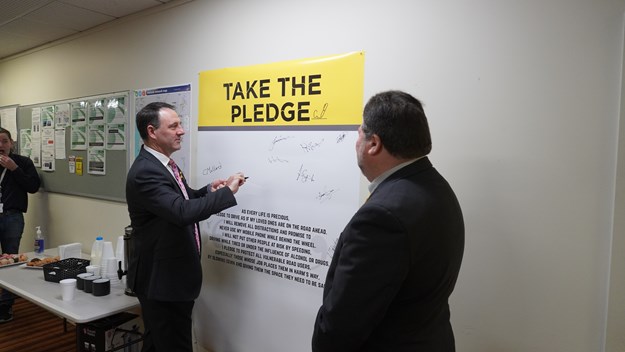 SIGNING UP
Feuerherdt signed the pledge and says Transit Systems encourages its drivers and other road users to be safe, and to give other drivers the room they need to be safe.
"We're saying - drive as though your loved ones are on the road ahead. We all share the road, so we are all responsible for driving safely," he said.
"Being a safe driver means driving to the conditions of the road environment and being ready to take action at any time."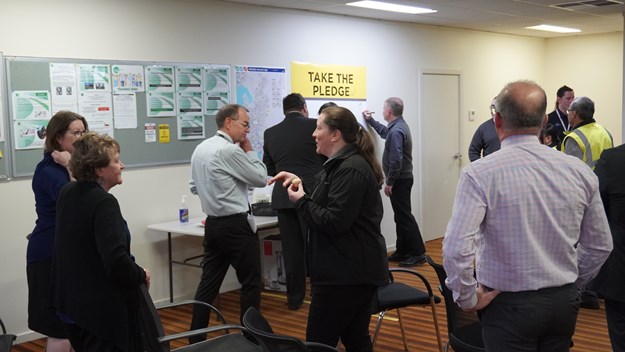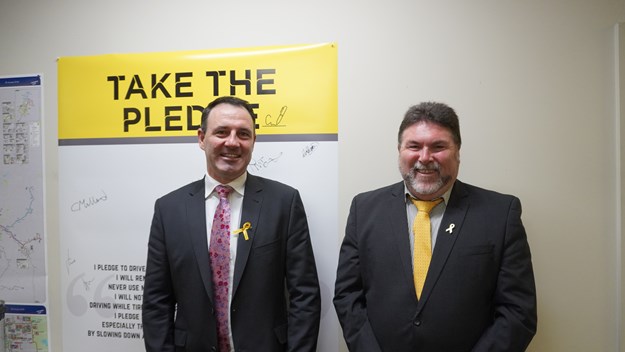 WIDE RECOGNITION
SARAH Group president Peter Fraser has more than 40 years' experience in: economic analysis; research; law enforcement and compliance policy; investigations; strategic and operational intelligence; project management; as well as social justice advocacy.
In March 2012, Fraser established the name Safer Australian Roads and Highways (SARAH), and established the Yellow Ribbon Road Safety Week in May, 2013.
Fraser's road safety leadership has been widely recognised by the following awards:
• 2019 - Volunteer of the Year, awarded at the Third Sector Awards;
• 2014 - received the University of Western Sydney's Award for 'Community Service and Leadership';
• 2013 - as part of the Australia Day Council (NSW) awards, he was named Blue Mountains Citizen of the Year;
• 2012 – a finalist in News Limited's 2012 Pride of Australia Award (Courage Category).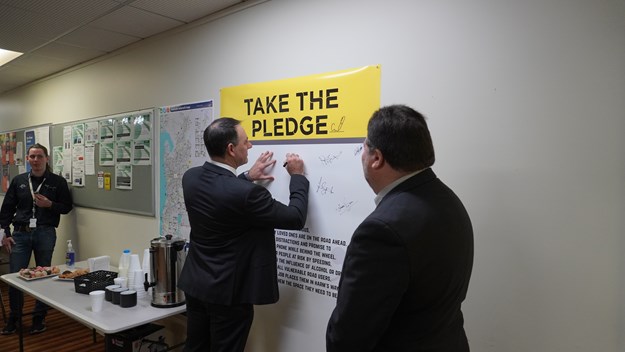 SOLID BIO
Fraser is also a presenter for the Traffic Offenders Intervention Programme and a volunteer fire-fighter with the New South Wales Rural Fire Service, an Oceania member on the advisory board for the World Day of Remembrance for Road Traffic Victims and national ambassador for Road Safety Education's RYDA Programme.
He has been a keynote road safety speaker at local, state, national and global events and conferences including:
• 2015 - International Roads Federation / Roads Australia Conference;
• 2015 - World Health Organisation's Second High Level Road Safety Conference in Brazil;
• 2017 - UN Global Road Safety Week (Western Pacific) at the Sydney Opera House;
• 2018 - chair of the inaugural International Road Victims Conference held at Mullingar, Ireland.
"We are honoured to have Peter visit our depot and share his personal experiences and insights with our team so that together we are working towards safer roads," Feuerherdt said.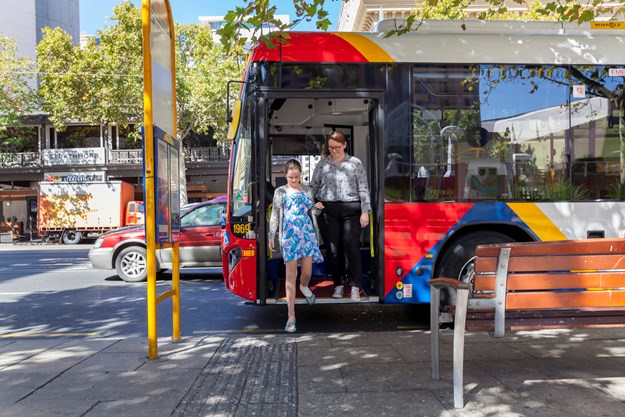 ABOUT SEALINK
Seal ink Travel Group is Australia's largest integrated land and marine, tourism and public transport service provider with established international operations in London and Singapore, it states.
It is one of Australia's most experienced and diverse multi-modal transport businesses, boasting performance-driven capabilities across ferry, bus and light rail, it explains.
Seal ink is made up of Australian marine and tourism operations and Transit Systems' domestic and international public bus and light rail transport operations, it says.
Seal ink moves more than 206 million customers per year, has in excess of 8,900 employees and operates approximately 3,500 buses and 118 ferries, it confirms.
Subscribe to our newsletter
Sign up to receive the ABC e-newsletter, digital magazine and other offers we choose to share with you straight to your inbox
You can also follow our updates by liking us on Facebook.