TRANSDEV ADDRESSING MORE DIVERSE TRANSPORT-SECTOR
---
The ambition to deliver more equal gender representation in the workplace is helping mobility provider Transdev create a more diverse workforce and smash out-dated social traditions, it reports recently.
Since committing to the target in 2018, women now make up to close to 30 per cent of new employees hired at Transdev, it confirms.
In its rail and light-rail operations, women now account for more than 42 per cent of new recruits – 20 per cent greater than industry-wide representation within the rail sector (WGEA, 2021), it explains.
Transdev Australasia's head of Talent, Diversity and Inclusion and Learning and Engagement, Donna Jones, says there had been significant gains in the past two years in breaking down out-dated perceptions about a career in public transport.
"There [sic] opportunities available in the transport sector are vast, and we are continuing to put in place programs to change the culture and provide a more inclusive workplace," Jones said.
"Traditionally one of the biggest barriers for women pursuing a career in public transport has been around the perceived lack of flexibility, which particularly effects [sic] those with carer responsibilities. To combat this, Transdev have made flexible work options available for all employees, including our frontline teams.
"In Melbourne we a have developed a specialised all-female recruitment and training program designed and delivered by women to support women in transitioning to a career in public transport, by providing them with mentoring and training so that they can gain the experience and confidence to become a bus driver."
In 2020, women accounted for 27.7 per cent of new recruits in Transdev's Sydney Ferry operations and 17.7 per cent in the company's Australian and New Zealand bus operations, the company reports.
For New South Wales bus trainee Fenella Davidson, participating in Transdev's Journey Maker Academy bus driver training program helped improve her confidence during her transition from a career in the corporate sector, Transdev explains.
"The trainers are excellent; they take their time building your skills and encouraging you," Davidson stated.
"My main issue was nerves and my trainer spent a lot of time giving me the confidence to believe in myself," she said.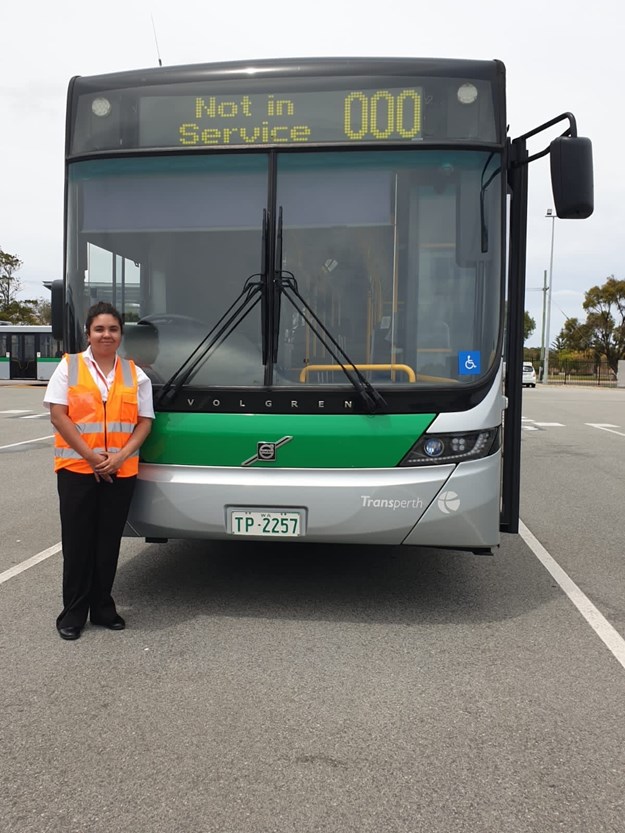 CASE STUDY: KATIE DRIVER
Transdev Perth bus team member Katie Driver is embracing a new flexible lifestyle as a bus driver, the company states.
The proud Torres Strait Islander woman has a family connection to public transport through her mother, who is a driver at Transdev's Fremantle depot.
After working in the mining sector covering challenging night-shift cleaning roles, Driver was keen to find a new opportunity that would give her more time to spend with friends, family, and pursue further study.
"FIFO and night-shift roles can take a toll on your health in the longer term," Driver stated.
"I was keen to get back to study so I wanted a role that would give me flexibility to combine study and work.
"Now I feel much healthier with a more flexible schedule."
Katie applied for the Journey Maker Academy training at Transdev – a four-week car-license upgrade, intensive training program for new drivers.
"At first the training was a little challenging, but the more we went through different scenarios the easier it got.
"They took the time to teach us all the different bus types and instruments, and we had lots of time to practise driving techniques like roundabouts until we were confident.
"It was all about safe and smooth driving.
"I like that safety was at the core of the training. Not only driving the bus, but how to manage customer aggression for example," she explained.
Now a newly qualified driver, she can't believe what a difference a career change has made to her personally, Transdev states.
"I feel more awake," she joked
"Driving is challenging, fun and rewarding. You get to meet heaps of new people. My routes take me around Port Kennedy, Rockingham and Mandurah," Driver said.
"I would say to anyone wanting a more secure and flexible career to consider driving. It's way better than shift work. Everyone has been really helpful here at Transdev."
ABOUT TRANSDEV
Transdev believes public transport plays an important part in how a city comes to life, it states.
Its day-to-day work influences families, friends and future generations where they live, work and play, it explains.
In Australasia, Transdev has 6,170 people passionate about operating its 2,010 vehicles and vessels, which deliver more than 160 million customer journeys each year, it confirms.
Subscribe to our newsletter
Sign up to receive the ABC e-newsletter, digital magazine and other offers we choose to share with you straight to your inbox
You can also follow our updates by liking us on Facebook.