BUS REPAIR EXPERT: 'DON'T UNDERVALUE AFTERSALES!'
---
BUS MANUFACTURING quality from new has often 'overshadowed' bus collision after-sales repairs, but that shouldn't necessarily be the case, according to a leading Volgren after-sales expert.
In assessing the value of quality bus and coach after sales and smash repairs, the Australian bus industry has much to be proud of, according to Volgren. Australian-built buses are renowned for their manufacturing excellence, it explains.  
The fact is, however, that almost all buses used in Australia are placed under punishing schedules on busy roads in unforgiving climates, it says. The best engineering and construction in the world can't prevent wear-and-tear, accidents and other problems, it adds.
This is why after-sales service is such an exceptionally important part of any manufacturer's operations - but for decades the product that has left after sales has been overshadowed by the product that has left the manufacturing facility, it states.
Queensland-based Volgren after-sales expert Brian Weller says he makes certain the Australian builder's after sales is just as good as its manufacturing.
As part of a team of 12 specialist after-sales workers servicing buses from Cairns to northern New South Wales, Weller says, in the local bus industry, the unit is perhaps best known for the work it does for Brisbane City Council - but its skill and experience allows the team to work with a range of operators across the state.
"There's high numbers of Volgrens throughout Queensland. They've proven themselves to be an incredibly reliable product that operates well in local conditions. They're everywhere," Weller stated.
"We can work on Volgren route buses, school and charter vehicles, but we're also comfortable working on other body manufacturers, too."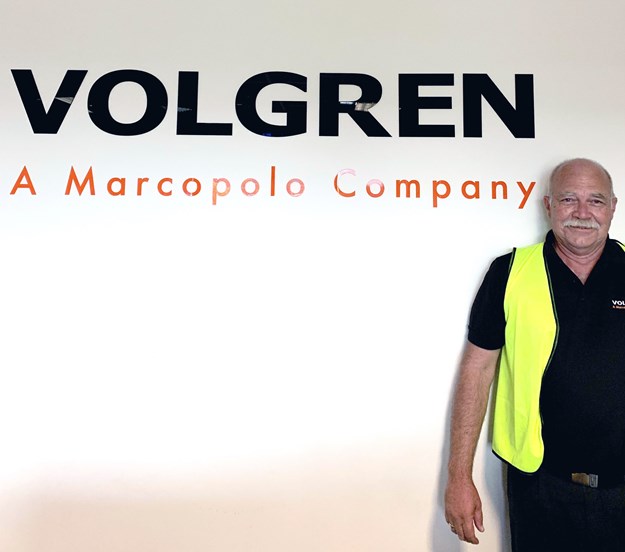 DIVERSE BACKGROUNDS
As Weller explains, one of the joys of his 10 years at Volgren has been meeting such a variety of people. In his current role he works with a team whose members' qualifications are as diverse as their professional backgrounds, Volgren confirms.
During their collective careers, he and his colleagues – among them fitters and turners, qualified coach and body builders, as well as boilermakers – have worked on a range of vehicles, from fire engines and trucks to trailers and trains.
Yet Weller says they all agree there's something special about buses…
"[Buses] get in your blood. The one thing that brings us together is a shared passion for buses and getting them back on the road," he said. 
"We all like a challenge – especially in smash repairs. Everyone likes the challenge of diagnosing problems quickly and fixing the vehicles as soon as possible."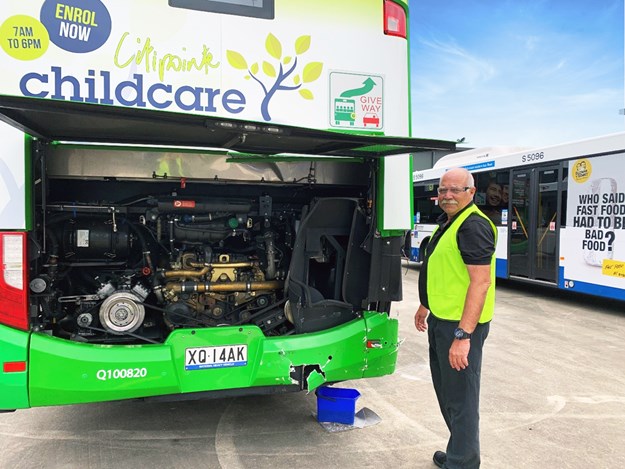 MANY MAN-HOURS
Restoring a bus after an accident is an important part of what the team does, and work on a vehicle after a major collision can involve as many as 100 hours of labour, Volgren explains; however, post-crash work isn't the team's sole focus.
After sales service, as Weller explains, is as much about maintenance and preventive action as it is about intervention after a bus is seriously damaged on the road.
"Anyone who sells a product needs to back it up and that's what we do; it's part of what we offer," he clarified.
"We build them every day, we know how to pull them apart, and we know how to fix them if problems come up," Weller explained, adding that the team works closely with Volgren's engineers based in Dandenong, Victoria.
"The ability to offer customers mobile service vehicles, specialists repairers, spare parts and access to 20-metre spray booths is a huge advantage," he said.
"Our after-sales vehicle support is second to none; there aren't many body repairs or technical issues that we haven't encountered."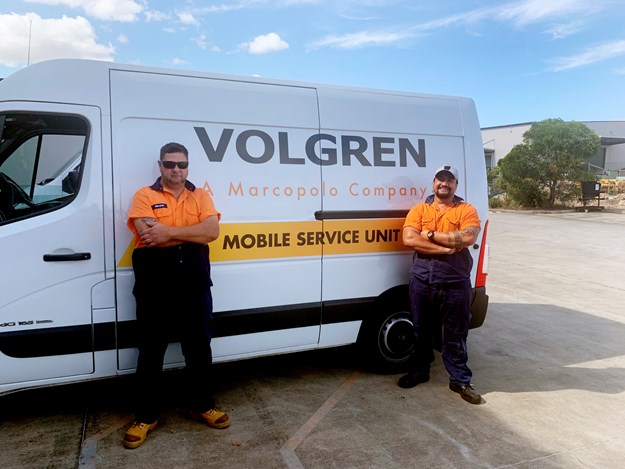 TEAM DEDICATION
Weller says apart from the team's unparalleled skill and vast experience, it is their determination and adaptability that sets them apart.
"If we need to put in the hours we do, we come in over weekends if need be. If it is not turning its wheels that's a problem for us and the customer."
"We do whatever we need to do to get vehicles back on the road [and] make sure that we have a perfectly safe bus.
"If you want technical advice over the phone, we can help with that.
"We can send our qualified technicians if you have a smash.
"We're versatile and it doesn't matter what part of Queensland or northern New South Wales you're in - we're here to help."
Subscribe to our newsletter
Sign up to receive the ABC e-newsletter, digital magazine and other offers we choose to share with you straight to your inbox
You can also follow our updates by liking us on Facebook.