LIGHT IN THE DARK – GLENORIE COACHES
---
OPERATOR: Two hard-working blokes from different segments of the bus and coach market have come together to give a new lease of life to an MAN double-decker. With Covid hitting the industry hard, having the time to spruce up this piece of history has been a positive outcome for owner Glenorie Coaches and refurbisher Coachcare.
Meet Alan Ng, the next generation of Australian bus industry operators. Founder and operations manager of Glenorie Coaches, Ng was 27 when he set up the business in the Hills District of New South Wales with a single coach. Ten years on, the charter-only business owns a fleet of 17 coaches, although only 10 remain in operation at present due to the Covid-19 induced downturn.
The business mainly runs school charters both short and long distance, as well as corporate, seniors and group travel in the Hills District and upper North Shore. It has a depot in Dural and workshop in Middle Dural.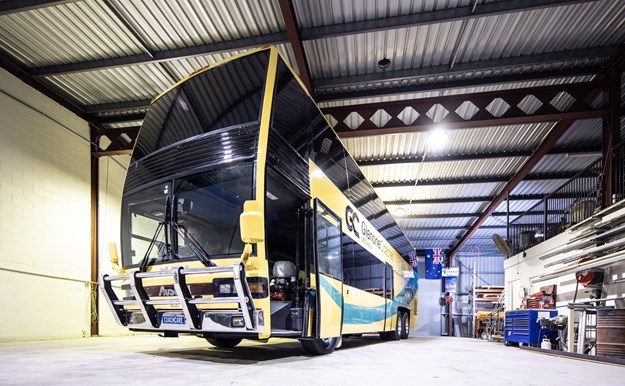 JOURNEY TO BUSES
Ng had an interesting foray into the bus industry.
"As a kid I grew up loving anything with a motor, so catching the Harris Park Transport bus to school definitely started my interest in buses. Riding with Terry Clarke from Clarke Coaches and Richard Dawes from Australia Wide on our high school camps made it even stronger," he said.
At 19, while studying IT on a scholarship, Ng got his first bus driving job.
"After graduating I spent a few years in IT, bus driving on the side, then took a career break, which ended up being near three years, driving coaches around Europe for Topdeck Tours, followed by another two years in Australia."
In early 2010, Ng commenced operations for Glenorie Coaches, targeting the local area in the Hills District of Sydney.
"We also were subcontracted work from Murrays Coaches, Clarke Coaches and Forest Coach Lines, which helped to get us on our feet. We are still a small business, with roughly 20 people on the staff. While sharing the driving responsibilities, I do everything in between – from wages to cleaning toilets," he explained.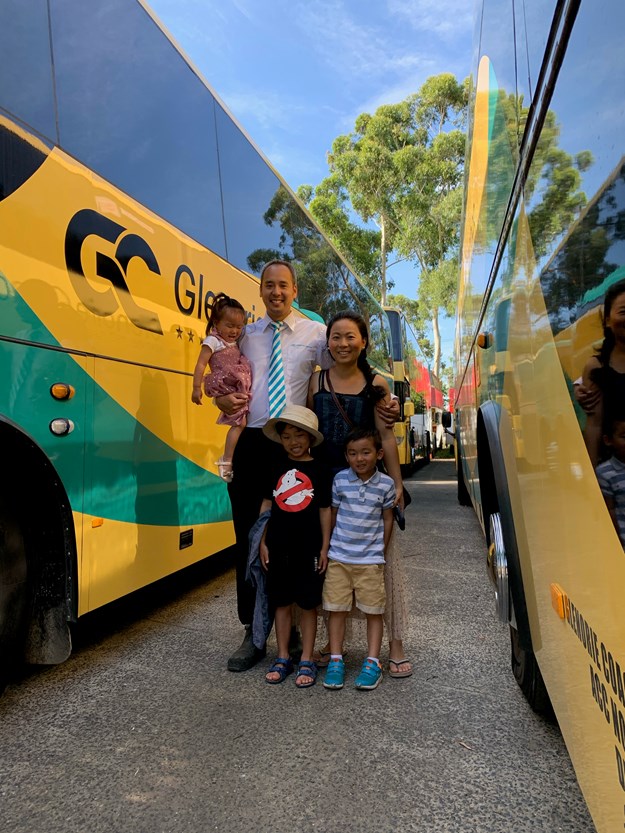 THE FLEET
"We've always been selective of our fleet and have built it up based on the specific needs of our clients, so we've worked on standardised capacities and specifications. Our fleet is clearly run by a 'bus nut' as we have one from different makes: Volvo, Scania, MAN, Mercedes, Motorcoach, Denning, Iveco, Renault and Hino.
"As a small operator, we aim to be as self-sufficient as possible. We run our own workshop and panel shop where we refurbish and modify buses to suit our needs. Buying brand new is highly risky. Our work is non-contractual and we essentially survive week by week. While we stay consistent, we're only as good as our last job and it is not hard to lose a customer. Covid-19 has been a solid reminder that being conservative is the way to go.
"We have an absolutely fabulous group of drivers, though it worries me a lot as most are at retirement age now and will be really hard to replace. The absolute biggest challenge is finding the right drivers, who will look after your customer and your vehicle at the same time."
Ng admittedly gets a kick out of 'doing up' buses. He is slowly building a small collection of historic buses that he restores in-house.
Next is a 1986 Volvo B10M Custom Coach Hyliner followed by a 1985 Austral Tourmaster.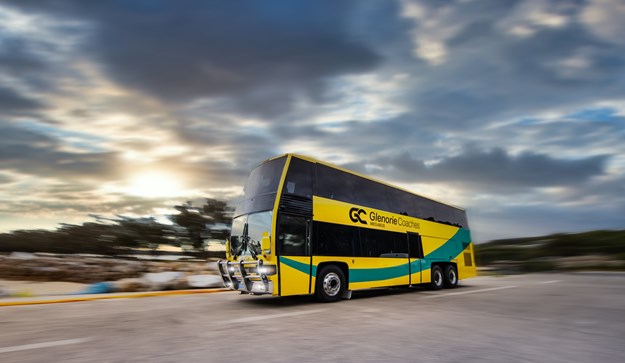 REFURBISHED MAN
Ng recently had a 1988 MAN double-decker refurbished by NSW-based bus and coach repair specialist Coachcare. The coach was purchased from the famous 'Crocodile Hunter' Steve Irwin's Australia Zoo, where it was named 'Robert Clarence' after Irwin's son.
"Over the years we patched repairs to buy it time, but it was always very difficult to get it off the road as it is one of our most profitable vehicles. The Covid downturn was the perfect opportunity to have it properly refurbished. I felt it was going to be worth it as we would preserve it once it retires," Ng explained.
Coachcare owner David Bishop admits it was not only the biggest job provided by Glenorie Coaches, it was the most significant work to date his small team undertook.
"We took all the windows out and panels off, and did extensive frame repairs where there was rust. From there we put new panels on and instead of using the traditional old materials we used fibreglass and aluminium to give it a little more life.
"Then, we put brand new windows (supplied by Peter Roberts' Team Waratah Bus & Coach Glass Group) in, gave it a full respray and did the new sign writing (by Designwriter's Andrew Holmes).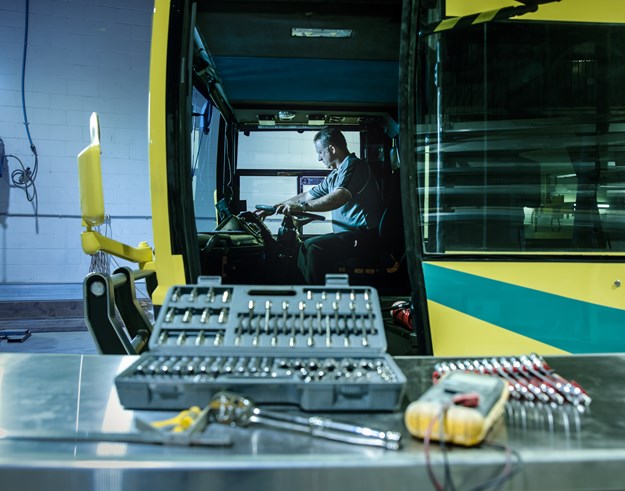 "We couldn't be more proud of the way this old girl has turned out," he said.
Ng and Bishop first met at a netball carnival in Sydney. They got to talking and soon Ng sent his first vehicle to Coachcare for a respray job. Happy with the service, he gave Bishop two more jobs before the MAN refurb.
It is an association that has worked for both businesses, and the two men only had good things to say about each other.
"Apart from the confidence that comes with dealing directly with the owner, manager and tradesperson at a refurb shop, we've always been on budget and on time with Coachcare. We have another two vehicles scheduled to go there over the next few months," Ng said.
On his side, Bishop is extremely pleased that Alan had the, "...guts and determination to spend this kind of money during a pandemic".
"Alan has pretty much helped my business stay afloat during Covid. The bus industry was at its knees and it wasn't just the operators, it is also guys like me who were hit. The operators just weren't coming to us because they weren't going to spend the money. But Alan decided to have a go and gave us this double-decker to work on," Bishop explained.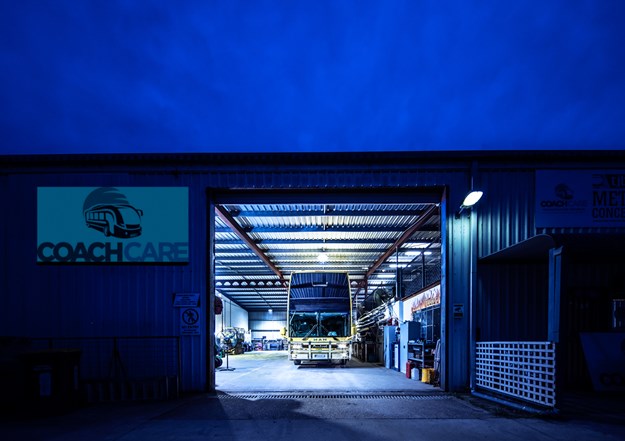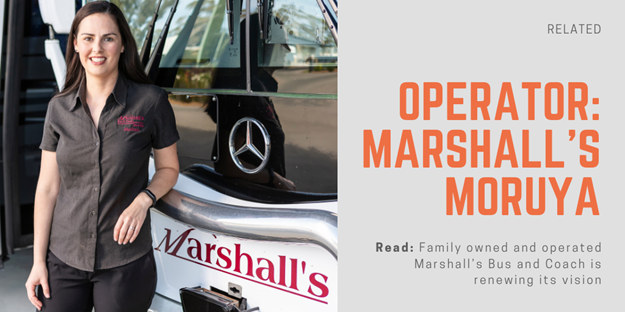 COVID IMPACT
The pandemic had a huge impact on Glenorie Coaches despite Ng's effort to set a worst-case scenario plan very early on.
"We were basically decimated overnight. Less than a week after planning we were at that worst-case scenario. By the fifth day we had enacted our survival plan and had de-registered all but five vehicles. All tools were downed two days later while we analysed our financial position and it looked grim. Losing skills and staff was my biggest concern," Ng said.
"JobKeeper was the complete game changer. All core staff except one made it on and were looked after during the worst periods. For the first five months we were essentially down 98–100 per cent and apart from one-off emergency call outs, we barely turned a wheel.
"Looking forward, I believe we're still in for a very rocky ride. We have always budgeted on large reserves for rainy days, though our planning was for major mechanical repairs not a pandemic.
"Currently, our fleet stands at 10. We were hoping to re-register more in Term 1 of 2021, but that is currently on the backburner while we wait to see what happens with the current wave and confidence in the market.
"We've given up predicting how things will look into the future.
"Apart from Covid-19, there will be big challenges on the horizon. The big players are all becoming multinationals with infinite money.
"The vehicles are becoming increasingly complex, leaving owners at the mercy of the big manufacturers. Changes in regulations could happen at any time.
"While I wake up happy doing what we're doing, we'll just keep going. Who knows how long that will be for?
"The main reason why I'm in the business is because I live and breathe buses. If it weren't for being passionate about the vehicles, industry and loving getting behind the wheel, there isn't much to love about the stress and risk associated."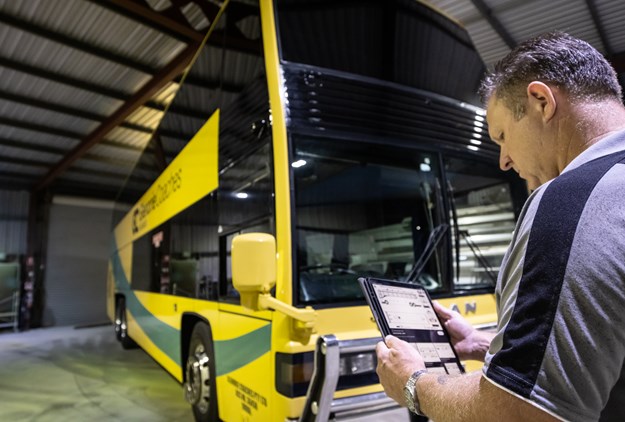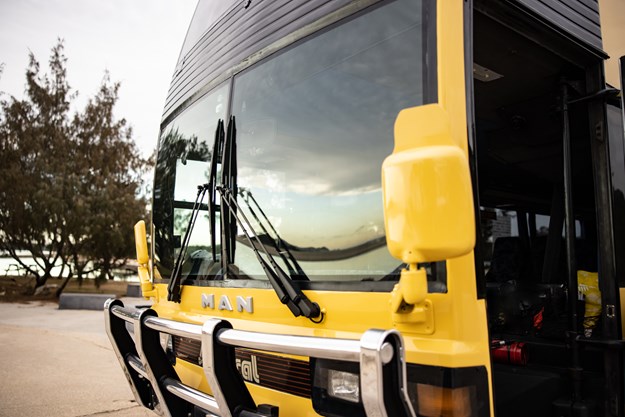 COACHCARE
Founded by David Bishop four years ago, Coachcare is a small family run business located in Nambucca Heads on the Mid North Coast of NSW. It is capable of any type of repair or interior and exterior refurbishment job. Bishop prides in relying on local suppliers for things like glass and windscreens.
"We employ two tradesmen on the floor. We're not a huge concern. We're just out there to give some people some work and put a little money into our economy," he said.
Bishop was born in a bus family, with his father running a bus-building interior business (now known as Express Bus Builders) in the 1970s. In 2011 Bishop was trying to set up his own business, but at that time his agenda was to steer away from buses so he set up a metal fabrication shop.
However, a few years later one of his very good customers talked him into getting back into the bus game again. They felt that there was a need in the area for someone to do this job. Bishop changed the name of the business to Coachcare to reflect the new direction of the business and is gradually growing his customer base.
However, with the market taking a downswing due to Covid, Bishop too felt the pinch.
"The school holidays are usually our busiest time, but once Covid hit for two school terms we didn't have any job other than Alan's coach in the shed. We were quite fortunate with Alan offering us this job. There seems to be a little confidence coming back into the market since Christmas, but it remains a worrying time for the bus and coach industry," he said.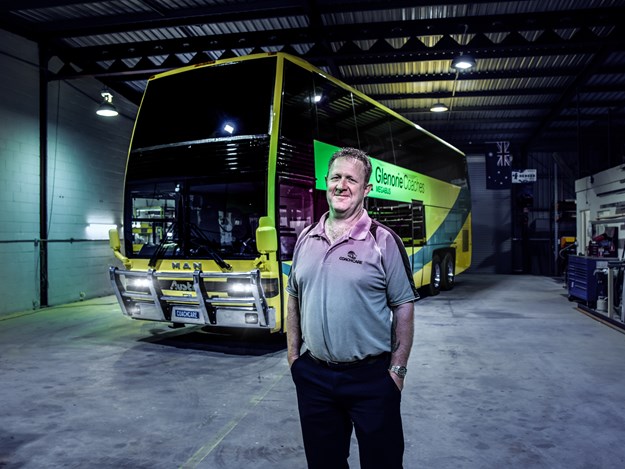 Subscribe to our newsletter
Sign up to receive the ABC e-newsletter, digital magazine and other offers we choose to share with you straight to your inbox
You can also follow our updates by liking us on Facebook.