ADELAIDE O-BAHN 'GREENER' VIA SCANIA HYBRID BUS
---
BREAKING: South Australia now has its first Scania hybrid bus in action "towards a greener future" after debuting on Adelaide's famed O-Bahn busway, the company announced recently.
The Scania hybrid, which can run with zero tailpipe emissions, has been bodied by Precision Buses in Adelaide, and comes ready to operate on the O-Bahn as well as the city streets, Scania states.
"Today we are taking a small but important step towards achieving a sustainable transport solution in Adelaide," said Julian Gurney, director of Sales for Scania Bus and Engines.
"The first Scania hybrid to hit the streets will be able to travel on the O-Bahn. When pulling into the interchanges to pick up or set down passengers and when departing the stops, the bus has the ability to operate on battery power, which means no noise and no tailpipe emissions," he said.
The Scania powertrain retains the familiar high output, lowest-emission Euro 6 diesel engine mandated by the South Australian Government (and meets a higher standard than the ADR requirements), mated to an electric machine powered by batteries and charged through a regeneration process.
The introduction of additional electric propulsion leads to a significant reduction in tailpipe emissions, says Scania.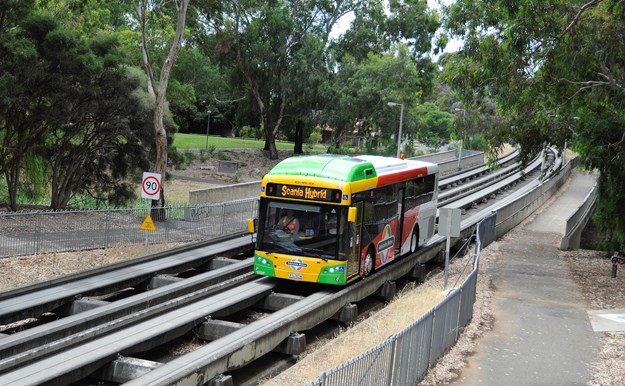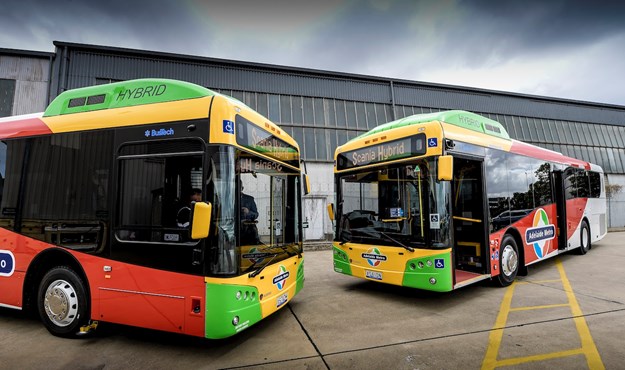 HOMETOWN BODY
A locally assembled two-door Precision VST bus body has been built over the Scania chassis. This is the first of two Scania hybrid buses ordered by the South Australia Department of Infrastructure and Transport (DIT), and both will carry "Hybrid" badging on the overhead battery pod. A second order of five Scania hybrids is also in the pre-production stage, Scania confirms.
The adoption of the Scania hybrid for the DIT-owned fleet has led to an increase in the number of employees at Precision Buses dedicated to bus body building, Scania outlines.
"Each of these new Scania hybrid buses will make a contribution to reducing environmental emissions from public transport, accelerating us towards the goal of a fossil free transport future," Gurney said.
"This hybrid technology has been proven in operation in several European cities where diesel consumption and emissions have been cut by up to 25 per cent per vehicle.
"We know that our hybrid technology makes a tangible contribution to reducing air and noise pollution.
"The Scania hybrids are part of the 340 Scania Euro 6-compliant diesel buses that we will deliver over the next decade for the benefit of all Adelaide's public transport users.
"The first Scania hybrid will also be the 100th Scania bus built by Precision Buses for DIT (53 of which were delivered under the previous contract and 47 under the current contract).
"Scania has long been the most popular bus provider for the O-Bahn busway, which cumulatively provides more than 1000 trips per week over the 18km run to Adelaide's commuters," Gurney explained.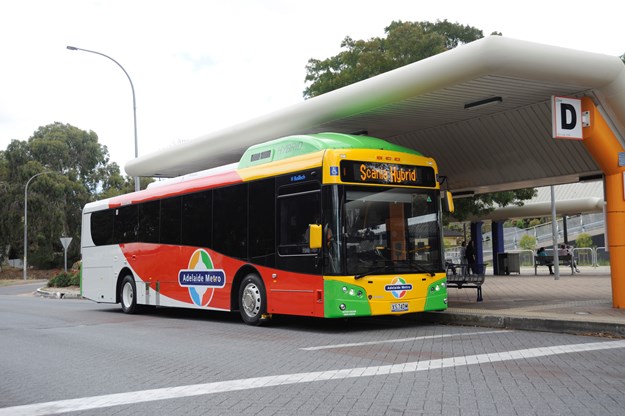 SIGNIFICANT STEP
"These hybrid buses are setting South Australia on the road towards a cleaner environment. Ultimately, we hope to reach a battery-powered, zero-emission bus future," said Steven Godbold, Scania SA Government Bus Contract manager.
"Australian bus drivers who have been behind the wheel are very happy with the driveability and overall performance.
"Ride comfort for passengers is also improved when running on battery power and, by eliminating the noise of a bus pulling away from the stop and the smell of the exhaust, pedestrians in the vicinity of bus stop will also notice the improvement," Godbold said.
"The Scania diesel electric hybrid bus marks a significant step-change in urban bus functionality and environmental benefits.
"The Scania hybrid's 'silent mode' zero tailpipe-emissions experience will be a revelation for drivers and passengers alike," Godbold aid.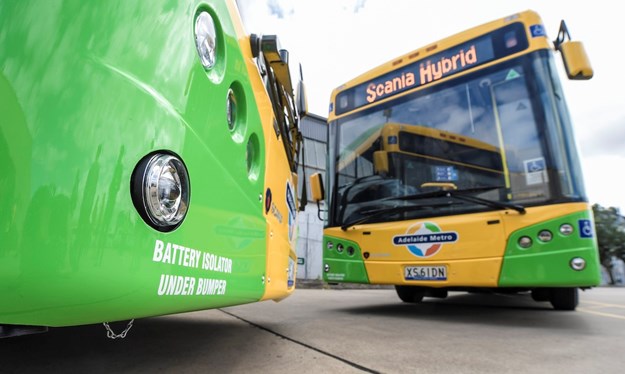 ENVIRONMENTAL CREDENTIALS
The Scania hybrid powertrain fitted to the new Adelaide buses has been designed to run for up to 4km on battery power alone, up to a maximum speed of 40km/h, Scania confirms.
Employing Scania's 9.0-litre 320hp five-cylinder Euro 6 compliant diesel engine typically used across Australian bus fleets, and famed for its 'torquey' 1600Nm output, the hybrid further boosts its environmental credentials with a 177hp/1030Nm electric motor, both of which are seamlessly integrated with the Scania Opticruise transmission, it explains.
The diesel engine can fully charge its batteries while in driving mode in just 30 minutes, says Scania.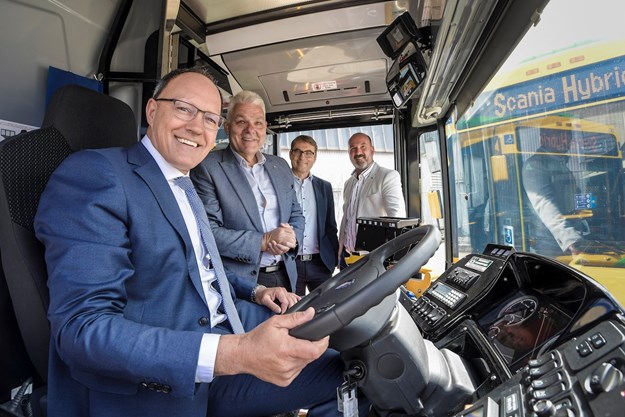 SHINING EXAMPLE
A handover event of the first two of at least seven state-of-the-art hybrid buses being delivered as part of the Marshall Government's next generation of lower-emissions Adelaide Metro buses took place today.
"We are building a better, cleaner and more environmentally friendly public transport network to support local jobs and encourage more people to leave their car at home and catch public transport," South Australia Minister for Infrastructure and Transport, Corey Wingard, said.
"The first two Scania Hybrids to be part of the Adelaide Metro bus fleet have now rolled off the production line and will be ready for use across the bus network, including on the O-Bahn, in January after undergoing extensive acceptance testing.
"Pending the results of acceptance testing, it's estimated this will result in a 15 per cent reduction in fuel consumption.
"These buses are a shining example of the innovative technology we have adopted for our new generation of Adelaide Metro buses, which will be more fuel efficient and have lower exhaust emissions than the buses they are replacing."
The 340 new buses delivered under the contract will replace existing buses which are no longer fit for purpose or have reached the compulsory retirement age of 25 years, as required under the Passenger Transport Regulations 2009.
"Importantly, a minimum of 34 buses delivered each year will be built by Edinburgh-based Precision Buses at a critical time when jobs are needed most," Minister Wingard said.
"Precision Buses has also created an Apprenticeship Academy and around 40 new jobs as a result of this bus supply contract.
"The adoption of the Scania Hybrid for the Adelaide Metro fleet has led to an increase in the number of employees at Precision Buses dedicated to bus body building."
These two Scania Hybrid buses were the first ordered by the Department of Infrastructure and Transport, with a second order of five Scania Hybrids also in the pre-production stage.
The supply contract with Scania includes provisions to order additional hybrid buses and adapt to new technologies as they emerge over time.
All new buses are Disability Discrimination Act (DDA) compliant and have driver security screens, duress alarms, CCTV and a fire suppression system.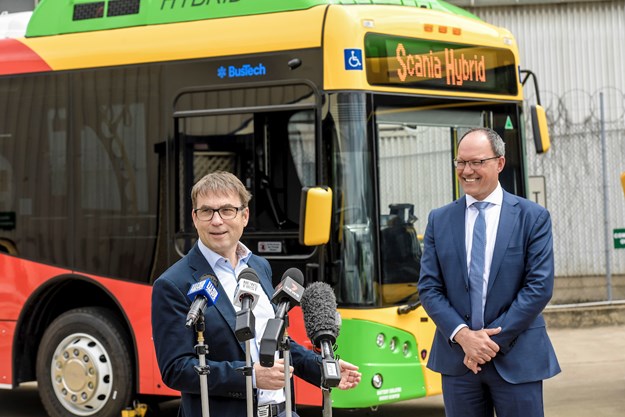 Subscribe to our newsletter
Sign up to receive the ABC e-newsletter, digital magazine and other offers we choose to share with you straight to your inbox
You can also follow our updates by liking us on Facebook.