WHEREVER YOU ARE – NEAR OR FAR BUS AND COACH, NSW
---
OPERATOR: Husband and wife duo Rod and Justine Williams are doing their best to weather the current storm that has hit the bus industry so hard. Despite their four-year-old business being severely affected by the restrictions brought on by the pandemic, they remain upbeat and are using the time to refurbish their fleet.
Rod Williams is clearly passionate about his business and feels positive about serving the local community.
A former school teacher, Rod starting driving school excursions and local scout trips while still pursuing his teaching career in the mid-1990s.
When he decided to move on from teaching he knew he could fall back on his driving skills, as he had driven with a lot of other companies in the previous 20 years.
In 2017, he and his wife, Justine, set up Near or Far Bus and Coach, and they remain steadfast in their commitment to provide a reliable and safe bus service in country New South Wales, they say.
The company operates bus charter in the Blue Mountains and Western Sydney regions, including Penrith, Emu Plains, Kingswood, Windsor, Richmond, St Marys, Blacktown, Katoomba, Blackheath, Mt. Victoria, Springwood and Blaxland.
Its depot and office is located in Lawson in the Blue Mountains.
Near or Far relies mostly on toured charter. It holds a standing order from Transport for NSW for emergency busing, and also works for a couple of schools in the area. Its school contacts were passed on from IHS Coaches, when Rod purchased the business from former owner Kelvin Weatherburn, he explains.
Kelvin (affectionately called Kel) continues his passion to serve the local communities by driving for Rod now.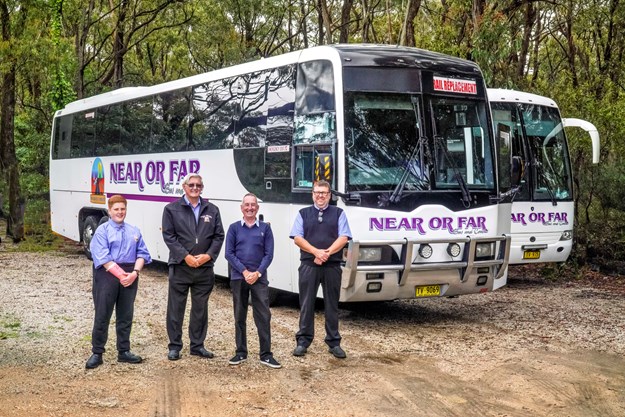 LOVE FOR THE JOB
Justine continues to teach at a local school, while taking care of the 'office' side of things, such as record-keeping and compliance, while Rod manages the day-to-day operations and driving full-time.
"We love being able to serve our local community. We're glad to have a wheelchair-accessible coach in our fleet, which allows us to cater to passengers with special needs. Our determination kept us busy and we have had our wheelchair accessible coach's interior refurbished and it looks fantastic," Rod said.
"One of the other best parts of running my own business is having a team that is as devoted to the work as Justine and I are.
"My team [Kelvin, Eddie, John and Paul] is as much part of the business as Justine and our kids.
"Our four children, Seanna, Samuel, Ashlie, Abigail, also lend a helping hand in the family business," he said.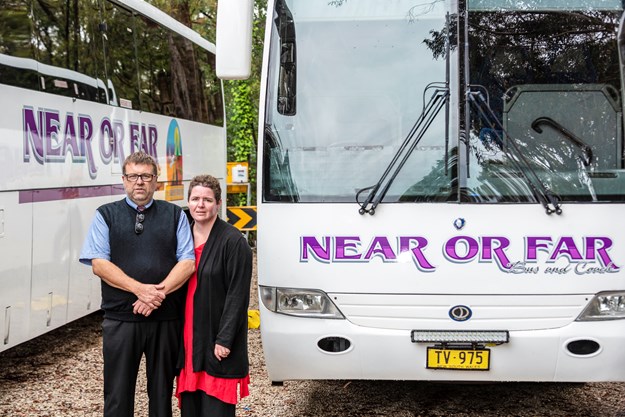 THE FLEET
Near or Far currently owns four vehicles, ranging from a 53-seater to a 69-passenger seat-belted coach. With the charter business severely crippled as a result of Covid-19, the company recently sold its fifth coach.
"We started out with one bus that we bought from IHS Coaches, but we sold that off within the first year of operation," Rod explained.
"During the first year we also started running a wheelchair-accessible Scania coach. Today, all our coaches are Scania and we have a school bus that is Volvo B10M."
His team largely relies on Quinlan's Equipment Repairs in Penrith for service and repairs, Johnson's Towing and Mechanical in Bathurst and Bob Noble of Katoomba.
"We need to have our maintenance spot-on at all times because being in the mountains does isolate you from access to mechanical repairs in a hurry. So we ensure our vehicles are always in top condition and that's why we try to avoid any breakdowns as much as possible," he added.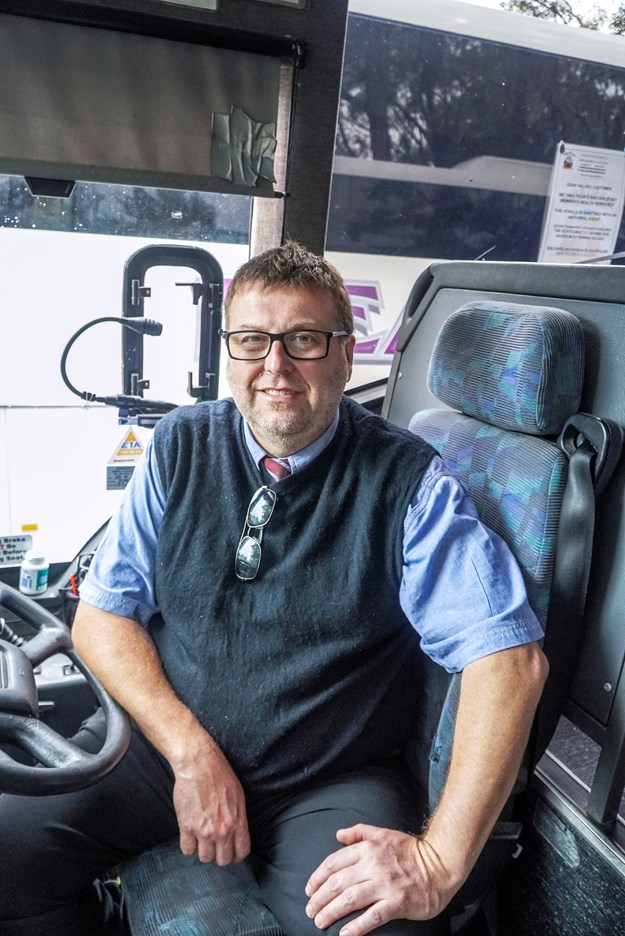 THE 'BIG C' OF 2020
Rod is a resilient bloke. The ongoing Covid-19 pandemic may have knocked out 90 per cent of his business, but of all the bus and coach business operators we've have spoken to in the past four months, Rod would be hands down the most optimistic that things will turn out for the better, even if the 'when' part of the story is still up in the air.
"We're here for the long term. We've weathered the storm reasonably well," Rod said.
"We've used the time to refurbish our fleet and further improve our vehicles. Our business can and will survive this turmoil! We are looking forward to working to provide the best service possible.
"We have Covid Safe cleaning and travel practices that encourage a clean and safe environment for our customers and our staff.
"At present, it is tough out there. There are so many companies relying on international tourism and, with that suspended, it has created a more competitive environment for the domestic market. What happens then is you have people undercutting each other, making businesses unsustainable.
"A lot of other small businesses have become unsustainable, which is a huge concern for us all. I remember, by mid-March, every single booking for the year was wiped. That's thousands of dollars of revenue gone.
"The JobKeeper allowances have assisted some of our employees; however, we had to sadly let go of one of our staff member. We paid them for as long as we could before we needed to stop and recommend they seek JobSeeker payments. It was a tough decision for us. We also had to de-register two of our vehicles."
Things are coming back, although Rod says it's patchy.
"People are still concerned. A lot of our seniors' groups don't want to travel at the moment because they are understandably concerned about their health."
"Schools are coming back in a limited regard, but we don't know when things will get back to normal on the charter side."
For now, Rod and his small team are keeping their chins up and looking forward to better times.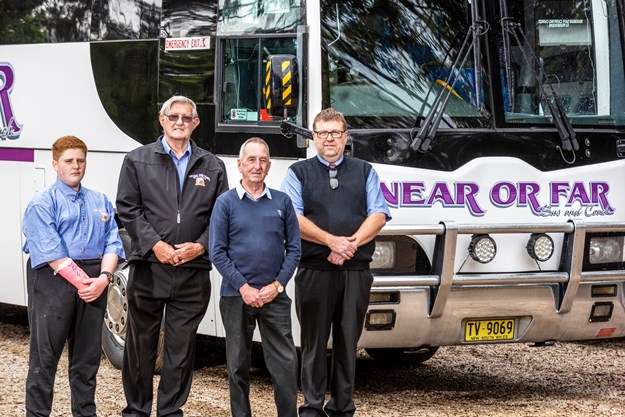 CANBERRA RALLY
Rod is the spokesperson for the Australian Family Owned Bus Companies group that has led two rallies since September to highlight the Covid-induced quandary these businesses find themselves in through no fault of their own, and lobby for a federal government rescue package.
The group led their first peaceful rally to NSW state parliament on September 16, with more than 50 family owned and independent buses - representing regional and city bus operators, their staff and service providers - circling the Parliament building.
Their second rally, which included a 15-strong convoy of family owned 'mum and dad' bus companies from across Australia, made its way to Parliament House in Canberra on October 26. The convoy circled the lawn in front of the Parliament building, in a display of solidarity to highlight their cause.
The group is calling on state governments to share transport work with all accredited operators rather than just large companies. Williams also worries about the thousands of bus drivers, mechanics, cleaning and other ancillary staff employed by the bus industry that have been affected by the pandemic. The group is also demanding extension of JobKeeper past March, 2021 and industry-specific mental health support.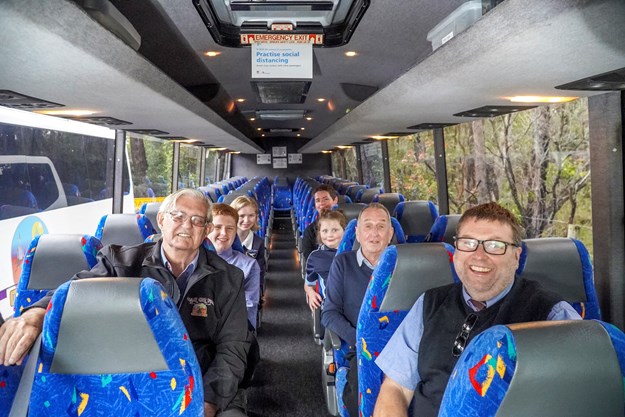 Rod says small bus companies needed help in the form of a federal government rescue package to manage fixed costs to keep their head above the water and provide job security for employees.
"Many operators had been forced to deregister vehicles they could not afford to register, which also axed their potential to work if circumstances changed," he explained.
The local communities will also feel the knock-on effect of the bus industry's distress as they could be "stripped off affordable transport options when normal travel resumed if a lifeline was not thrown to the small private bus industry now," he added.
Subscribe to our newsletter
Sign up to receive the ABC e-newsletter, digital magazine and other offers we choose to share with you straight to your inbox
You can also follow our updates by liking us on Facebook.