ILLAWARRA FAMILY OPERATOR TO RUN FIRST NSW GOVT 'PANEL 3' BUSES
---
A FAMILY-OWNED and operated bus company in the coastal NSW Illawarra region will soon be running the first Transport for NSW (TfNSW) 'Panel 3'-compliant buses, which needed new fire-retardant materials and fire-suppression systems to meet the latest 'Crib 7' standard, Volgren reports recently.
Established in 1923, Dion's Bus Service - based in the Wollongong suburb of Fairy Meadow – is the oldest bus operator in the Illawarra.
The concept behind the term 'Panel 3' refers to TfNSW's new procurement arrangement as part of which all new buses travelling in New South Wales must meet passenger safety improvement measures, including stringent new fire-mitigation specifications.
The two low-floor route buses, incorporating Volgren Optimus bodies on Volvo BR8 chassis, will replace vehicles coming to the end of their life, and Dion's managing director Les Dion says that will make a significant difference to passengers.
"The two new buses will go into service in late November, replacing two older buses approaching their maximum contract bus age of 25 years," Dion said.
"Being low-floor accessible buses we will be able to better accommodate wheelchairs and prams, as well as our elderly customers.
"By replacing two standard buses with accessible buses we are now in a position to be able to provide 100 per cent accessible buses to all of our scheduled passenger services," he added.
GREAT TRANSFORMATION
Dion's fleet, having served their customers through World Wars and depressions, has transformed greatly during that time and now, as one could imagine.
"In early days you would use your resources to maintain your fleet and even add gas producing charcoal burners to keep the buses going when fuel was scarce during the Second World War," Dion said.
In fact, there was even a period where Dion's would 're-body' its own buses in order to keep costs down. When it could no longer do this, Dion's would revert to buying second-hand buses. In 1989, Dion's purchased its first new bus in 40 years, it confirms.
Les Dion says the company's first Volgren entered the fleet in 1998 and that was the first time the team saw a reliable bus body.
"This bus shared the same chassis as three previous buses with a different bus body. All three of them gave us grief and the common denominator was the bus body in this instance," he explained.
"It is important that the bus body and chassis complement each other and we have seen many instances where that was not the case and what that equated to is time off the road and expensive repairs.  
"Unnecessary ongoing maintenance over the life of the bus does not go down well, especially when you know that you will be stuck with the bus for some 25 years," he said.
MINUTE DETAILS
Dion points out that the engagement with Volgren has enabled him to address minute details such as positioning of the Consat screen and other control switches and devices affecting the driver.
"Previously, it was a bit of a lottery with where some of the controls and switches would end up," he stated.
"With the demand of Panel 3 there were some limitations on product patterns such as seating. Instead of simply progressing with the most convenient style, Volgren made certain that we understood the limitations and were still happy with the colour scheme that was provided."
Today, the majority of Dion's fleet comprises Volvo buses and about 80 per cent have Volgren bodies. He says his company has confidence that the Panel 3 version of the Volvo-Volgren combination will perform well - and in great part that confidence comes down to the engagement.
"Working with Volgren on Panel 3 is a totally different procurement process [to what has occurred before]. And because there's a lot more required of manufactures there's been a lot more engagement in terms of what's going in the bus, where it should be positioned, what it's going to look like..."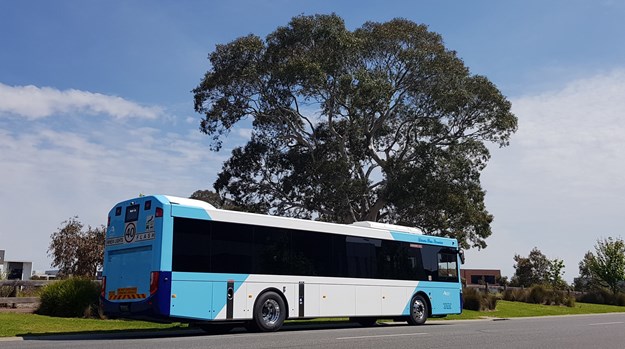 KEY MILESTONE
Volgren's sales and marketing manager Yuri Tessari says achieving Panel 3 compliance is a key milestone for the company and the result of strong cooperation and engagement with manufacturers, chassis OEMs, operators and government.
"These vehicles are the end of a 12-month process working closely with Volvo and Transport for New South Wales," Tessari explained.
"There's been a great deal of company-wide collaboration - design, manufacturing engineering, sales - everyone's been invested in making sure the vehicles exceed expectations.
"The process took a huge amount of work researching new fire-retardant materials to bring them up to a Crib 7 standard.
"[We worked] with existing and new suppliers to meet the Panel 3 requirements, [including] new standards in fire suppression materials – plastics, seat vinyl, flooring, a new fire extinguisher system for the engine bay..."
Tessari states the result is an updated version of their constantly improving flagship Optimus now incorporating the most rigorous fire-safety specifications a Volgren bus has ever possessed. And four more will come to the south coast of New South Wales very soon, the company confirms. Volgren's next Panel 3 order is from Premier Illawarra, and these buses will be built on MAN chassis.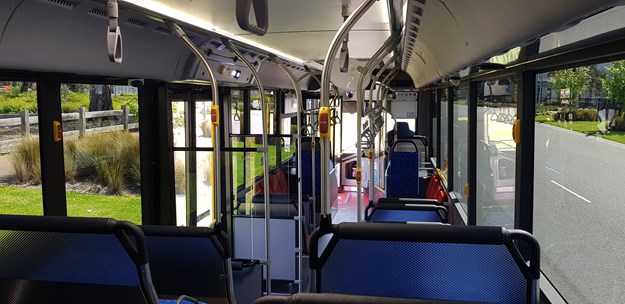 A MASSIVE LEAP
As for Dion's, the new buses will go into service mid-November, 2020, across scheduled city services and school runs, and Les Dion says he's found himself wondering at how far the company has come in almost a century.
"It's just a massive leap in terms of the standard of buses we are getting now and it lends itself to a great customer experience," he said.
"When you step into a bus you want to feel relaxed and comfortable and enjoy the journey.
"This chassis and body [combination] lends itself to that.
"The chassis and body – and relationship we have with the manufacturers – tick all the boxes for us," he said.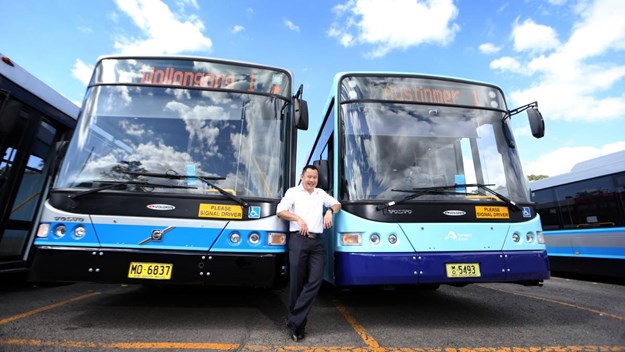 Subscribe to our newsletter
Sign up to receive the ABC e-newsletter, digital magazine and other offers we choose to share with you straight to your inbox
You can also follow our updates by liking us on Facebook.