MELBOURNE METRO 'PROTEST BUS' OPERATOR: 'NOTHING TO LOSE NOW!
---
VICTORIAN BORDER closure uncertainty – affecting a charter bus business's ability to reliably plan and honour tour bookings – plus Melbourne's strict metro lockdown restrictions has forced one local family owned and run bus operator to visibly protest his plight and put more than half of his bus fleet up for auction to help pay a spiralling multi-million dollar debt, he confirms.
After attracting state, national and global media coverage and interest, the owner of a bus driven around the Melbourne metro precinct during the past fortnight covered in anti-Dan Andrews slogans - Laurie Pincini of Rockleigh Tours - says his business is "going backwards" and that "it's screwed" with hopes now pinned on a successful Lloyds online auction to sell off 12 buses of his 22-bus fleet.
Speaking exclusively to ABC magazine (www.busnews.com.au) recently from a rural Victoria location - where he's had to diversify his workload to include hay bailing and silage trucking to keep money flowing and help reduce a AUD$3.8 million (and growing) debt - Rockleigh Tours owner-operator Pincini recounted a harrowing financial predicament and plight that would be similarly felt to varying degrees by charter bus operators Australia wide in 2020.
"We are driving silage trucks, we are doing hay contracting, we're doing anything to try to make a dollar, mate – we've been closed since March 16," Pincini said.
"I've had one bus a day, or you know a couple out… Out of the 22 buses, the maximum I've had [doing] work has been five in one day doing V/Line at night-time, at 3.00am, 4.00am in the morning. That doesn't' pay the bills when it costs us $200K a month to open the door and you've only got $50K a month coming in."
"We've been in the bus game now for just on 75 years. We employ my sons, my daughters, my sons-in-laws, uncles, fathers in-laws, bloomin' my kid's uncle's brothers-in-laws plus families and everything in the local community, mate."
"Come the end of December and something opens and goes bang! They are all out of work because JobKeeper doesn't work past then when I've got to pay them the 20 hours a week. I can't afford it!"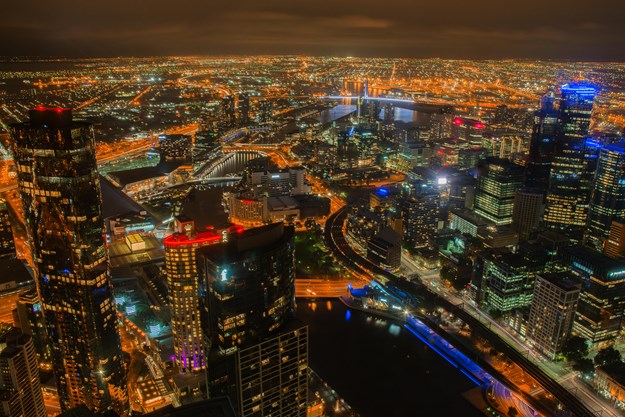 When asked what the motivation behind the protest bus was, Pincini referred comparatively to the situation in NSW and said: "Why do you think I took it off my own back to do this whole bus, mate?"
"I've paid for it and I'm running it and it's all mine. I've got Monica [Schmit] on board because she's a journalist and a bit of an activist to a degree, to get some publicity out there.
"It's been causing waves; it's all around the world..."
The bus started doing the rounds recently when the amended Victorian Omnibus bill – still contentiously interpreted by pro-democracy civil libertarians while championed and defended by Premier Daniel Andrews MP - was passed.
"It was about the other week; they decided to pass the Omnibus bill [and] I thought, 'that's it, I'm just driving it around."
"The Omnibus bill now [means] I can be arrested because I'm seen to be an activist … because I've got slogans against the [Victorian State] government.
"Like, what happened to freedom of speech? What happened to the democracy where I don't have to agree with you and I don't have to be a sheep?" he said.
The operator, with no prior criminal record and being a federal tax and local rate payer said: "And don't you worry, I've definitely paid my share of tax over the years."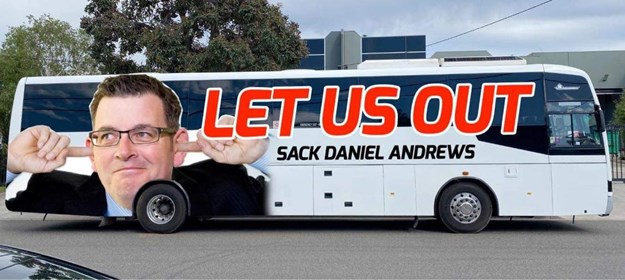 THE AUCTION
To help try to stem the massive 'cash bleed' out of his charter bus company, operator Pincini has regrettably decided to start to offload most of his fleet, but hoping there is some dramatic change to Victoria's Omnibus restrictions and border crossing requirements fast.
"I've got 12 of them [buses] and their Lloyds auction started today [Thursday, 22 October]. And all 22 of them might end up down there, mate – I'm still in negotiation with the bank on the rest of them."
Making the auction the seemingly only feasible solution for the operator was explained as: "Mate, we are screwed! I owe $3.8 million dollars, zero income... As I said, it costs me $200K a month to open the doors; I'm making $50K a month... Um, I'm going backwards $150K a month. You don't have to be Einstein to work out that I've been [like that] since March the 16th [Melbourne lockdown] - and we are now October whatever - that's seven months of little to no income. I'm a million bucks behind from where I should have been."
"That's 50K a month we are getting off V/Line, so we still get JobKeeper and that, but as I say to people JobKeeper costs me $160K before I've got any money back off the government [federal]; I'd had to go borrow that money because JobKeeper gets paid in arrears."
Pincini explains that the company doesn't get the money upfront from the federal government to pay its staff and that: "...we have to pay the staff first and sign a declaration that we've done it."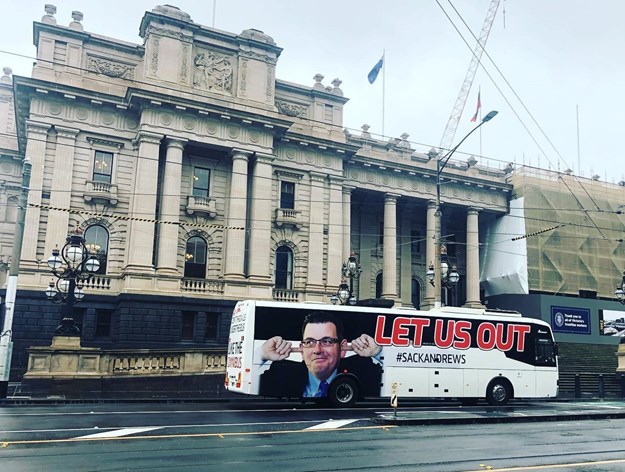 ALLOWABLE MOVEMENT
Once the protest bus was being used the operator was contacted by Transport Safety Victoria [TSV], Pincini confirms, to outline that the bus's use in that manner was illegal. "'You can't do it' they said. I said 'pig's ars*! The person that's on it chartering it off us used to use an Uber, but because they knew we had no work they decided they would hire it off us," the operator explained.
"And they [TSV] said 'well, if they are hiring it then they need to be accredited [media]'; they tried to ping us that it wasn't an essential service having a driver drive them around. They tried to say it was non-essential work.
"I said 'As far as I'm concerned it's essential because I've been charted to go from A to B and I've got passengers who are journalists and they are allowed to work, so if I can't take them to work because they rely on Ubers, tell me why an Uber driver can take them but I can't."
"So they said, 'Well, no, you are right there, so we can't stop you.'"
"I've received support and I've copped a lot of flak also for running the damned bus, mate. From people who have got no idea and haven't been in the industry and say 'what are you doing that for? How dare you? Dan's doing a great job'. I say 'Is he really? You show me how he's doing a great job. Oh, that's right – you are a public servant, you haven't lost any income; you've actually received more because you are working from home so he's paying you more. So that's the attitude that we [charter bus operators] are getting from public servants who haven't lost a dollar – 'poor me, poor you', and you go 'only if you bloody knew what life really is like when you run a small family business."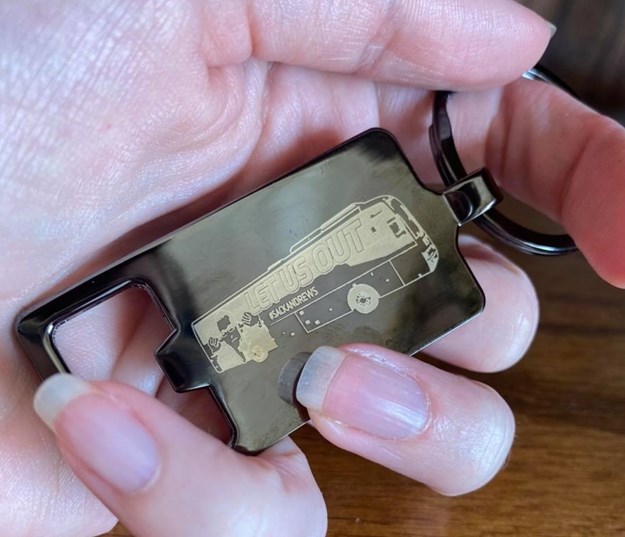 BORDER GUARANTEE
Pincini says while they won't reject any financial assistance, the point of the exercise is to draw attention to the need to re-open borders fully.
"Until they can get borders open for the charter industry, the industry is screwed."
"Every time Queensland decides that three people in NSW have got it and they are going to close the border on them, how can an operator book a tour – a five-day, 10-day, 15-day tour whatever – to not be able to go across the border?
"It took us until September to get money back off Jetstar because of cancellations, so how do I go to book tours when there's flights and things that cancel due to Covid and border closures and they only gave us back the money in the end because … they [the passenger/airline] cancelled their flight?
"So how do we book tours and that knowing we've got no money coming back?
"If we can't go because the tour can't happen because the border's closed and we lose flights, lose hotels, lose everything, you are even in worse sh*t."
"That's why as an industry that's what we need: we need guarantees the borders will stay open and they are not going to [close]."
"When did we go from 'living with Covid' to 'eradication'?"
"It's a stacked deck; none of us are going to be able to reach that."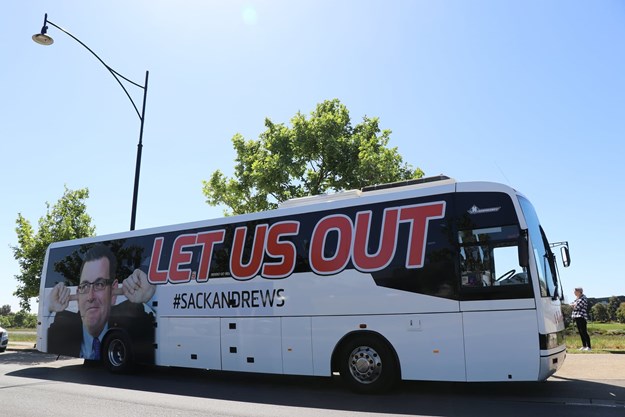 BROTHERS IN ARMS
Asked how bus and coach peers in the area feel about the situation, Pincini replied: "I've got heaps of support in keeping the [protest] bus going, but most of them have got a government contract here or there; they can't speak up. They can't say anything because they are in fear of losing the government contracts."
"And I've just said for that little bit of work that we [his company] get off the government, if I lose that work then I'm no worse off than what I am now. I'm still going backwards..."
"We run a tourist farm as well plus we run accommodation. I've had eight days of work for the tourist farm – and that's it since March. We can't just turn a key back on. It just doesn't happen. You can't just say you can start work tomorrow – you can't!"
"Last time when we started we got stock and everything, spent thousands of dollars to then be told to close again. And then they said 'ok we'll pay you for your cancellations' – I got $900. Didn't go anywhere near the money that we had to spend to bloomin' set it all up and go again.
"And this joker [Premier Andrews] just doesn't get it."
"This one hasn't been our decisions; this one's been [about] his decisions."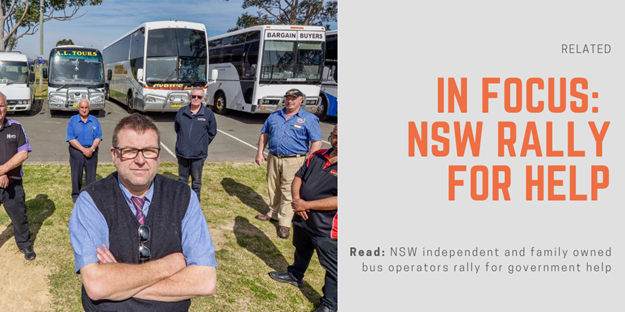 BANK SUPPORT – OR NOT?
In terms of any support from any banking institutions connected to the business, the operator stated: "They put us on the six-month hold, which was fantastic, and then I rang them just before the six-month hold [ended]"
"It's the same as the insolvency clause, right? So, now as a director because our debt is over a million dollars I can now be held liable for insolvency, whereas prior to that I couldn't be.
"So prior to the end of September 28 or whatever it was when they changed the law, I had to ring the banks and say 'come and take 'em [the buses] because I know I'm going to be insolvent from tomorrow'. That means if I haven't told you [the bank] and haven't started to talk to you I can then be charged and be liable."
It's the whole gamut of everything. I'm a small business and we've gone from turning over $4.2 [million] a year to now this year we'll be lucky to turn over $300 [grand].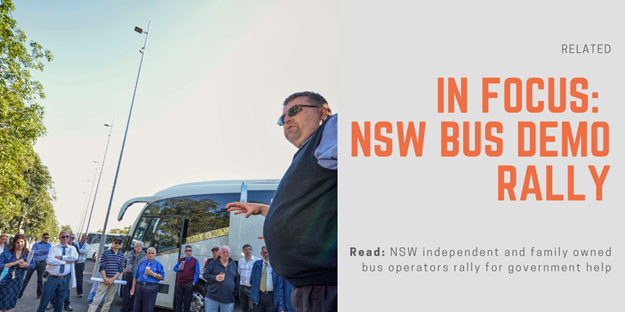 THE STRESS
Asked about the stress and impact this is all having on his family and himself, Pincini replied: "Well, mate – I've called Beyond Blue... I've been there."
"I've had to make those phone calls, I've had to make those phone calls to family and friends... I know they are out and having depression again."
"When you walk past a yard full of buses and an empty shed and you go 'there will be nobody here for the next two weeks, if I knock myself off who's going to care?' So it gets to that point, mate."
"The mental strain and pressure... And, you know financially if the buses go, the house goes – they are only items. The mental pressure that you are dealing with that you've let your team down, your family down, your community down - that's what the problem is.
"It's not so much the financial because all of a sudden you think you are a failure you've let so many people down because they have relied upon you to pay their mortgages and everything. And now they are struggling  and they can't make their mortgage repayments. And even though it [pandemic] wasn't our fault, you still take it to heart."
"The fact in NSW you can still go to a pub... If we have more than five people over on the weekend to watch the AFL Grand Final and the NRL Grand Final – we cop a fine."
REVENUE STREAMS
"The cruise industry was about an eighth of our turnover. I think by March 16 was when they all got cancelled. Snow season – is a quarter of our turnover with our charters from interstate and everything else, so that got cancelled. School excursions, interstate school camp cruises to central Australia etc – all of them cancelled.
"All our school camps cancelled, all our school sports cancelled. And they keep saying 'Oh well now schools are back'. Yeah well so ***-ing fantastic – but you aren't letting the kids go out and bloomin' do anything."
"'But we've opened up regional school camps' - and what, you've got [for coach operators] a month and a half left? And most of the schools have cancelled because of Covid? And because we are a Metro operator we are not allowed to travel into regional ones? Like … all of these things it's just..." Pincini explained despondently irate.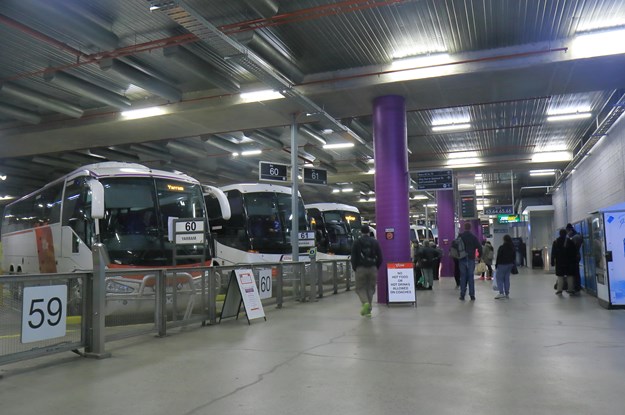 MANUFACTURER CARE
In terms of  product support or OEM re-sale, Pincini explained: "When the first wave hit I thought I'd have to look at some of these [the fleet's] buses that were less than 12 months old and probably on sell them. So I contacted the company of one which I'd be making payments back on for 9 months [from new] to offer to re-sell it back and they wanted me to take a $100K loss to get out of the bus. I still owned $440 [thousand] on it. And so I said to them: 'which part of the bus is ****? The body or the chassis manufacturer's? Because one of them is for me to have to take a $100K loss in [just] nine months'. And it was still under warranty and everything else."
SEASONAL REGISTRATIONS
"The state government has allowed us to use seasonal registration, but you still have to make a booking for each bus to put it onto seasonal registration," Pincini explained.
"And then you have to make another booking to take it off season registration. Then you have to prepay seasonal registration before you get your other registration money back, which was about six weeks, so although I might be about to be refunded $90K, but once again I had to cough up another $40K to put everything on seasonal before we got our $90K back. It's a huge [cashflow] bottleneck. And the state government is going: 'Well, we are looking after you'."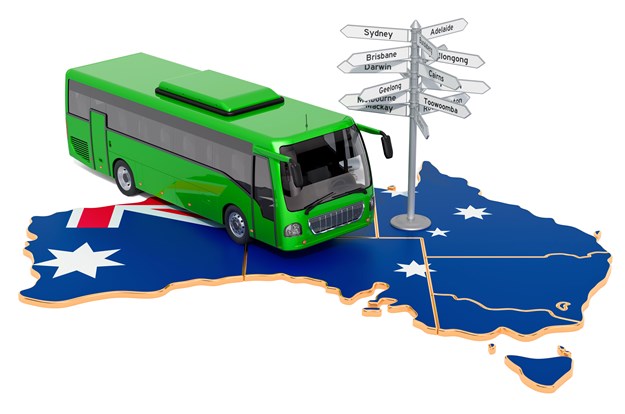 COUNTRY AGAINST CITY
Operator Pincini personally has been away from the Melbourne Metro area for eight weeks now driving silage trucks and working on hay bailers for much-needed income, he confirms, which has allowed him to personally experience a new societal divide, he says.
"I walked into a shop the other day buy to a takeaway pie  [for lunch]. The woman wasn't going to serve me because my address is still in Melbourne."
"I went to VicRoads to ask them if I can change my address because I've been working up here now for eight weeks, saying here are all my payslips."
"'Oh no, you are not a permanent resident so we can't change your address', they said."
"It has turned country against city. It really is."
"You are walking around like with a tattoo on your head of a Nazi Swastika … and you are too frightened to walk in or to say anything to anyone."
"For the first wave we came up here to buy a tractor and hay bailer to do work until July, so we thought ok let's go invest in that.
"When I walked into the shop in Wodonga [Victoria], I went and spent $150K elsewhere because I refused to spend it in that shop because as soon as I said I was from Melbourne they told me I had to wait outside and that I could not go in there and that 'You have to go away!"
"I was like 'hang on, I'm in Melbourne but I'm living in regional Melbourne on a farm. I haven't seen anybody for three months, but you want to treat me like sh*t? Well, guess what! I ain't spending my $150K with you.'"
"In my opinion the guy [Dan Andrews] is an absolute disaster because he lost people's respect. Right, he had people's respect and people were doing the right thing and he was leading, but now he's using fear and force to lead. Fear and force will not bring people together. It's pretty sh*t when you've got neighbours dobbing neighbours in – that's so un-Australian."
FYI
NB: The Rockleigh Tour vehicles on auction can be viewed here: 
https://www.lloydsonline.com.au/AuctionLots.aspx?smode=0&aid=19544&_ga=2.18690873.1816134975.1603521075-1524620349.1603521075
Subscribe to our newsletter
Sign up to receive the ABC e-newsletter, digital magazine and other offers we choose to share with you straight to your inbox
You can also follow our updates by liking us on Facebook.