STAYING THE COURSE – RED BUS SERVICES
---
OPERATOR: Adapting to the 'new normal' is the how the team at one of the oldest bus companies in New South Wales, Red Bus Services, plans to emerge from the other side of the pandemic. Even though operations have been largely affected by Covid-19, depot and fleet manager John Shore remains optimistic for the future growth of Red Bus, albeit in a new way.
Four generations of family history is behind the success of one of the oldest bus operators in Australia, Red Bus Services. The company operates commuter and school transport routes linking New South Wales Central Coast communities – from Gosford to Lake Haven, Bateau Bay, Ourimbah and Wyong.
In 1939, the family of present-day owners purchased the bus service trading as The Red Bus Company – Tuggerah Lakes Motor. The new owners, the Sloman family, renamed the business to The Entrance Red Bus Service. In 1946, the family purchased a service running between Gosford and East Springfield, and renamed it Gosford Bus Service. The names of both businesses, Gosford Bus Service and The Entrance Red Bus Service, remained in use until the late 1990s, when both were rebranded as Red Bus Services and all operations consolidated at the Bateau Bay depot, which continues to serve as the main depot to date.
"The company has always been a family concern, with the present-day owners being fourth-generation descendants of the Sloman family, many of whom are involved with the day-to-day operations," Red Bus depot and fleet manager John Shore said.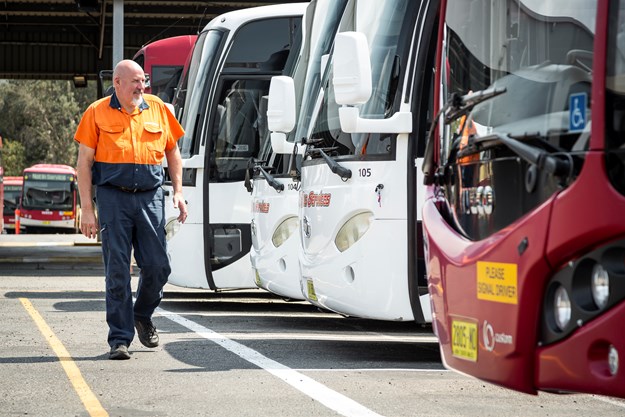 With a staff of more than 160, Red Bus currently operates a fleet of 92 buses and 10 coaches, it states. The fleet livery used to be red and cream until the Transport for NSW white and blue livery was adapted in 2010. Most of the company's services operate seven days per week, with some services operating at a frequency of up to 20 minutes.
"The majority of our fleet is Iveco Metro low-floor buses; we also run some Hino school buses, and a mixture of BCI and Higer charter buses," explained Shore.
"At the moment, our preference is Iveco because it's Australian-made, but that could change in the near future with new government regulations. All our vehicles are maintained in-house by our body repair and maintenance teams."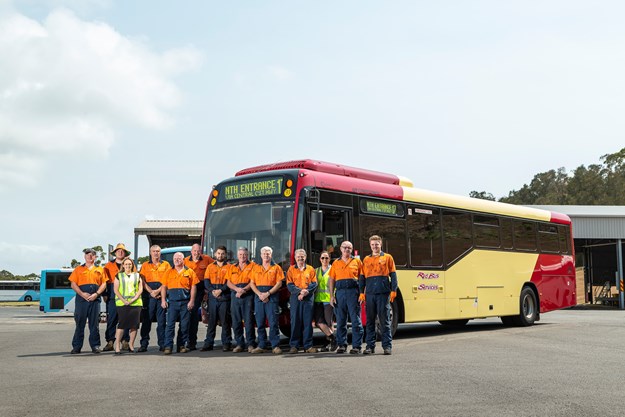 CORONAVIRUS IMPACT
Red Bus remains committed to ensuring it is a safe place to work and a safe form of transport for the community, Shore says.
"We have introduced all measures required by the Australian Department of Health and are taking advice from Bus Industry Confederation, BusNSW and Transport for NSW," he confirmed.
"We are proud to be registered by the NSW government as a Covid-safe business. We have implemented new cleaning and disinfecting policies, protocols, and social distancing measures to ensure the safety of our employees and our customers.
"Red Bus is monitoring the situation closely and keeping up-to-date with the impacts of government decisions about policy, healthcare and border protection. Along with following advice from the Department of Foreign Affairs and Trade (DFAT) and Australia's chief medical officer, we're working closely with Transport for NSW and BusNSW and preparing a pandemic plan in the event of a major outbreak in Australia.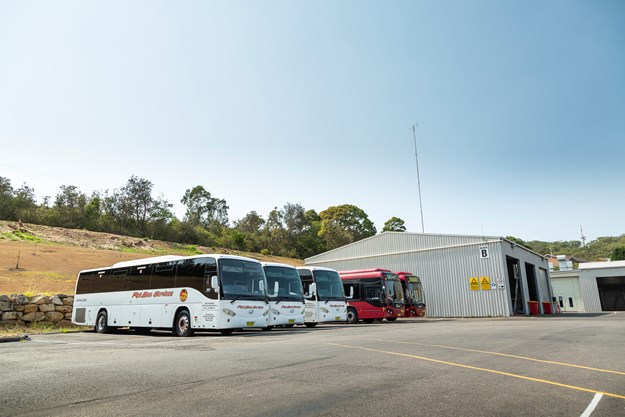 "Covid-19 has definitely affected public transport because Transport for NSW itself is advising people not to take public transport and use their cars instead, so of course that affects the commuter side of the business. Our patronage has dropped considerably, but we are continuing to operate because we are an essential service. Many of our vulnerable community members, who have no other option but the bus to move around, would be greatly affected if we did not operate.
"The charter business has also been heavily affected by the pandemic and we have seen a reduction in turnover. We have got some charter vehicles, but passenger numbers are down because people aren't travelling. In NSW the mood is very subdued in general. People are not out and about."
Like most public transport businesses, Red Bus is spreading the message of good hygiene and 'stay at home if unwell' to keep its staff and travellers safe. It is encouraging people to use their Opal cards or contactless payment methods and avoid using cash where possible. From March 25 this year, not all buses would continue accepting cash fares for travel, the company announced at the time.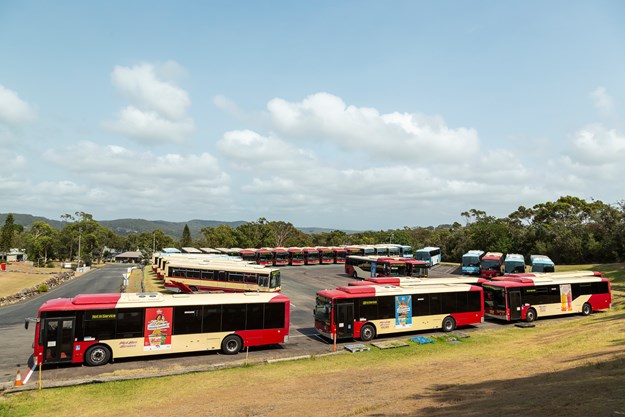 UPHILL ROAD
Many companies are feeling the Covid-19 pinch, even as things are getting back to normal in most states except Victoria. However, there are other challenges, mostly regulatory and compliance, that operators deal with on a day-to-day basis. It is no different for Red Bus.
"We encounter similar challenges to what most other operators in the industry face, such as ensuring we are up-to-date with changing legislation so that we are compliant in areas of Chain of Responsibility, Heavy Vehicle National Law, Safe Work, WHS, Fair Work Australia and other legal aspects," Shore said.
"We have just been granted an extension with TfNSW for Region 7 Outer Metropolitan Bus Service contract until June 30, 2021. So we will begin negotiating another contract later in the year. Hopefully, this contract will be a commercial contract for a period of up to five to seven years, so that we can invest in the future and continue to assist our community in providing mobility solutions."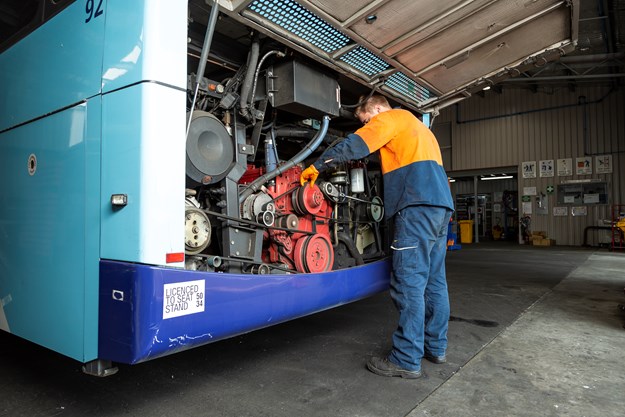 THE OUTLOOK
"Our plan is to get back to some sort of normality and make our charter business stronger and keep making our services stronger and better for the people to travel. Most of our staff have become used to the 'new normal' situation brought on by the pandemic. Some of our people have struggled with different bits of it, but overall we've all got our head around that it's the new normal and we've got to live with it," Shore said.
"We haven't had to make many tough decisions with staff numbers as our team has been very accommodating, using their leave so we can keep our people employed. It's been very amicable between staff and management up 'til now, which is great. 
"I don't think we'll ever get back to normal as it used to be until there is some sort of a vaccine or a cure to battle the virus, so it's going to be the new normal from now on."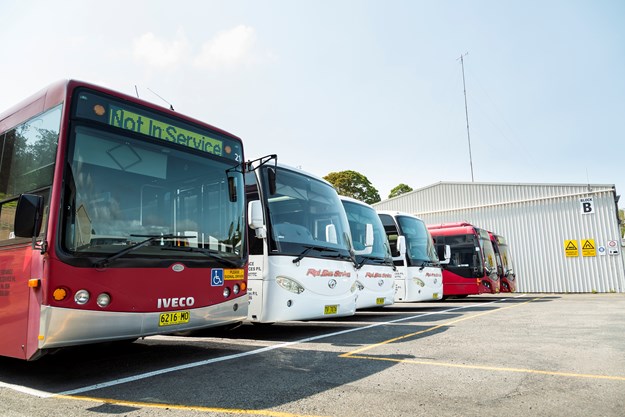 ABOUT RED BUS SERVICES
Red Bus offers coach and bus charter services from Central Coast, Sydney, Hunter Valley and Newcastle, it states. It caters to a range of events, including school excursions and shuttles, educational tours and trips, private functions, day tours and extended tours, after school care and vacation care trips, leisure and senior group trips, corporate events, and airport, hotel and cruise transfers, it adds.
In July, 2006, Red Bus Services became the first private bus company outside of the Sydney Metropolitan region to enter into a contract with the state government to operate services to NSW's Central Coast region, it confirms.
"The original philosophy – to provide a good service for all passengers and a friendly, safe environment for all employees - still continues. A testament to that is the number of employees that have been with the company for most of their working years," Shore said.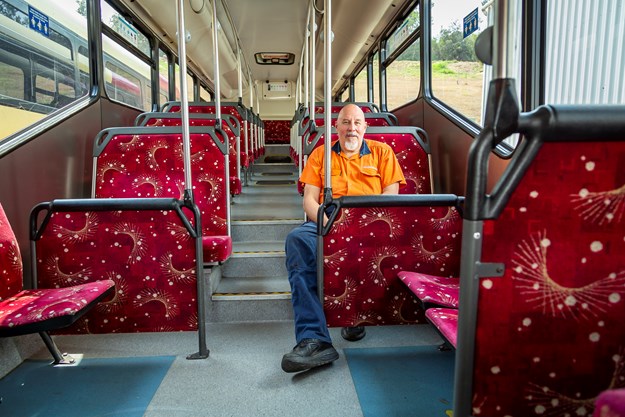 Subscribe to our newsletter
Sign up to receive the ABC e-newsletter, digital magazine and other offers we choose to share with you straight to your inbox
You can also follow our updates by liking us on Facebook.