SERVE WITH CARE – BRISBANE BUS LINES
---
OPERATOR: Co-MD of family run Brisbane Bus Lines Lara-Jane Mitchell believes one of the greatest strengths of their business is the ability to be flexible and adapt to change. It's something her father, Ian Mitchell, can vouch for in his 36-year run in bus game.
Brisbane Bus Lines (BBL) was established by Lara-Jane's grandfather, Bill Mitchell, with the purchase of the South Toowoomba Bus Service in 1947. He soon expanded his operations to run Sunday Sightseeing tours and for the next 37 years he continued to grow his footprint in the industry with many bus company acquisitions. He formally registered the business name in 1965. After his sudden demise in 1984, his sons Ian and Jeff became directors of the company.
They worked in partnership for 22 years until Jeff's retirement in 2006. Ian purchased Jeff's share of the business and today two of his three children - Lara-Jane and James Mitchell - are working with him.
After a part-time stint with the family business, Lara-Jane went on to finish her graduate degree before re-entering the business in March 2009. For four years she worked across various business operations before becoming co-director in 2012.
"Dad's work ethic instilled in me the importance of dedication and commitment. Currently, I manage the business alongside my father and I'm thankful that he is around to pass on his knowledge and years of experience," Lara-Jane explained.
Meanwhile, James followed the family tradition of putting his passion for quality service delivery into his role as fleet presentation manager and yard supervisor.
"It is important to me that our customers can enjoy a clean, well-presented, safe and reliable vehicle whether they travel on one of our school, urban or charter vehicles," he said.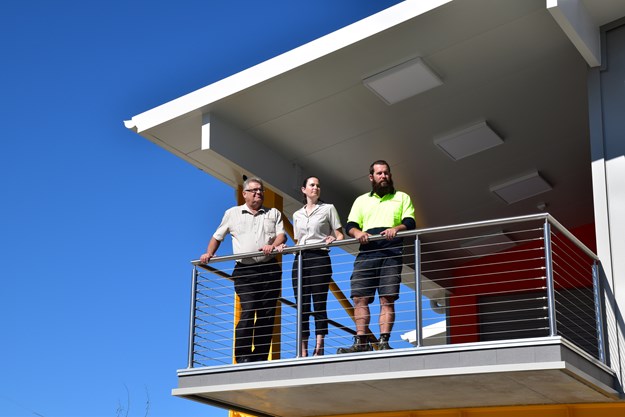 THE JOURNEY
The business has literally seen it all – from a depot fire in 1967 to floods in 1974 that inundated a fleet of its buses and office building; supplying vehicles to the Sydney Olympics and the Gold Coast Commonwealth Games; a large-scale fleet replacement programme, multiple office relocations to meet expansion demands - and now a global pandemic.
"There is something to be said for stable and consistent businesses. We are a people business, not just a bus company. Our team serves the community by offering safe, clean and reliable vehicles along with providing great customer service. We work along four values: one team, safety, service and communication. The Latin phrase Cum Cura Servire, meaning 'serve with care', is printed on the side of each of our vehicles," Lara-Jane said.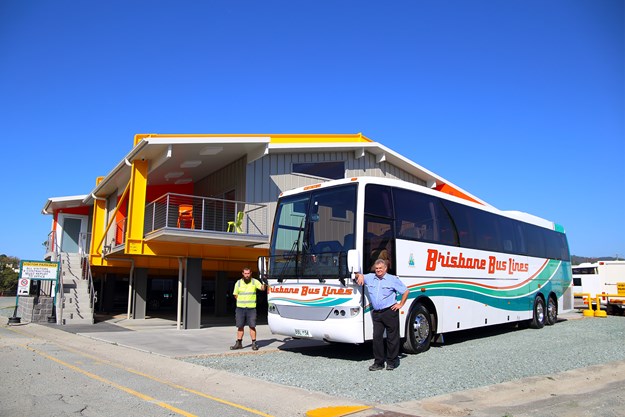 ENOGGERA FACILITY
In order to meet the demands of a growing business, in 1985 BBL moved its operations from Milton to Enoggera, from where it continues to operate today.
"This year, we decided to continue with the planned construction of our new purpose-built admin building at the Enoggera depot despite the challenges of the Covid-19 downturn," Ian explained.
The new admin facility is an important milestone for Lara-Jane, who feels it is a reflection of the true grit and determination that many family businesses possess.
"Improved team facilities have provided a better atmosphere for our team," she added.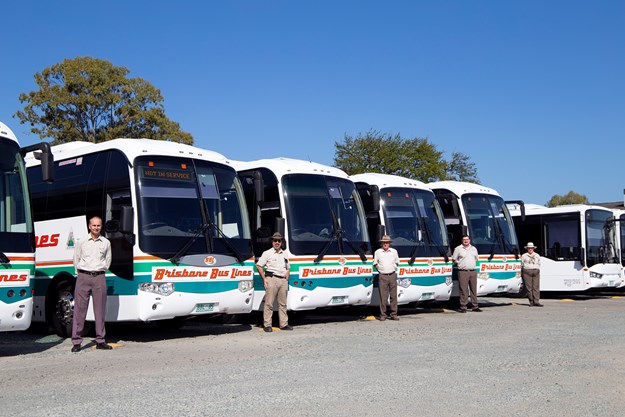 THE FLEET
With a staff of 135 locals, BBL operates more than 85 vehicles with an average fleet age of 10 years, consisting of a mix of full-size tour coaches, high-capacity articulated buses, and midi and minibuses to cater for groups of any size.
"Choices for the replacement of school vehicles are influenced by the subsidy available under the Queensland government's School Transport Assistance Scheme; however, vehicles also need to be suitable for local charter, so we generally don't purchase 3x2 seaters," Ian said.
"Both versatility and reliability are key. While we would prefer to purchase Australian-made bodies as they are built to last 30–40 years however, state government regulations limit the life of public vehicles to 25 years, so we feel there is little point in spending that extra money. As a result, we buy Chinese-built bodies and chassis. For the coach fleet we aim for quality passenger comfort and reliability because these vehicles may end up travelling anywhere in the country.
"Our current school fleet is predominantly BCI and Bonluck. The coach fleet consists of eight Scania coaches with five Autobus coaches. We also operate 10 Rosas and seven Mercedes-Benz Sprinters. All maintenance is carried out in-house by our qualified workshop team at the Enoggera depot," he stated.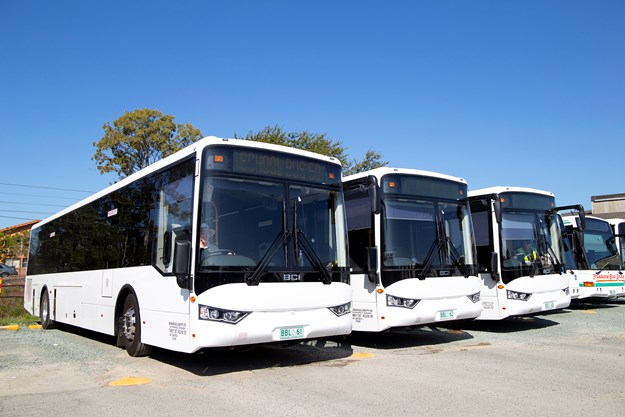 INDUSTRY INVOLVEMENT
The family has a long and proud association with Queensland's bus industry. Jeff served on the executive committee of the Bus and Coach Association Queensland (now Queensland Bus Industry Council) from 1976 to 2006. Lara-Jane continues to represent BBL on the QBIC management committee in addition to her position as chairperson of the Long Distance Tour and Charter Committee. 
"Three generations on, staying connected and giving back to the wider bus industry continues to be very important to us. Connecting, learning and sharing with other operators and businesses through QBIC, Queensland Tourism Industry Council (QTIC) and the Family Business Association has enabled me to develop my knowledge and skills as a manager and keeps me up-to-date with industry and business news and trends, which I can draw on to make informed decisions," she said.
COVID-19 IMPACT
"There is no doubt our business has endured significant financial impact due to Covid-19; however, we have made a conscious effort to put our time and energy into improving systems and processes that had been on the to-do list. Moving into our new premises over this period is one of those tasks. The extra time in our day has allowed us to settle into our new workspace in a pretty orderly manner instead of an almighty rush between client and operational demands," Lara-Jane explained.
"We are proud to have been recently awarded the highly regarded Covid-19 Clean Accreditation from QTIC. The considerable time and effort that our team has put into ensuring that our pandemic planning is at the highest possible level of compliance gives us a level of certainty that we are protecting our staff and community as much as possible."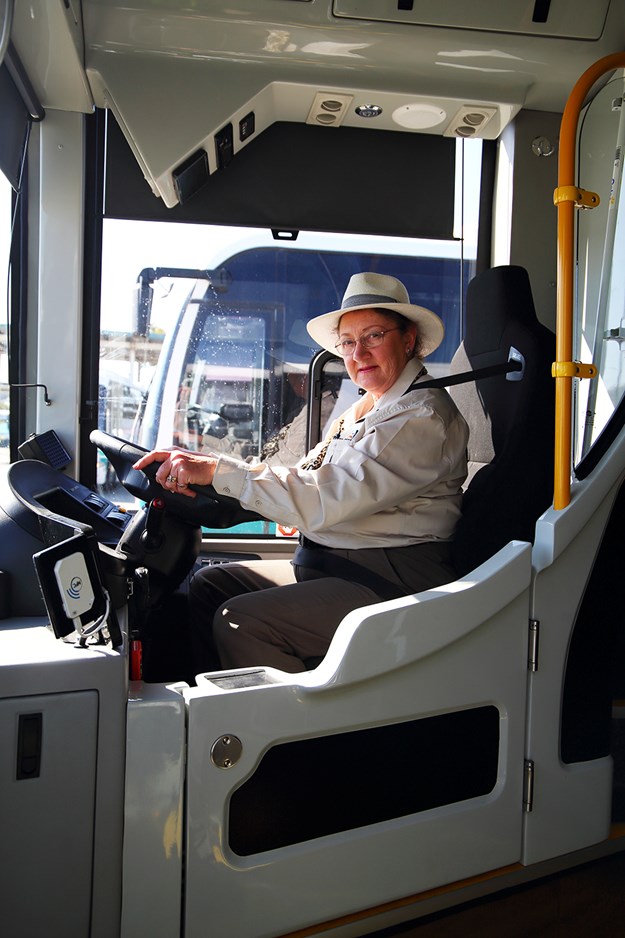 The company has been able to retain over 98 per cent of the team thanks to government support and revenue from ongoing contracted school services, rail replacement services and longstanding client contracts, it explains. While there was one redundancy as a direct result of the financial impact on charter services, a small number of its team members decided to retire or bring forward their retirement.
"Keeping in touch with our team through company updates has been a high priority for me during this difficult time," Lara-Jane said.
"I am very proud of the team for their willingness to be flexible in their work in order to keep everybody as safe as possible."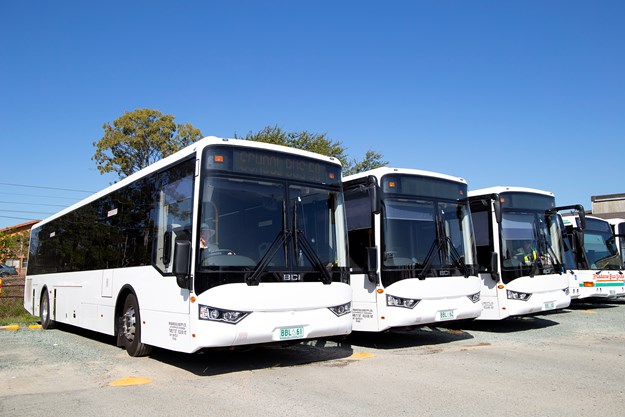 THE OUTLOOK
Ian, who is pleased with the company's growth and future prospects, says community is at the heart of the business.
"As my brother Jeff used to say, 'as long as we can continue to please the transport department, our passengers and our team, we will continue to expand'. Whether we operate 20 buses or 200 buses we will carry this philosophy with us into the next generation. The future for BBL is very exciting and I'm extremely proud to work beside my family as we strategically position the company for future growth," he added.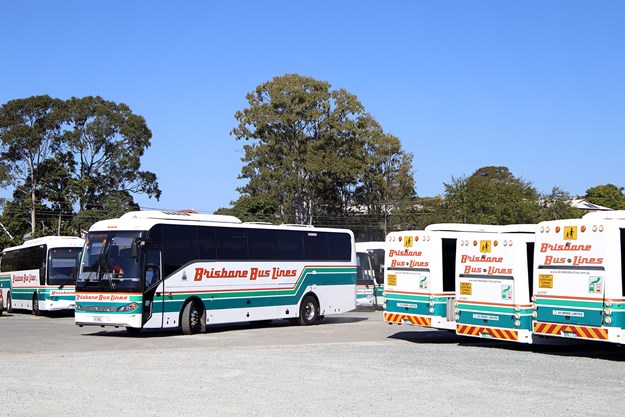 COMMUNITY INVOLVEMENT
For the past four years, BBL has been contributing towards Griffith University's Annual Appeal to help fund scholarships for students who are excelling in their studies despite facing financial or personal hardships. While in the past BBL has contributed full scholarships, the Covid-19 downturn this year has resulted in a slightly lesser contribution but with the same good intentions.
"We really wish to support students going through a tough time and because of our family's rural link we are particularly understanding of the challenges faced by kids from rural backgrounds and we feel honoured to help them," Lara-Jane said.
Subscribe to our newsletter
Sign up to receive the ABC e-newsletter, digital magazine and other offers we choose to share with you straight to your inbox
You can also follow our updates by liking us on Facebook.