ACT ELECTION DRAWS ATTENTION TO CANBERRA E-BUS PLAN
---
DURING the next four years the ACT Labor government has pledged to buy 90 electric buses if re-elected – though the Opposition warns fleet expansion needs to be "done right" citing two previous unsuccessful trials, it states.
With the Labor ACT government currently in a caretaker role as of 11 September with an election to be held 17 October, 2020, its e-bus plan is said to include a new zero-emissions bus depot in north Canberra, plus a Woden depot upgrade so it can handle the next-gen technology.
According to local media reports, it would cost AUD$114 million during the next four years to implement the plan with the government saying it is on track to transition every public bus to zero emissions by at least 2040.
Transport Minister Chris Steel says under a Labor government no new diesel buses would be purchased from 2025, and that if re-elected the government would 'go out to market' at the end of the year to find an electric bus provider.
As The Canberra Times report highlights, the ACT undertook a previous trial of electric buses but those were "…plagued with reliability issues, and two buses missed more than one-third of their services."
Currently, the government is trialling a more advanced bus from Yutong, with Minister Steel saying it has been far more reliable.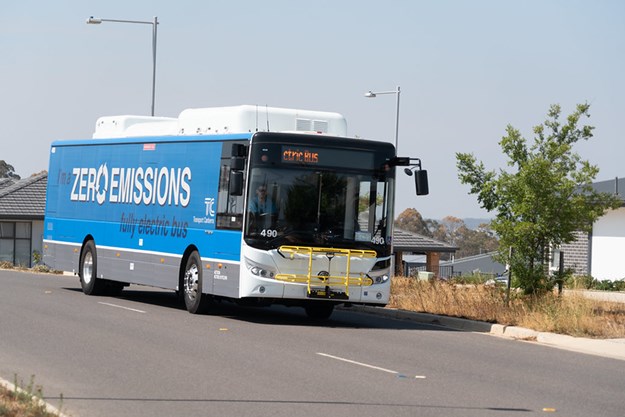 "We've learnt a lot from that in terms of the need to have a partner that can work with us," he said. "And making sure we've got a range of spare parts."
The report explains each vehicle costs about $750,000, but the minster says new developments were constantly pushing the price down.
"There are a range of different companies who have newly emerged so we want to test the market," Minister Steel said.
Apparently, the plan would help reduce Transport Canberra emissions by about 17 per cent, with the minister saying the move would require extra mechanics skilled with electric vehicles. However, diesel mechanics currently employed by Transport Canberra would be up-skilled to work on the new buses, he says.
Further, an additional 64 bus drivers would be recruited from 2024 to support the running of the expanded fleet, the report states.
The ACT's public transport network currently has about 450 buses, a number which is expected to grow to 590 by 2031, it adds.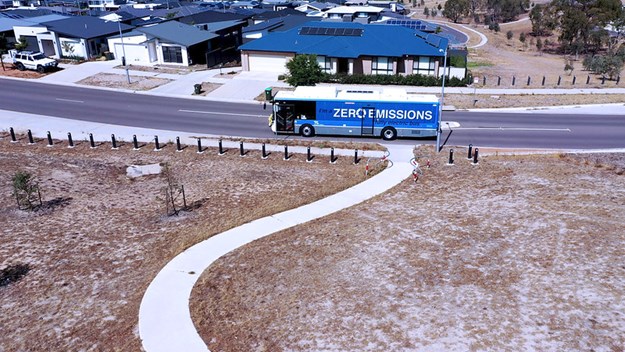 ASSURANCE NEEDED
When ABC magazine contacted the ACT Opposition about the expansion of electric buses in the territory and the pre-election e-bus announcement, a Canberra Liberals spokeswoman said: "We recognise the need for a modern and diverse transport network and have long-stated our desire to see electric vehicle infrastructure expanded to support more electric buses and cars."
"Electric buses are the future of public transport in Canberra, however, neither of the last two trials in the ACT have been successful. 
"We need to make sure the expansion of [the] electric bus fleet is done right."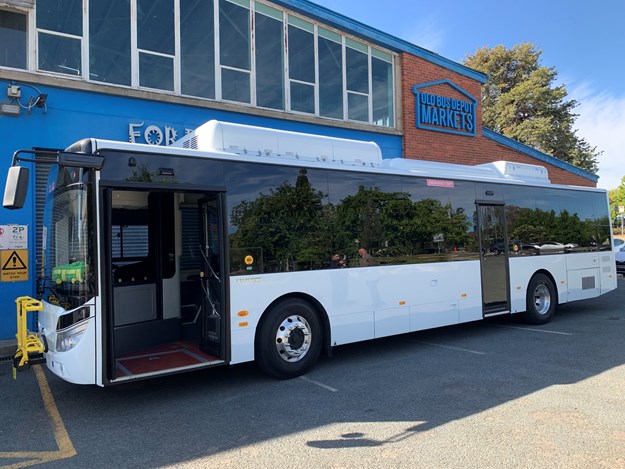 CHARGING INSIGHT
E-bus charging and leasing specialist Electromotiv has worked with Transport Canberra for three years to date. In that time it has witnessed - and contributed to - the great strides the city has made in the field of green transport, and it applauds the government's decision to continue down this path, says managing director Toby Roxburgh.
Electromotiv is a Canberra-based company with expertise in zero-emission vehicles, recharging and refuelling infrastructure and is involved with Transport Canberra's current zero-emission bus trial. 
"This announcement sets out a clear path to transition, acknowledging that zero-emission buses require infrastructure that can be upgraded or built quickly, but not immediately. This doesn't, however, need to be an expensive project. Ever-decreasing technology costs combined with a smart approach to charging infrastructure tailored to specific routes and destinations can keep costs relatively low," Roxburgh said.
"This policy will cement the ACT's position as an Australian pace-setter in zero-emission buses. It will allow the city of Canberra to enjoy the many benefits that come with the leader advantage: more jobs, more investment and a faster transition to vastly better public transport," he said.
"This isn't just about replacing a few buses. This is the next step in Canberra's transition to a 21st century public transport network.
"In 2020, commuters should expect a smooth and enjoyable ride across their city, without worrying about excessive noise or noxious fumes.
"That's exactly what they'll get once these buses are in place," Roxburgh said.
Subscribe to our newsletter
Sign up to receive the ABC e-newsletter, digital magazine and other offers we choose to share with you straight to your inbox
You can also follow our updates by liking us on Facebook.